Name: Eljoné Kruger
Age: 22
Height: 1.69 m
Current weight: 53 kg
Current city: Potchefstroom, South Africa
Occupation: Student
How long have you been training in athletics for and how did you get into it?
I started doing track when I was 7, but the passion developed long before that. My mom was a Junior Springbok hurdler and long jumper and coached after her career came to an end. I started "training" with my mom's group as soon as I could walk, I think at about age 4.
By training I actually just mean annoying everyone, bumping over the hurdles and being in the way. I also heard numerous stories of me packing out Tupperware in the kitchen and running my own hurdle races there. I think athletics was something I was born into, coming from a very sporty family, but also something I loved from a very young age. I have a very competitive spirit and that fed the fire.
All in all, I would say I have been doing track for about 15 years now, but only really on a serious note for the past 3 years. Before that I played tennis on a very high, competitive level and athletics was something I only did on the side line. However, I still really enjoyed it and won numerous SA titles despite not training for it at all.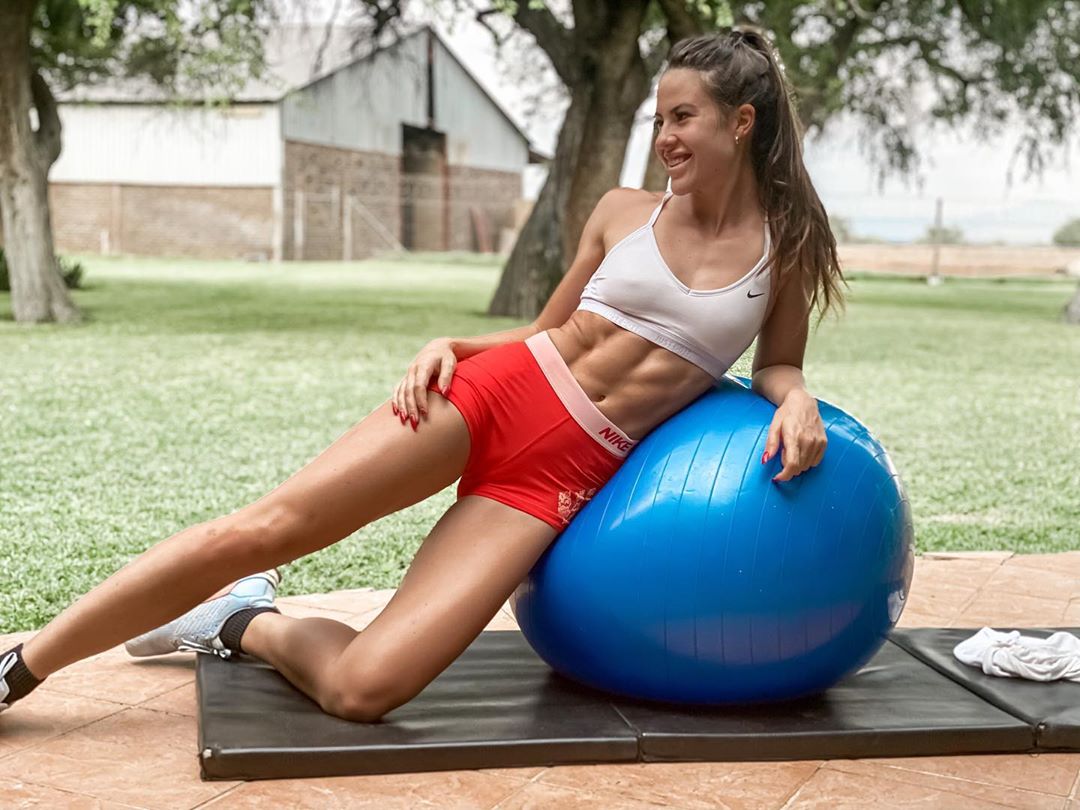 What do you love about the sport?
I am a very methodical person, I like following a "recipe" and then reaching a final product. Sport for me is very much the same. If you follow all the steps correctly and put in the hard work, you are most likely to reach the desired outcome.
The sport has also taught me so much as a person. I have learned so many lessons, both good and bad. I have grown so much as a person and developed characteristics I never would have, have I not done sport.
It teaches you that you can't always win, nothing is ever a given and nothing is over until the fat lady sings. It taught me how to deal with failure and defeat, but also how to deal with winning.
What athletic events do you participate in and love the most?
To be honest I have done it all, from 100m to shot put. When I was younger I used to do Long jump and 100m Hurdles with the occasional High Jump or Triple Jump. After school I continued doing Long Jump but moved my focus over to Heptathlon which includes 100m Hurdles, 200m, 800m, High Jump, Long jump, Shot Put and Javelin.
I started Heptathlon with the idea in mind to do it for a year or two, until I am stronger and more mature as an athlete as I had to compete on senior level now.
However, I suffered a career threatening injury which forced me to stop competing for a year. It made me realise that I unfortunately don't have the build to be a Heptathlete and I went back to my first love, Long Jump.
I currently only do Long jump as I now specialize in that and I still run an occasional 100m.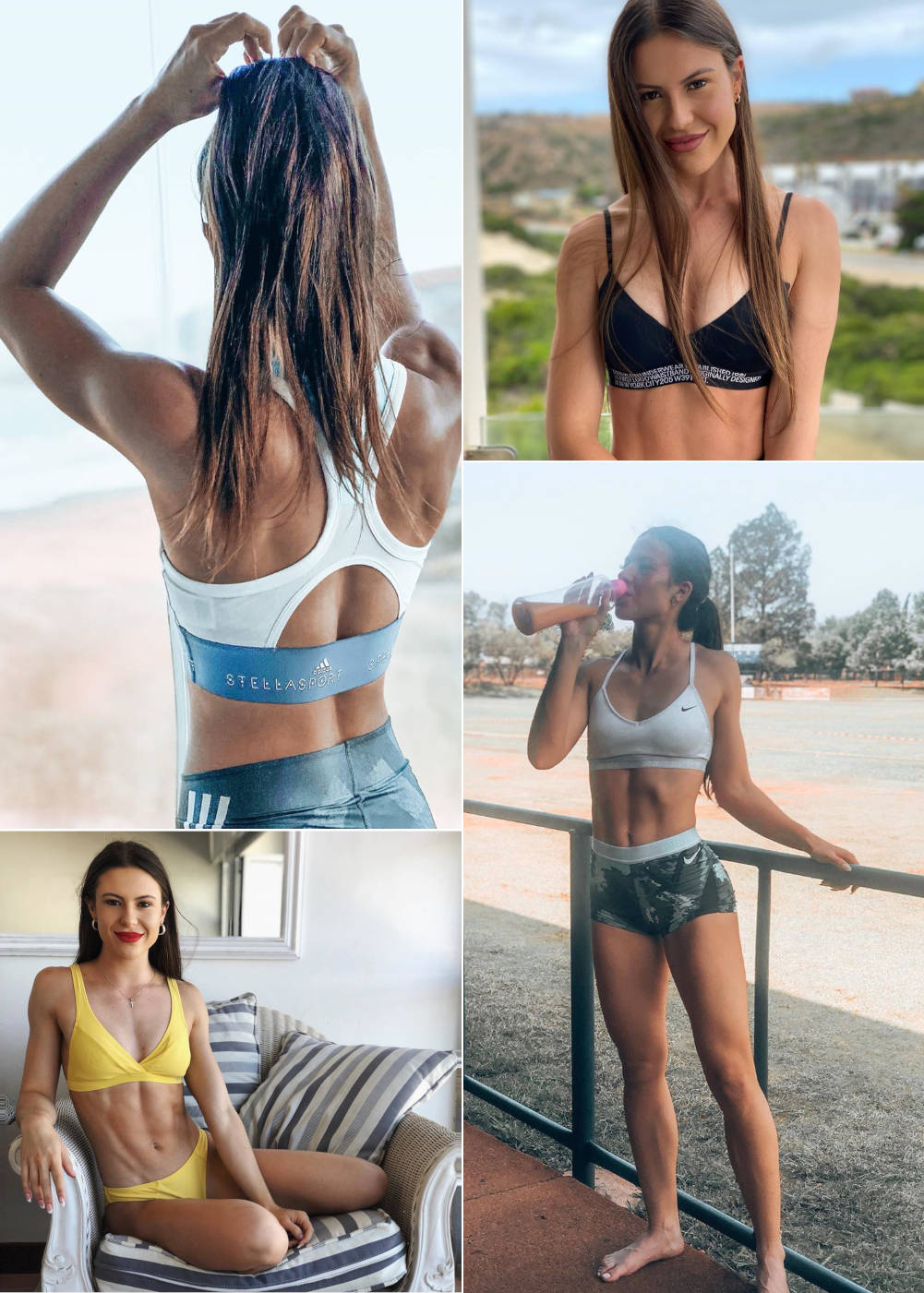 Give us a brief description of your competitive history?
I competed at National School Championships from 2007-2016. I competed in my first SA's when I was 8. I won the North West title that year in the u/10 category. I was SA Long jump champion in 2008, 2009, 2010, 2014, 2018 and SA high jump champ in 2008. I also came second in the 70m Hurdles at SA's when I was u/10.
I accumulated a total of 11 SA junior medals and 2 senior medals.
I competed at the Junior African Championships in 2017 where I won a gold medal for Heptathlon making me the African champion u/20.
In 2018 I suffered two vertebrae fractures and was unable to compete for the remainder of the year. In 2020, I represented South Africa at the World Student Games held in Napoli, Italy.
In 2010 and 2014 I represented South Africa in South Korea and London for SA Schools Tennis and also played numerous international tournaments all over Africa.
Who has been your biggest influence/support in your life and how did they affect you?
My parents.
God really knew what he was doing when he gave me my parents. Without them I would not have achieved even half the things that I did in my life. I specifically remember my dad telling my mom jokingly that when they decided to have my sister and I their lives were over, everything now was just about us. Let me tell you, he wasn't joking!
They have always put me and my dreams first, holidays being planned around my training and competing, plans with friends cancelled, nothing was ever too much to ask.
They supported me unconditionally. When I won they were there, and when I lost they were there. I honestly can't even begin putting into words how extremely privileged I am, from emotional to financial support, I have the complete package.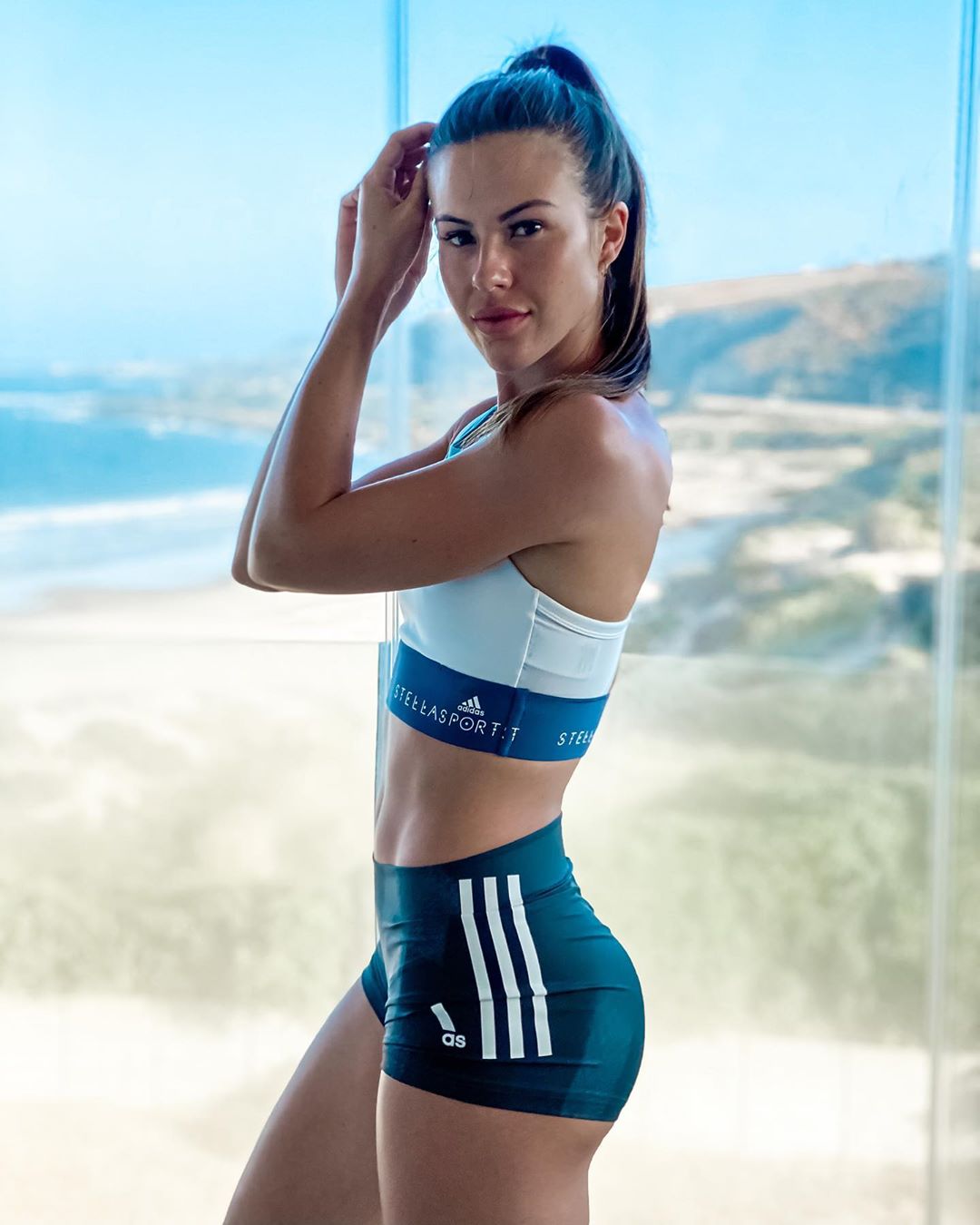 How do you manage to balance all the aspects of life with your training lifestyle? Has it ever been difficult to?
The training lifestyle forced me to become an expert at time management. I prioritize my time by asking myself, how important is the task in achieving my final goal, how immediate is the task and how much time will it require.
I think managing my time efficiently has been one of the biggest challenges throughout my career. I have always been quite the academic and being the competitive soul I am, I always aspire to do well, academically as well. This has actually come back to bite me a few times, especially in University.
I study Pharmacy, which is a very full course with quite a high difficulty degree. I have learned to prioritize my time efficiently and make the most of every moment, however I do slip sometimes.
2019 was my most challenging year. I cried 6/7 nights a week and suffered from severe anxiety and stress, I realized that I always had something that was spiraling in a negative direction, whether it be my marks, training or my health.
The most important thing I learnt during this time was that everything passes, you will make it, you will come out on the other side, you just have to keep pushing, keep praying and stop being so hard on yourself.
Needless to say, you can assume that I don't have much of a social life. The little free time I do get, I mostly spend resting.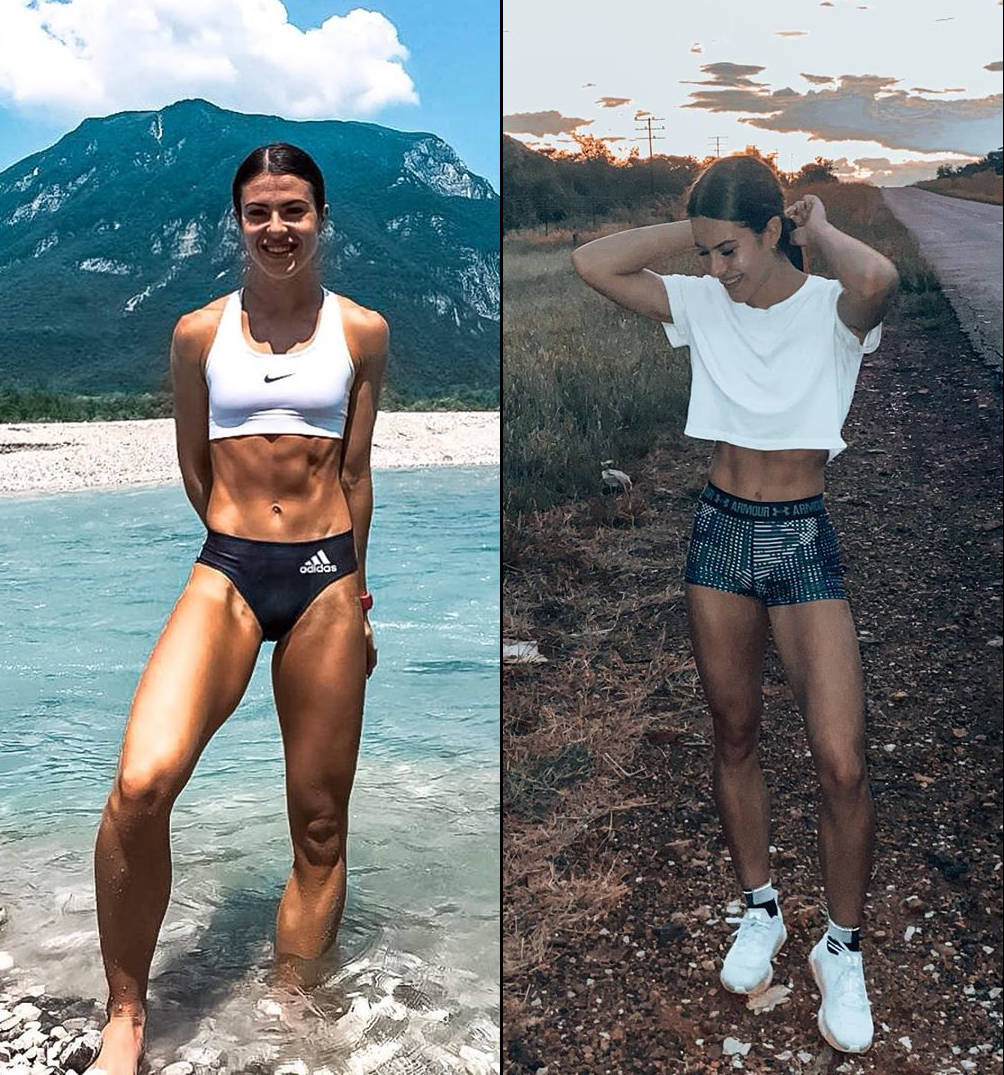 Have you had any major setbacks? And if so what did you learn through the process and how did you deal with them?
I have suffered countless injuries.
One of my most 'memorable' setbacks will have to be my back injury in 2018. I did numerous scans and went for quite a few opinions, the overwhelming response was that I would most likely not be able to compete again.
I however just kept believing and praying. I had to rest for 6 months, where I wasn't able to do anything, I couldn't even sit down or stand for long periods of time. After that, I started doing rehab.This included the most basic exercises you could possibly imagine.
This must have been the most frustrating period for me.
I always tried to do more, push more, only to find myself back in pain. During this time I learned that it is so important to embrace the current season of your life, everything happens for a reason and without setbacks you would not be the person you are today. They play such a major role in developing your character.
I tried to make peace with the situation and just accept it as it was, I also prayed a lot for patience and healing. As soon as I made the mind shift, that pushing and over doing would only hinder progress and break me down mentally, I was able to deal with everything much better.
What are your future plans?
This is a difficult one for me. At the moment my main goal is to try and qualify for the Olympics and go on to try and pursue a career as a full time athlete.
I am currently a final year Pharmacy student, I would like to go on and study Medicine after this but I know that my Athletics will suffer a lot if I do decide to pursue a career in Medicine. The other option I have in mind is to study Charted Accounting and combine this with my Medical background. Either way, I know I am not done studying yet as I feel I haven't unlocked my full potential. I will just keep on praying that right doors will be opened and wrong ones closed.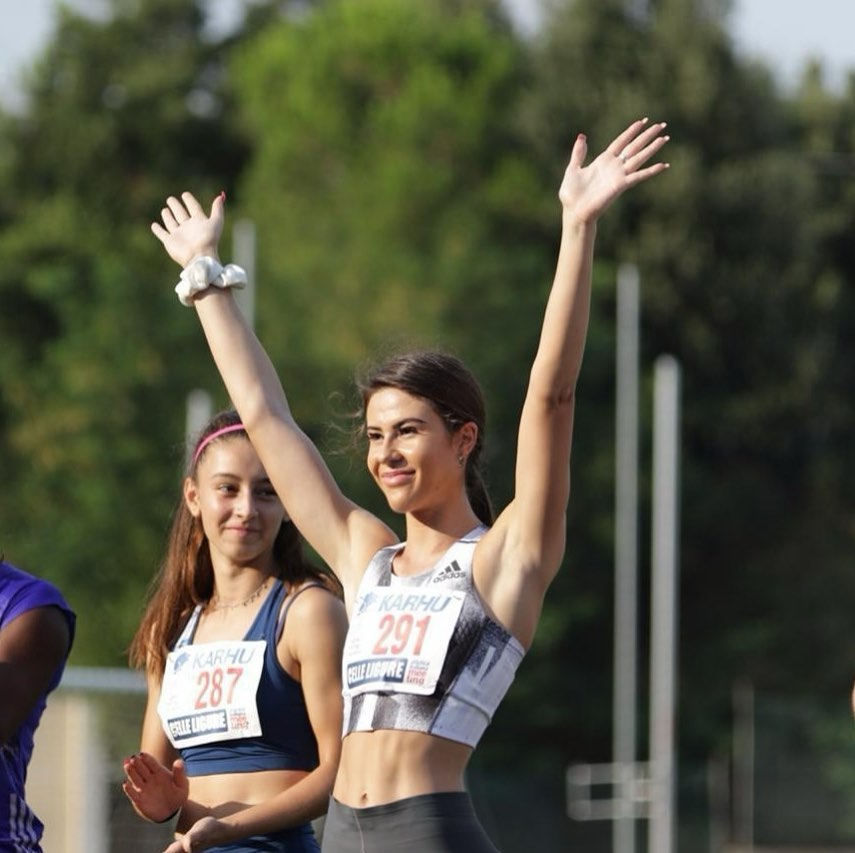 Take us through an average day of yours:
Most of my classes start at 8am, so I don't really get to dressed up for class as I usually have to go straight to training after class.
I wake up at 7am, read my Bible, have a glass of hot water and lemon and get on to make breakfast (MOST IMPORTANT MEAL OF THE DAY).
I usually wake up, ravished, so I make sure to get a proper breakfast example, oats with egg white, scrambled eggs and toast or a protein smoothie. After breakfast it's a big rush as I am slow eater.
I do my skincare routine, brush my teeth, get dressed and then head to class.
I mostly have class from 8:00-16:00 with a lunch break in between where I go home to eat.
After class I go straight to training, when I do one session.
My afternoon training is normally anything between a hour and a half to two hours. Some days I do two sessions.
I train at 7:30 and skip my first class and then train again at 16:00. These sessions are typically one to two hours.
After my afternoon training I make a protein smoothie first thing when I get home and go straight to my books. I have found this is the most productive way for me personally.
I study for an hour or so and then go on to make dinner. I love cooking and during this time I catch up with my family. We all sit together in the kitchen and listen to music. When dinner is done, I religiously have a cup of coffee and go on to do more work/study.
I am quite the hygiene freak, so I like to shower or take a bath last thing before I get into bed, that way I don't make my bed dirty. Depending on the amount of work I have to do, I'll have another coffee or ten throughout the night.
I always try to go to bed as early as I can, but unfortunately that isn't always possible. When I get into bed at night I take all my vitamins, read my Bible and that's it.
Give us a brief description of your philosophy on your diet:
Diet is a tricky topic, as I feel it is different for everyone. I have tried quite a few different approaches and to be honest, a balanced diet has been the easiest for me to maintain. I was on a low fat, high carb plan for about a year and I saw amazing results, however I love avocados and nuts way to much to completely cut it out of my diet.
I have a huge sweet tooth, so for me, that is the biggest challenge. I have found that eating a relatively healthy, balanced diet and just cutting out sugar already gave me the form I need.
Diet in female athletes can pose a lot of complications. Most of us always strive to have minimal fat and be as lean as possible, but from personal experience I can tell you that it isn't the healthiest approach.
A constant low body fat percentage can lead to problems with estrogen secretion, which in turn holds many health risks, such as bone density problems and even hormonal issues. I try to maintain a higher fat percentage throughout the year and then in season I will be really strict and clean up my diet.
My diet at the moment (or before lockdown at least) mostly consists of fish and chicken, I am not a big fan of red meats, but I do eat them occasionally. I do not eat lamb as it is too fatty for my liking. I love vegetables and fruits and this makes up about 40% of my diet. I eat carbs with every meal as this is my main source of energy.
Carbs I mostly eat are Oats, Grain/ Rye Breads, Quinoa, Black Rice, Sweet Potato and Pasta (almost every day), I don't eat Potato. I do eat dairy but I try to minimize my intake, all dairy MUST be fat free, not low fat. My dairy intake consists mostly only of milk that I drink in my coffee.
This next one is a difficult one, I only follow this strictly during in season and it makes a visible difference. NO SAUCES. Sauces have so many hidden calories and unwanted ingredients, it is best to just avoid it all in all.
I eat Peanut butter (sugar free) and Cinnamon every opportunity I get. Further I try to grill or steam all my food, and use non stick pans. If really necessary I will use Olive/ Coconut Oil.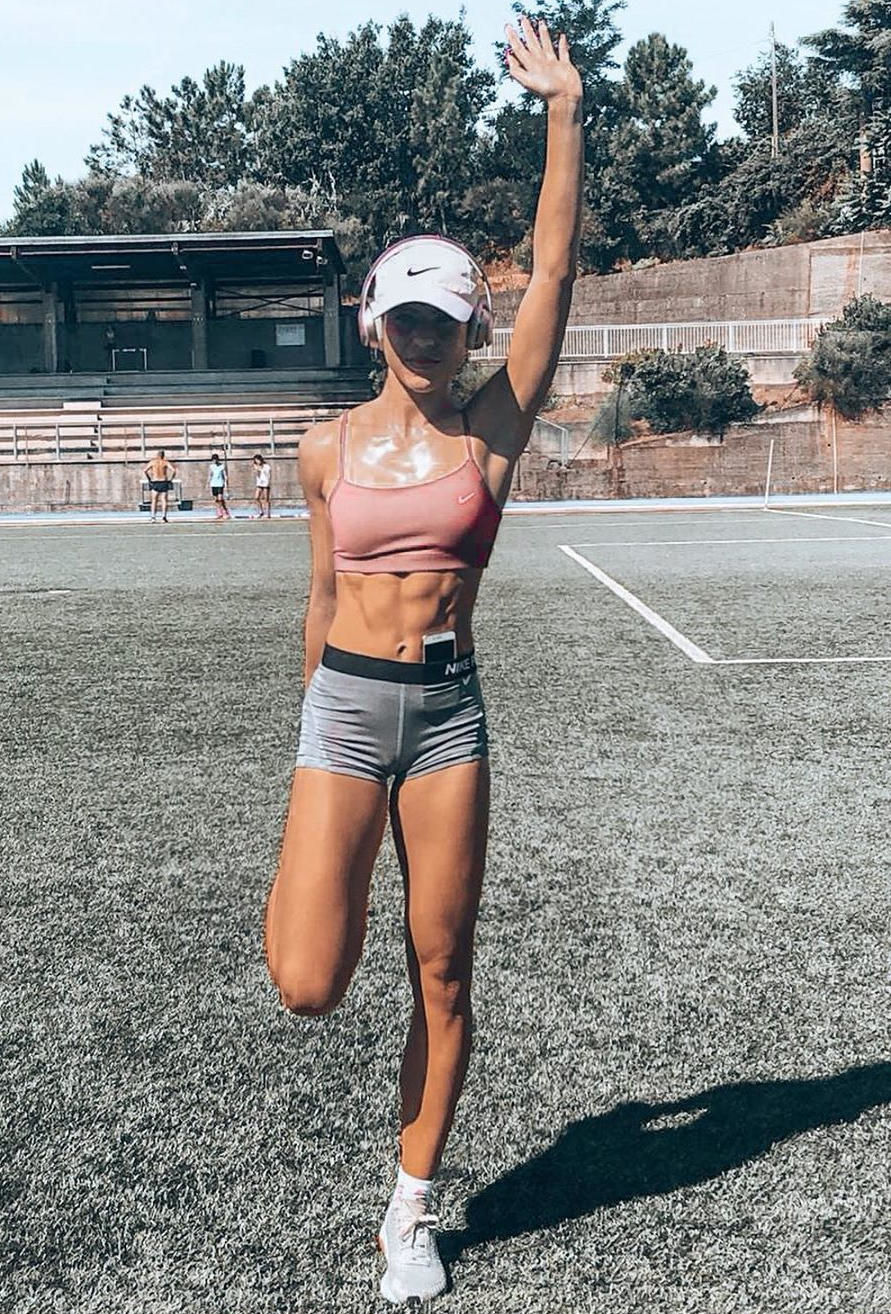 Do you count your calories? Do you think it is necessary?
I personally don't count my calories. I have tried it in the past, but it only created an unhealthy obsession. With my current schedule, I don't feel that it is necessary to count calories because I train very hard and burn a lot of calories. I eat when I am hungry, and how hungry I am will determine how much I eat. However I do know of people for who it worked, again I think this varies from person to person.
Have you seen any common mistakes that ladies may make when trying to lose fat or gain muscle?
I think the most common mistake ladies make when trying to lose weight is that they cut their calories and go straight to cardio.
From personal experience, I have found weight training to burn more calories than cardio. Ladies also tend to think that weight training will cause you to gain a massive amount of muscle/ become bigger, whilst the reality for us females and I actually want to go as far as to say people in general, is that you would really have to do extreme heavy lifting and take in a large surplus of calories to make visible gains.
Ladies who want to gain muscle also generally go for lighter weights and more reps. While that could be beneficial, I have found that going on max weight and a little less reps caused me to gain a lot of strength, which in turn allowed me to lift heavier and therefore gain muscle easier.
Give us a brief description of your philosophy on your training/training schedule and on average how long do you work out for?
Everything I do is performance driven. I don't have a set time frame in which I train or how long I train. My coach writes a specialized program depending on which phase of training or competition I am in and I complete that program.
The specific training for each day will determine how long my warm up will be. On days I do speed work from blocks, which are more risky, my warm up goes anywhere from 30-45 minutes where after I then only start my session. These sessions tend to be longer and can be anything from a hour and a half to two and a half hours.
I have a double session of training twice a week which consists of a long morning session and a short endurance session in the afternoon. During these short endurance sessions my warm up routine is short and the session normally takes me an hour.
My coach trains me bio mechanically, which is a principle that focuses on how you do things rather than how much you do. My main goal for each session thus is quality and I have had times in the past where I get to training after a tough test/day of studying and my coach sends me home because he could tell we wouldn't be able to get what we needed from me for that session.
We focus on strength and speed as our main components and build the program around that.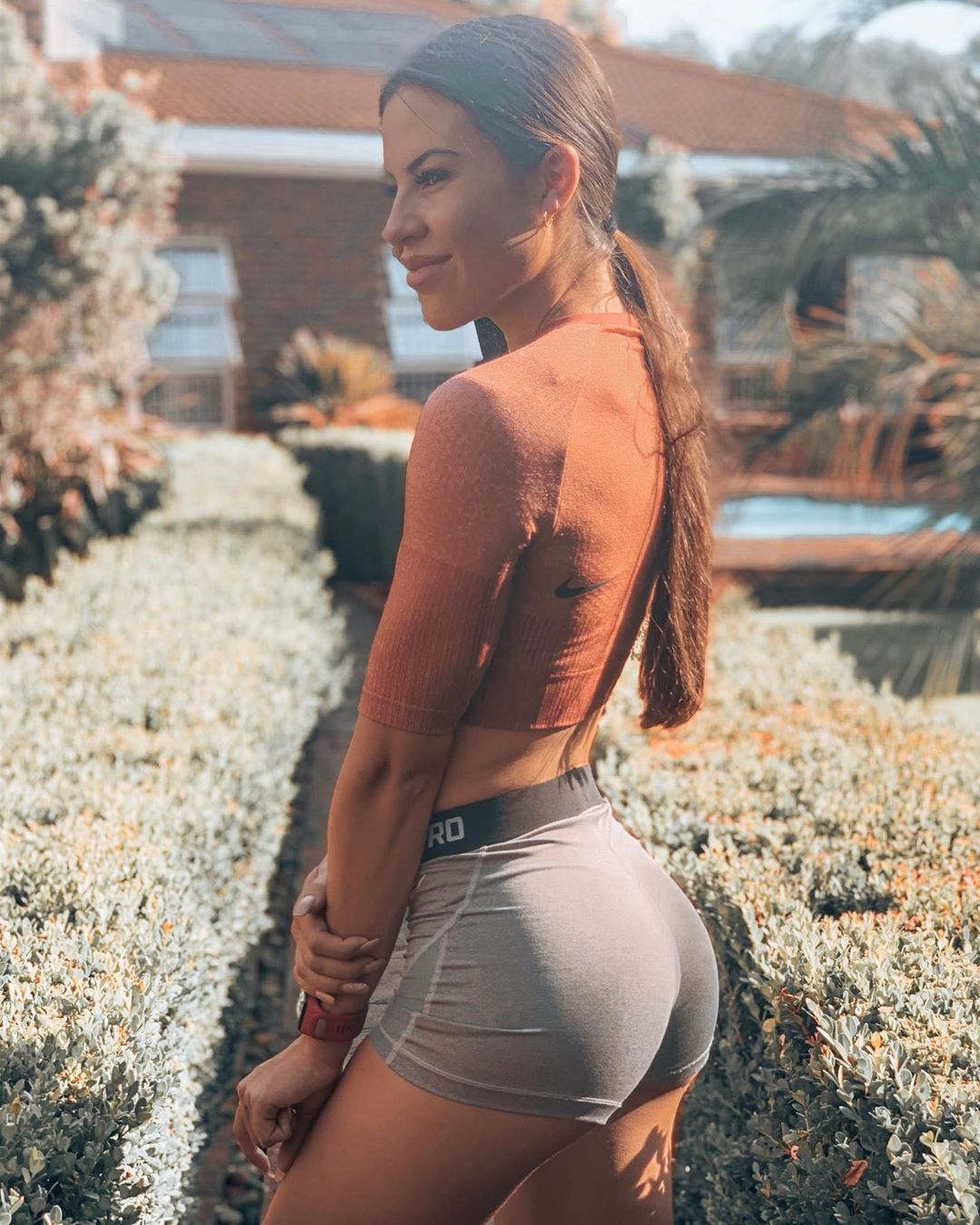 How do your workouts and routine differ from off season to pre-season?
My pre-season workouts are typically much harder. During this time we work on building a basis to work from. These sessions will include longer work, endurance and a lot of strength training. During pre-season I also work on technical aspects that need to be drilled in.
Where as in season, the main focus will shift over to speed work while maintaining the power component. These sessions are of a higher quality and the load will reduce.
One thing that I carry throughout the year is my core workout, I try to do core every single day, usually directly after my last session of the day. As I mentioned earlier my diet also changes quite a bit from pre-season to in-season.
Do you include a lot of weight training? What are a few of your weight training tips for the ladies?
Weight training makes up about 50-60% of my training. I personally really love weight training.
My top tips would be to always push yourself to go as heavy as possible according to your own strength and the reps you follow, this is the fastest way to see results.
It's also a big motivation for me personally, to see my own improvements and see my strength increasing. Make sure to do the right activation before training, to minimize your chance of injuries and to maximize results.
What are your essentials that are always in your gym bag?
Small thera band to do glute activation
Weight lifting belt
A small towel, water and my recovery drink
Flops for after training
Deodorant, lip balm, tissues and wet wipes.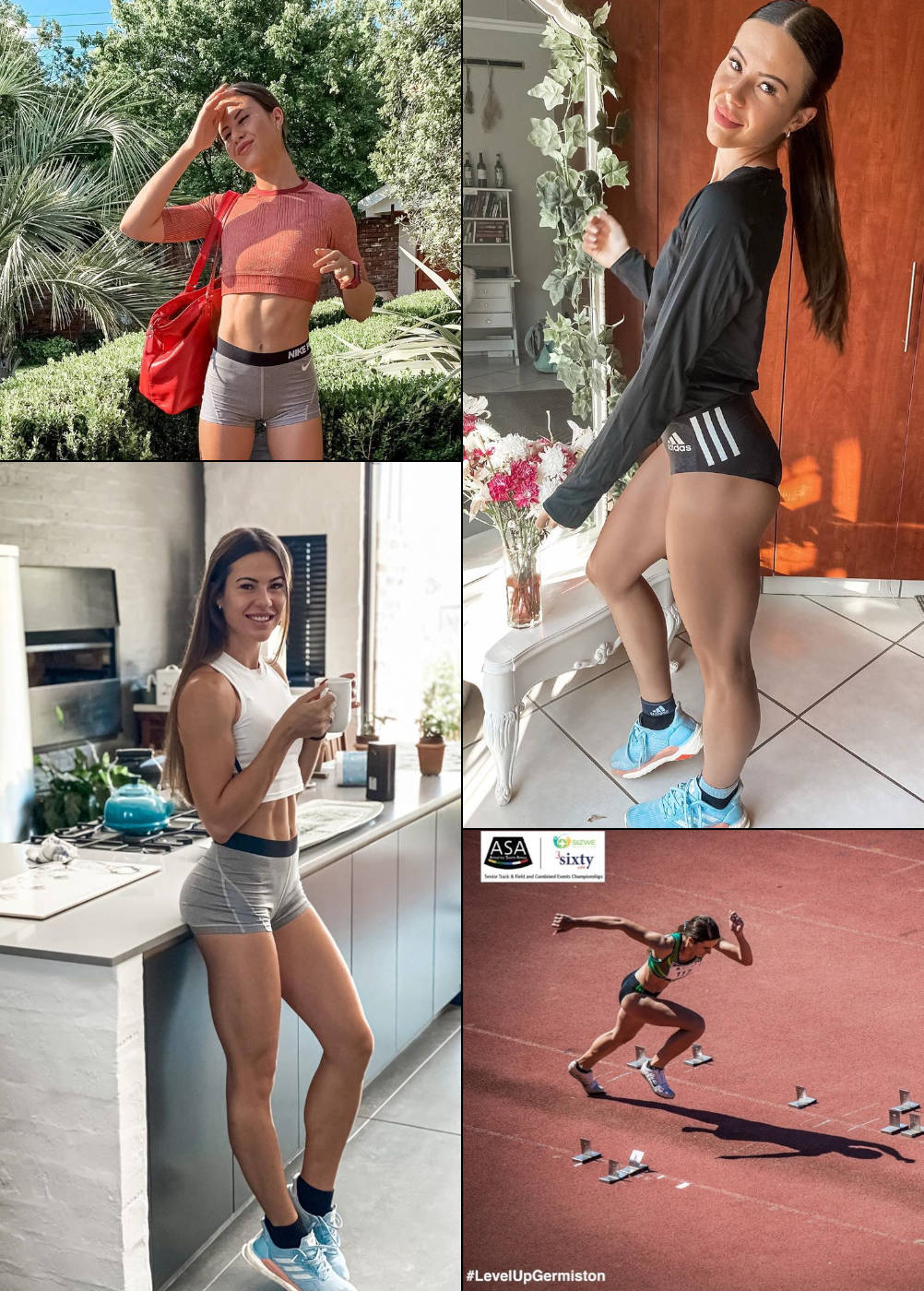 Do you advise using supplements, and do you use any yourself?
Depending on your goals I think supplements can be beneficial. In the past I have mostly only used a protein shake, as I struggled to eat enough protein. I have used quite a few different brands as well. Currently I have started with XSV, and I absolutely love it! It is based on a concept of taking essential amino acids and recovery drinks containing protein rather than pure protein powder.
The amino acids are in capsule form, which makes them much easier and more convenient to take, as you don't have to gulp down large amount of liquids.
After training I take the recovery drink that contains protein and all the minerals and vitamins needed for you to recover. The best part is that it is carb, fat and sugar free. So if you are following a strict diet, this supplement doesn't affect your diet at all.
Before tough workouts or big competitions I use their pre-workout, but this isn't part of my daily routine. My current supplements have allowed me to eat a more wholesome, balanced diet without consuming an excess of protein. I have also found to be more satisfied while using this regime, as I am eating more whole foods. These supplements have also been approved by WADA as I do get tested on a regular basis.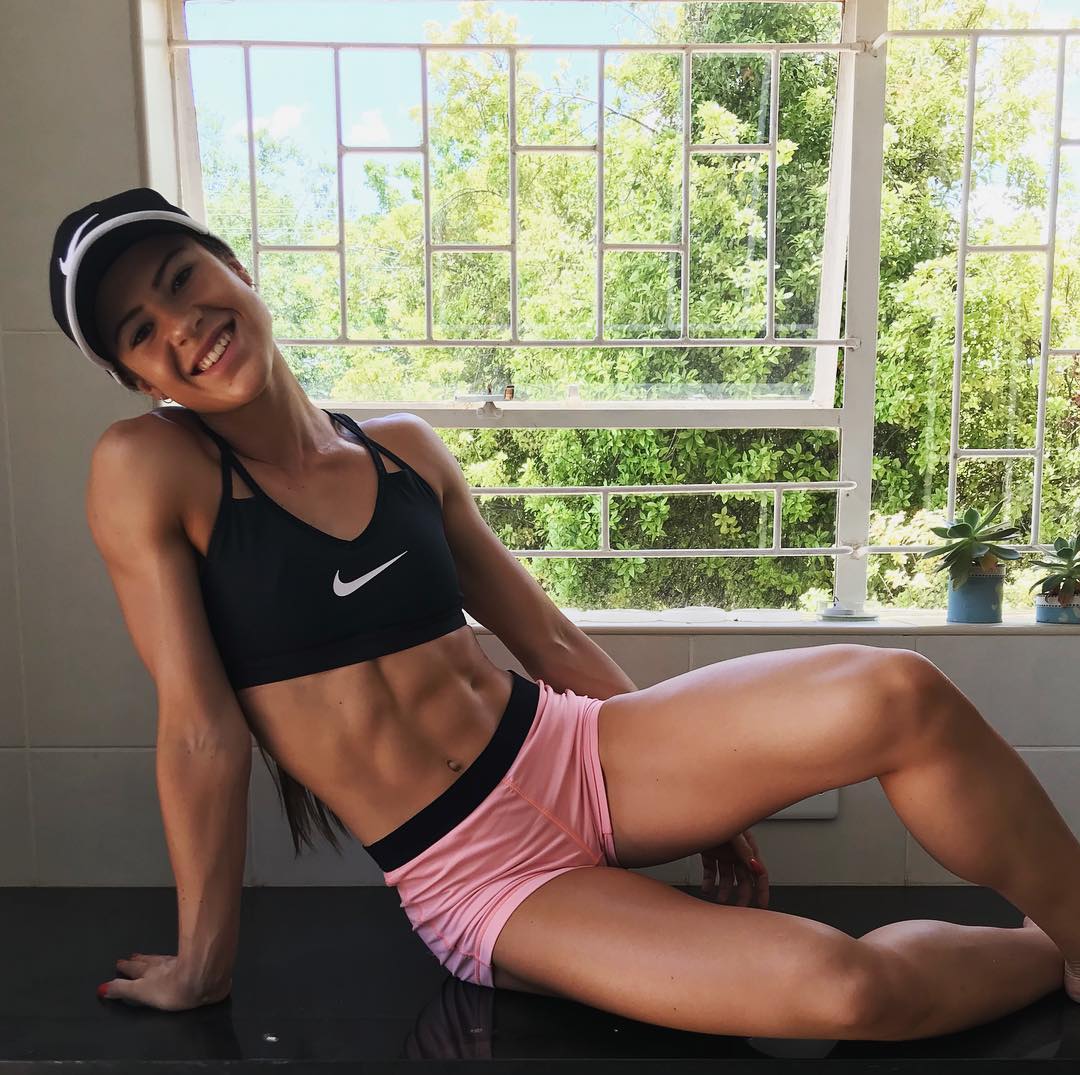 What are your 3 favourite exercises?
1. Deep squats
This is something I incorporated into my training schedule only recently. It is the most challenging exercise and doesn't only work on your glutes but also your mind. I go for a "personal best" every time I squat which makes it so much more challenging and exciting.
It's really good for developing glute and core strength, which are key components in running and jumping.
2. Dead lifts
I only work upwards, meaning I drop the weight after each rep. I love the way your hamstrings and glutes feel so activated after dead lifts. I incorporate this into my training before every session. It's really good for developing your back channel which is essential in running.
3. Power cleans
I'm not really sure why I like this exercise so much, as I am not that good at it and I have a terrible technique! I guess I like a challenge and this exercise definitely challenges me. It's a great full body exercise and when you do it correctly it can contribute a great deal to your explosiveness.
What sorts of exercises do you do for explosiveness and what are some of your tips when training to be more explosive?
My go to exercises would be:
Power cleans
Squat jumps with a bar and light weights
Power snatches and jerk
Explosive squats
All exercises must be under 2 seconds for it to work on the explosive component. I also incorporate a variation of box jumps between each exercise.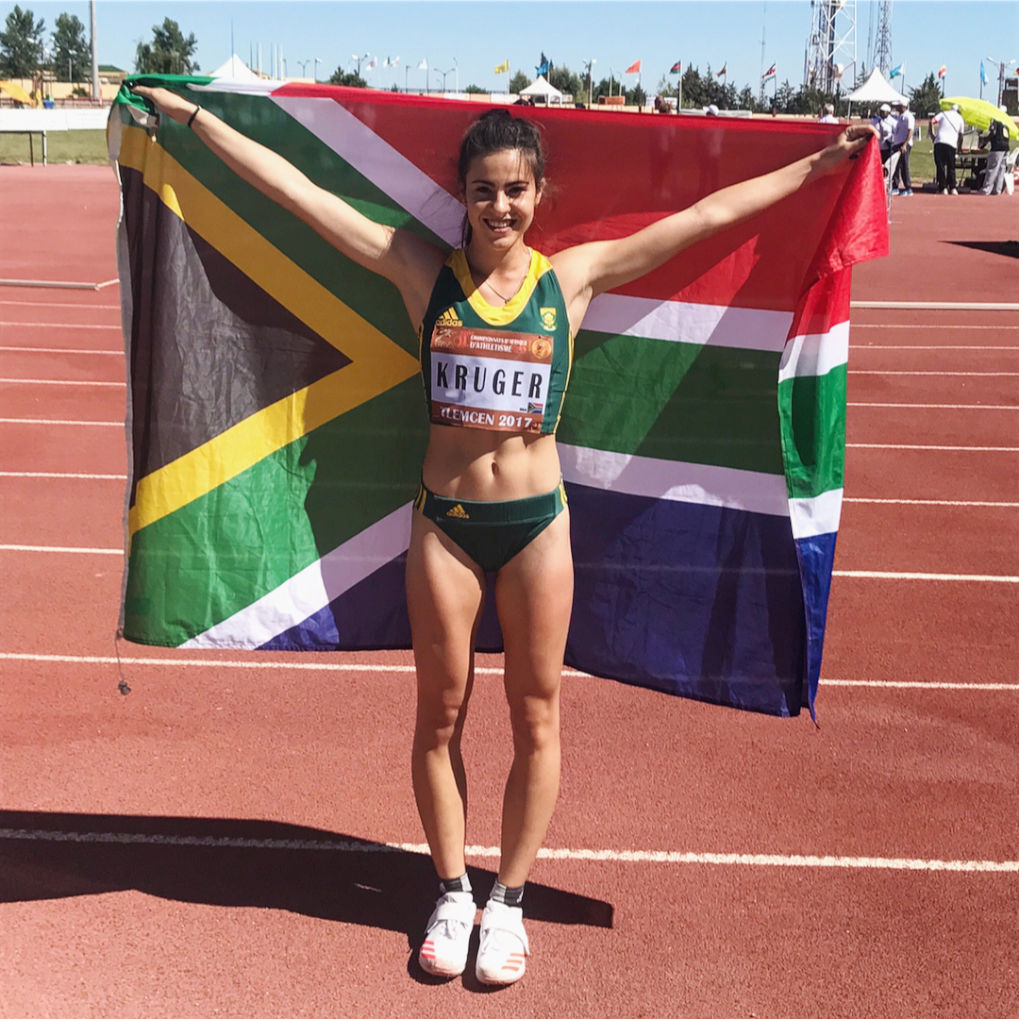 What are your top tips for getting a flat tummy and strong abs?
We all know the saying, abs are made in the kitchen.
Try to incorporate 100-400 ab exercise reps into your daily routine, try to get a good variation.
For example:
Monday – abs
Tuesday – side core
Wednesday – lower core/ V-line.
It doesn't necessarily have to be a part of your workout. You can get into a routine of doing abs first thing in the morning before breakfast or even before dinner in the evening. I sometimes even do core exercises while I take study breaks.
Running/ jogging can contribute to a flat stomach, but I think it's about burning fat in general, so any exercise that cause you to burn fat will in turn, result in a flat stomach.
However this can vary from person to person. I naturally tend to have a flatter stomach and it generally isn't the first place I would gain fat. I gain fat in my arms. If you gain fat on your stomach first, you would have to maintain a lower body fat percentage overall to have a flat stomach.
Favourite male Fitness icons?
Wayde van Niekerk
Rafael Nadal
Favourite female fitness icon(s):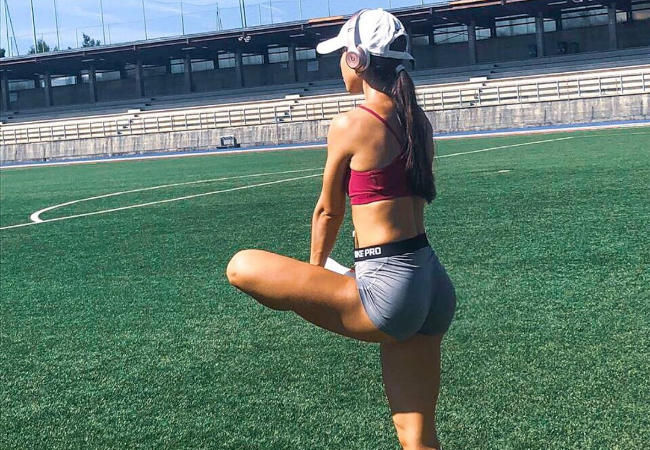 Favourite Quote:
"You won't always be motivated, so instead, learn to be disciplined."
What is the most common question you get asked?
What I eat, how I train and what supplements I use.
I eat a wholesome balanced diet, I do lots of weights and high intensity cardio, I used to only drink a protein shake, now however it would be my Amino Acids and Recovery drink from XSV.
Where can people get hold of you?
I mostly use Instagram: Eljoné Kruger
Email: jonekruger98[at]gmail.com
You May Also Like: