Name: Hayley T-Rex Wright
Age: 33
Height: 1,72 m
Competition weight: 54-55 kgs
Current weight: 60 kgs
Current city: Kloof, Durban, South Africa
Occupation: Truck Sales Rep
How did you get started in this fitness industry and where does your energy and extreme motivation for it come from?
I am relatively new, I've just completed my Novice year in Beach Bikini and I am now going up to the Fitness Bikini Division. I started this journey as I had a lot of weight to loose after my pregnancy and my end goal/reward to myself was to be good enough to stand on stage and compete just once.
Turns out I fell in love with the sport and I was pretty good at it so now I'm a full blown athlete! My crazy energy and extreme motivation comes down to my pure LOVE for this sport. It is a passion that can not be explained!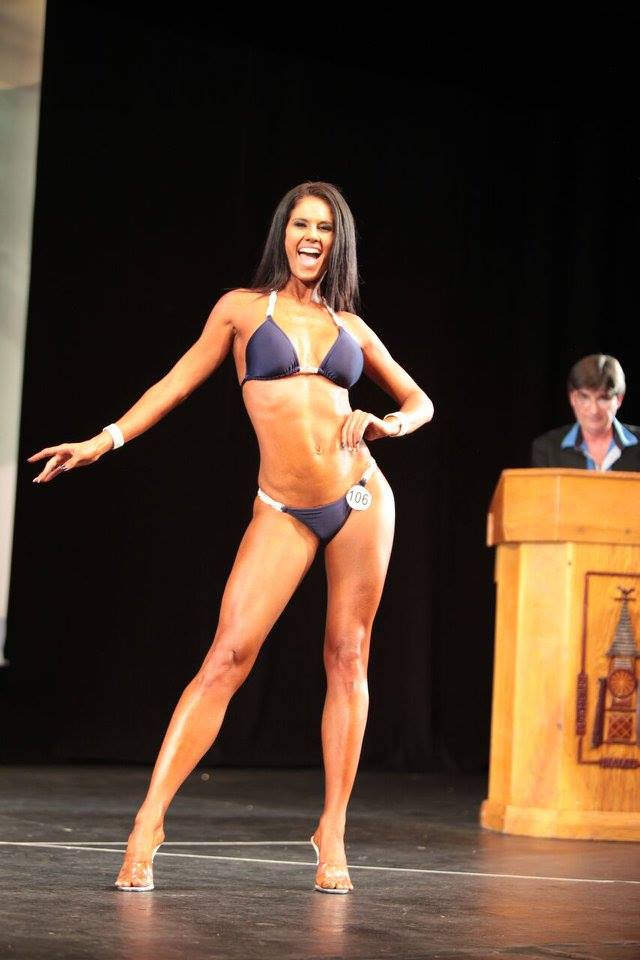 What made you enter your first show and how was the experience?
I entered my first show to add a cherry on top of what was an incredibly hard earned weight-loss journey for me. I was TERRIFIED during the pre judging and I didn't really know how I felt about the experience.
By the time I got to do my "T Walk" for the night show, I realised that this was what I was born to do! I was 110% hooked!
Who has been your biggest influence/support in your life and how did they affect you?
I have 3 major influences/support. Firstly, my mom who is so crazy passionate about everything she does. Her work ethics and tough love have made me into who I am today.
My husband is my pillar of strength and he supports me to the moon and back. Lastly, my coach, Riaan Dohne. This man has believed in me when I didn't, he has prayed for me and he has guided me all the way to where I am now.
I could never have got to where I am without the love and support from these 3 people.
What are some things newbies should be aware of, going into their first prep?
This sport consumes your life. Every weight lifted is calculated, every bite of food is measured, you have to live and breathe the sport 24/7. You don't have free time or free weekends. Your social life comes to a halt. That's why most people fail.
Social media shows us all the amazing bronzed bodies and glitzy bikini's but that is 1% of the time.
The other 99% is the hardest work you will ever do. In saying that, the rewards of being up on that stage is something someone cannot explain to another! Trust your coach implicitly.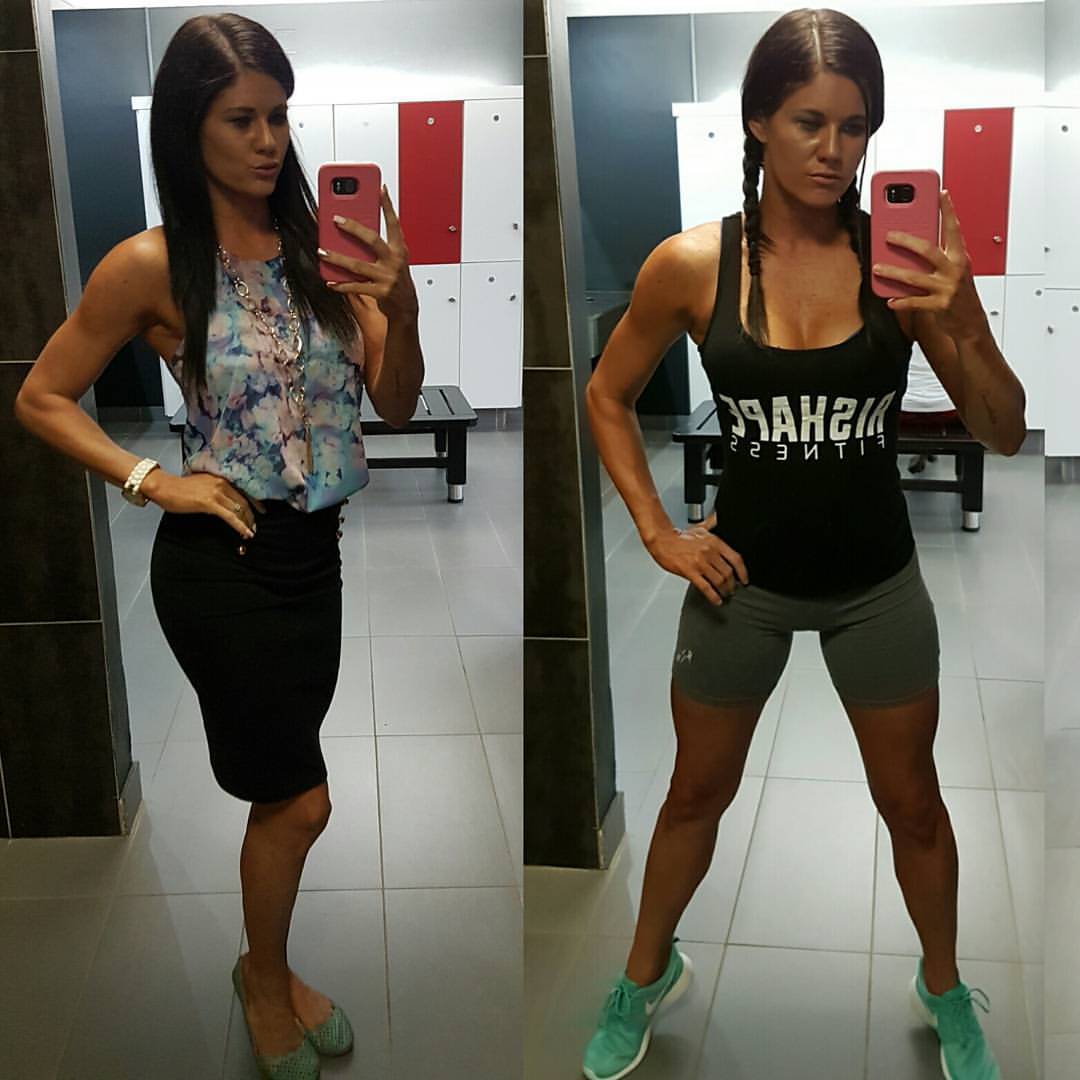 What do you think are some of your keys to securing a variety of sponsorships in such a relatively short amount of time?
I am sponsored by BW Apparel, Inov8 Nutrition, Simply Tipped, Hair at Leisure by Lucinda, Trifocus Fitness Academy, Rishape Fitness and SBR Trading. All I can say is I am humbled and so honoured to represent these brands.
It may seem that I have been 'lucky' or that they fell into my lap but I promise you I have worked hard for this. I have had doors close on me. I've had other companies let me down. I've been told I was too old, not good enough and not pretty enough but I kept my faith and get pushing and eventually the right doors opened for me.
The key has been that I never gave up, I kept my faith and I continued to be ME. Never change yourself to keep a sponsor happy, the right people will come to you when you least expect it.
What are some of your tips for people just getting into the fitness industry with hopes to get sponsorships and to get into fitness modelling and competing?
Sponsorships:
Social media is a powerful tool in securing sponsorships. Sponsors are looking for role models so keep it clean, keep your pictures family friendly and post interesting content (not just selfies.) Something a lot of people fail with is to Interact with your audience.
When people comment, thank them and even follow them back. Most of all BE YOURSELF.
Competing:
Don't jump from coach to coach thinking the next one has the magic cure to get you placed higher. Trust your coach, show loyalty and allow him/her time to learn how your body adjusts to different foods so that they can help turn you into the athlete you dream to become.
Fitness Modelling:
Photography is important to build your online profile. Use reputable Photographers like Ben Myburgh and Lyle Simes who know exactly how to bring out your best features and place the lighting correctly. Again, keep it tidy. Less is not more!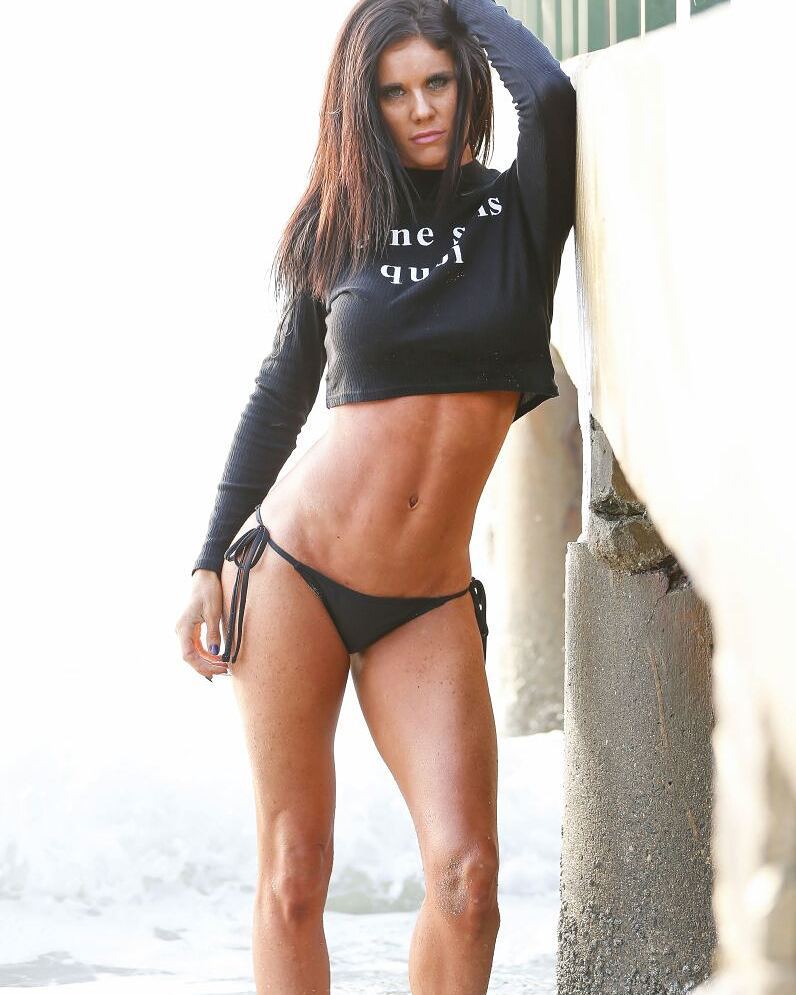 Did/do you ever have to deal with negativity from other women in the gym regarding the 'fitness' sport and your involvement in it? How do you deal with that?
Not at all. I've had plenty of woman come up to me and tell me they follow me on Instagram or Facebook and that I inspire them. It's honestly the best feeling in the world to have the ability to help other woman change their lives and grow in their own self confidence. I love it!
If you do, why do you think some people are like that?
Many people misunderstand the sport. I mean, we wear stripper heels and bikinis on stage…There are going to be one or two death stares or creeps following you. For the most part though, people get that it's a sport, our shoes, tan, make up, bikinis etc are all geared towards showing off our physiques to the best we can to secure a good placing with the judges.
The sport is growing rapidly and so is the fitness industry, with this there is becoming more of an understanding.
How did you manage to balance the fitness and competing with everyday life of being a mother and wife?
My Husband has helped me chase my dreams in every way he can. We have a great method that works for us and we have a roster and certain duties to help each other out. Communication and careful planning has been the key to our success.
Date nights consist of getting a babysitter so we can go to the gym together. Training with my husband are my favourite training days!
I also make sure that we spend quality time together by going away for a weekend straight after each show, to show them my love and gratefulness for putting up with all my training and dieting. Team work makes the dream work ?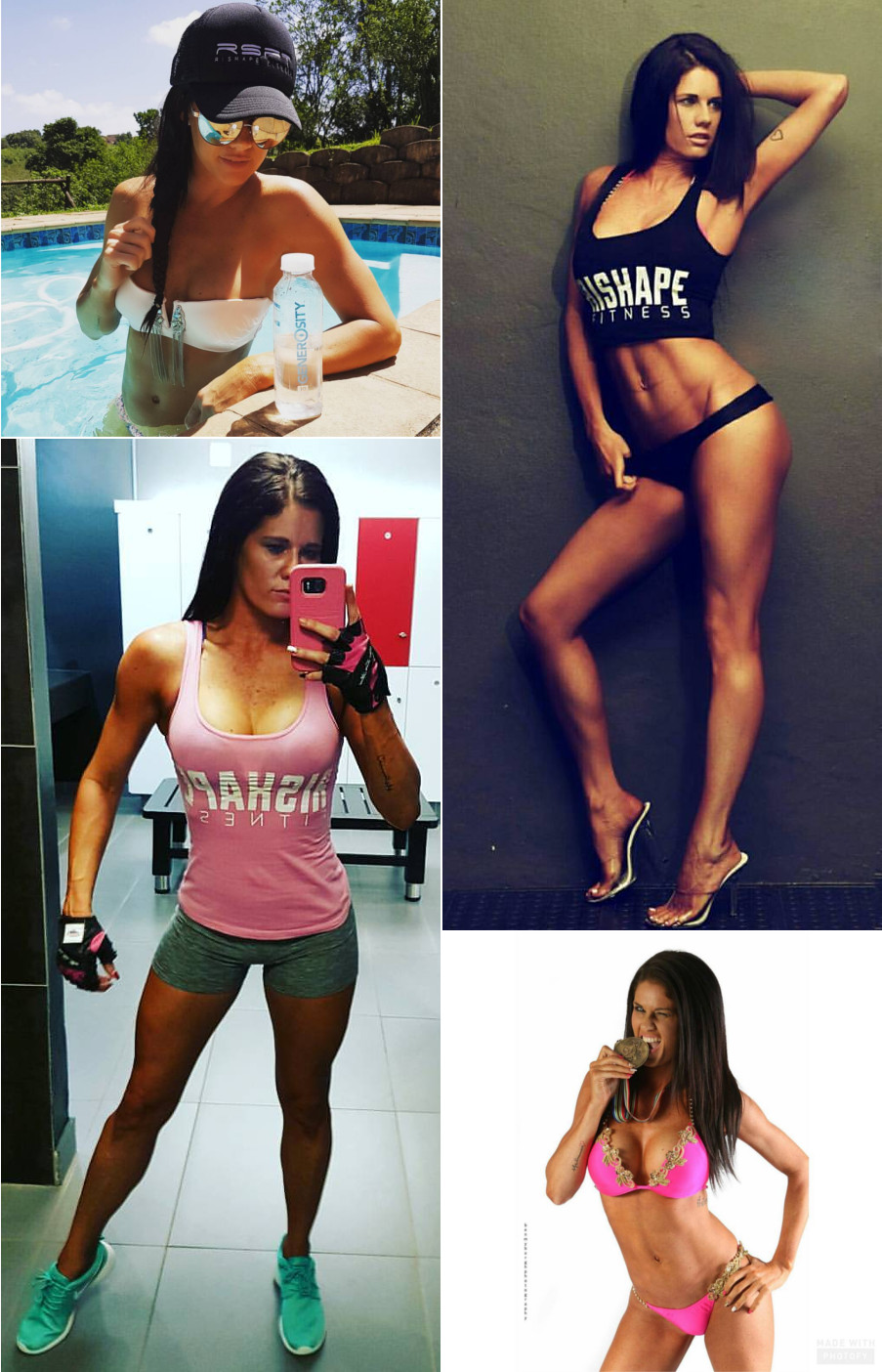 What are your future plans?
I still have a few tricks up my sleeve for 2017 so watch this space! On the competitive side, I have Arnold Classic to smash in May and I'm hoping to do an International show this year.
Go big or go home, right?
Congrats on winning the face of Inov8 Nutrition 2017! Tell us a bit about Inov8 and what makes them stand out?
Thank you! Inov8 Nutrition is a new online supplement company in South Africa owned by Kyle Tiltman. They are fast becoming the leading supplement company in South Africa for a few reasons:
The Pure Protein is by far the tastiest Protein on the market.
They offer FREE next day delivery.
Affordable supplements in easy to transit packaging AND they have the best tasting Sugar Free Protein Nougat Bars that will save your life during prep/diet!
I can't gush about these products more, you will just have to try them out for yourself!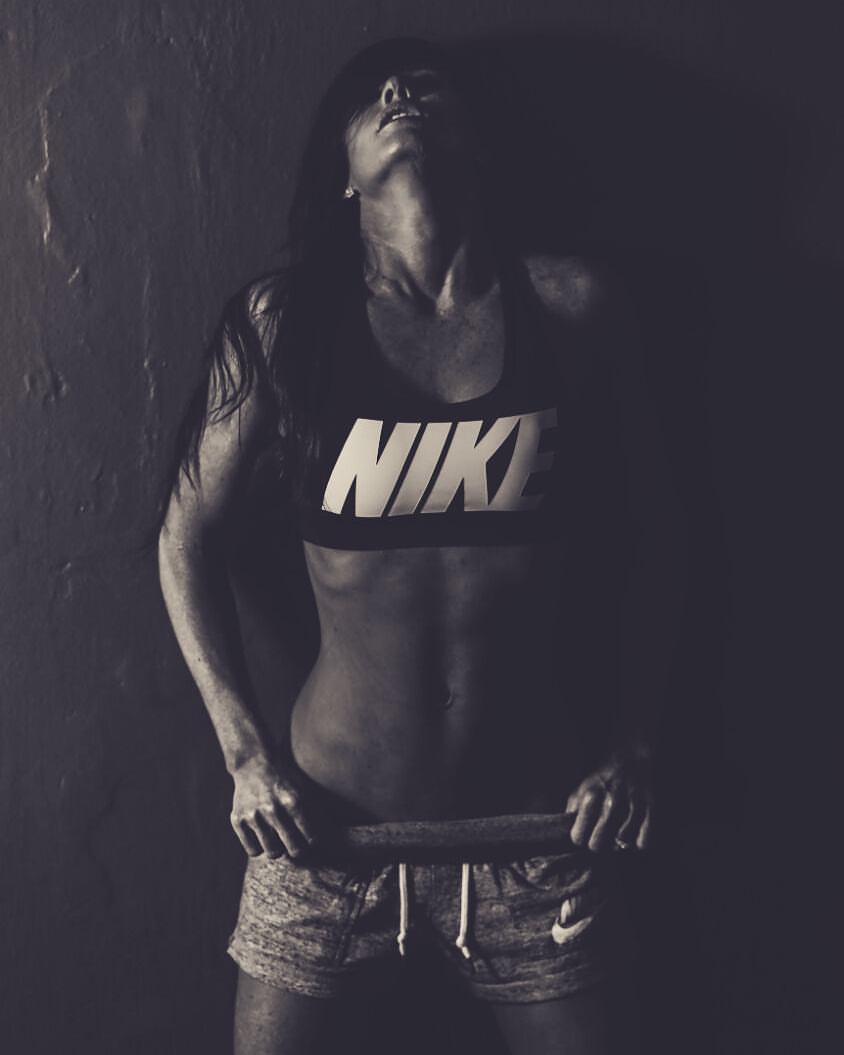 Take us through an average day of yours:
A day in the life of a T-Rex:
4:45 am | Wake up. Drink Inov8 Nutrition BCAA's & Pre Workout and leave for gym.
5:00 am | Weight training.
6:00 am | Cardio while drinking Pure Protein, BCAA's & Glutamine.
7:00 am | Shower and go to work.
7:45 am | Arrive at Work.
5:00 pm | Fetch my daughter from school.
5:30 pm | Repack all my gym clothes and food for the following day.
7:00 pm | Dinner with Pure Protein Shake.
7:30 pm | Study through Trifocus Fitness Academy.
8:30pm | Sleep.
Give us a brief description of your philosophy on your diet:
My diet is simple. I eat clean, I eat often and I eat each and every food group. I generally increase or decrease the amount of carbs depending on what muscle group I am working that day. I don't like green vegetables so I mostly stick to pumpkin, its low in carbs and sugar.
I eat about 120g chicken, fish or meat every 3 hours. In total I eat 7 meals a day.
What are your top Nutrition tips for losing fat?
Eat often and DO NOT skip meals. This speeds up the metabolism and burns fat faster.
Eat Healthy carbs. Whole Oats, Sweet potato and Basmati Rice.
Drink lots of water. So it can metabolise fat in your liver.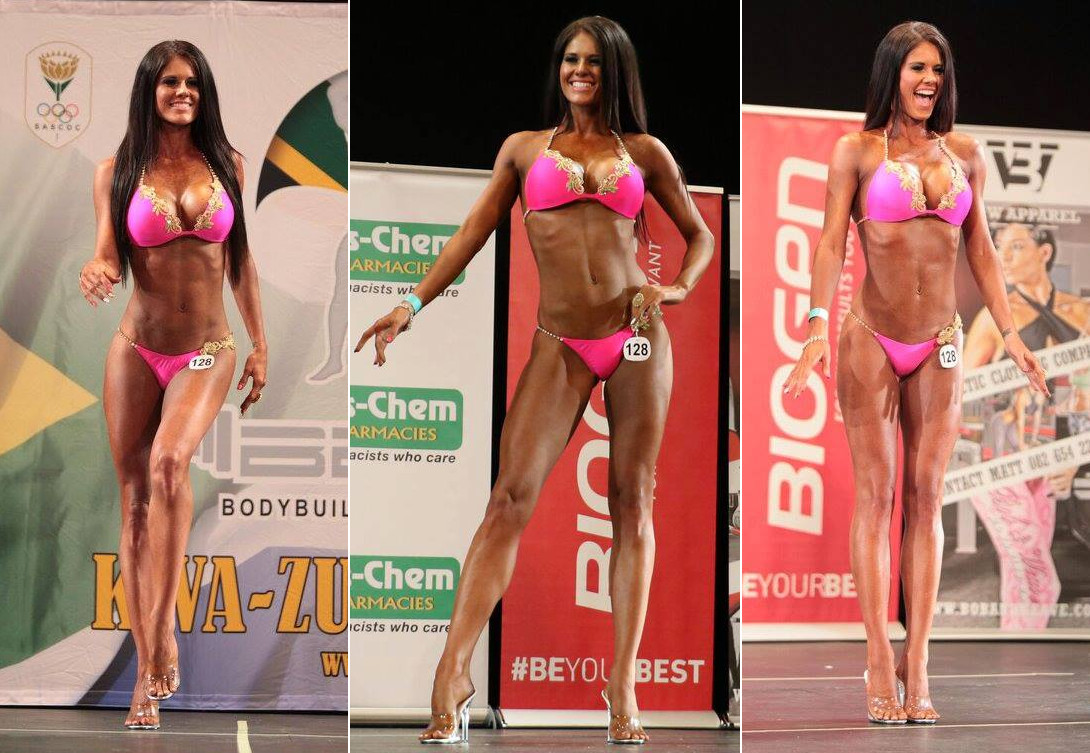 What process do you follow when it's time to start getting ready for a competition/photoshoot?
I keep my diet healthy and my body in shape year round so there's no sugar or junk food to cut out. I do reduce carbs/calories the closer I get to each show and I increase my cardio time to help me lean out.
I do a lot of visualisation before each comp while doing my cardio. I visualise winning, I visualise my look (bikini, make up, hair etc) and I visualise how it will feel when I am on stage. This helps keep my head in the game. I also start teeth whitening about 2-3 months out because I think my smile is my best asset on stage.
What supplements do you use and think are necessary for a beginner training to gain a bit of muscle but ultimately wanting to lose fat?
Inov8 Pure Protein – This is a basic, necessary for fat loss, increase muscle mass & recovery.
Inov8 L – Carnitine – Helps with fat loss and is an appetite suppressant.
Inov8 Pre-Workout with Fat Burner – 2 in 1! Kick in the gym and Fat burning properties.
Give us a brief description of your philosophy on your training/training schedule and on average how long do you workout for?
I work my weakest/most important body parts the most. I'll train legs and shoulders 2 times a week.
Back, calves, arms and tri's once a week. I do an hour of weight training and ½ an hour to a 1 hour of cardio depending on whether I want to maintain my weight or lean out. I train glutes everyday with sets of 100.
I also believe the best cardio is anything that helps build your glutes like the stepper machine or full incline walk on treadmill.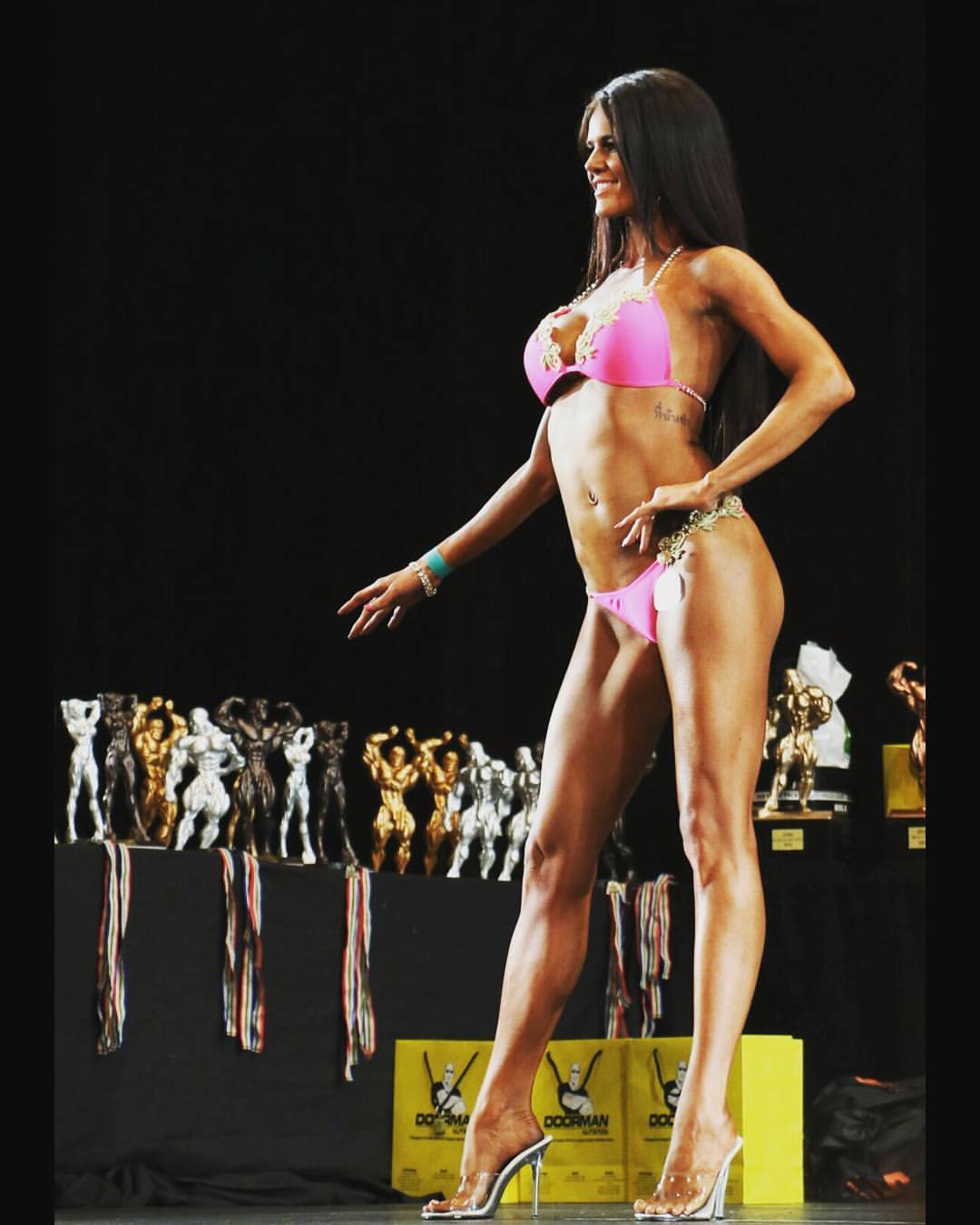 Does your training change much when you start preparing for a competition?
I always go hard in the gym and I always train 6 – 7 days a week so it doesn't really change that much. The only thing that changes is I increase my cardio to try get nice and lean and I'll increase my glute exercises.
What are your essentials that are always in your gym bag?
Rishape Fitness online training programme – You must always have a game plan!
Head phones – Music takes me to new levels of training.
Inov8 BCAA's – I NEVER start or finish a training session without a scoop.
BW Apparel Cap – I need to look fly 😉
Pink Gloves – Because no other colour will do.
Do you have any fit fashion tips for the ladies?
It's no secret I love Fit Fashion! You can't do a proper workout in skimpy clothes so make sure you don't show too much skin. On that note, no one likes a plumbers at the gym either! BW Apparel Compression leggings are the best (tried & tested) when it comes to deep squats. For the ladies who are a little more body shy, I recommend a loose fitting BW Apparel vest (they have gorgeous colours) and full length gym tights under.
Oh, and always add a dash of pink somewhere. Pink is very important in a man dominated gym :p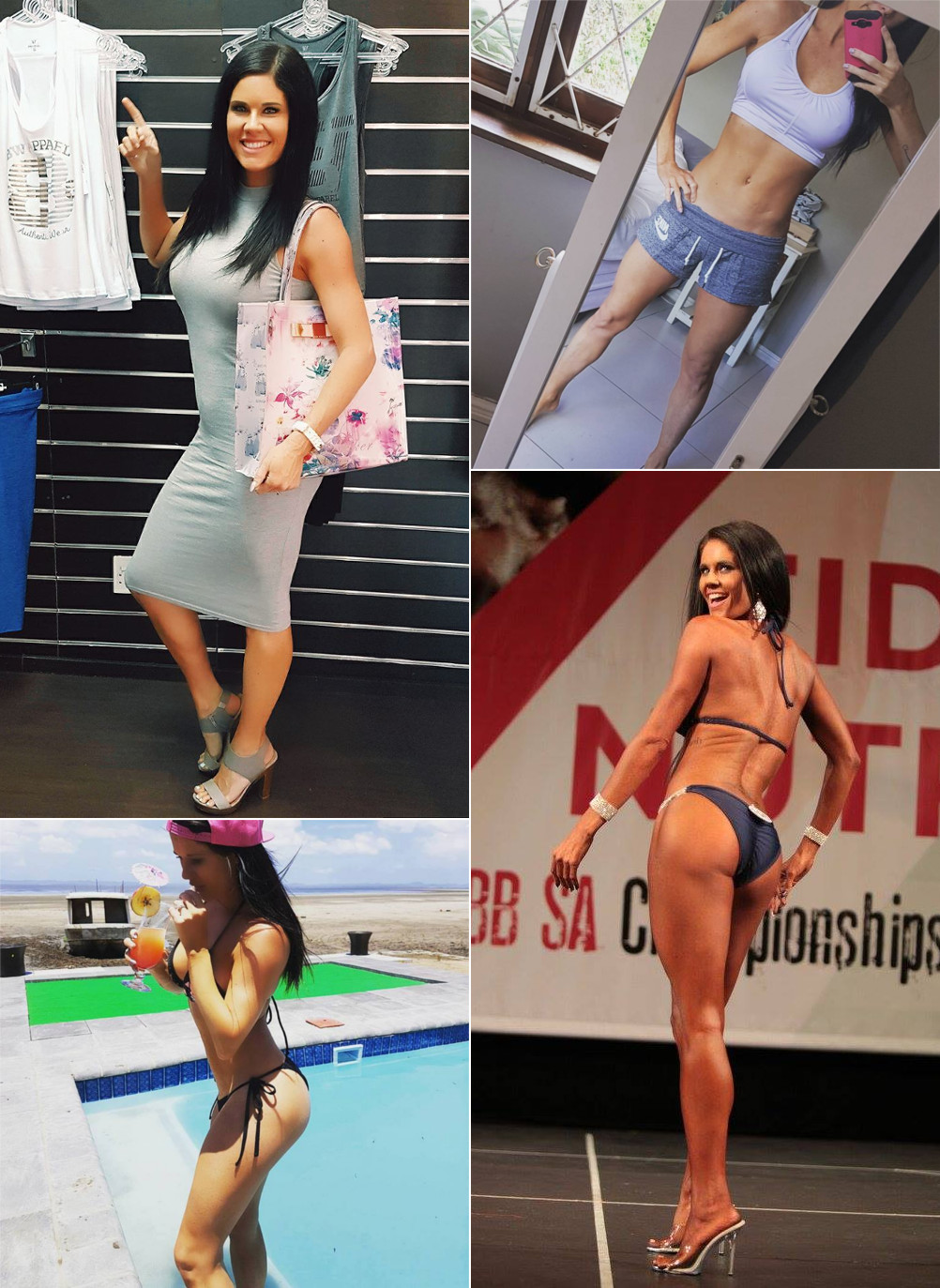 And for the guys?
Tights at the gym are super hot! It just shows that you work out more than your guns. Girls are all about that booty! Tanks are cool if they are well fitted. Don't wear tanks that are too low in front. Sweaty nip slips are not hot!
What are your 3 favourite exercises?
Because Booty building is life!
Shoulder development is super important for Fitness Bikini.
These have helped sculpt my quads beautifully.
Why do you think many females prefer to do cardio and not venture into the weights section? Can weights help the ladies lose fat or will it making them huuge?
I used to be scared of the weights section because I feared that the bodybuilders would judge me on my poor form as I didn't know too much. Cardio is the easier approach and no one will judge your poor form so woman flock there thinking they will lose weight by running for an hour.
This is untrue, you burn more calories lifting weights and you will get nice and toned. You can NOT get bulky or huge by lifting weights unless you have years of experience / steroids behind you.
Get in there girls! Besides, I've come to realise that most of the bodybuilders are so worried about their own form they don't even notice us girls in there.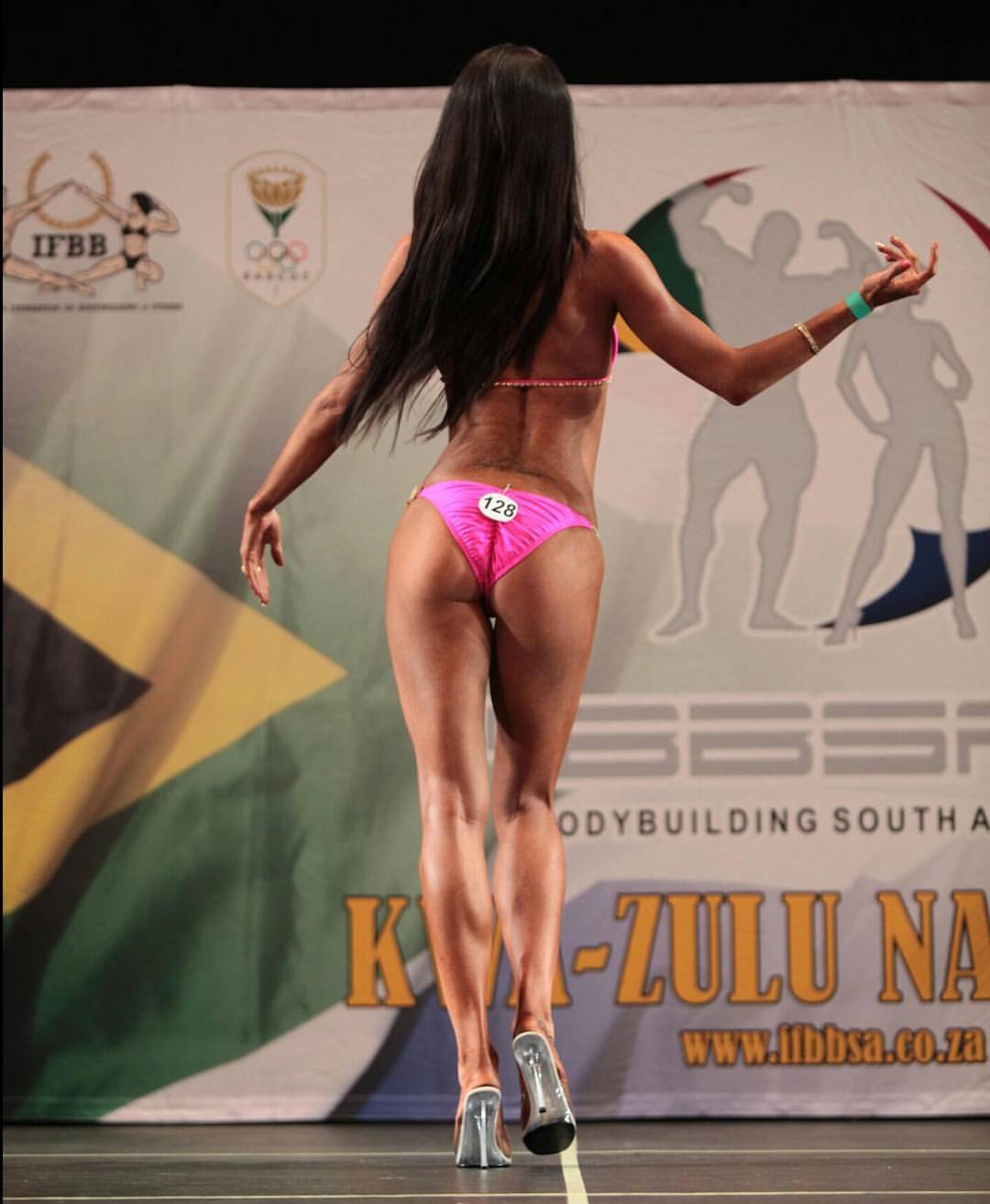 What other forms of exercise do you enjoy and incorporate?
I was a top show jumper before I became a Fitness Athlete so every now and then I like a little spin on a horse. I'm a keen runner although I haven't done a race in a while because of knee issues. I swam Midmar last year and I've done a few triathlons.
Favorite male Fitness models or bodybuilders?
Okay girls, here's the lowdown on the eye candy:
Dave Watkeys – Fellow Rishape Athlete with an amazing physique.
Neil Van Rooyen – Men's Physique competitor and one of the nicest guys you will meet.
Shaahid Kharsany – Inov8 Nutrition Runner Up and a true gentleman!
Favorite female fitness icon(s):
Roxy Barker – Fellow Team Rishape Athlete & Social media mogal.
Anita Herbert – Seriously….. Goals!
Leana Viviers Niemand & Anesca Gouws – Leaders in Beach Bikini and exemplary role models.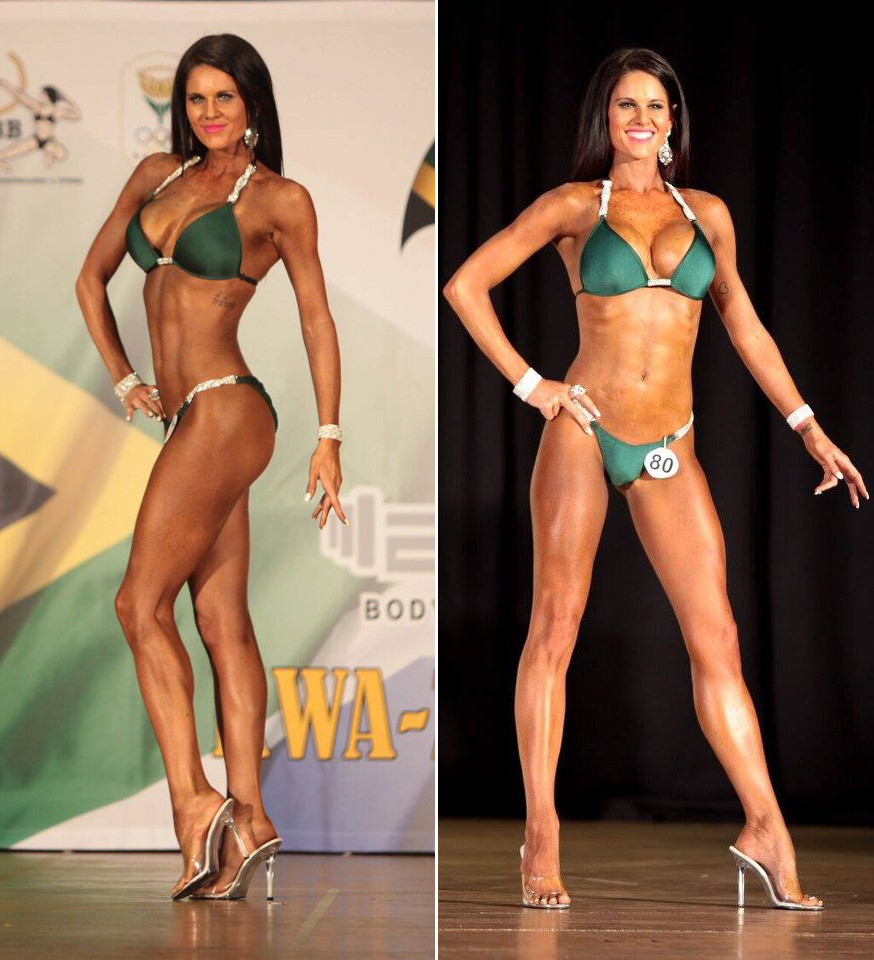 Favorite Quote:
"Never forget in the dark what God told you in the light."
What is the most common question you get asked?
"How?" Just HOW?
People are amazed by my transformation and how I broke into the industry. My answer is "Blood, sweat and tears." Nothing in life is free or easy. You have to work hard for the things you want.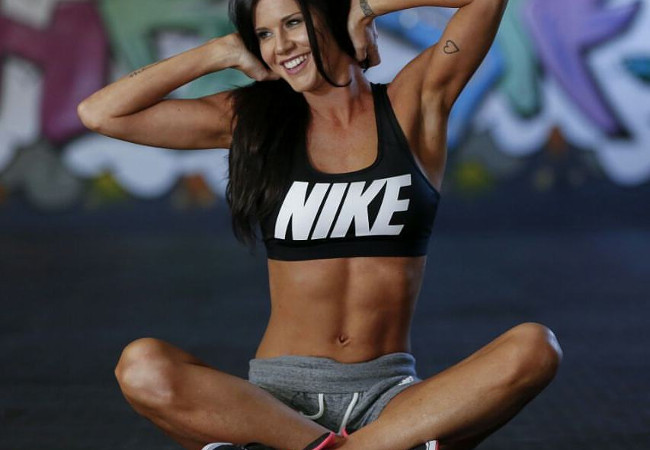 Advice for someone wanting to get in shape and unsure where to start and a bit afraid of the gym?
Get yourself a good online coach and TRUST him/her.
Google each exercise and self-learn each machine.
Don't be scared to ask someone at the gym to show you how to do something.
We all have to start somewhere, the important thing is that you start!
What competitions have you competed in and your placings?
2016:
July | East Coast Classic | 2nd Beach Bikini over 163 cm
August | KZN Provincials | 5th Beach Bikini over 163 cm
September | SA Champs | 3rd Beach Bikini over 163 cm
Invitation to compete at Arnolds 2017
Where can people get hold of you?
Photography credits: