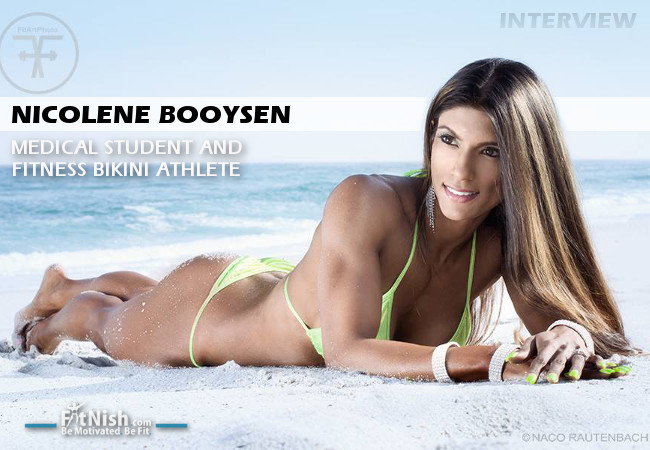 Name: Nicolene Booysen
Age: 31
Height: 161 cm
Competition weight: 52 Kg
Current weight: 53 Kg
Current city: Cape Town, South Africa
Occupation: 5th year medical student
How did you get started with training? Has it always been part of your life?
I was always active as a teenager. At school, I played netball and did aerobics classes. On weekends, I participated in fun runs with my dad. Before I met my husband, I used to be a "cardio bunny" at gym. But he taught me all about weight lifting and we have been gyming together ever since.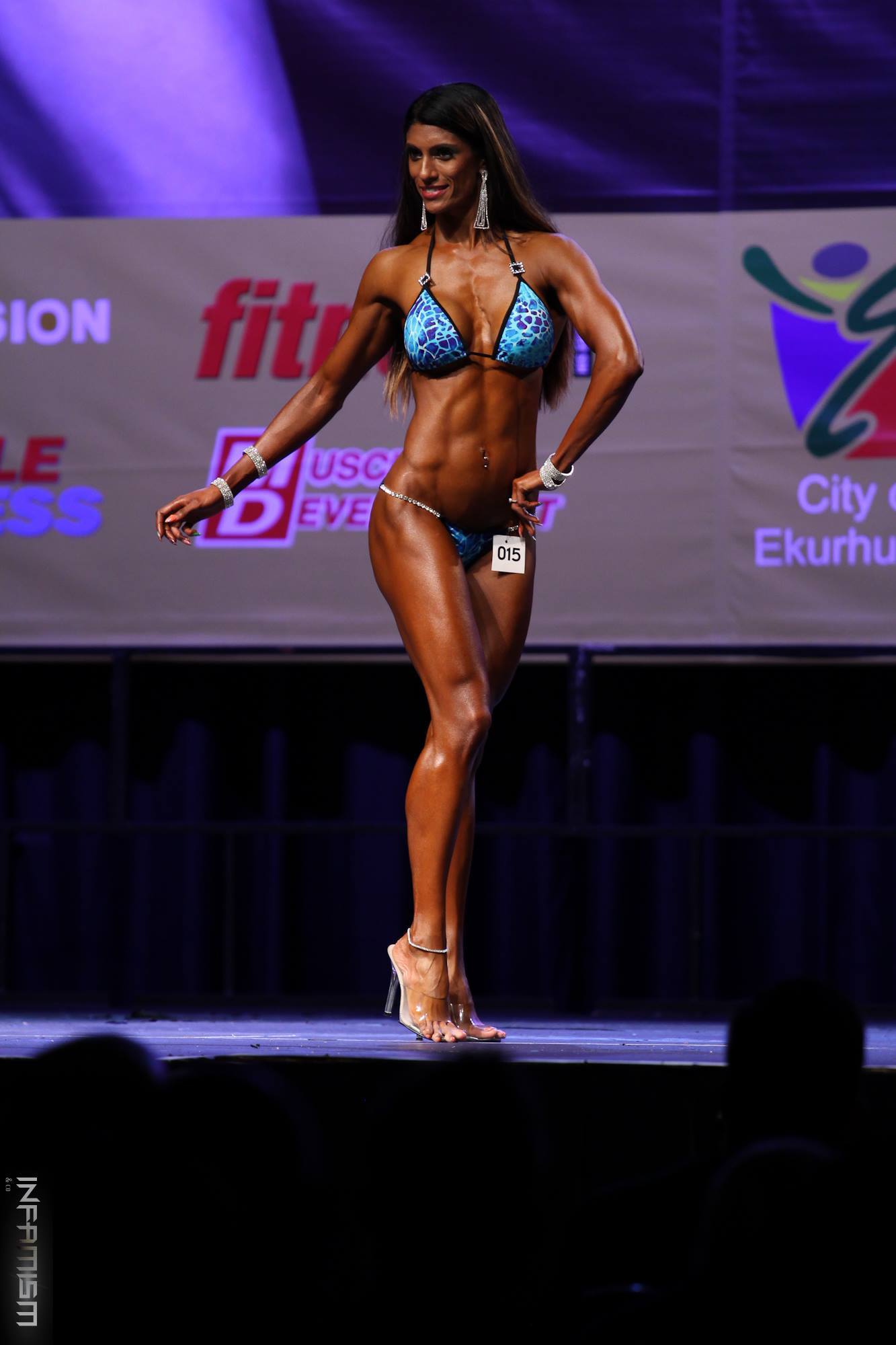 How long was it from when you started training in the gym to competing in your first show? And what made you enter?
I started weight training in 2009. In February 2012, I joined Kini-Girl and Tammy Dreyer "forced" me to do my first show in April 2012 lol.
I was too scared and shy but she said I should go ahead and do it anyway. She was always a tough cookie haha. As she predicted, after the show I was hooked!
How do you manage to stay motivated and consistent throughout your training and eating right? Do you think it requires a lot of sacrifices?
Oh yes, it most certainly requires an immense amount of sacrifice! Just like everyone else, I too have my weak moments where I just want to give up and don't even care if I get fat lol. Luckily, my husband, Sean, is always there to support me and kick my butt back into gear!
I couldn't do any of this without him. I also love looking at social media for inspiration from other people who live this lifestyle, especially on those days when I feel lazy.
I have found that keeping a diary with my weekly body fat percentage assessments and progress pictures helps keep me on track too. On days when I feel like I'm not reaching my goals, I look at these progress pictures and it reminds me that every little bit of effort makes a big difference in the long run.
This sport is about consistency, not instant gratification. During competition preparation, my coach IFBB Pro Marius Dohne from Born To Dominate, is always available with advice and words of encouragement. That little bit of positivity makes the world of difference!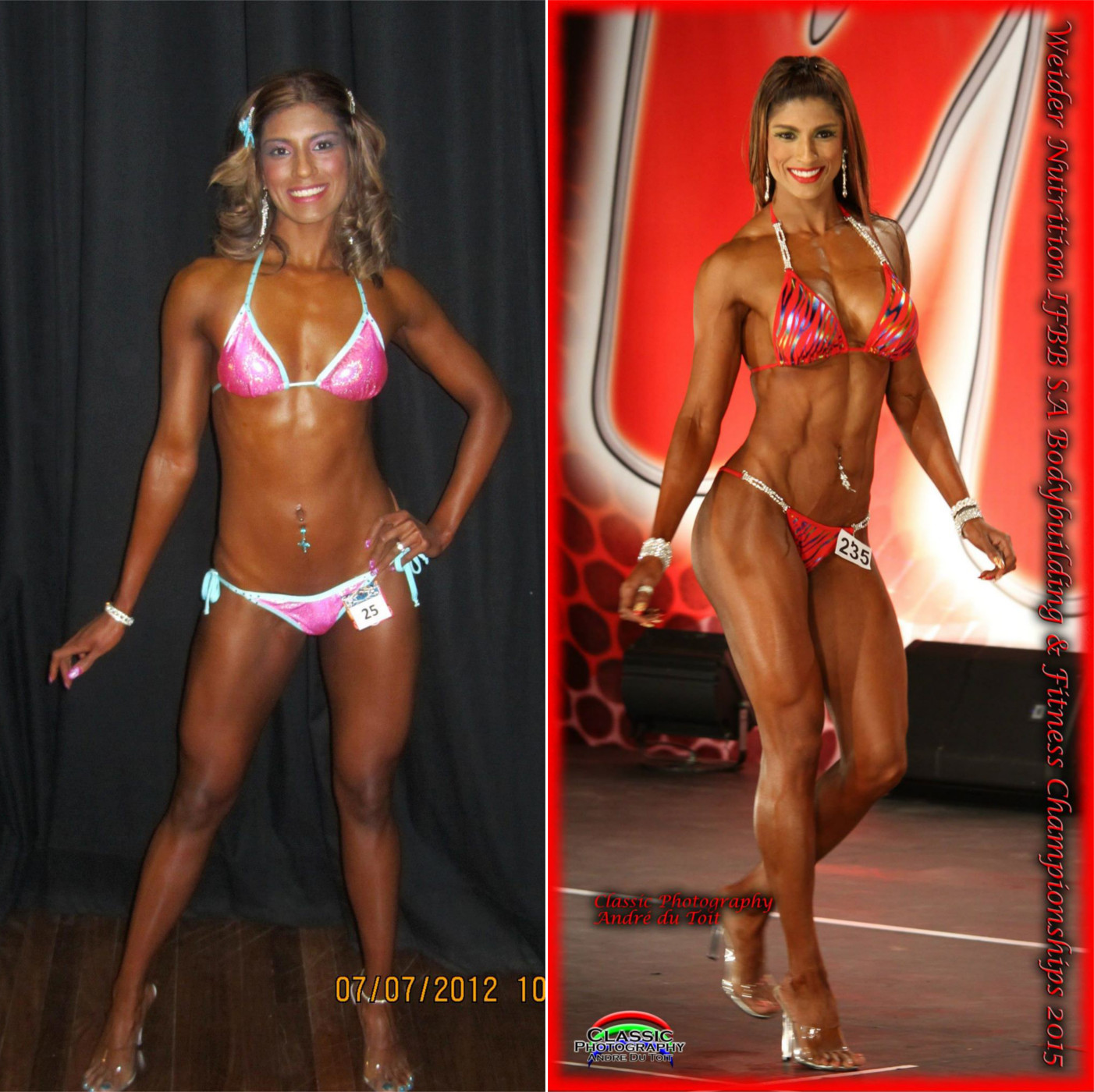 How do you manage to balance everything while leading quite a demanding career as well?
Lol, I get asked this question a lot! It's not easy but I do believe it is true that whatever the mind believes the body can achieve.
What are your future plans?
My main goal is to complete my MBChB degree at the end of 2016. I will be competing at the Amateur Olympia in Liverpool, UK and at the IFBB Ladies World Championship in Hungary in November 2015. I hope to place in the top 10 at either of these competitions.
Then it's time for a great off season (food, glorious food haha) before I start preparing for the Arnold Classic SA in 2016.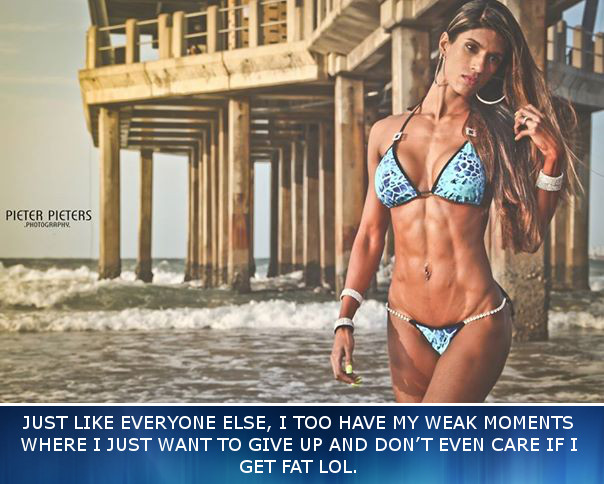 Did you ever imagine when you first started out that you would come this far?
When I first started, all I wanted to do was improve my health and change the way my body looked. That is still my goal. I have an idea of what I want my body to look like and I still have a long way to go to achieve that look. All the other achievements I have had in this industry thus far are a huge blessing.
Tell us a bit about your experience competing on an international stage overseas at the Arnold classic:
Wow, where do I start? Travelling is exhausting especially when you're dieting but when you have time to reflect afterwards, it's the best feeling! The Arnold Classic in Colombus, Ohio was incredible!
There were thousands of athletes. Backstage was packed to the brim. There were girls in bikinis everywhere you looked, running up and down, warming up, helping each other with hair and makeup, taking selfies, speaking in different accents. There were about 45 girls in my line-up alone!
The judging is super quick. I think I was only on stage for just over 1 minute in total! It was an honour standing on the same stage as all the Pros. I got to meet many of the Pros during the Meet And Greet the Pros session.
I attended a seminar with Arnold Schwarzenegger, Lee Haney, Lou Ferrigno, and many of the other pros. Arnold Schwarzenegger is truly a legend! He is charming, humorous, inspirational, but he also isn't afraid to speak his mind.
There was also an expo at the venue all weekend. That too was packed with althetes, pros, and just everyone off the street. I think the entire population of Colombus was at the expo lol, probably because there was tons of free stuff; samples of pre-workouts, protein powders, protein bars, free t-shirts, gadgets galore; and the best part was that everything was selling for next to nothing (if you lived in America and earned dollars, that is).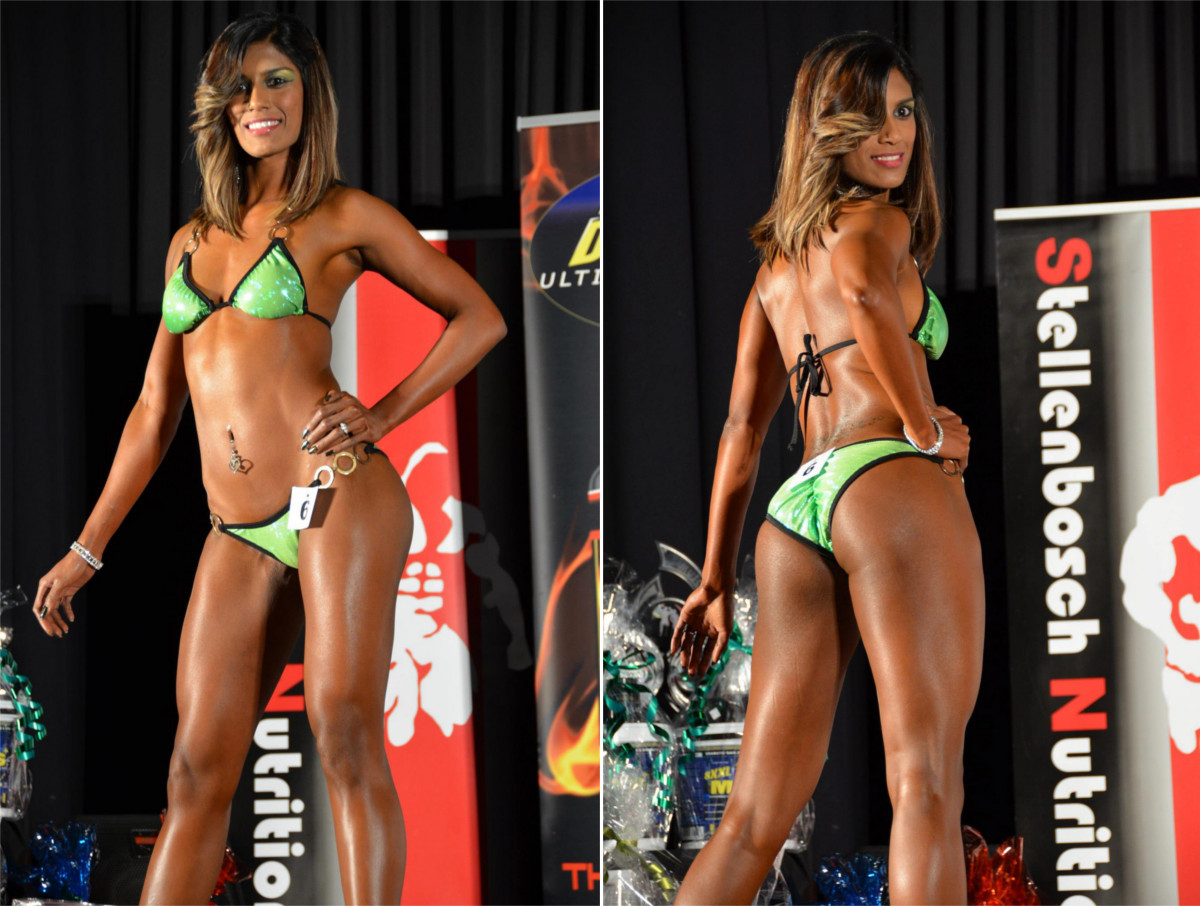 Take us through an average day of yours:
During competition prep:
4am: Wake up and prep breakfast
5am: Cardio
6:35am: Leave for work
7:15am: Eat breakfast
7:30: Hospital time begins
7:30 – 5pm: Work, eat, work, eat, work, eat, work
4:30 – 5pm: Home time 😀 (if I'm not on call that night)
6pm: Gym with Sean
9pm: Eat supper while prepping meals for the next day
10pm: Shower
10:30pm: Sort out any admin or studying
11-11:30pm: Bed
Off season is pretty much the same except I get to wake up a bit later 😀
Give us a brief description of your philosophy on your diet:
I believe in eating 5-6 small meals everyday. My diet changes according to what my body looks like. Last year I did carb cycling, this year my body is responding better to eating carbs everyday.
I always have a protein source (eggs, chicken, tuna, steak, ostrich) with clean carbs (oats, rice, sweet potato, potato) and vegetables. I don't eat any carbs with my supper, only vegetables.
I weigh all my food according to my body weight (so please don't ask me to share haha). My fat intake is very low.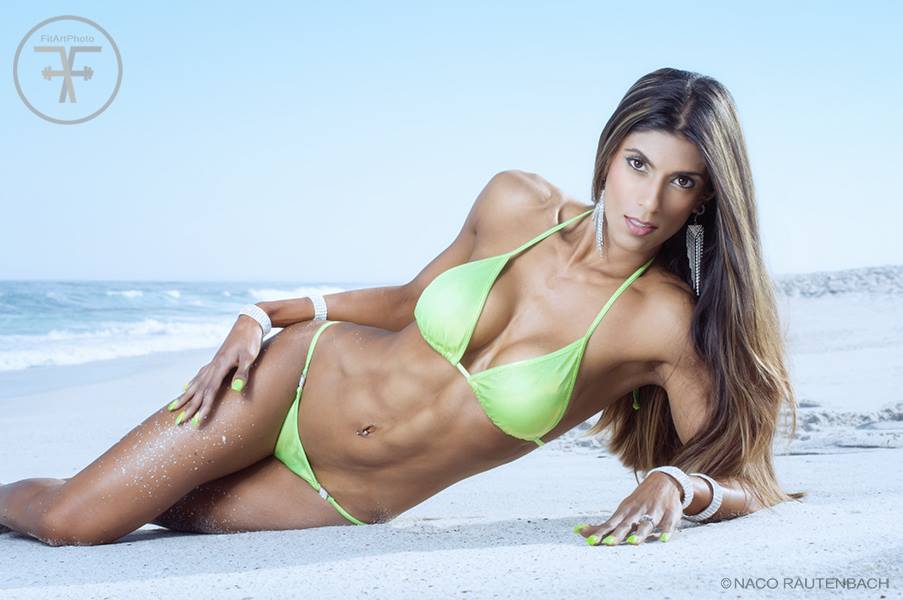 What are your top Nutrition tips for losing fat?
Most important is eat breakfast! It helps speed your metabolism.
Then eat 5 smalls meals everyday.
Drink lots of water.
Weight training helps build muscle. The more muscle you have, the faster your metabolism is. Depending on your body type, add cardio as necessary. Too much cardio breaks down muscle.
Once your diet and training is up to scratch, add supplements. I use a multivitamin like Centrum, USN PhedraCut Lipo XT before cardio, USN Gltuamine, Creatine, and Amino-Mass intraworkout, USN Whey Protein Isolate or USN Lean-8 Multi-Phase protein as my postworkout shake.
During the day, when I'm bored of drinking plain water, I add USN CLA with Collagen to my water. CLA also helps burn fat and the collagen nourishes the skin and helps keep the skin tight so less stretch marks when you lose the unwanted fat.
What's your favourite healthy meal recipe?
Anything with peanut butter or almond butter or CHEESE 😛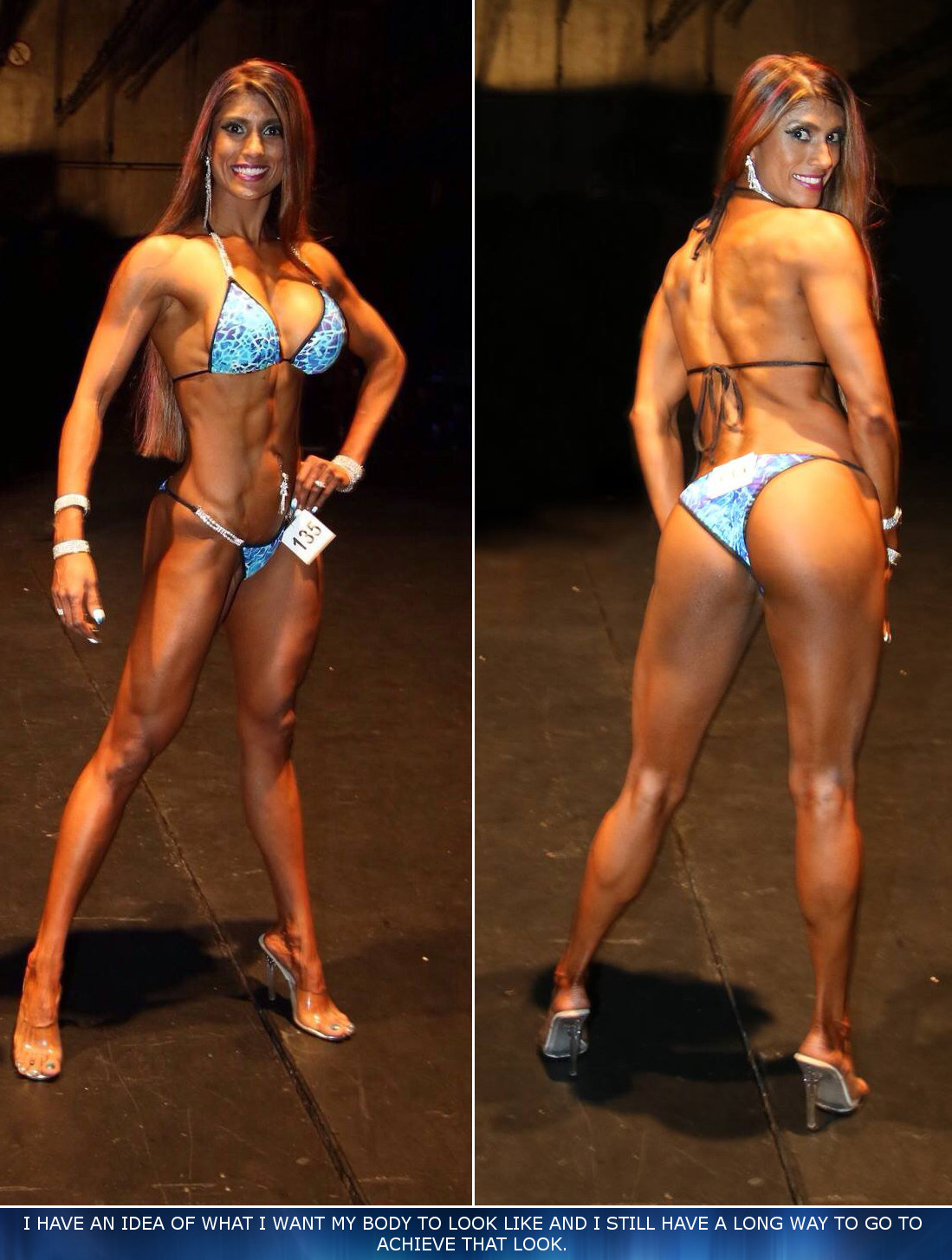 Give us a brief description of your philosophy on your training and on average how long do you workout for?
I train 45 minutes cardio in the morning then 2 – 3 hours of weight training at night. Weight training works for me. I enjoy the challenge of pushing past my limits and seeing my body change.
And there's always something to improve on and learn about my body so it doesn't get boring. When I feel like having a relaxing workout, I go to a yoga class. Yoga helps keep the body supple and decreases your risk of injury.
What are your 3 favourite exercises?
1. Deadlifts
Good for all round muscle development from legs, glutes, back, core. I love the head rush I get afterwards lol.
2. lunges
Good for building that booty. Which girl doesn't want a nice round butt? Haha.
3. donkey calves
Only because I need to grow my calves and the only way I'm going to defy my genetics is if I learn to love training these chicken legs! lol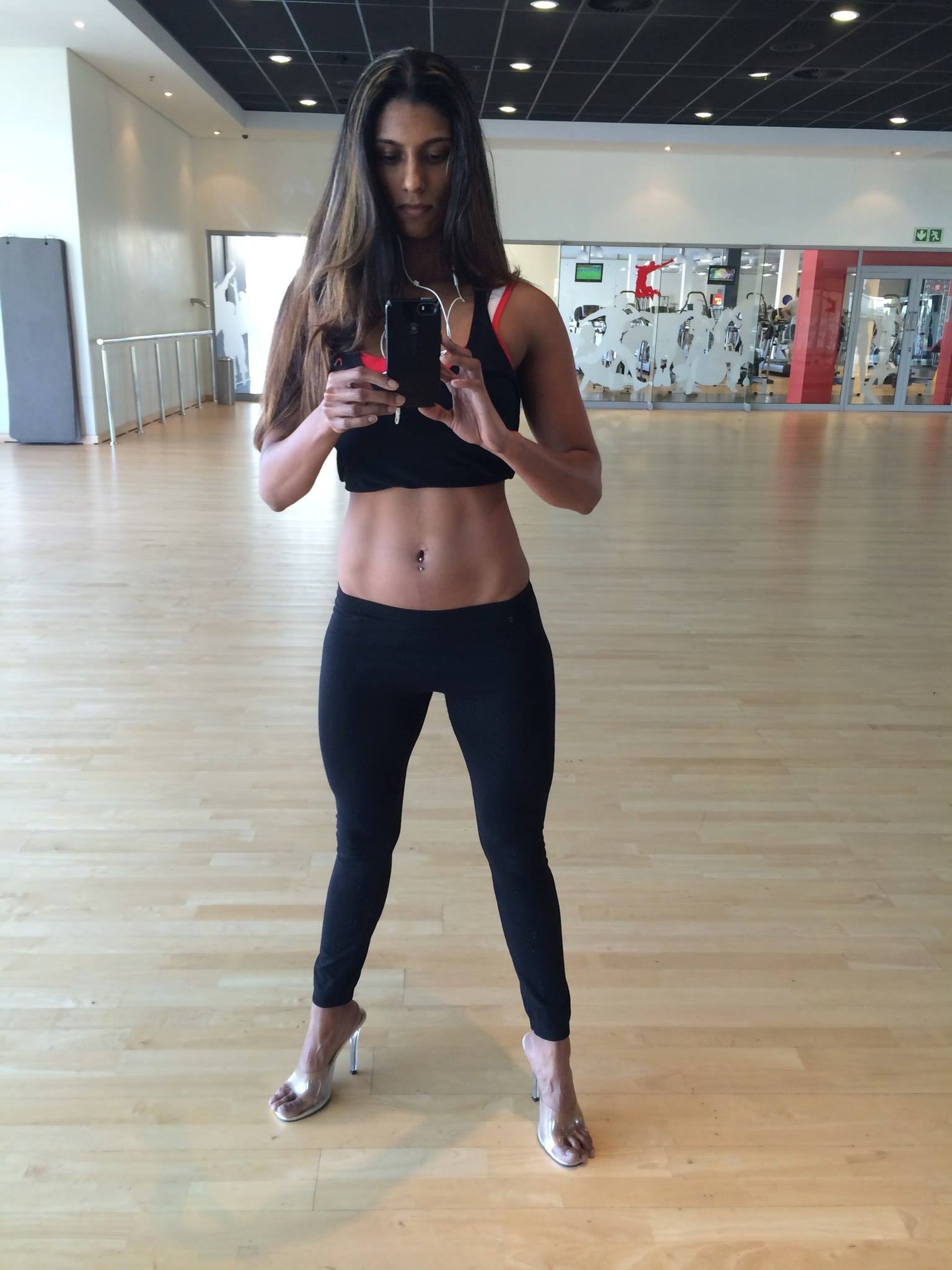 Which do you think are the 3 most overrated exercises you see people doing?
I don't think any exercise is over-rated as long as it is done with proper form.
What advice would you give the ladies to developing a flat tummy and chiselled abs? What are some of your ab training tips?
It's sad but definitely true; abs are made in the kitchen. Even I don't see my abs when I cheat onmy diet.
When doing any ab exercise, try to focus on the abs itself and not on your hip flexors.
Favorite male Fitness models or bodybuilders?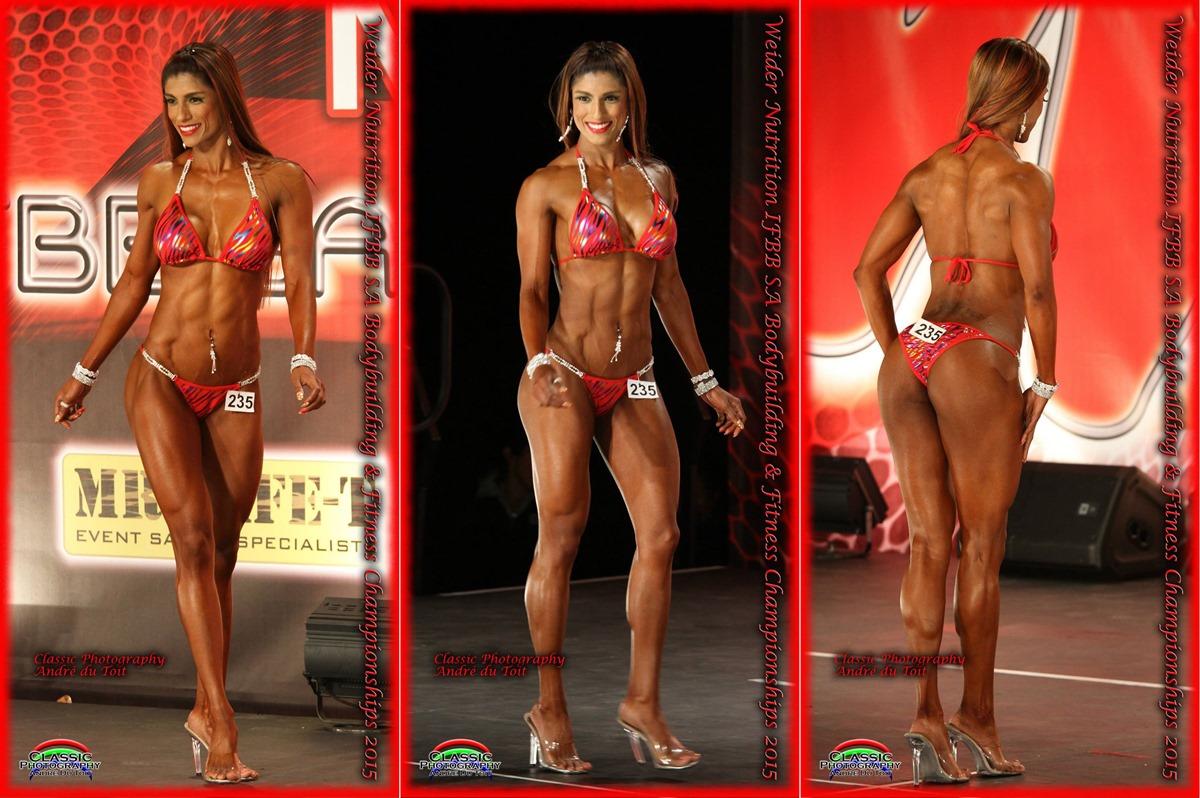 Favorite female fitness icon(s):
SA Bikini: Michelle van Rooyen, Lizelle Horn
SA Fitness: Nicole Seymour
International Bikini : Justine Munro, India Paulino
International Figure: Vivien Olah, Nicole Wilkins
International Fitness: Oksana Grishina
Favorite Quote:
"If you want to be successful, you have to be willing to give up sleep!"
What is the most common question you get asked?
How do I manage to balance this lifestyle with studying medicine? (see above for answer)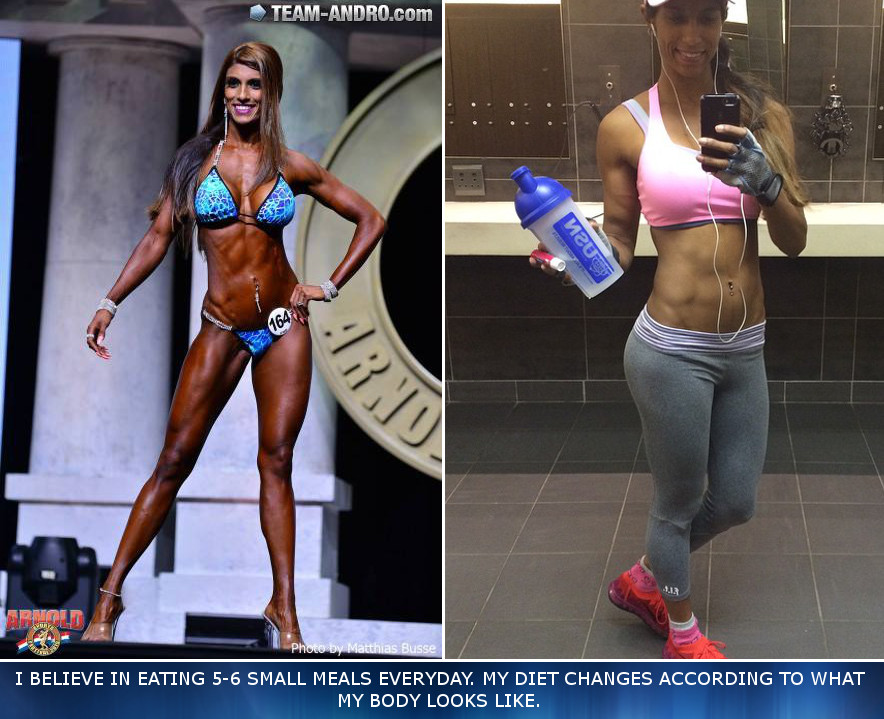 What is the one thing you see people do in the gym or when training which really annoys you?
Hogging a machine or bench while they stand around chatting or playing on their phone.
Best piece of advice you ever received?
Believe in yourself!
Advice for someone who is a bit unsure and overwhelmed and just starting on their journey to get in shape?
Please do your research and invest in a good personal trainer and coach. Many people get one or the other, or neither, and it's just a disaster. The diet and training are both crucial to making any sort of progress.
I always see people at gym training with the incorrect form. What's worse, is when I see people training with a personal trainer and they still don't train with correct form! Find a personal trainer or get a gym partner who knows how to train properly.
With regards to the diet, you need a nutritionist or coach who will tailor your diet to your body and not just give you a generic plan. There are lots of people out there who want your money but are not willing to put in the extra work to tailor things according to your body's requirements. It's sad because they charge an arm and a leg, for nothing!
Even if you do find someone who cares enough to put in that extra effort, it is also up to you to stick to the plan!
I also see many people complaining about their coaches or personal trainers because they are not seeing the results. You can't blame someone else if you are not meeting them half way and sticking to the plan either.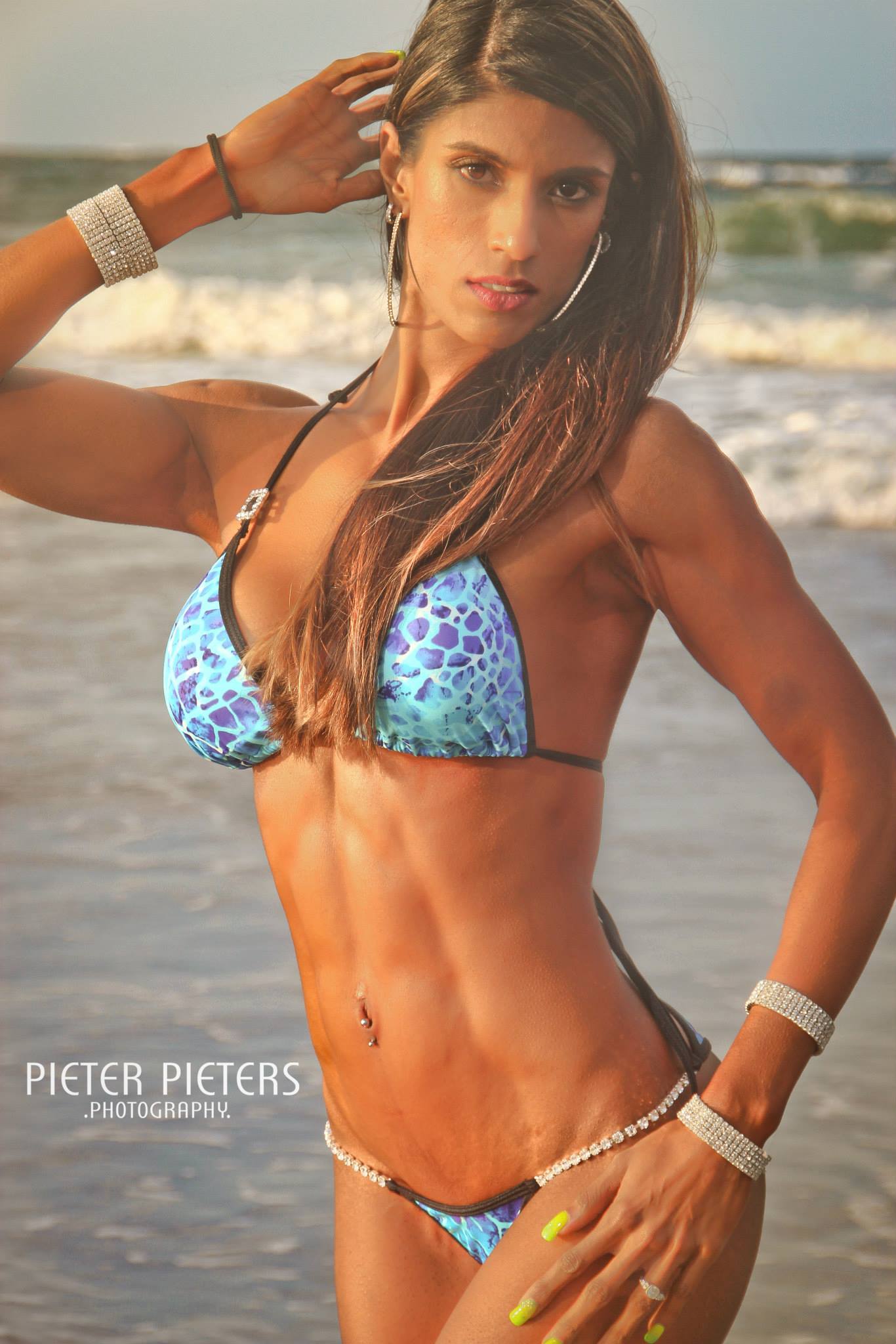 How do you keep a positive mindset and attitude through setbacks?
I am extremely fortunate to have a husband who is not only my best friend but also my rock when times get tough. He's brutally honest lol which helps me keep things in perspective. I also have friends who I can chat to or just vent to.
But most of all, I've learned over the years that life is tough, things will not always go as planned or how you want it to but why dwell on that? Just breathe, pick yourself up, be thankful for a new day and a new opportunity to work towards your goals, and let life take it's course.
What competitions have you competed in?
2015
IFBB Arnold Classic Colombus, Ohio | Bikini | 20th
IFBB SSN Team Universe | Fitness Bikini | Top 10
IFBB Western Province Provincials | Fitness Bikini u163cm | 1st
IFBB SA National Championships | Fitness Bikini u163cm | 1st
2014
IFBB Battle of the Titans | Fitness Bikini | 4th
IFBB Western Province Provincials | Fitness Bikini u163cm | 1st
IFBB SA National Championships | Fitness Bikini u163cm | 1st
IFBB SSN Team Universe | Fitness Bikini u163cm | 3rd
IFBB Amateur Olympia Africa | Fitness Bikini u163cm | 3rd
2012
IFBB Cape Classic | Beach Bikini | 4th
IFBB Muscle Mania | Beach Bikini | 3rd
IFBB Miss SA Xtreme | Beach Bikini | 5th
IFBB East Coast Classic | Fitness Bikini | 3rd
IFBB Western Province Provincials | Fitness Bikini | 5th
Where can people get hold of you?
Photography Credits:
Infamism
Classic Photography Andre du Toit
Matthias Busse