We all have to admit that before veganism went mainstream, the perception that those who are vegan, were not the ideals of what health had been perceived to us. Fast forward to 2019, and what is said to be the "Year of the Vegan", stereotypes are being crushed and masculinity re-defined by science and the very men and women who live a plant-based lifestyle.
Two questions that vegans are inundated with (which leaves me a little salty at times), namely:
1. "why did you give up meat?"
Well for me, the short version is this; All it took was one Carte Blanche documentary to turn me vegetarian. I remember not finishing my dinner, going to bed with a heavy heart and waking up the next morning with one thought.
The meat I consume was once a living thing, it does not die peacefully for my consumption, instead an animal (like any human being) fights, begs and screams for their life – this is the negative energy I put into my body and have been doing so for the past 26 years.
The switch from vegetarian to completely plant-based occurred when again I came across a graphic video detailing the production of dairy. Three years later, I am still a vegan, and I do not think that I will ever go back to consuming meat or dairy.
2. "where do you get your protein from?"
This question is by far my favourite, for one reason only. This is my chance to crush "bro science" with actual science and nutritional facts. Being a competitor with the IFBB and a personal trainer, this question is unavoidable and my approach to it is education.
My transition from vegetarian to vegan was not an easy one, predominately due to living in a town where boerewors and biltong is a staple diet. After months of research and living off beans and rice, I finally decided to treat by body differently to that of your average bikini competitor. Yes, I wanted the muscle but I was not going to flood my body with supplements.
I instead use plant-based, whole foods (apart from my consumption of pea protein) to meet my macro intake and the added benefit of being a vegan is that my vitamin and mineral intake is also being met due to the variety of fruit, veg, nuts and seeds, grain and legumes that I consume on a daily basis. I take a B12 supplement and make sure to get my blood tested twice a year, just so that I am aware of any nutrient deficiencies – which there have been none of for the past two years.
Over the past six years (period that I have not eaten meat), one thing is for sure, veganism has surely grown, people have converted for health reasons (trust me there are too many to ignore), for the animals and for the environment. Science is proving that eating a plant-based diet promotes not only longevity but also and most importantly vitality.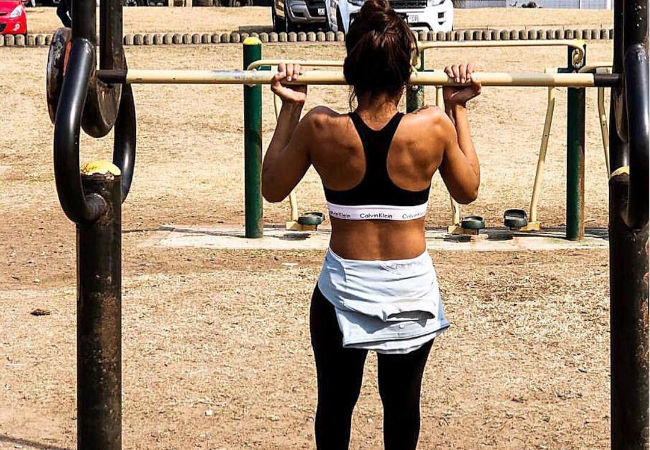 The bottom line is this, any diet whether plant-based or not will have deficiencies if it isn't researched and well-planned , the question you have to ask yourself is "what is going to help you thrive, perform better and keep you alive longer."
With veganism going mainstream, there are still skeptics, mostly among males. Its somehow been fortified in the male psyche that not eating meat, makes them less masculine.
Let me introduce you to the men who have re-defined masculinity…DRUM ROLL PLEASE AND ITS OKAY TO SALIVATE 😉
Dominick Thompson
Not only has this man crushed the very ideals of what masculinity is, he is also a formidable animal activist and athlete.
Nimai Delgado
The IFBB Pro who responsible for the podcast Generation V and get this… has never eaten meat! Please can someone ask, "where do you get your protein from?" (I hope you can feel my eye roll).
Torre Washington
IFBB Pro, who recently landed a contributing roll in Chris Hemsworth's (yes, Thor) CentrFit Team.
Simon Hill
Nutritional bad-ass who founded the Plant Proof podcast and who is also a part of the formidable CentrFit team.
These are just a few of the men that have proven that you do not have to kill to have a killer body and do they look like they have a protein deficiency?
Here are a few good reasons why you should be giving a plant-based diet a try:
Plant-based foods are widely available, you will not be missing out on the good stuff. More and more vegan eateries are popping up, catering for every craving.
Being vegan does not have to be expensive. Lentils and beans rank as one of the cheapest foods you can buy. Also take a peak at plantbasedonabudget.
More and more doctors and other health professionals are recommending a diet centered around plants, check out veg_md.
Resources to assist you are widely available, and their purpose is to help you make the transition to a plant-based lifestyle.
We cannot ignore the science surrounding a plant-based lifestyle and how it reduces the risk of illness and promotes health.
Aside from all the marvelous, and literally life changing benefits that a plant-based lifestyle has for your health, body, animals and the environment, just remember – VEGANS do everything better!
Written by Melissa Kannigan. Find her on her instagram, and her vegan blog.
Photo by:
You May Also Like: