Name: Sheetal Bhonsle
Age: 27
Height: 5'5"
Current weight: 55 Kgs
Current city: London, United Kingdom
Occupation: Software Engineer
What made you get started with training and living a healthier lifestyle? HAS IT ALWAYS BEEN A PART OF YOUR LIFE?
I started my workout right after my graduation. I used to do pilates and yoga during the initial days of my gym and then I eventually moved towards the weight training and the cardio workouts programs.
Things changed right after that. I started feeling more confident and fit. I started feeling that "going to the gym" and "working out" were things that were going to make my life better.
Fitness is not just about gym time. It is all the time.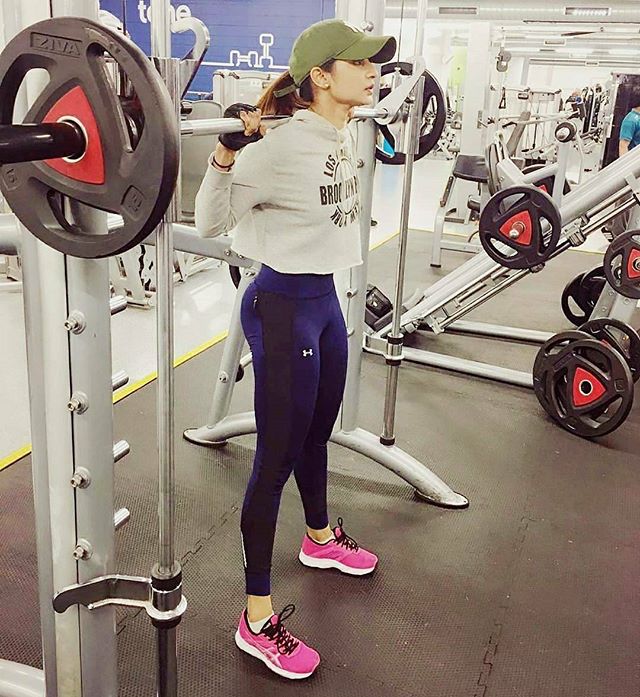 What has been the best part of this lifestyle so far?
When I started my Instagram Channel and posted my workout videos and pictures, I got overwhelming responses. I was so pleased with the love and support from my family, friends and even the people I do not even know.
This life has changed a lot after that one right decision. I started doing brand promotions, modelling, photo shoots and recently I have started my YouTube channel where I share my workout programs and share my recipes and it is getting a very good response so far.
Have you had any significant setbacks? How did you deal with them and overcome them? Or How do you deal with a lack of motivation on days when you feel out of it?
I am the kind of person who enjoys every single moment. The good, the bad, the beautiful, the ugly, the inspiring, the not-so-glamorous moments, and thank God through it all.
The good and bad days in life and you, do not always need to be planned. Sometimes you just need to breathe, trust, let go, and see what happens. What I feel is that you need to be consistent and 'boring' if you want to see results.
Every day Counts.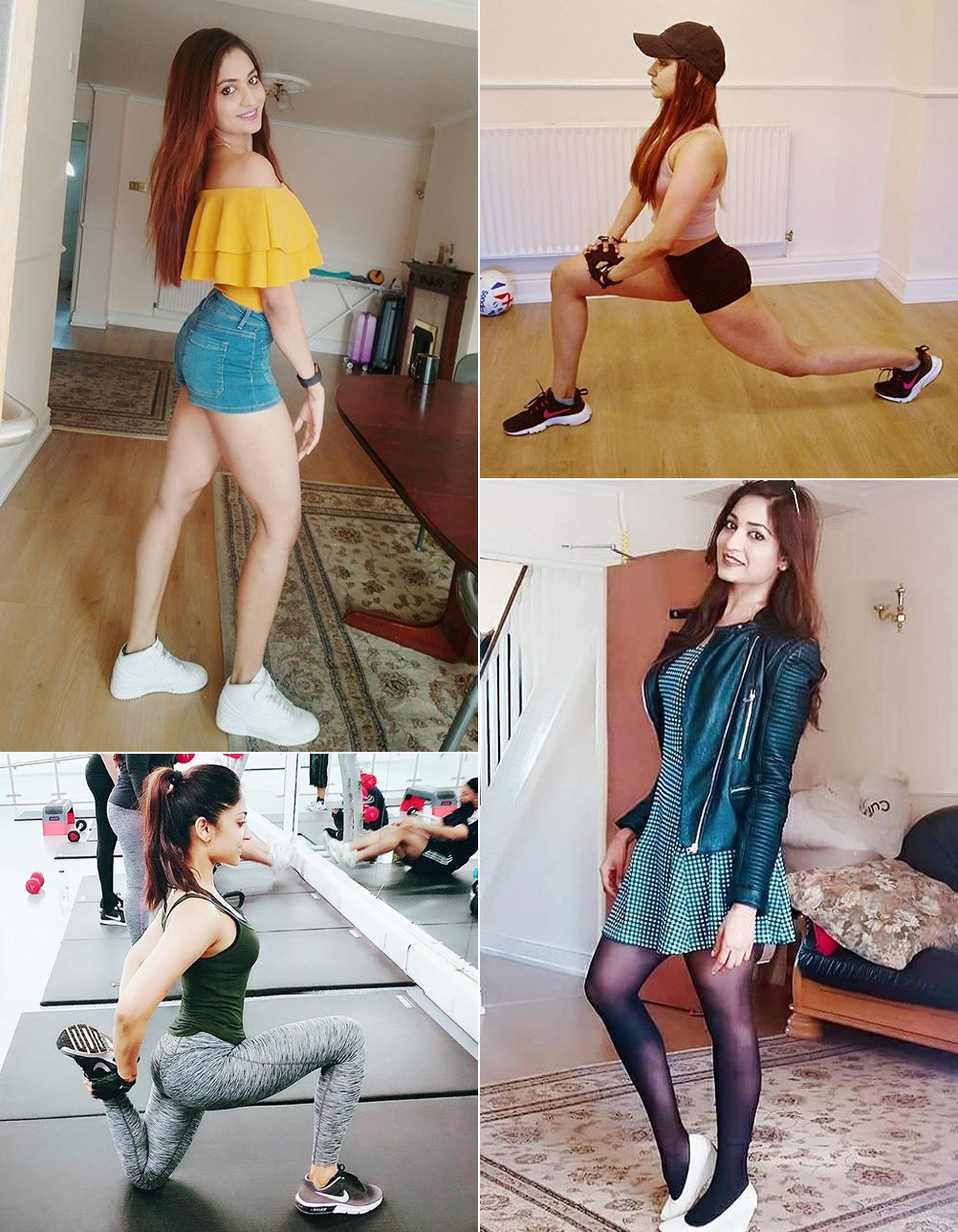 Who has been your biggest influence/support in your life and how did they affect you?
My biggest support is my mother. Whenever I am discouraged, my mom knows the right words to say to pick me right back up. My mom is always there to remind me that God has a bigger plan for me.
I know I can always count on my mom to give me the best advice about any given topic. Whether or not I agree with her at the time, I know that my mom is always looking out for my best interest. Not only does she support my decisions, she also always makes me feel like I've made the right choices.
Knowing that I can always count on my mom to support me makes me feel like she will stand by me no matter what decision I make.
What are your future plans?
I am working with some known brands for promotions and if everything goes with the plan, I may get the right opportunity. It is the forming phase for my life where many things are happening around me. Fingers crossed and hope for the best to come.
Take us through an average day of yours:
My day usually begins at 7 o'clock with the blaring sound of the alarm clock. I try not to miss gym, even a single day but as we know, you have to give rest to your muscles to grow.
So sometime I just relax on my bed with a coffee, watch Bollywood channels, surf the internet. Eat healthy and take a sleep in the afternoon again. Just relax. Evening I go out for a walk for until 2 miles and that is it.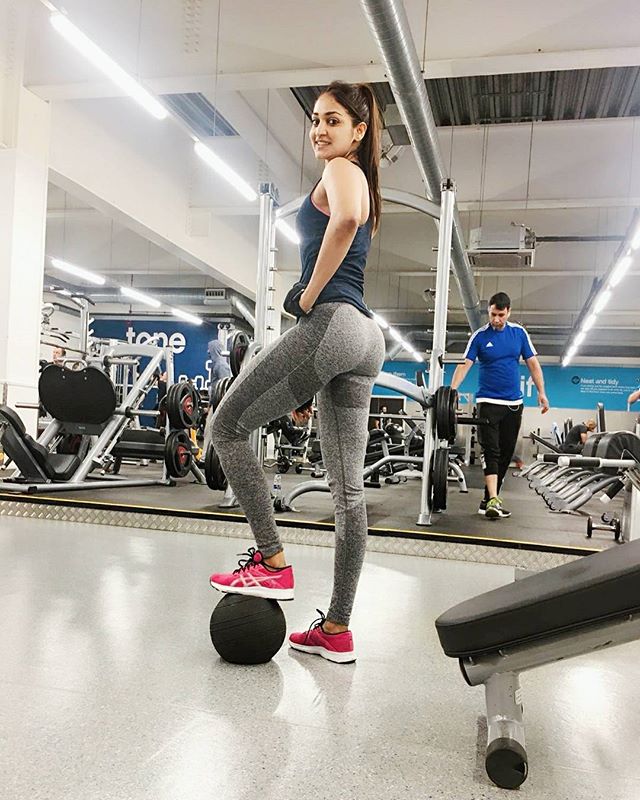 Give us a brief description of your philosophy on your diet:
Morning Breakfast: Oats in Almond Milk + Black Coffee
Pre workout: 2 egg whites + BCAA
Post workout: Protein shake + any fruit
Lunch: 100 gms Chicken Breast with a bowl of salad / Protein Pancakes
Evening Snacks: Green Tea, Rice Cakes with Peanut butter & banana, dry fruits
Dinner: Tuna/ Salmon/ Chicken breast with Boiled broccoli/ Brussels
Before Bed: Green Tea / Turmeric Almond Milk
Drink a lot of water.
"Habits lead to the achievement of other overarching goals."
What are your top Nutrition tips for gaining muscle?
Try to consume grams of protein equivalent to your weight for example if you are 50 Kg, try to consume 50 grams of protein in a day. Protein should have been consumed from different sources like, protein shakes, egg whites, Chicken, Turkey, Fish etc.
Try to mix any of these along with green vegetables/ salads.
Multivitamins are must have if you are doing weight training. It will help you to be more energetic if you have a very hectic routine.
Do you count your calories? Do you think it is necessary?
I use a fitness band to maintain and manage my calorie intake and burned calories. I try to eat less calories then I burn in the gym. I also keep a track of my steps taken in a day and a calorie burned count.
For any fitness enthusiast the FIT BIT is a must have and I strongly recommended using it. These fitness devices are very helpful in you day-to-day routine life. These devices motivate you to reach your health and fitness goals by tracking your activity, exercise, sleep, weight and more.
Every moment matters and every bit makes a big impact. But I do have 2 cheat meals once a week of my choice 😉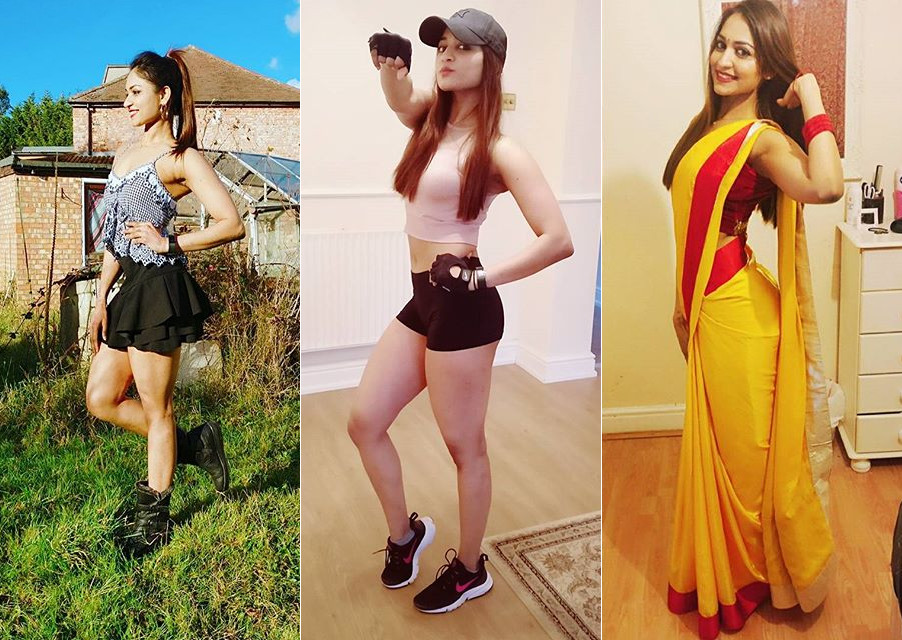 Have you seen any common mistakes that women may make when trying to lose fat?
Eating hidden calories. Diet is the most important part.
Not burning more calories than they are consuming.
Not giving enough rest to the body.
Not changing workout plans after every 3 months.
Not mixing weight training and Cardio workout in the routine.
Not doing HIIT workouts.
Not drinking enough water.
Drinking zero sugar drinks.
What process do you follow when its time to start getting ready for a competition/photoshoot/get leaner?
I try to consume calories through juice and do not eat too much as eating can cause a little bulk in my tummy area.
I keep myself hydrated by drinking lot of water. I do not believe in sudden diets and sudden decrease in calorie count. They can slow your metabolism, make you feel deprived and sluggish, and the weight you lose is often muscle tissue and water weight.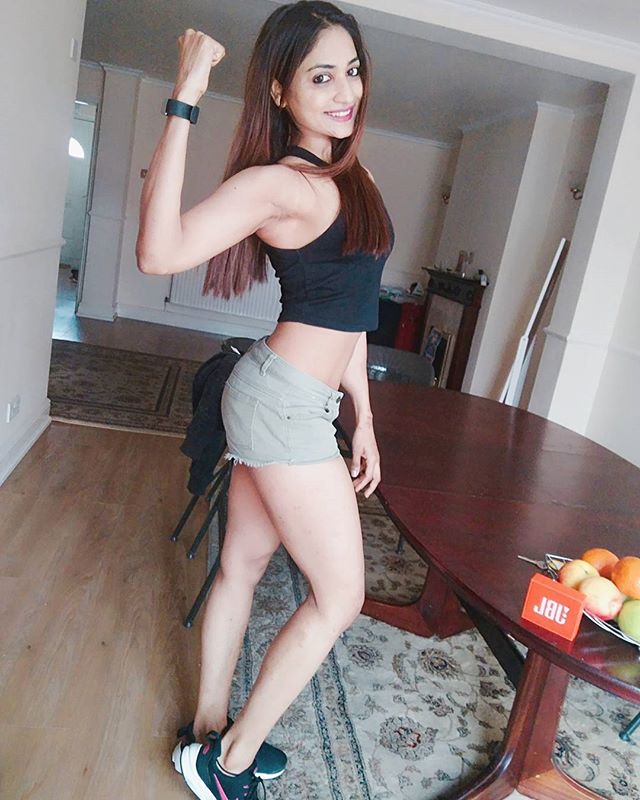 Give us a brief description of your philosophy on your training/training schedule and on average how long do you workout for?
I usually workout 6 days in a week. Followed by Weight training, Cardio, HIIT, Yoga etc.
I start my Monday with Rowing plus a Leg workout.
Tuesday: Cardio + Chest.
Wednesday: Cycling + Back.
Thursday: Cardio + Biceps & Triceps.
Friday: HIIT.
Saturday: Just Cardio / Free weight workouts.
Apart from this, my average step count for the day is 12000.
I work out for 1.5 to 2 hrs everyday.
What are a few of your weight training tips for the ladies?
For free tips you can subscribe to my YouTube channel. My entire Home, Free weight workout & Weight training plans are freely available there.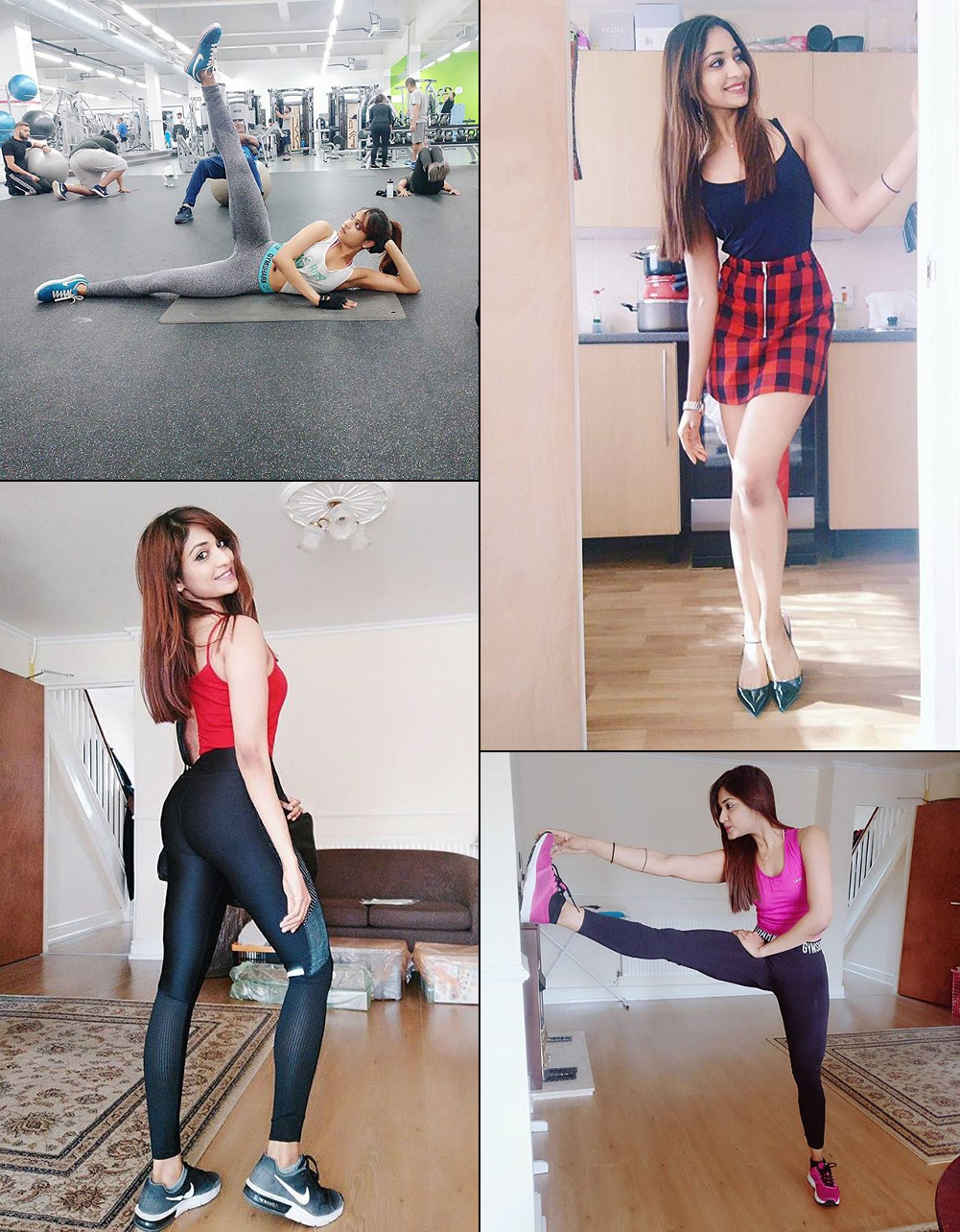 What are your essentials that are always in your gym bag?
Gym Shoes, gloves, protein shake, cap, headphones, facewash etc.
Do you have any fit fashion tips for the ladies or any specific gym fashion trends that you love?
Be simple, be yourself. Be confident. More than fashionable, comfort should be there whatever you are wearing one should be super comfortable to wear that.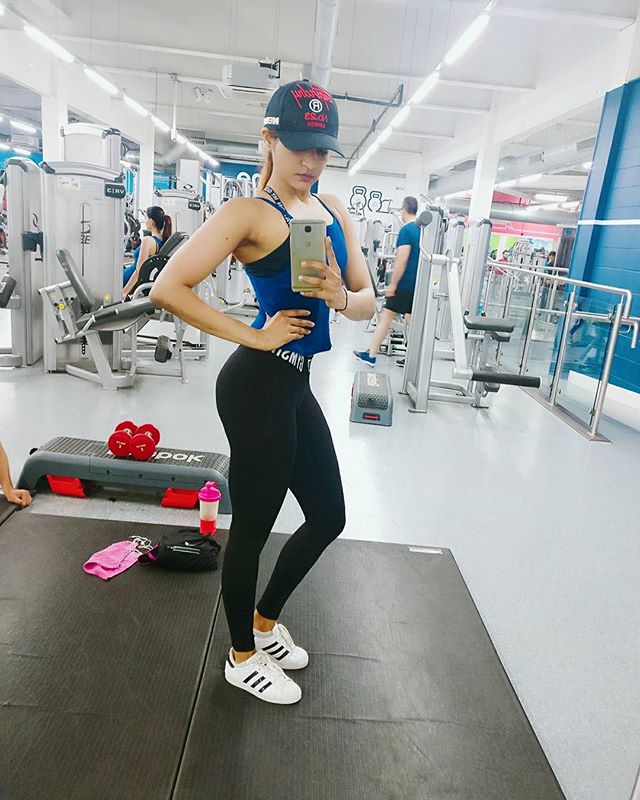 What are your 3 favourite exercises?
Deadlifts are a strength-training exercise that primarily targets your hamstrings, lower back, quadriceps and glutes. Building these muscles, helps improve your body's strength and stability. The deadlift is a compound exercise that strengthens the muscles you use each day to bend and lift.
They help to build your leg muscles (including your quadriceps, hamstrings, and calves), but they also create an anabolic environment, which promotes body-wide muscle building.
The plank is one of the best exercises for core conditioning but it also works your glutes and hamstrings, supports proper posture, and improves balance.
Which body part is your favourite to train and what are some of your tips to training it?
LEGS! Targeted training on at least two, non-consecutive days of the week can strengthen and tone your muscles.
In addition to working your arms, hips, abs, shoulders and chest, perform leg-strengthening exercises, such as squats, lunges, lying side lifts and heel or calf raises to add definition to your legs.
Perform eight to 12 repetitions of each exercise and complete two or three sets. Use enough weight so you cannot do another repetition after finishing a set.
Do you do a lot of cardio with your training? How do you schedule cardio and when? Or do you incorporate other forms of training?
I start my workout with Cardio. It could be Cycling, Running on a treadmill, and skipping, stair climbing, rowing, elliptical etc. I start with 15 minutes any one of those cardio exercises and then move on to the weight training.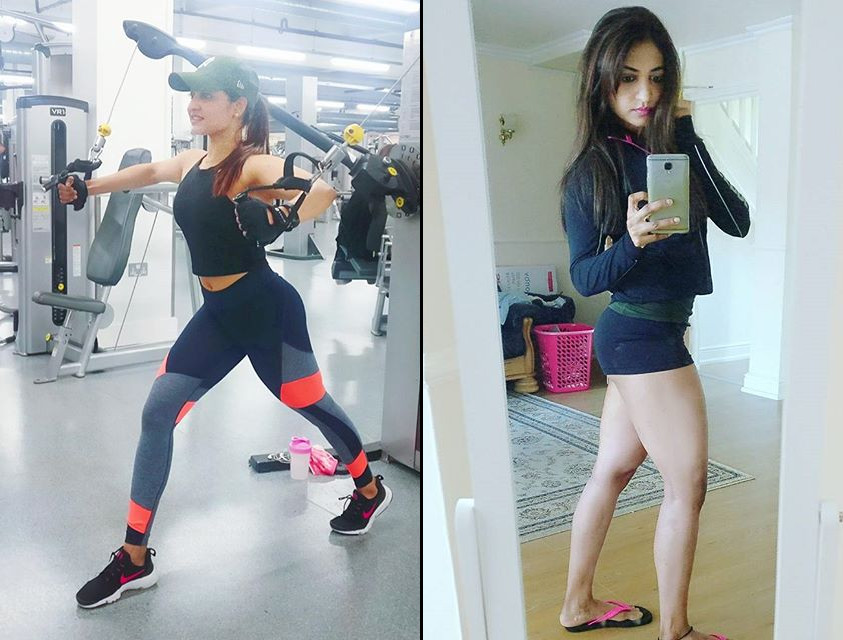 Do you use supplements at all? Do you think they are essential?
Yes and No.
Yes, if you are not able to consume enough protein through you diet.
NO, if you know that you can have enough protein in your diet.
I do not consider a Multivitamin as a supplement. It is essential.
Favorite male Fitness models or bodybuilders?
Favorite female fitness icon(s):
Anllela sagra.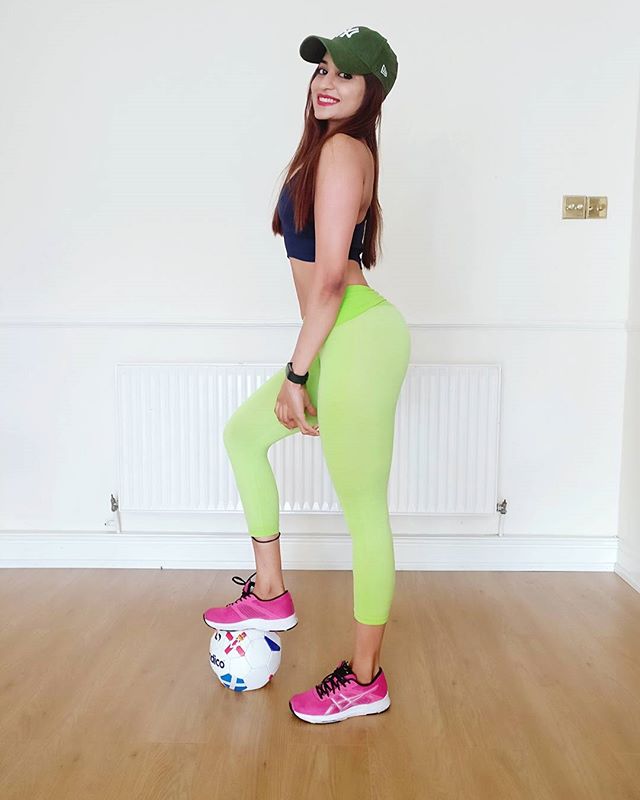 Favorite Quote:
"Fit is not a destination. It is a way of life!"
What is the most common question you get asked?
How to get rid of lower belly fat.
My answer is take control of your diet and add some HIIT exercise as it burns calories and contributes to weight loss. To reduce fat from these areas you have to go on a caloric deficit of 500 – 1,000 calories at least.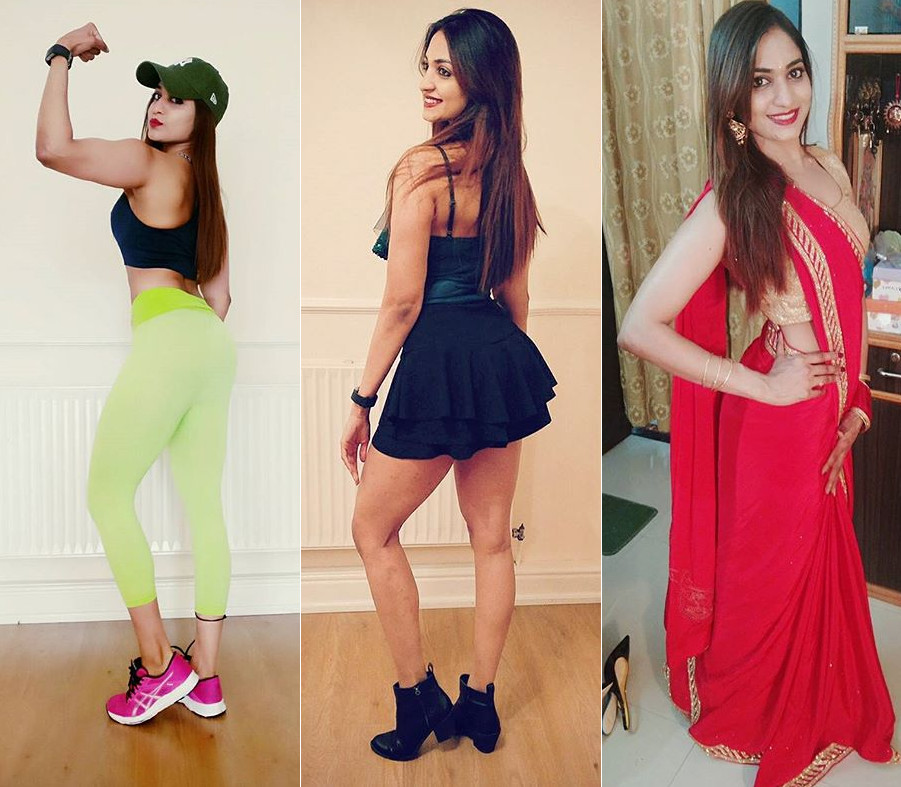 Where can people get hold of you?
You May Also Like: