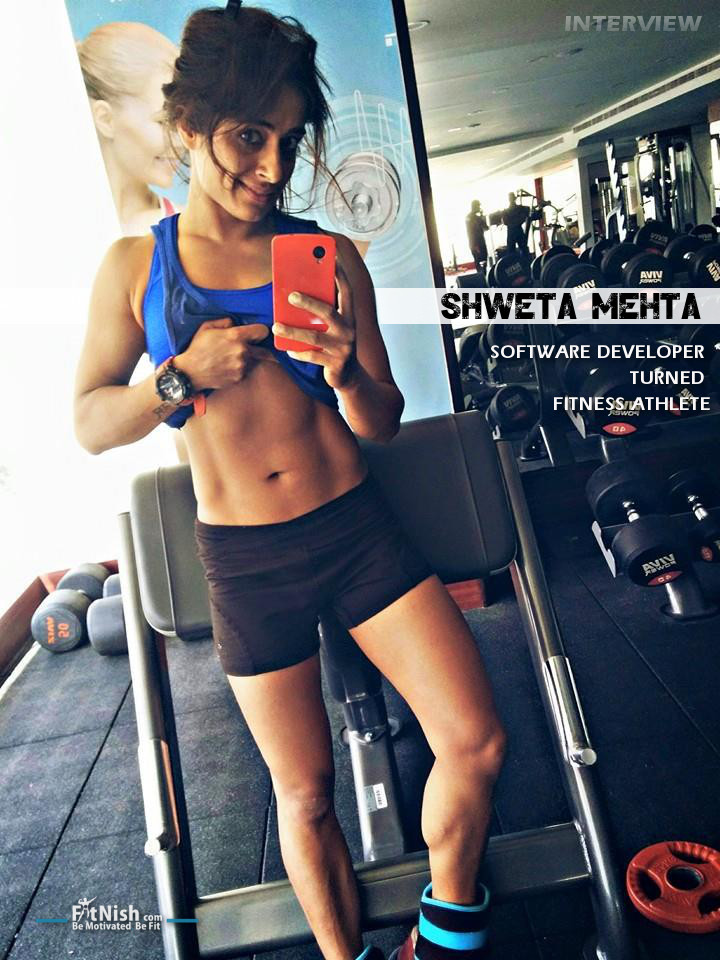 Quick stats
Name: Shweta Mehta
Age: 26
Height: 5'3''
Competition weight: 103 lbs
Current weight: 113 lbs
Current city: Bangalore, India
Occupation: IT Professional / Fitness Athlete / Fitness Counselor
Tell us a bit about your life growing up:
I hail from a small town in Haryana called Fatehabad. Like others, education was the only priority for me. My mom is a head-mistress and dad is a landlord. I have three brothers and they were the only friends I had.
I didn't have girl friends and my brothers probably made me strong and tough.
I have been top in my school always and so studying computers was the only option we had for further studies. After finishing my B.Tech I came to Bangalore as a Software Engineer. I have worked in IT for a good 5 years.
During this time, I had not seen the gym and I had no plans of becoming what I am today. I was a geek and had plans of working in one of the best companies in India, but, it was a PLAN and not a DREAM.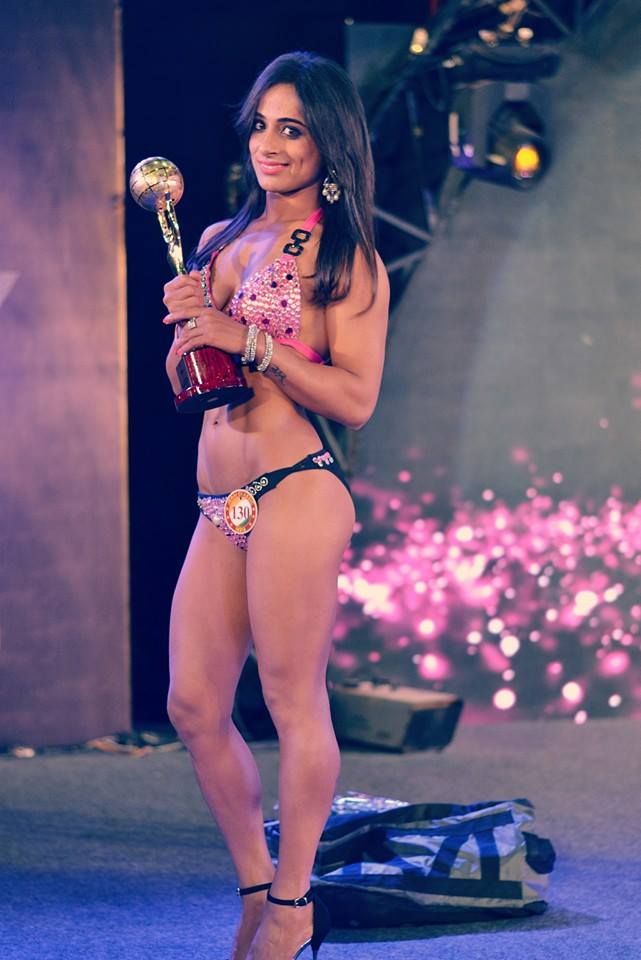 Have you always lived a fit lifestyle? What got you started?
Since childhood I have had an interest in active and fit life, however I didn't have any opportunity to play any sport. I was a dancer and I used to perform at state level back then.
I always wanted to be an athlete though, I like the hard work, dedication, discipline and consistency an Athlete needs.
I joined my office gym a few years ago, for general fitness. Later I got to know about the fitness competitions. I studied and researched more on the fitness industry and I then knew more about the various categories, coaches, a few indian competitions and pretty much enough to get started. I was so happy and I told myself that this is what I have to do. I strictly believe that it is never too late to start anything new.
My next step was to change the profession seamlessly and so I started this journey along with the job. I wanted to stick to the job till my first competition and if things go well I shift into fitness industry completely.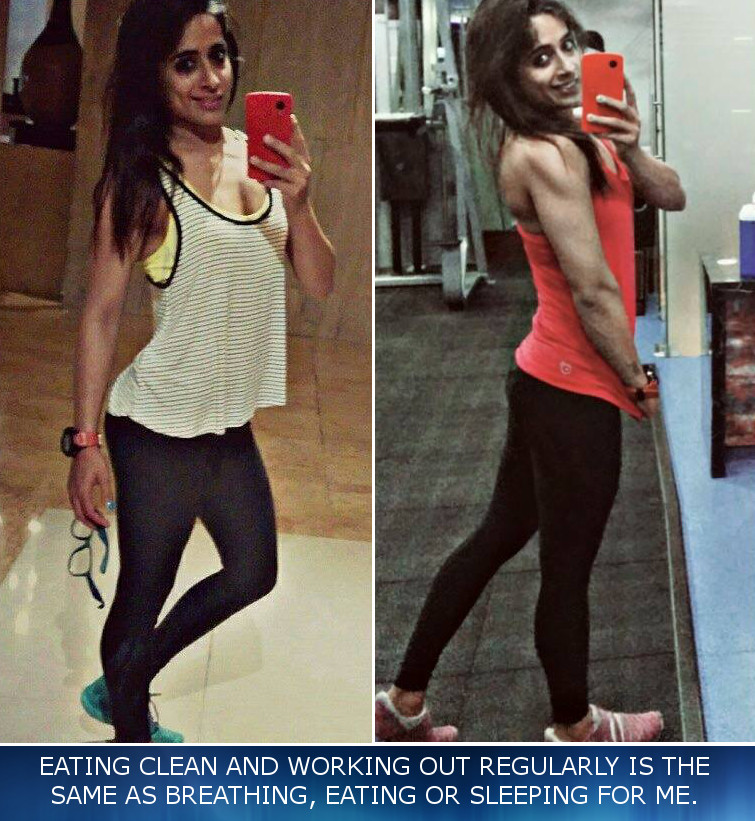 How do you manage to stay motivated and consistent throughout your training and eating right? Do you think it requires a lot of sacrifices?
I think the MIRROR is the best answer for this. I believe at the end of the day self motivation is the only thing that helps you the most. I smile whenever I hear about consistency; I myself have never skipped gym for 3 consecutive days in the last 2 years.
This is something you can't force yourself. If you want something you will automatically be consistent.
Yes eating right is the cherry on the top, which definitely needs sacrifices, especially in a country like India. We are famous for a variety of tasty food with joined families and functions.
So how to eat clean? One word – Concentrate!!!!
Is it difficult balancing work life with your training and meals? How do you manage?
It is a little difficult when you are preparing for a competition, off season though is better.
I stay alone, so cooking and carrying 6 meals every day in the office where I spend almost 10 hours becomes difficult. I do my weight sessions after the office and cardio sessions during lunch time in the office gym.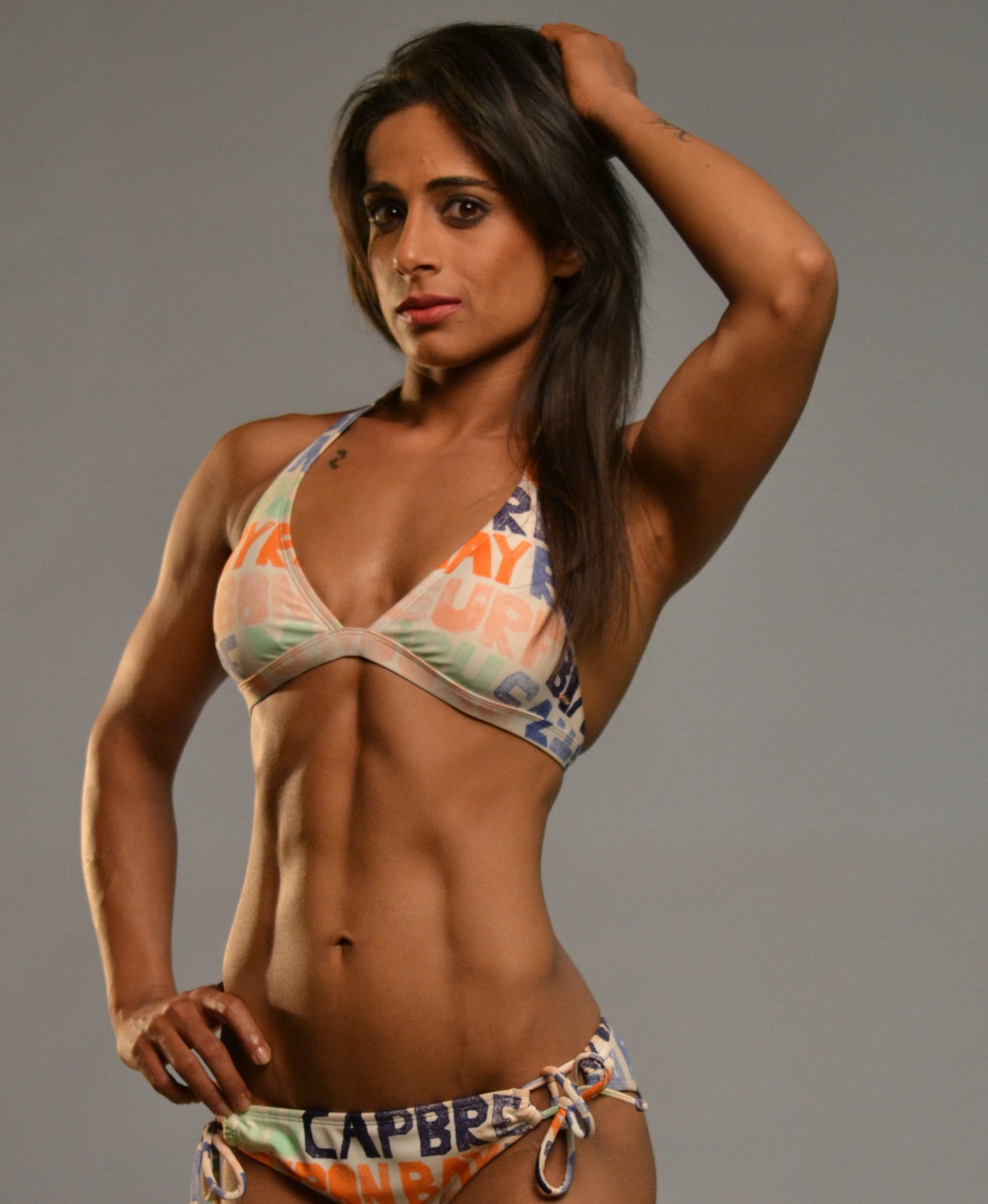 I cook twice a week, Wednesdays and Sundays. I pack almost 10 boxes every morning, which includes 4 meals and pre and post workout food. I prefer breakfast and dinner at home.
It is difficult but not impossible. I feel that everything is worth it when you step on stage.
What are your future plans?
My short term plan is to compete on an international stage. I want to be a successful athlete first. Next, I want to start a Fitness Food Truck that will serve only healthy food. And my long term plan is to setup a gym, where there will be nothing other than IRON.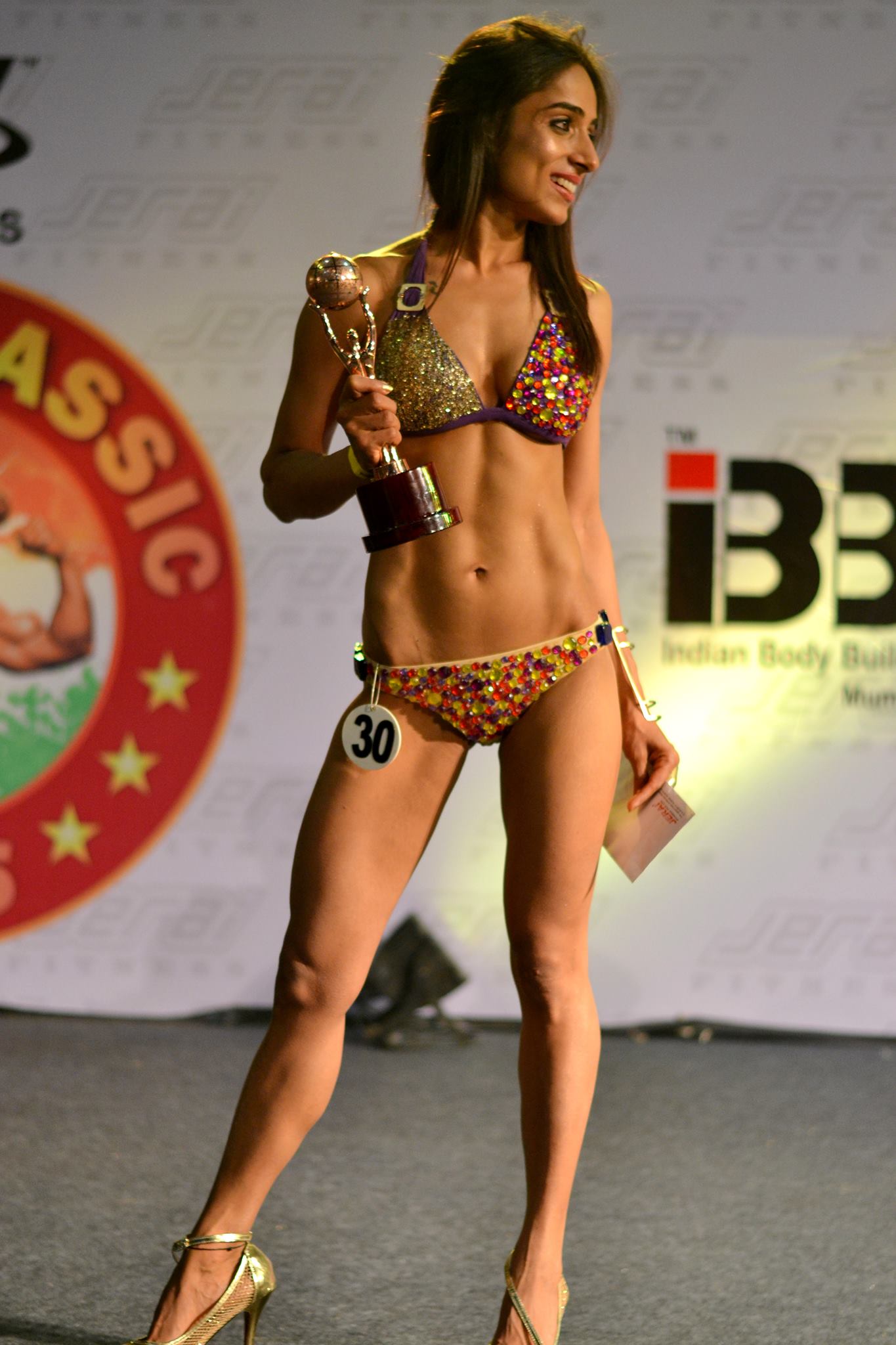 Have you had any major setbacks in your life and how did you overcome them?
That's a very good question. Yes I had, and not one but many setbacks. I do not want to discuss them but I surely want to discuss about how I came out of them.
You get badly hurt, you feel like giving up, you feel you are the most un-luckiest person in the world but WAIT you are still alive, so you are definitely lucky to start working for your dream again.
Why do you think Failure is a bad thing, it's in fact a beautiful experience that makes you strong, gives you a lesson and makes you a better person. Failure gives you much more than success gives. Today I am strong and confident because of these setbacks only. This is how I take it in a positive way and keep moving.
What has 'fitness' taught you in terms of life lessons if any?
I would like to answer this in a beautiful quote by Arianna Huffington:
"Failure is not the opposite of success, it's part of success."
Failure is just a hurdle, keep moving because consistency is a key to achieve success.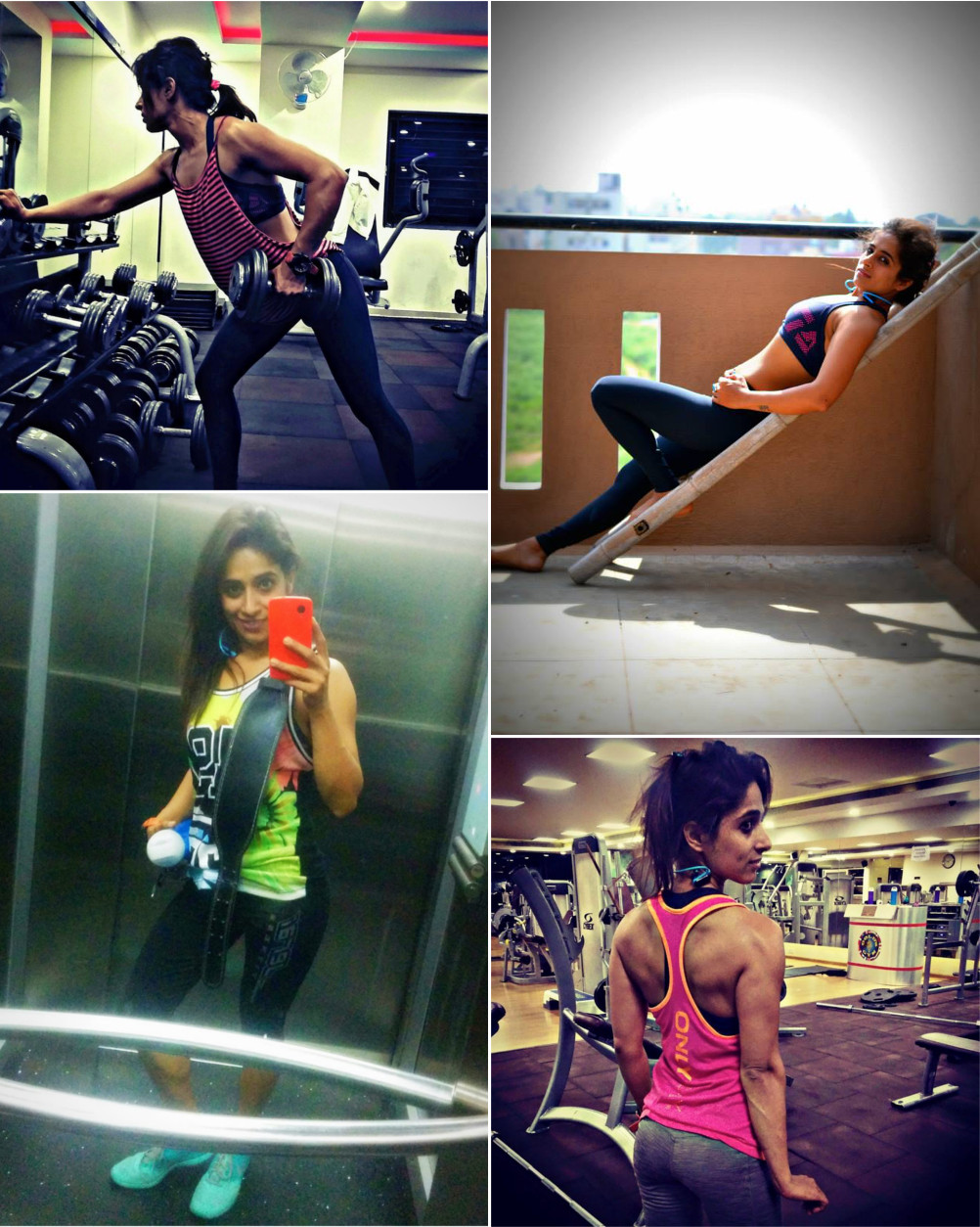 Take us through an average day of yours:
I am being honest here, my day doesn't start early. I do my cardio in the afternoon on weekdays and late mornings on weekends. I cook twice a week, Sundays and Wednesdays except Breakfasts.
8 AM | I wake up and then quickly get ready so that I can have my first meal with in 30-40 min upon waking up.
10 AM | Office timing starts
12 Noon | 2nd Meal
2 PM | 40-45 min Cardio in office gym
3 PM | 3rd Meal
5:30 PM | 4th Meal
7:30 PM | Weight Training
10 PM | 5th Meal, Dinner Time
10:30 PM | I pack my food and office bag for next day
12 AM | 6th Meal
12:30 AM | I go to sleep
And I sleep like a baby for 7-8 hours 😉
What are your top Nutrition tips for the ladies for keeping in shape all year round?
Ladies, do not skip food and do not eat only when you starve. Eat clean, on time and drink lots of water so that you don't crave junk food.
I will sum up in a few points:
Eat clean and balanced food. You need Protein, Carbohydrates, Fiber and Fat with all micro nutrients.
Do add lots of green vegetables in your meals.
Drink at least 1 gallon of water a day. Yes at least 1 Gallon.
Always keep some healthy food at home to avoid munching on junk snacks. Even during festive season, never keep a stack of your favorite sweets.
One or maximum two cheat meals are fine per week but do not make it a cheat day.
Workout five days a week and never skip a workout for 3 consecutive days. Weight training and Cardio both are important.
Working women should carry nuts, seeds or salads for midday/tea breaks.
There is no magic pill to be in shape all year round, just put little efforts and you are good to go.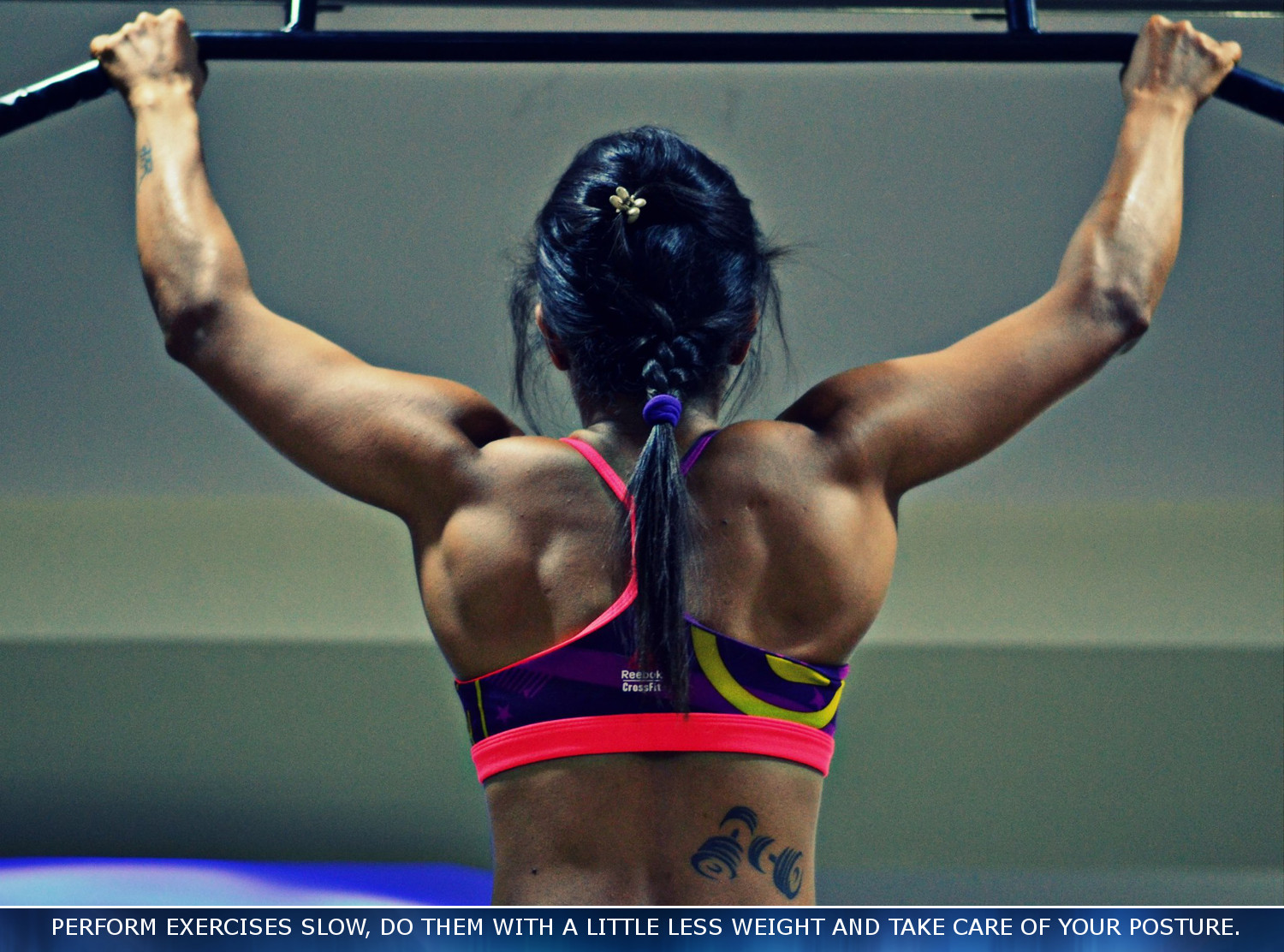 Do you follow quite a strict diet? Give us a brief description of your philosophy on your diet:
On season, yes my diet is strict but diet doesn't mean soups, salads and no carbs.
I always have a balanced diet that includes protein, carbohydrates, fiber and fat and vitamins. I eat lots of greens and drink lots and lots of water. I also include 4-5 cups of green tea a day.
My meals include:
2 small servings of fruits
3 servings of green veggies
3 servings of complex carbs(oats, brown rice, whole wheat bread, sweet potatoes etc)
6 servings of protein which I take from eggs, chicken breasts and protein powder
Essential oils (coconut oil, flaxseed oil or olive oil), nut butter and some dry fruits.
I prefer coffee as pre workout, BCAA as my intra workout and whey isolate as post workout. I fulfill my micros intake every day without fail (Calcium, Zinc, Magnesium, Iron, Liv 52, Glucosamine, Vitamin B6,B12,C,E etc.). Fish Oil is another supplement which I never miss.
Which 3 common fitness myths do you think most women fall prey to?
I shall in fact rank these myths:
"I will put on muscles if I lift weights or if I lift heavy"
I keep this myth on top among them all. Even the most educated women don't understand that a FEMALE body cannot go huge by merely lifting weights, in fact it gives them the toned body they are looking for.
Girls, or you are just using this myth as an excuse to avoid the hard work required to tone your bodies.
"Supplements are medicines/drugs"
Anything that is in tablet form or powder form doesn't make it a bad thing. These are called supplements because they supply the required amount of nutrition, the nutrition that we cannot get enough from food as per our daily requirements.
They are absolutely safe until you abuse the usage.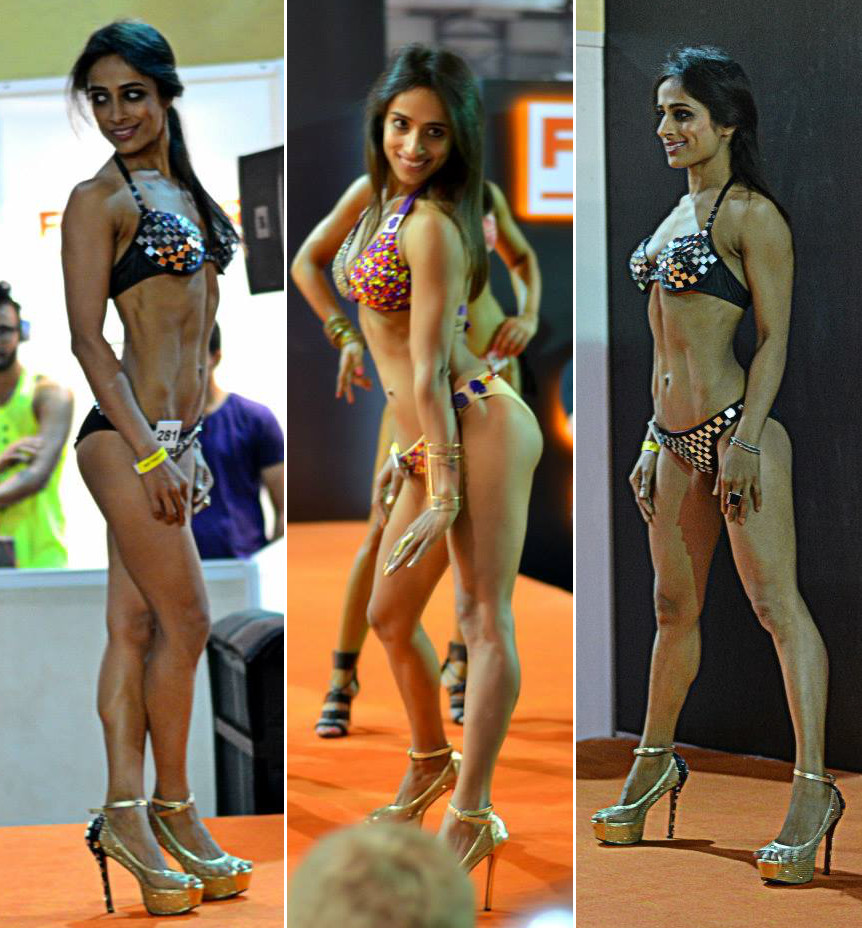 "Cardio will make me loose weight"
My dear Ladies, weight training will help you lose 40%+ more body fat than cardio. Surprised?
There are various other benefits you get from weight training:
Reduces diabetes
Increases spinal bone density.
Increases bone mineral density, so reduces the risk of Osteoporosis.
Boosts metabolism.
Increases muscle mass and so you can burn more calories even when during rest.
"Cardio trains your heart and not body"
Give us a brief description of your philosophy on your training routines and on average how long do you workout for?
My philosophy on my training revolves around the postures and the forms.
No matter how heavy you lift or how long you lift, if your form or posture is incorrect you will not get the desired results.
Building your body is an art, concentration is required while lifting. And then you see the magic.
My weight training goes on for almost 90 minutes, 5 days a week. And I keep the cardio session separate from weight training.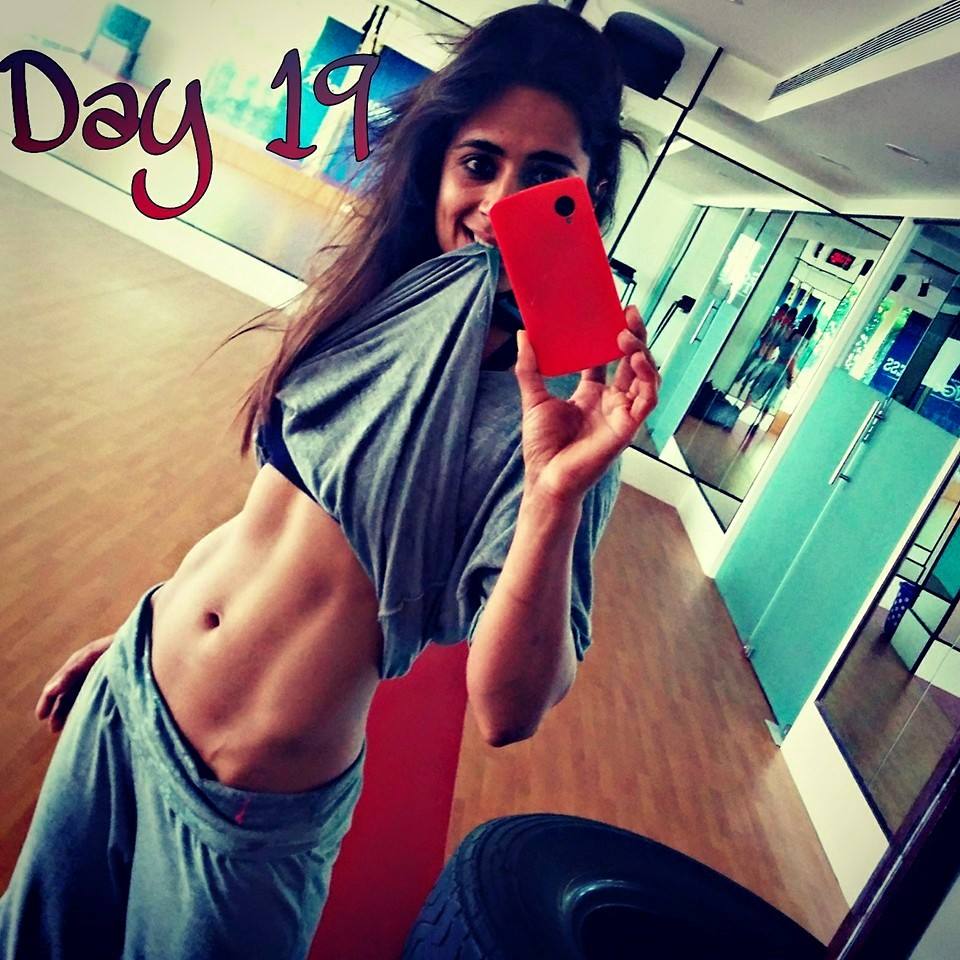 Do you do much cardio with your training?
Good question, yes this is something we don't like. But Cardio is as important as weight training. However, I keep changing the form of cardio to keep it interesting, which includes:
Machines: treadmill, arc trainer and stairmaster.
Off the machine: lunges, plyometrics, skipping, stepper etc.
Off season, I perform cardio post weight training for about 20-30 minutes.
During the season I keep Cardio as a separate session that goes for about 60 minutes.
I must mention that once I was too bored with treadmill that I started dancing and spinning on it and yes I can spin on the treadmill even on a speed of 13 km/hr now.
*Please don't try at higher speed if at all you wish to try.

What are your 3 favorite exercises?
1. SQUATS
This is really one of my favorite exercises.
The squat is a compound exercise that works on thighs, hips, buttocks, quadriceps and hamstrings. It's also called the King of mass – builders. I call it lower body package and the best for glutes.
It also helps in developing lower back and core. Bodybuilding or cross fit or weight lifting/power lifting, squats are everywhere. You cannot escape this exercise if you are a true fitness freak.
And yes I am a true fitness freak, so this is my favorite.
2. Seated Cable Rows
After legs, what comes next for me is back. I of course like wide lats with a tiny waist. This is one of the most effective exercises to build a strong middle back. So it's as important as lat pull downs. It also helps in strengthening shoulder muscles.
I personally like this exercise, for a funny reason that this was the first exercise where I lifted all the plates in the machine, 200lbs * 8 reps and in correct form. I just started enjoying it and kept on making a new target every week.
3. Stiff Legged Barbell Deadlifts
This is also a compound exercise, a little different from regular deadlifts. The main muscle you hit is the hamstrings, and the other two are lower back and glutes.
So you can see almost the entire workout plan revolves around legs and back for us. Hamstrings are the next important part after glutes for a bikini athlete. And this is the perfect exercise amongst all the hamstring exercises.
I like this exercise because its a compound and power movement that helps in building muscle mass and strength, and at the same time it builds core stability.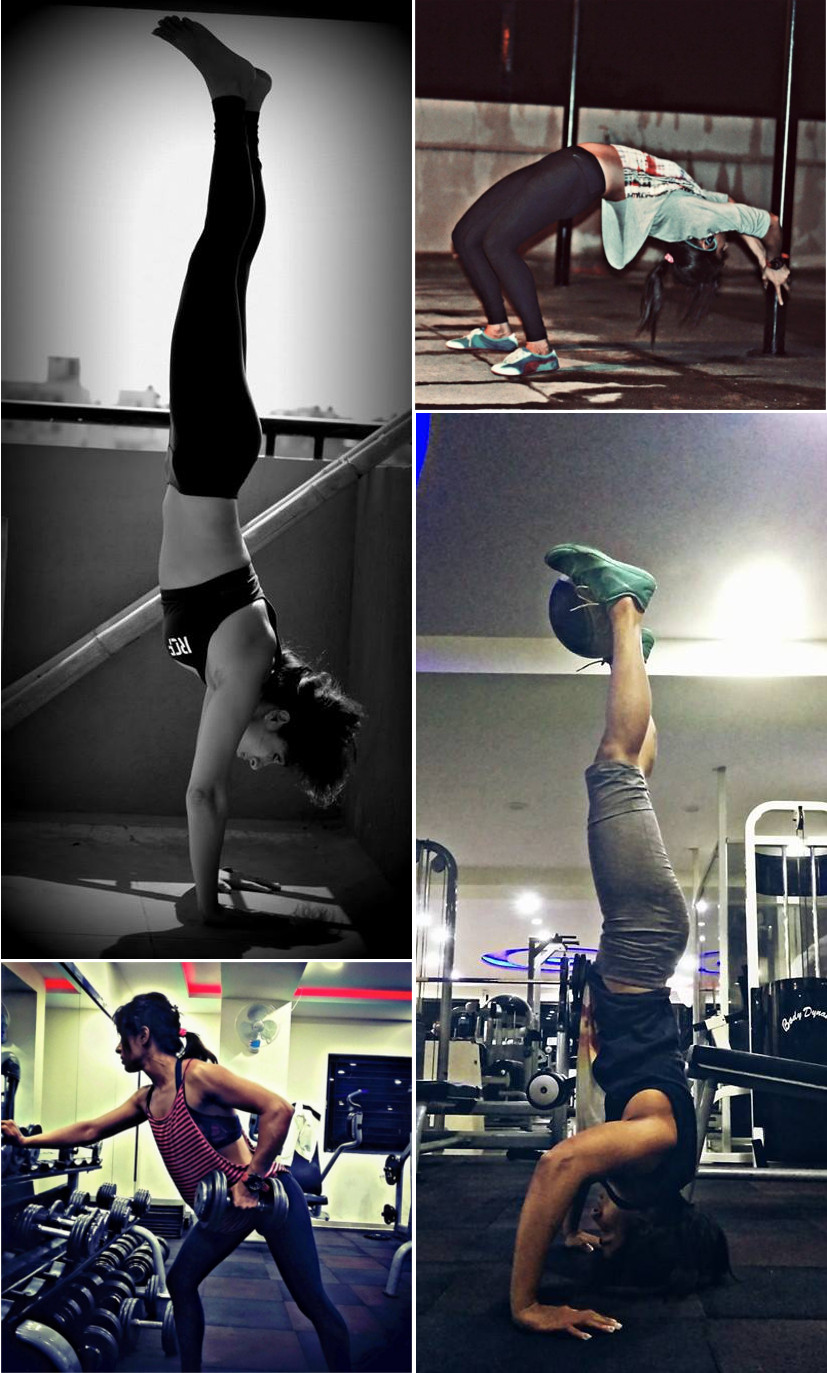 What are your top training tips for building your glutes and legs?
The very first tip is DO NOT escape squats and lunges! If you aim for a good lower body, you must push yourself EVERDAY.
Plyometrics are as important as heavy lifting, perform them at least once or twice a week.
The 'push down on pull up machine' is my favorite exercise for glutes. I will definitely recommend this, it really works as a booty blaster.
Favourite male Fitness models or bodybuilders?
The one and the only "The Rock", Dwayne Johnson.
Favorite female fitness icon(s):
Oksana Grishina.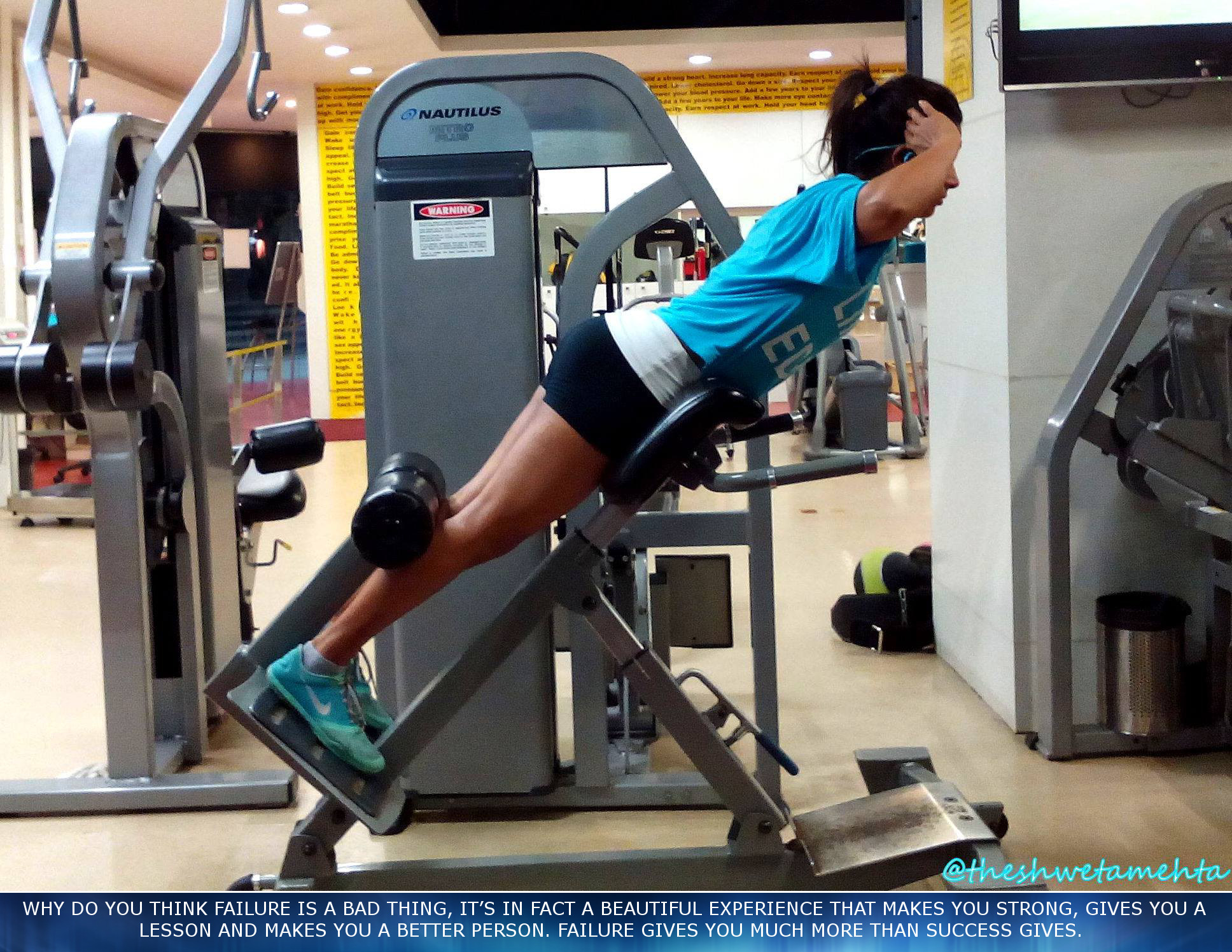 What is the most common question that you get asked?
Well many and many times I was asked this question that "How do I mange to be consistent always?"
And my answer always is "When one has a dream, working on it becomes one's habit."
Eating clean and working out regularly is the same as breathing, eating or sleeping for me. I don't have to be consistent for it, I have just made it part of my life.
Favorite Quote:
"If you are doing something different than others, you will face different problems than theirs." And this quote has come from none other than my Mom.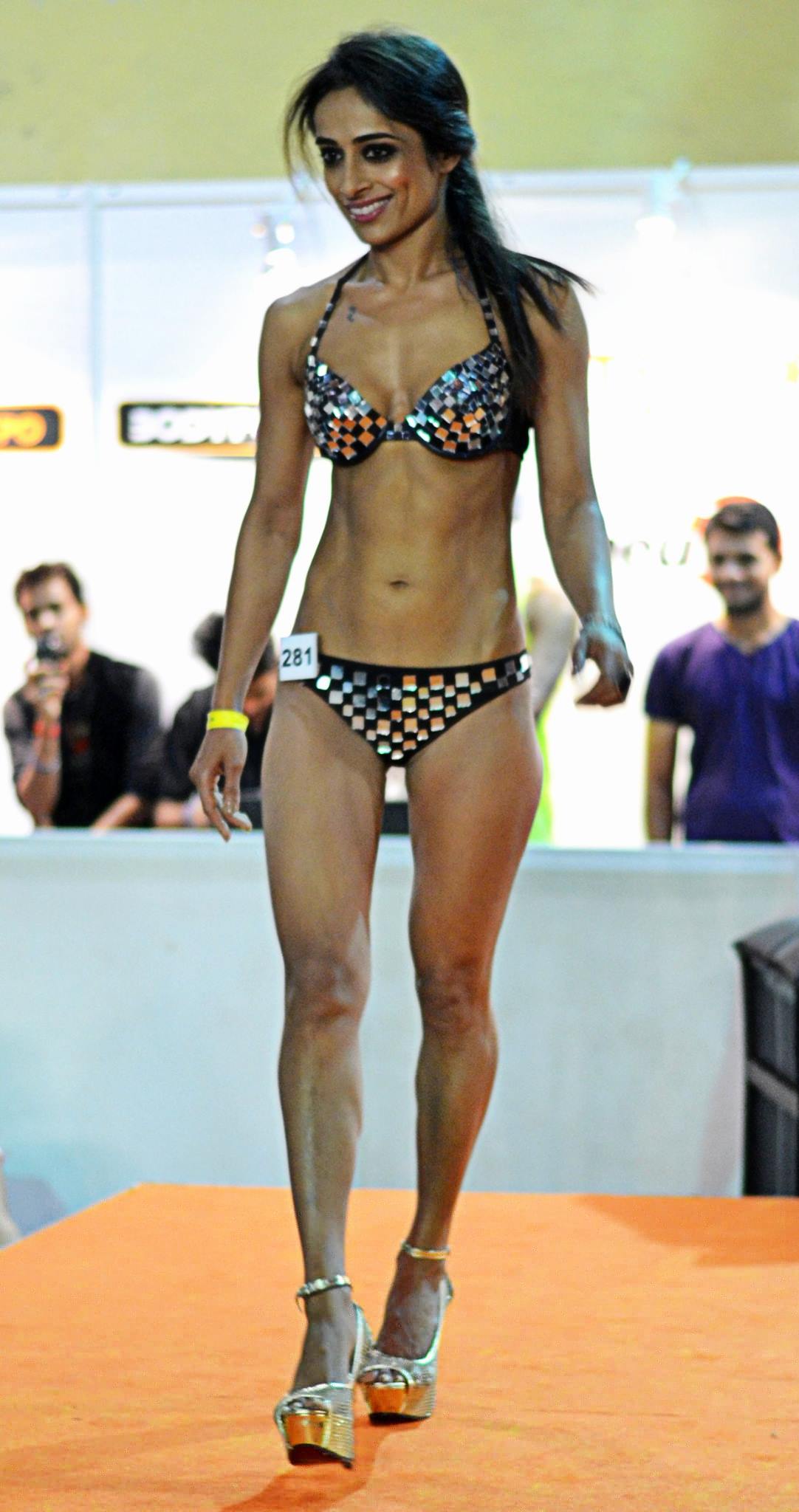 What is the one thing you see people do in the gym or when training which really annoys you?
"Wrong posture" which leads to Ego lifting or vice-versa.
They just want to lift heavy no matter if they are doing it wrong. Or they just want to finish the sets and reps so fast irrespective of the posture and form. These people are not bothered about results probably, anyway they will not see any positive results in their physique but unnecessarily will get some pain in the future.
There is a beautiful way to change your body. Say if you are working out for 60 minutes, make sure you get 100% out of it. Each and every rep and set gives some results, which you get by performing with a proper range of motion.
If you can lift one plate less and get better results then why not? Why do you have to run behind the number.
I will suggest people perform exercises correctly to see the results. Do it slow, do it with a little less weight and take care of your posture. Then you will see the changes that you WANT.
What is your advice to young girls who want to start working out and build a body like yours?
Eat clean, Exercise regularly and Be consistent.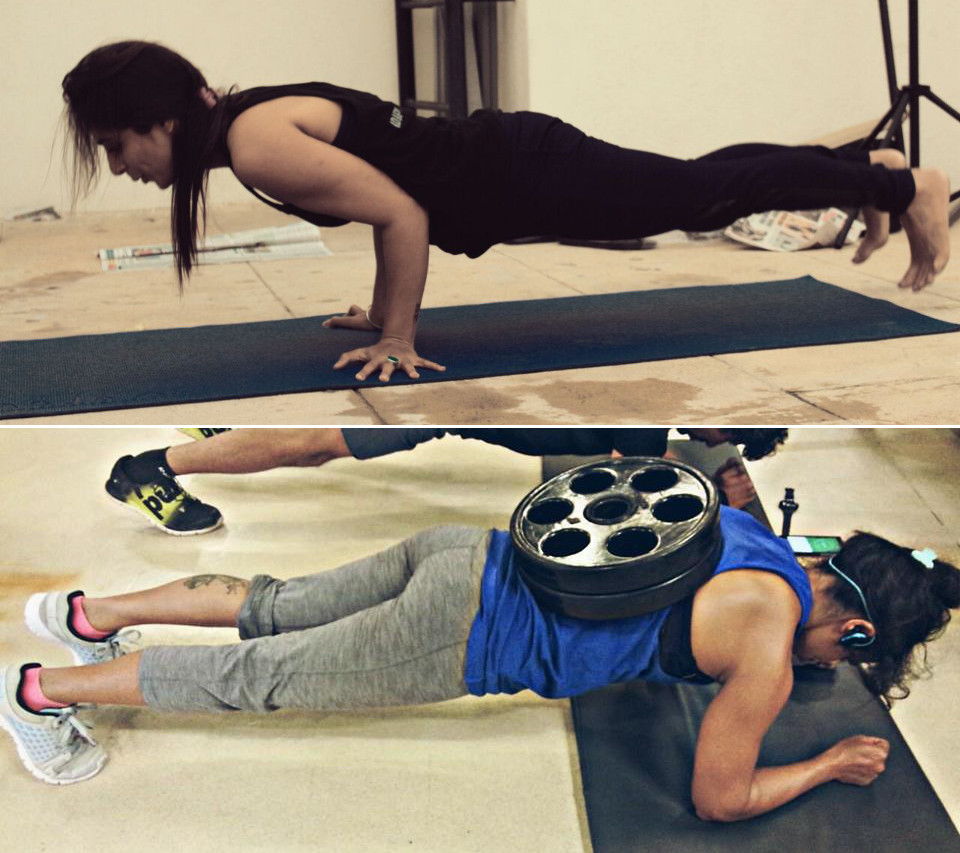 What competitions have you competed in?
I have done one competition so far, Jerai Classic March 2015. And I was runner up in that.
I also recently won the Women's Physique at the JERAI Classic 2016.
Where can people get hold of you?
@theshwetamehta