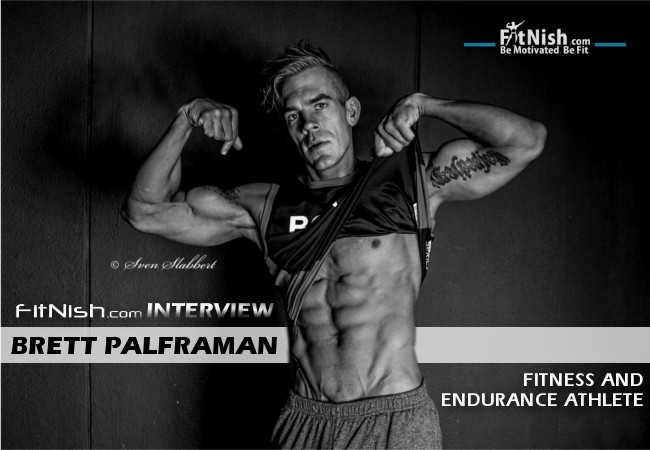 Quick Stats
Name: Brett Richard Palframan
Age: 30
Height: 6'1"
Competition weight: 95 Kgs
Current weight: 98 Kgs
Current city: Fourways, JHB, South Africa
Occupation: Entrepreneur & Dept Creative Director
How did you get started?
I walked into the gym for the first time at the ripe young age of 14 and haven't looked back. Can't quite recall my exact reasoning, but I'm really glad I did.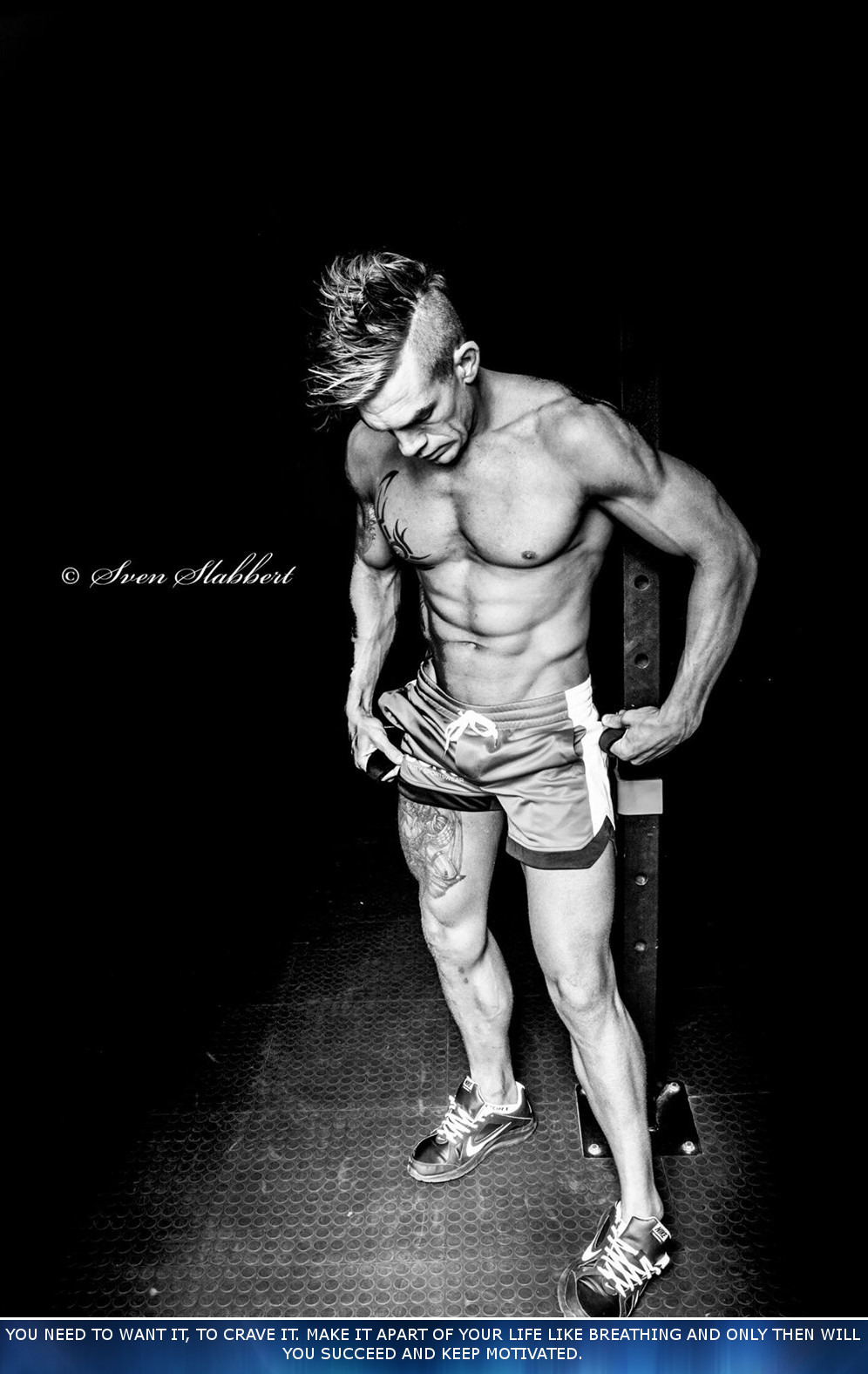 What do you love about it and how do you stay motivated?
I honestly don't know how to live without it, its like breathing & eating – without it, I will wither away.
I love that no matter how bad a day you've had, you can hit the gym and take your frustrations out on the weights and leave there, fully recharged and ready to take on the world.
What do you love about competing and the process of the preparation for a competition?
I love seeing it all come together, all the hard work, the blood, the sweat, the tears all rolled up into one fantastic day.
Watching your body literally transform overnight and that overcoming feeling of achievement when you see that the results are better than the last time you stepped on stage.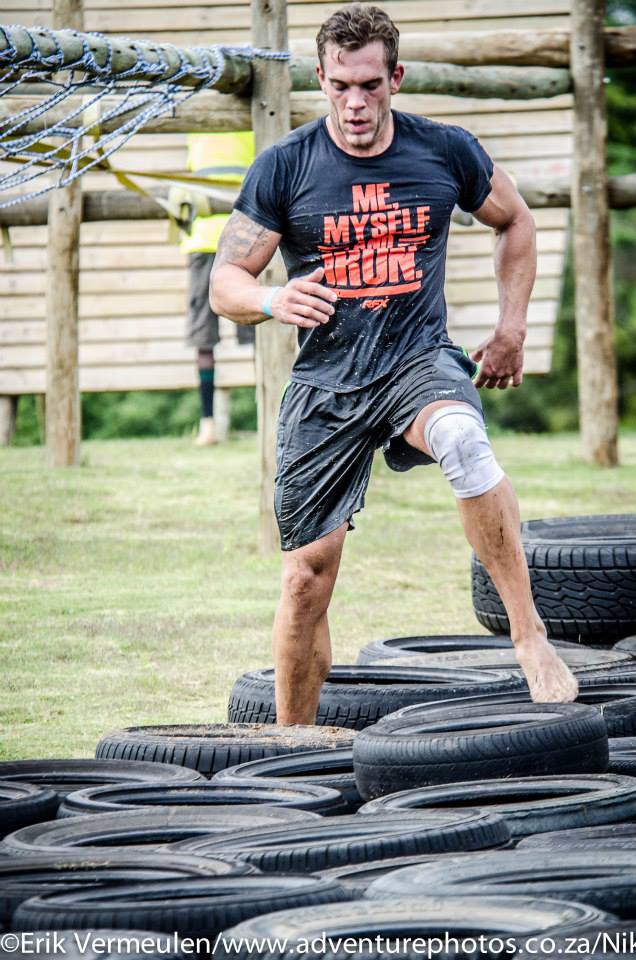 What are your future plans?
I'm looking to compete again later this year, then I'm going to take a break for about a year and focus on growth, and amending all my learnings from the competitions that I competed in this year.
Then during my year 'off' I'll be focusing on some long distance endurance events like Ironman, etc and growing my own businesses. Because at the end of the day, the more you know and the less distractions you have in place, the better.
You have quite a number of sponsors, what advice would you give to other up and coming athletes in finding sponsors?
The best advice I could give is be yourself, try and become and all-round athlete/ambassador that has more to offer the potential sponsors than a daily gym selfie.
Sponsors look for ambassadors that can offer more of a 'real' lifestyle, which gives their brands more of a personification.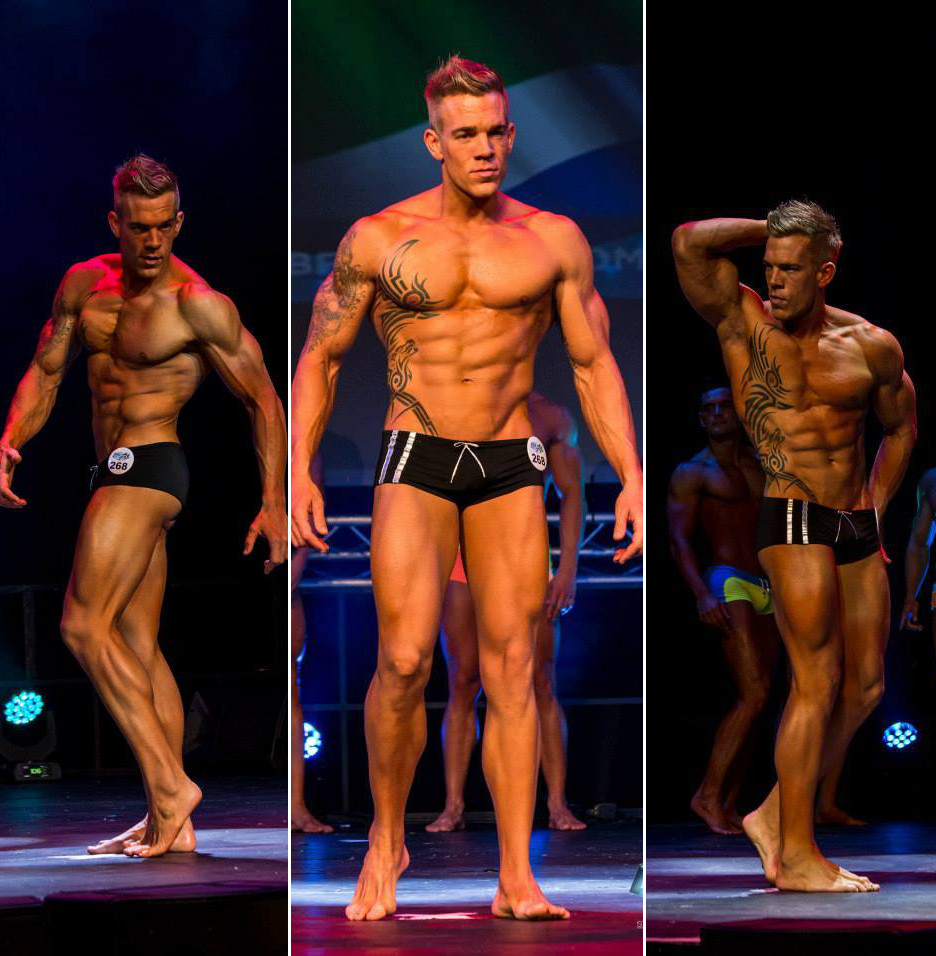 Take us through an average day of yours:
Wake up, light meal, cardio (40-50min)
Eat, shower and get ready for work
Hit traffic, work till 5pm, then weight training.
After training, work some more and at about 10/11pm get some sleep.
Give us a brief description of your philosophy on your diet, pre contest and during the off season:
Off-season, I take everything in proportion. I train so hard during peak season, that when it comes to off season I like to let 'loose', but not by over doing it.
Then during peak season I take my diet very seriously and eat clean and cut off the 'majority' of bad eating.
Then Pre contest, is 110% commitment and a severely strict plan.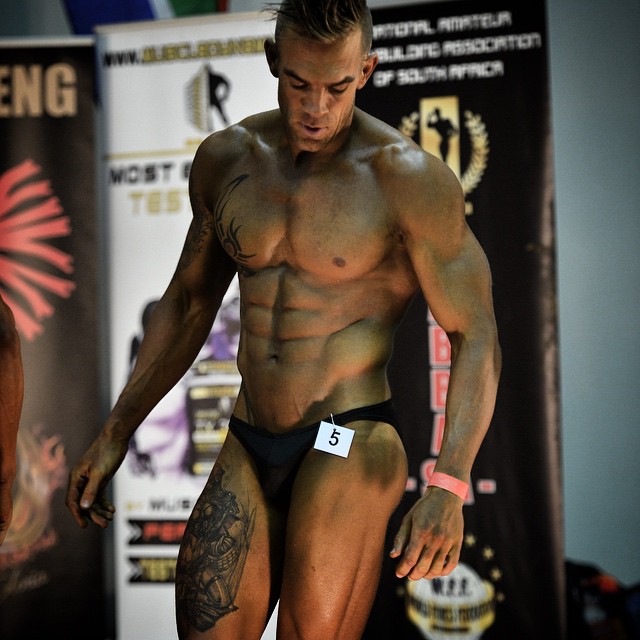 How do you manage your diet after a competition? Do you eat everything in sight or manage to control yourself?
It's a tricky one, because honestly I'm still working out the 'perfect' post competition diet, if there is even one. I've heard people pigging out till the cows come home, others have just one meal, which literally has all the junk rolled into one colossal meal and others that just continue with the broccoli and chicken.
But each athlete must look to their own body (system) since we are all individuals and our bodies take differently.
I prefer to keep my post contest diet to a balance between my cravings (I keep a list of all foods that I crave whilst on my pre-contest diet) and I try consume my top 5 from that list post contest. Then lastly the morning after, I have a giant pizza and then back on track with the clean eating.
If you do more, I find, your body loses control.
What are your top nutrition tips to getting really lean and ripped?
Getting ripped is 70% diet, 20% training and 10% water drop. The leaner your food sources the better.
NEVER starve yourself.
Because that gets you the wrong kind of lean…unless you want to look like a township dog.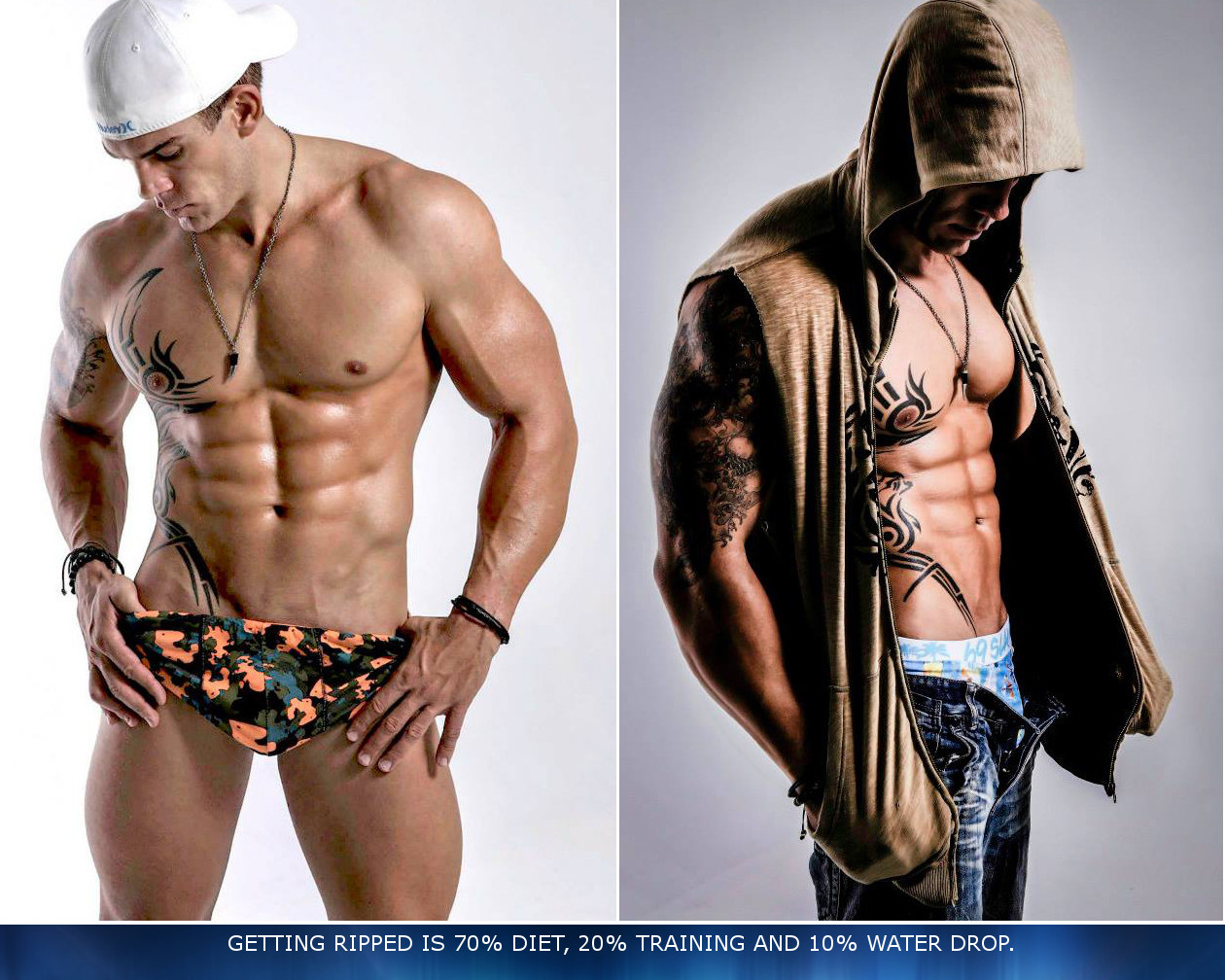 Give us a brief description of your philosophy on your training:
Moderation meets dedication. Never beciome TOO obsessed, it will consume you.
What are your three favourite exercises and why?
1. Anything Stomach
I cannot survive without my six pack 😉
2. Anything Triceps
To date my best feature.
3. Deadlifts
My most powerful exercise, and the best way to get rid of inner frustration.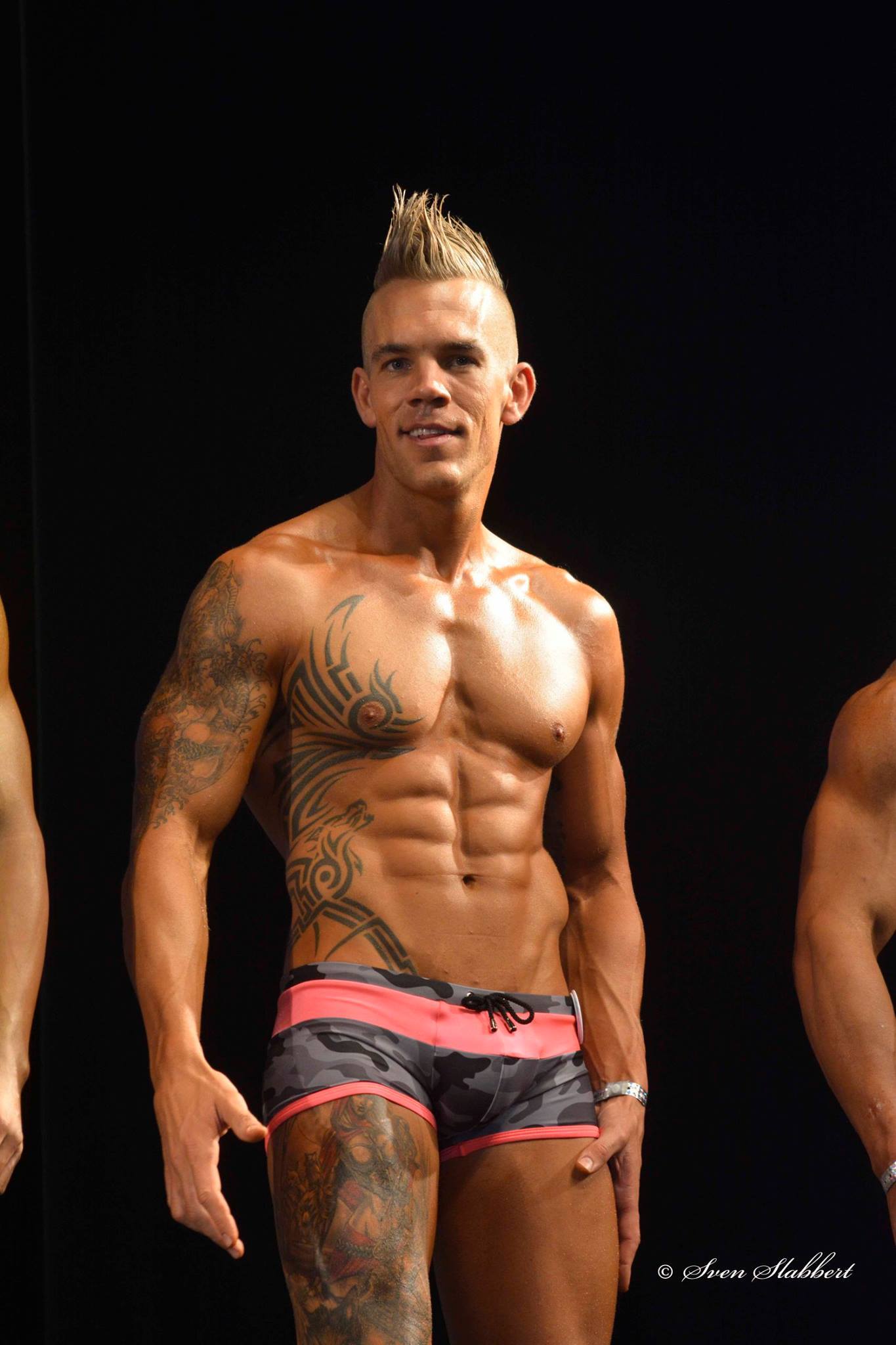 What do you think are a few common mistakes many guys make in the weights room?
Lifting way too heavy for their own bodies and their form. FORM is essential!!
What other forms of training do you enjoy and do, besides the gym?
As much as I love lifting weights, I also love my cardio (cycling & running). I have been getting into power lifting over the past few months and it's growing on me!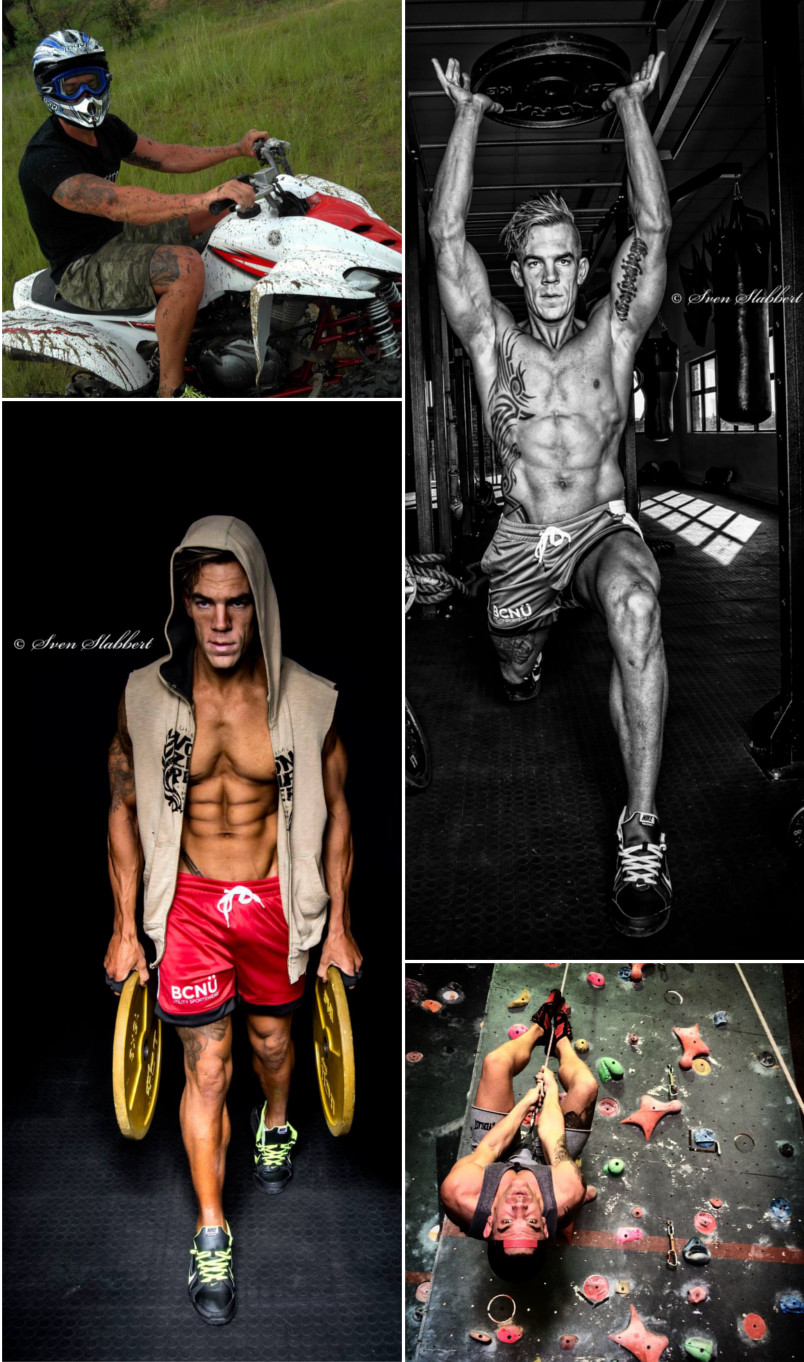 Do you do much cardio?
Because of my endurance, I do. Everyday, between 40-50 minutes.
What is the most common question you get asked?
How do you stay dedicated?
You need to want it, to crave it. Make it apart of your life like breathing and only then will you succeed and keep motivated.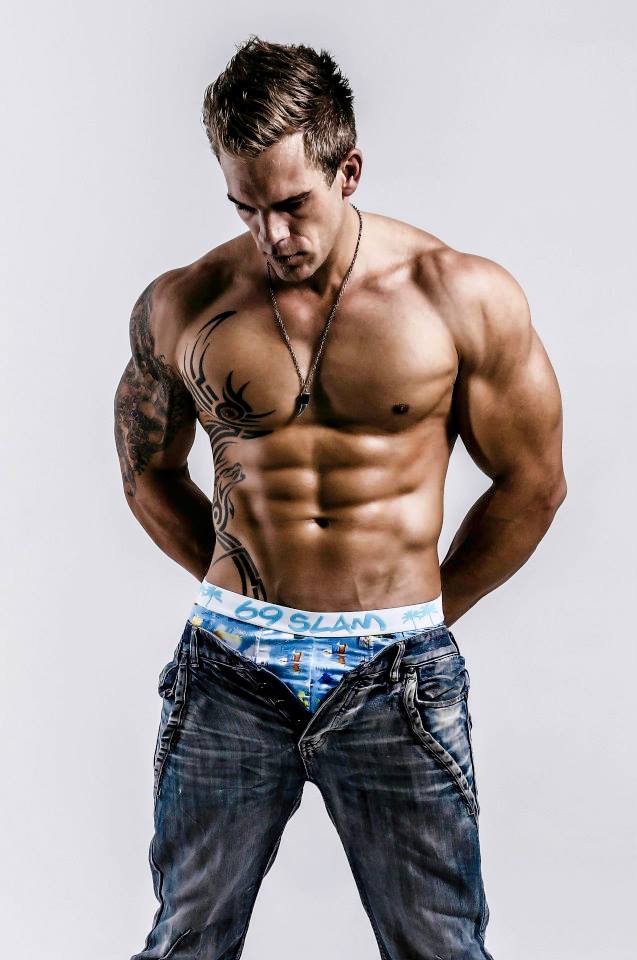 Favorite Influential bodybuilders:
Sergi Constance, Sadik Hadzovic & Tom Coleman.
Favorite Quote:
"Never forget who you are and where you came from."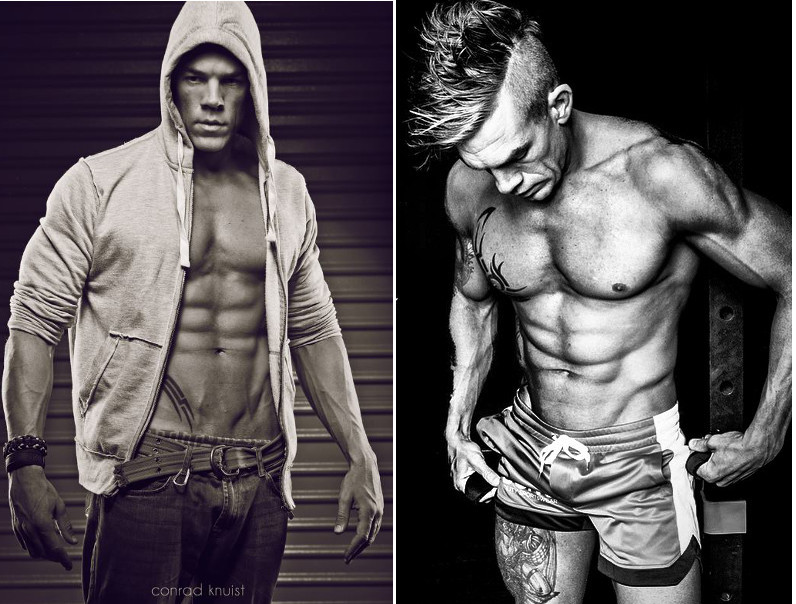 Favourite female fitness icons:
Paige Hathaway.
Best piece of advice you ever received?
Stay humble and never forget where you've come from.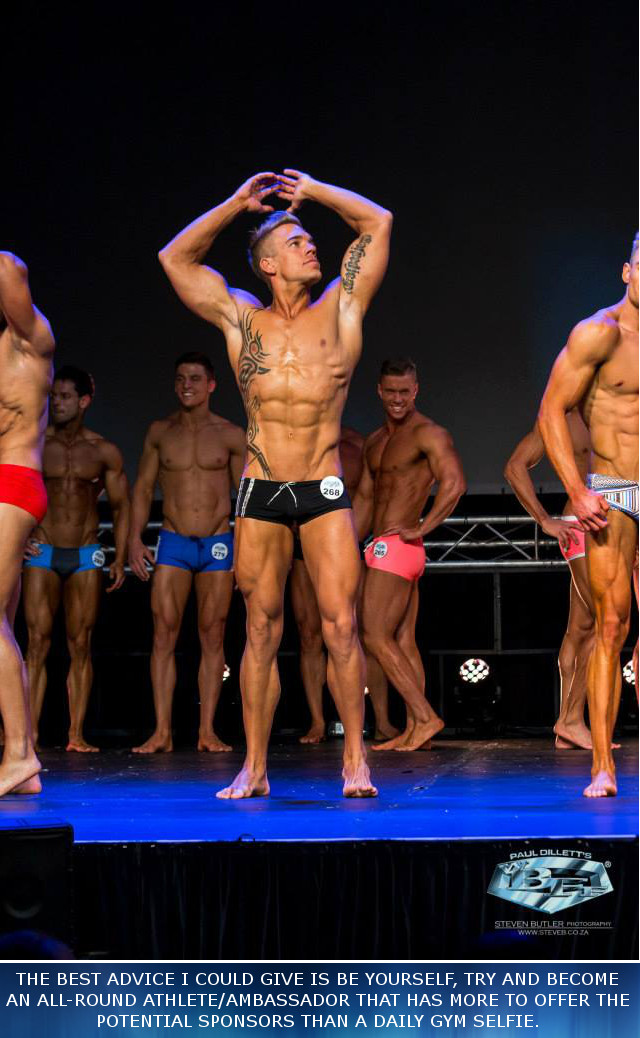 What are some things you see guys/girls doing wrong in the gym that you would like to see less of?
As with the above, form, form and form!!
What competitions have you competed in and your placings?
Daredevil Charity Race 2013 & 2015 (8km)
Rossi GrandPrix 2015 – 7th Cover Model Division
Jump City 2015 – placed 5th
Spar Lantern Night Race (10km)
Impi Challenge 2014 (14km)
Gladiator #1 2014
Gladiator #2 2014 (6km) – placed 3rd in the Sprint
Turbovite JumpCity 2014
Gladiator #4 2014
Hollard Urban MTB Assault 2014
702 Walk the Talk 2014
Mr. South Africa 2014 Finalist (Top 25)
Face of Evox 2014 Finalist
Nabba PTA Classic 2014
WBFF 2014
94.7 Cycle Challenge
Nabba Jozi Classic – 4th Novice over 95kg & 5th fitness division
The Warrior Race #8 Rookie 2013 (7km)
The Warrior Race #2 Black Ops 2013 (17km)
The Warrior Race #4 Commando 2013 (10km)
Where can people get hold of you?