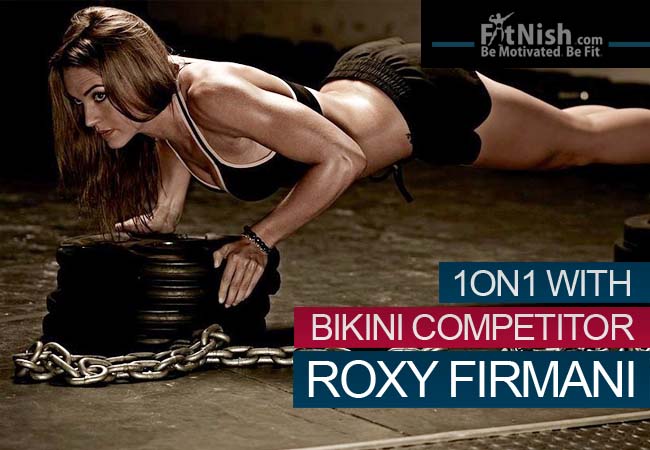 Quick Stats
Name:  Roxy Firmani
Age:  24
Height:  1,71 m
Competition weight:  55kg
Current weight:  58kg
Current city:  Sandton, Johannesburg, South Africa
Where do you train:  Virgin Active, Sunninghill
Occupation: Brand Executive for OPI
How long have you been training for and how did you get started?
I started training when I was about 16. But nothing too serious; just cardio and the circuit! My Dad used to do Bodybuilding Shows so I would tag along with him to the gym every now and again!
"About 2 years ago, I met a very influential man in the fitness industry and I decided to start training to compete!"
Did it come easily for you or was it quite a 'life' adjustment?
Because I have grown up in a fairly active family it came quite easy. I am also SO passionate about being fit and living a healthy lifestyle that it really is something I enjoy!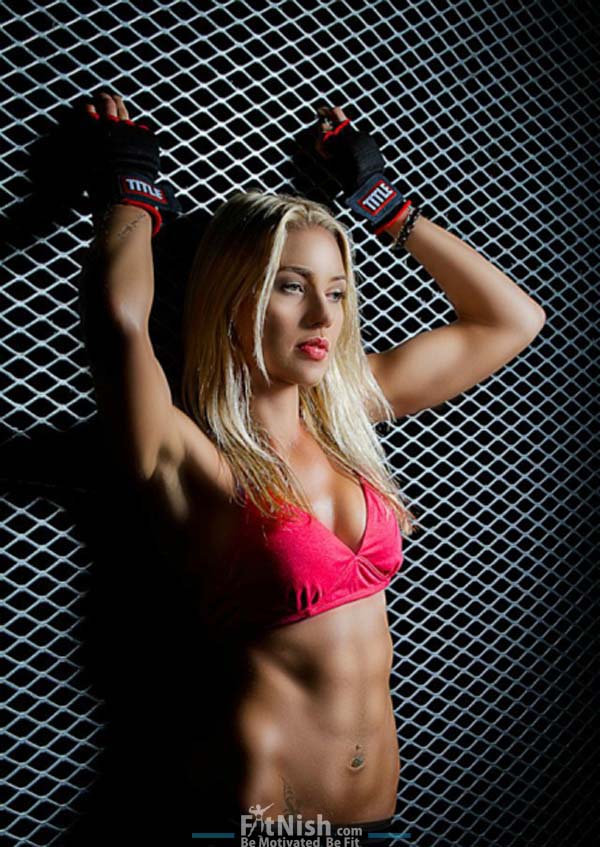 What do you love about it?
I love knowing that my body is in its peak condition! Being fit makes doing anything and everything a lot easier and living a clean and healthy lifestyle ensures that I rarely get sick, always feel energetic and enthusiastic, and that I will have better luck with my health and body condition as I age!
What competitions have you competed in and your placings?
2012
Fitness SA
Body Beautiful SA, Bikini, 3rd
Last year I competed in my first show, Fitness SA. Although I did not place in the Top 10 it motivated me to work harder for my next show. I then competed in Body Beautiful SA and placed 3rd in the Bikini Division line-up!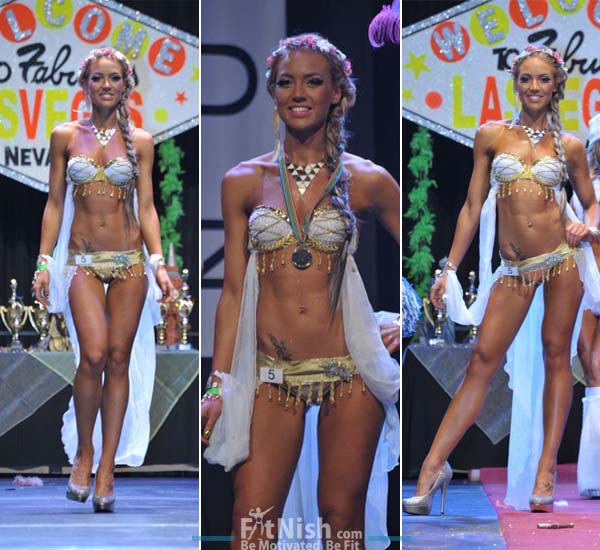 You were a part of the JAR (Nutrition Store) team. How did that work out and did it help with your training and dieting?
Being part of team JAR was and is amazing.
"This is a tough industry and having a group of people to support and motivate you all the time is great."
It is also nice to have a team of people with different knowledge about training and dieting. We can all put our minds together to better our understanding of what works and what doesn't!
What are your future plans?
This year I plan to compete in 3 or 4 shows, the main one being WBFF SA on the 19th and 20th of July! I also want to do a nutrition course and try to get more involved in helping other people get into the fitness competition scene! I love helping people with training and nutrition and it is my dream to one day, make a career out of it!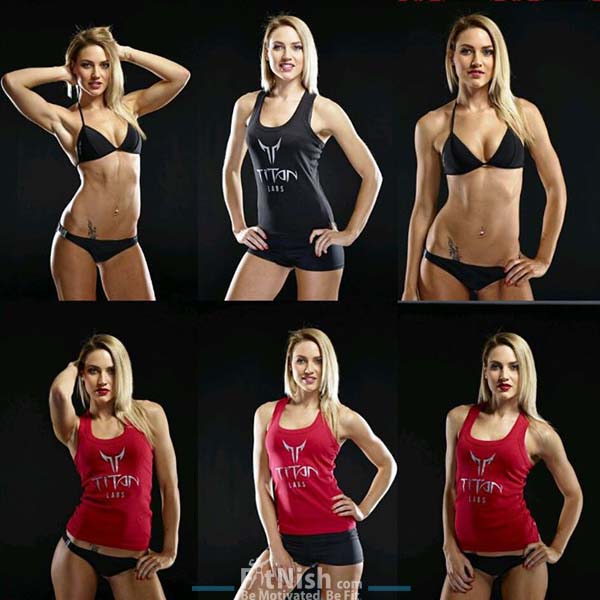 Take us through an average day of yours:
Because I work full time I have a very early start to my day!
I wake up at 4:30am, gulp down my Titan Labs Isomax or Slim Core shake and go to the gym. I'll do a small amount of cardio (just to get the blood flowing) and then hit the weights section!
After that its home to shower, eat and get to work by 8am.
During my contest season I will normally hit the gym after work (two or three times a week) to get in an extra bit of cardio.
Then its home to chill, prep my meals for the next day and get to bed for some beauty sleep 😉
Give us a description of your philosophy on your diet:
I have quite a balanced philosophy on my diet. I don't believe in a so called 'Diet', I believe that you should eat clean (no processed foods) and eat regularly! I eat 5 – 6 small meals a day and I ensure I get a good amount of Protein, Fats (the good types) and Carbohydrates (Low GI).
Here is a sample of my meals that I pretty much stick to all year round:
5am: Titan Labs Isomax/ Slim Core Shake
7:30am: 50g of Oats and 3-4 Egg Whites
11am: Chicken Salad with Avo/Nuts
1pm: Chicken Breast with Vegetables and Sweet Potato/Brown Rice
4pm: Another Titan Labs Shake and Some Almonds
7pm: Lean Protein Source (Chicken/ Fish/ Ostrich) with Vegetables
10pm: Slow release protein (Low Fat Cottage Cheese/ Titan Labs Aftermath)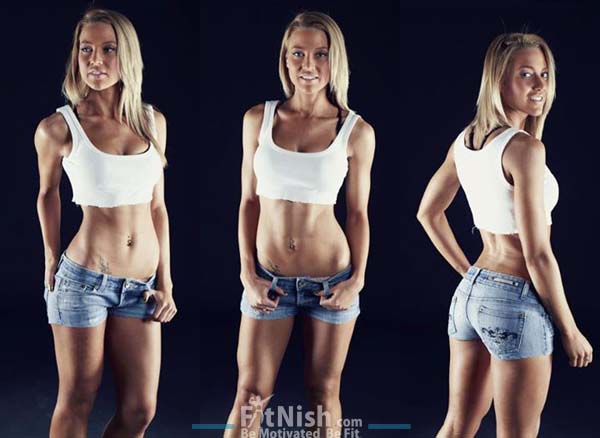 What keeps you motivated and so disciplined to get through your training and sticking to your diet day in and day out?
I find that I am most motivated and disciplined when I stick to a routine and have a goal to work towards!
"Setting goals is something you should do every month. I make sure the goals I set are realistic and are measurable."
Every month I sit down and measure my current goals, and then re-evaluate them accordingly. Without goals there would be nothing to work towards! And without a routine it becomes very hard to maintain discipline!
What's your favorite healthy meal?
I absolutely love the good fats! Avo's, Almonds, Peanut Butter; I could eat these all day every day! I also love my Titan Labs Aftermath Dessert Protein! It is such a good thing to eat before you go to bed because it keeps a constant source of energy for your muscles while you sleep AND it tastes like chocolate mousse! I always make mine and put it in the freezer for a bit so it is like chocolate ice-cream 🙂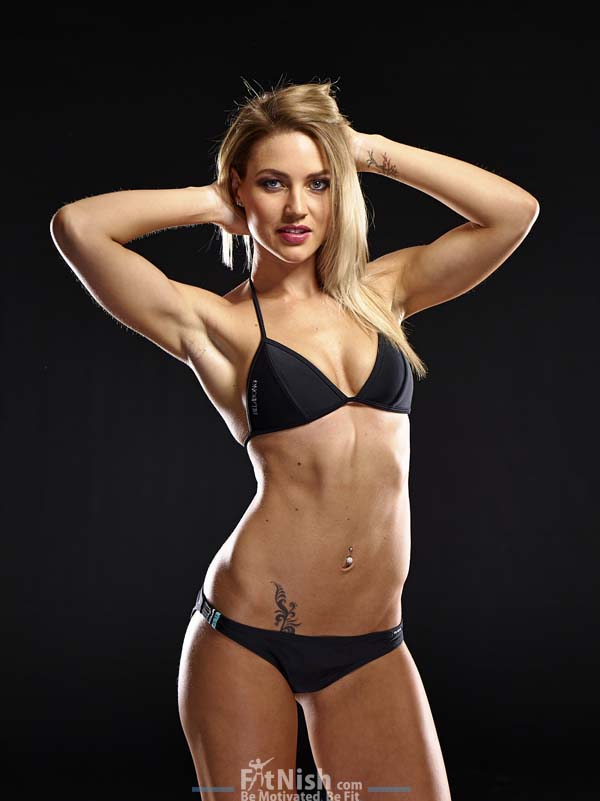 What's your supplementation like?
There are a few supplements I use on a daily basis:
Multi-vitamin: This is essential when you train on a daily basis
Protein Shake: A quick and easy way to get your protein requirements, and great for when you are on the go, need to have a snack OR straight after a training session!
BCAA's: These are essential when you train. They aid in muscle recovery and also prevent the breakdown of muscle tissue. I mix a serving of Glutablast and Amino Rush from Titan Labs and sip on that while I train. It tastes great and helps your muscles while you train!
Fat Burner: Only during my competition season! Good to help get leaner for my shows! I would highly recommend Xcelerate from Titan Labs – it is by far one of the best on the market these days!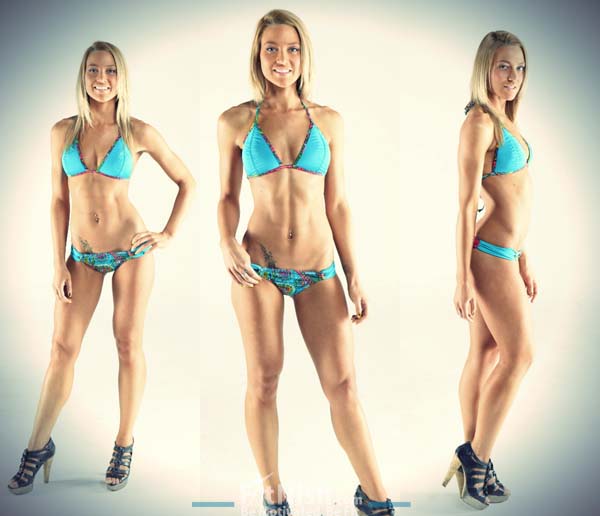 Give us a description of your philosophy on your training and on average how long do you work out for?
I don't believe that you need to spend hours in the gym every day! I spend about 45-60 minutes at the gym and believe me that is more than enough. As long as you make that time count! I do a split training program, so I train each muscle group once a week (except for legs).
So for example I will train:
Chest on Monday
Quads on Tuesday
Back on Wednesday
Hamstrings and Glutes on Thursday
Arms and Friday
Shoulders on Saturday
Sunday's I rest!

How do you measure your progress? And how often?
I do not believe in the scale! Body weight is such an ineffective way to track progress, especially because muscle weighs more than fat! I believe it's how you feel, look in the mirror and fit in your clothes!
What's your take on utilizing cardio in your training regime? What's your favorite form of cardio?
Like I said earlier I always do a few minutes of Cardio before I start my weight training session! My favorite type is High Intensity Interval Training. This is bouts of high intensity cardio with rests in between! So for example I will sprint for 1 minute and then walk for 1 minute for up to 20 minutes.
I also do steady state cardio once or twice a week. That is medium intensity cardio for a longer period of time (about 40-60 minutes)
What's your secret to having rock solid abs? What would you say are some of the best exercises women should include in their ab work outs?
The key to Abs is Diet! You can do 1000 sit ups a day but if your diet is wrong you will never see those abs! So keep your diet clean. I love to do weighted crunches and leg ups!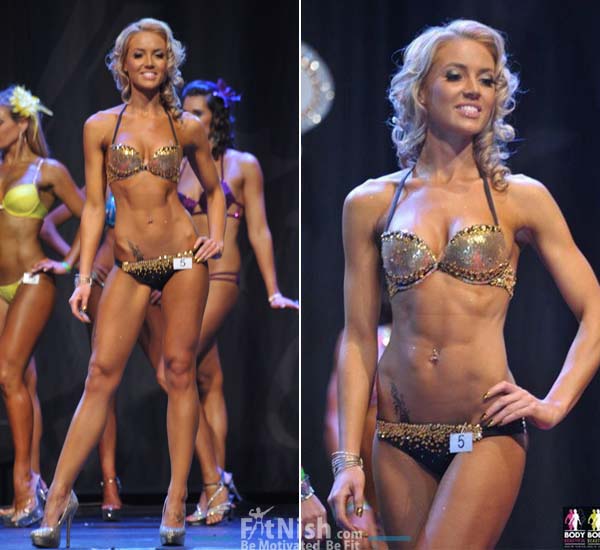 Fitness models or bodybuilders?
The person who I look up to most, the one that got me interested in this industry, is Jaco De Bruyn. He has been a Mentor and an Inspiration from the get go. And then of course there is my coach, Kirk Wentworth! He is the most knowledgeable, passionate and helpful person I know! He really has helped me get to where I am now and helps me with all of my competition prep!
Favorite female fitness icon(s):
Wow I have so many! At the moment I must say I have a bit of a crush on Bella Falconi, her physique is just mind blowing! I also follow Anna Delia, Jamie Eason, and locals such as Anna Wood!
Favorite Quote(s):
This one sums it all up:
"Eat Clean. Train Mean. Stay Lean."
I also love
"It never gets easier, you just get better."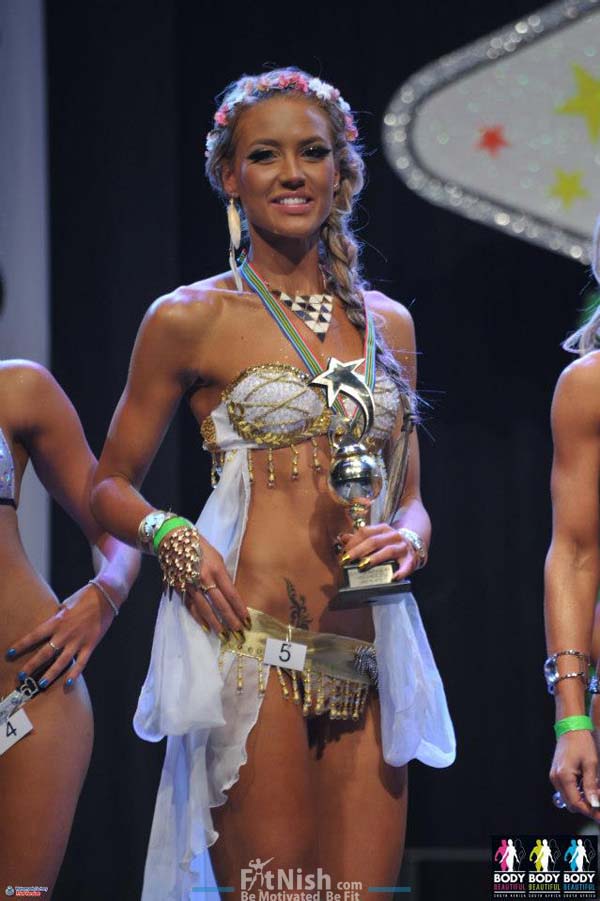 What were some of the mistakes you made when starting out in the gym?
Thinking that cardio was going to give me a toned physique! I see so many girls at the gym every day slaving away on the treadmill and their bodies never really seem to change! I also don't think people realise how big a role your diet plays in seeing the results you want!
"Girls need to stop being afraid of both the weights section and protein shakes!"
Advice for someone wanting to change their lifestyle and achieve their ideal physique?
Take it one step at a time. Too many changes at once can become overwhelming and disheartening. Also make sure you get proper advice from someone who knows what they are talking about. I've seen some crazy diets and programs given to friends that are just ridiculous!
"My rule of thumb is that the person you get your advice from, should have the physique you wish to achieve, that way you know that it worked for them and should in turn work for you!"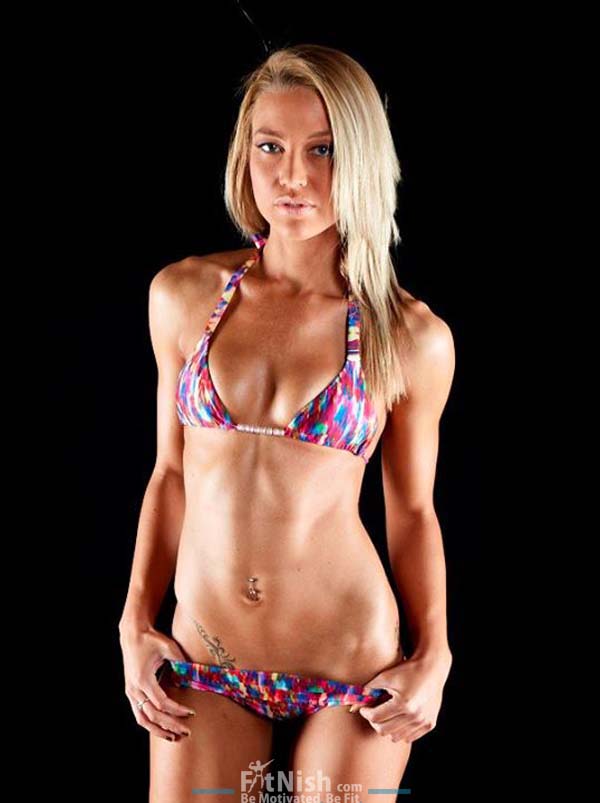 Where can people get hold of you?