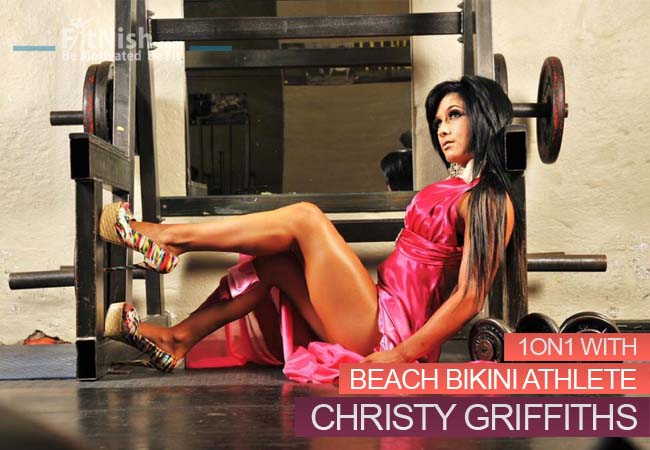 Quick Stats
Name:  Christy Griffiths
Age:  21
Height: 1.53 m
Competition weight:  43 Kg
Current weight:  46 Kg
Current city:  Johannesburg, South Africa
Occupation:  Student currently studying bcom marketing and have completed 2 years of my LLB law.
How did you get into this lifestyle and into competing at such a young age?
I have always loved my sports throughout school, and once leaving school it was difficult to continue, so I decided to start at the gym to carry on staying healthy. From there I knew gym was going to be one of my passions so I continued to pursue it and get into the industry and decided to step on stage for the first time in 2012 at Body Beautiful, with the help of Lauren Leigh Porter, founder of be fit 4 life.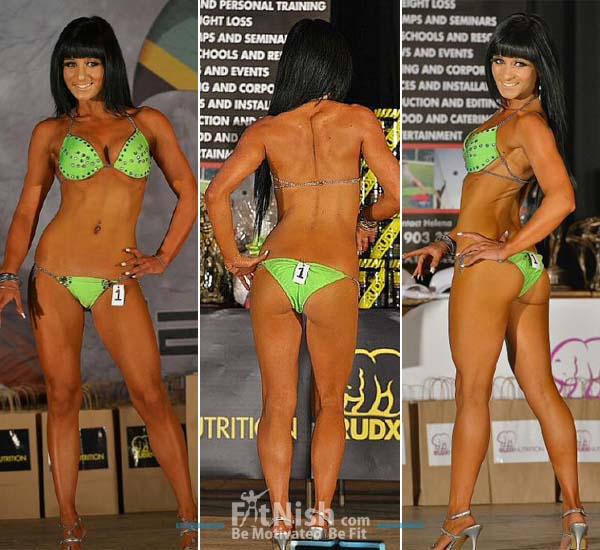 What do you love about it?
EVERYTHING! From sweating and pushing through the hard work at gym and all the dedication of dieting too.
"The feeling you get when climbing onto a stage is indescribable, it doesn't matter where you get placed, at least you know that you gave it your all, and you went as far as to stand on that stage and reach your goals."
To see results of your body changing every day is such great motivation too.
Tell us a bit about your golfing achievements:
I started playing golf at the age of 12, and this was the sport I thought would be my career. I played for the Gauteng central golf foundation, was in a golf academy, and played league  for my home club Royal JHB Kensington. I got my handicap down to a 7 and was going to go overseas and play golf for UCLA.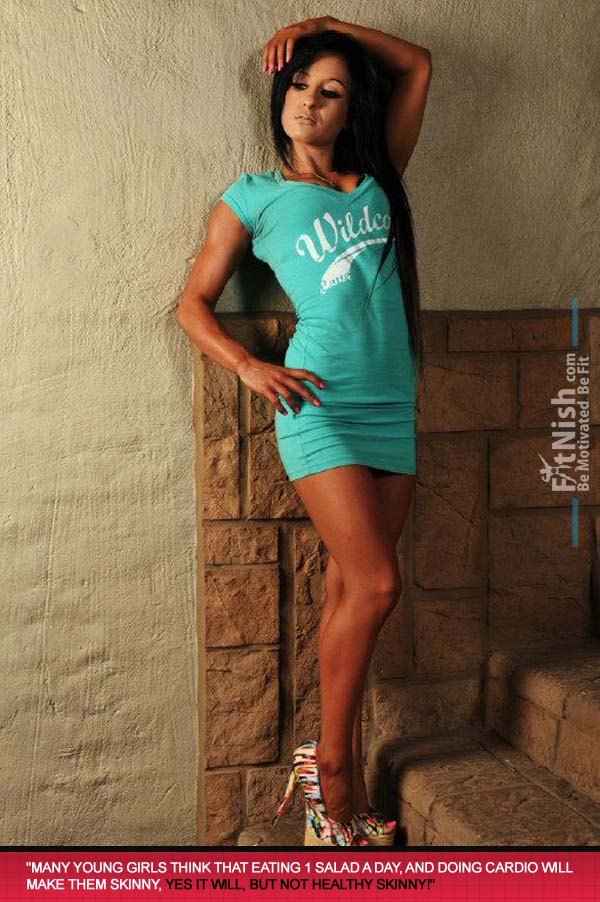 What do you think are some of the biggest mistakes or myths  that many girls fall prey to when starting out in the gym?
I actually love this question, many girls think that the "weights section" is for the boys, and by lifting a weight you are going to look like a massive man! This is not true!!
"By lifting weights you are helping yourself to achieve a healthy toned body."
Many girls only want to do cardio.. And more cardio.. And many young girls think that eating 1 salad a day, and doing cardio will make them skinny; yes it will, but not healthy skinny! You will only damage yourself in the long run.
What  competitions have you competed in and you're placings?
2012
Body Beautiful SA | Beach Bikini | 6th (out of +- 20 girls)
2013
IFBB Millennium Gold Plate | Beach Bikini | 1st
Nabba SA | Beach Bikini | 3rd
Miss SA Xtreme | u21 Beach Bikini | 5th
TTT classic |  Beach Bikini | 2nd
As of next year I will be prepping to go to the fitness bikini division. New goals as of next year.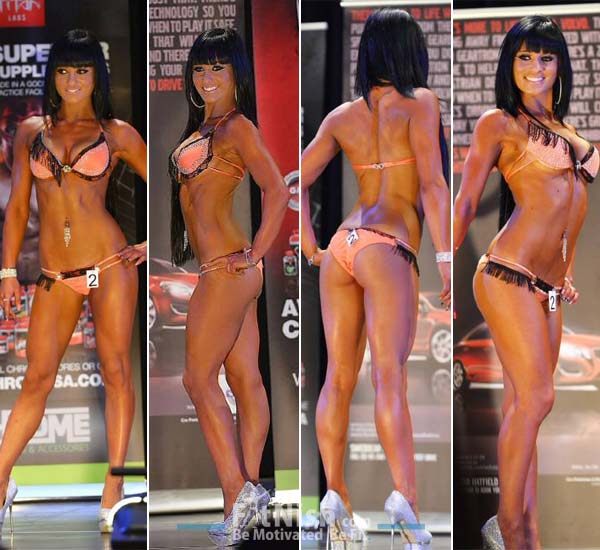 Have you encountered any setbacks in your life which forced you to change the way you did things and how did you overcome them?
This is one of the hardest questions that I could possibly answer, but yes I have had a major setback in my life. In March 2011 my boyfriend of 2 years passed away, which was one of the most painful experiences anyone could possibly encounter, losing a loved one is world shattering and no pain in my opinion is worse than that.
"I have walked a road that some wont in their entire life, full of heart ache and hurt. After this it took a lot of time to heal and recover, as many people are very nasty in this world and are quick to blame others. Yet I picked myself up. I chose to get back up and make it a life worth living and not to regret a single day that goes by."
It was a lesson in life that I learnt, cherish everything in your life to the fullest because you never know when it's your last to say goodbye. This has only made me a stronger person in everything that I do and I have grown to see many things in a different point of view.
What are your future plans?
My main goal for the next few years is to be on an international stage. This is my dream and I will reach it, even if it means that I must try over and over, I will push harder and harder to achieve it and to receive my pro card. Career wise, I would love to start my own business by helping girls reach their goals and dreams in the fitness industry.
"I love helping others where I can, to see a smile on others faces is the best gift you can receive."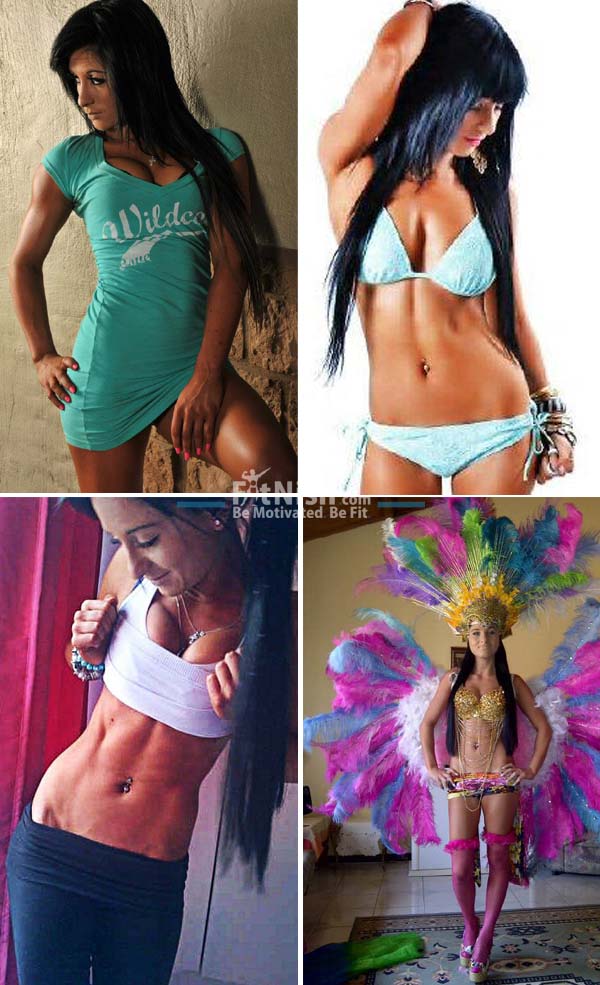 Take us through an average day of yours:
As soon as I wake up, I take a shower and make some breakfast because without my oats and egg whites I would not be able to function.
I then get ready for varsity, and attend my lectures and eat, and between lectures I will go do some abs and 5min cardio
Then eat again, then return to lectures.
At about 2pm every day I then go home, eat again and make my food for the following day, do assignments and study and eat some more.
Then at about 6 pm I go to gym and do my weight training where I do 1 muscle group a day.
After training I eat my supper and shower and get ready for the next day,  to repeat again.
Give us a brief description of your diet pre contest and off season:
My diet doesn't really change when I'm prepping for a show and off season.
"With my off season I just eat a lot more carbs such as pasta and rye bread, and 1 week before a show I stop eating carbs at 12 pm and drink more water in that week."
My diet looks something like this:
1. Breakfast:
 4 scrambled egg whites, oats and a fruit
2. Snack:
Half a hand of almonds and pineapple or half an avocado
3. Lunch:
Chicken salad and rice cakes
4. Snack:
5. Supper:
Chicken schnitzel, broccoli and sweet potato
6. Snack:
Fat free plain yoghurt or protein shake
On Saturdays is my 'cheat meal day' and every Wednesday is 'wine gums Wednesday' so I will eat 1 roll of wine gums throughout the day.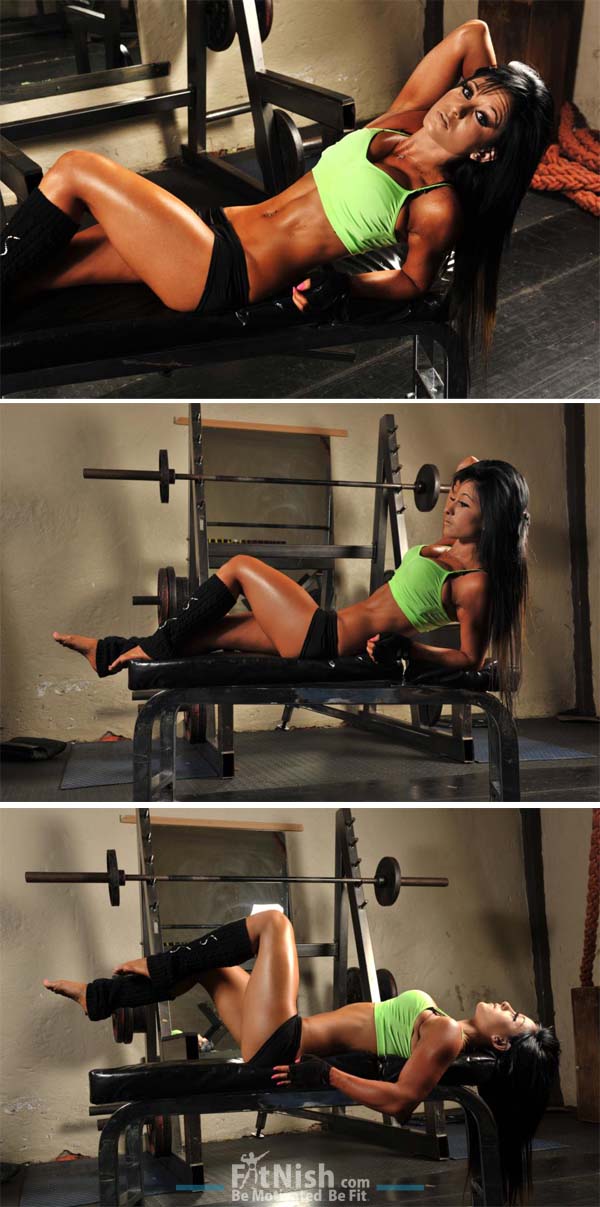 Whats you're favourite cheat meal?
My healthy favourite cheat meal is definitely sushi, and my unhealthy favourite cheat meal is a chicken mayo pizza.
How do you manage to balance everything in your life?
Everything is well balanced when it comes to studying and training as I don't work at the moment, so its easy to study and train whenever I like.
"But, with socializing its difficult, as most of my friends want to go out drinking and partying, and I don't enjoy doing that anymore I would rather be in a gym."
So through the last year I have lost a few friends but have also gained a lot more through the fitness industry.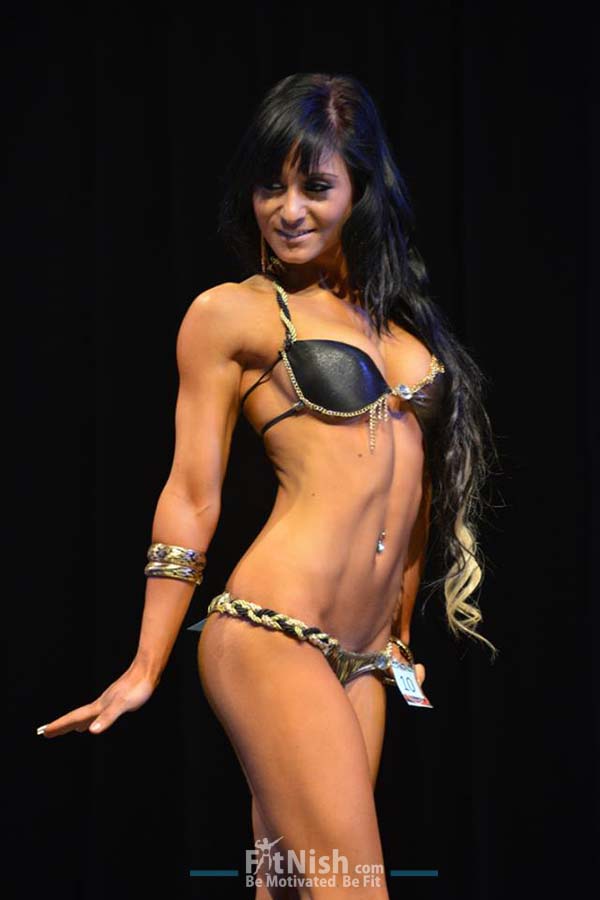 Do you believe in using supplements? Which supplements are most crucial to you?
I do believe in using supplements, as most of them only help your body recover.
I use my Nutritech Protein shake especially after my work out, with my glutamine
I normally use a pre work out before I train to give me more focus and energy
I take bcaas
Give us a brief description of your training and on average how long do you work out for?
I train 1 body part a day during the days of the week.
1. Monday
2. Tuesday
3. Wednesday
4. Thursday
5. Friday
6. Saturday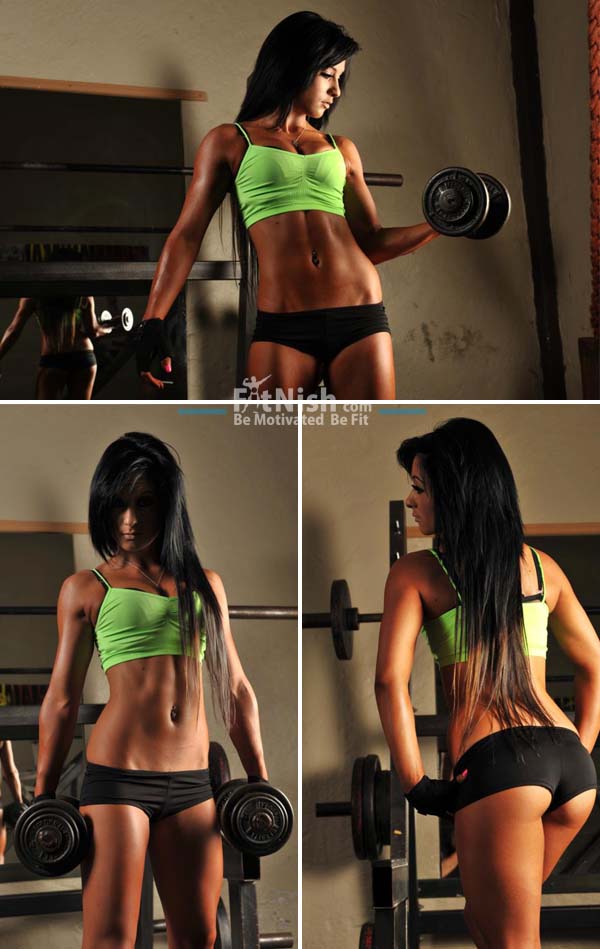 Depending on what day of the week it is on a Monday to Wednesday training takes me about 1 and a half hours because the gym is SO BUSY! But from Thursday – Saturday it will take me about 1 hour.
How do you measure your progress? and how often?
I used to measure my progress weekly at the beginning of the year, but I don't do it so often anymore. I do an assessment with Catabolic before competition day and I just look at pictures to see if I have improved, or where I need to improve.
Which cardio in your opinion is better for fat loss; HIIT or long slow steady cardio?
In my opinion HIIT is a lot better, because u keep your heart rate up. I don't do any cardio really, only 5 minutes a day.
"I believe that doing weight training with super sets is just as good as cardio. I really do not like cardio at all, when I get told to do some cardio I want to cry! I would rather do abs while watching paint dry =) haha"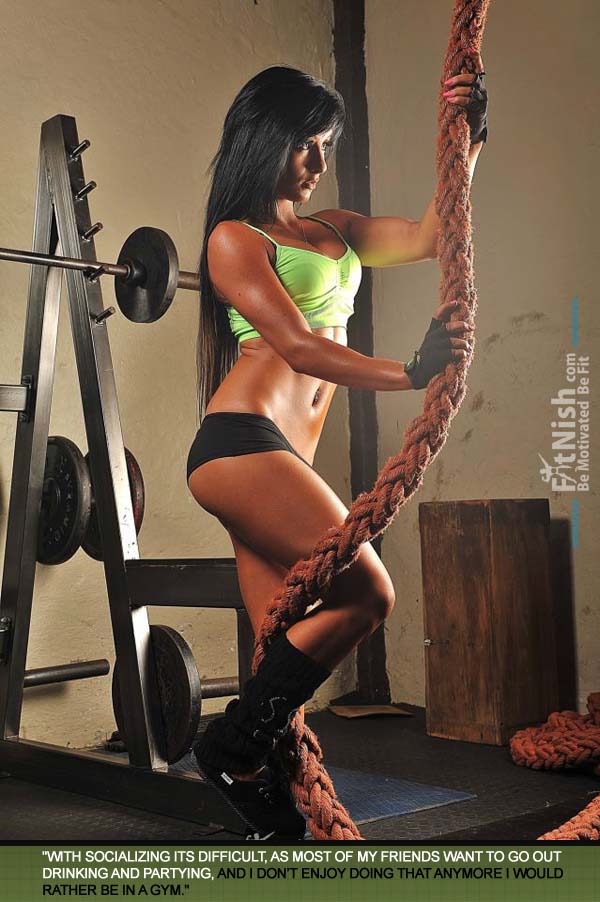 How do you stay motivated to keep on training and sticking to a clean diet?
I love what I do and love training, and I know I have goals to reach. This keeps me motivated and when I see results from my clean eating, it just motivates me even more to push harder. I have recently gotten 2 sponsors on board with me Vibram Five Fingers and Shred'd clothing!! THE BEST SPONSORS EVER! I have an awesome pair of pink Vibrams that I train in, which helps me a lot more with legs now as I am targeting new areas of muscle, and I train in my Shred'd clothing which is awesome for girls. It is so comfortable. Having these sponsors keeps me motivated as well, as I try to help them as much as I can as they are helping me. Check them out on Facebook or on Twitter:
I have recently been chosen to join 'THE KING BODIES' which is a competing team that in my opinion is going to change the way people look at South African Fitness. So I have a lot of things that keep me motivated =)
What are your three favourite exercises?
Hyper extensions (You feel the burn straight away)

Bicep curls

Squats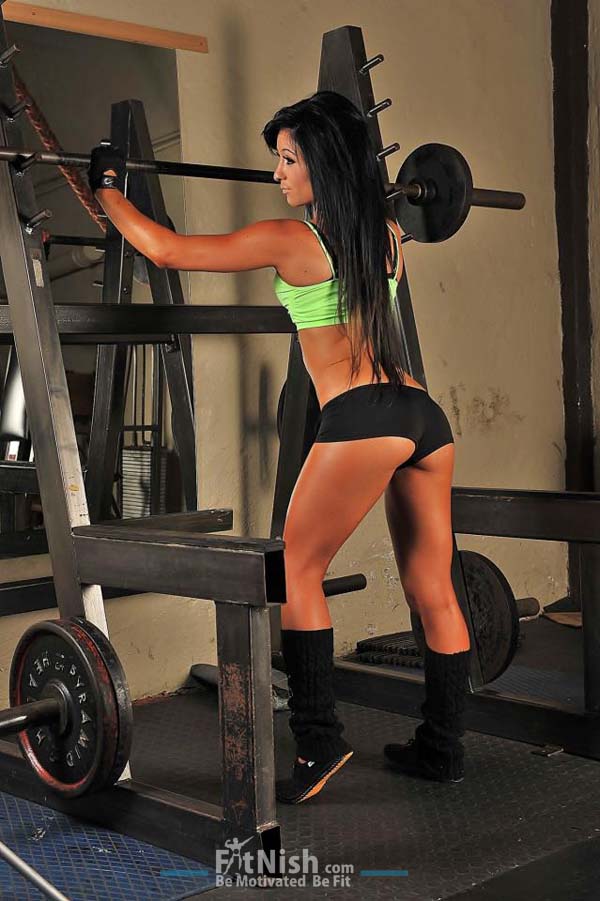 Fitness models or body builders?
I like the male fitness models more than the body builders, BUT don't get me wrong I respect the body builders as they put in a lot of time and effort to get those bodies that they have worked for, the same for the fitness models.
Favourite female fitness icons?
Locally it would be Ashleigh Frost, Michelle Van Rooyen and Cat Rademeyer. Internationally would be Andreia Brazier.
Favourite quote?
"Don't compare yourself to others, your best competition is the one in the mirror"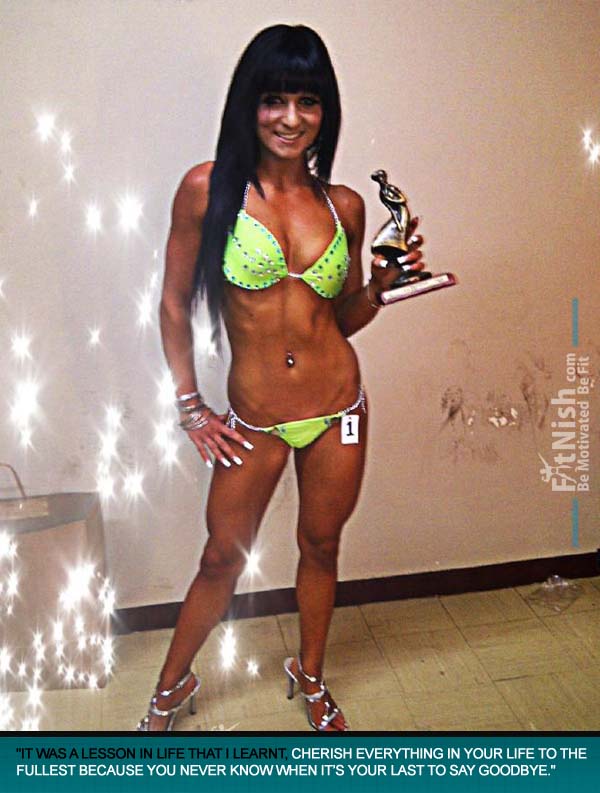 Advice for all the young girls wanting to enter the fitness industry and compete?
The biggest mistake a lot of people do when starting in this industry is that they listen to a whole bunch of people. What I have learnt is that you should only listen to one person and stick with that one person. If any girls want to start out I would highly recommend contacting Cat Rademeyer from Catabolic, she only designs healthy diets that don't put her athletes at any risk.
For supplements I highly recommend going to Body King Nutrition in Centurion. They always have great specials and their pricing is great.
Where can people get hold of you?
Photography Credits
Christy Griffiths Gallery