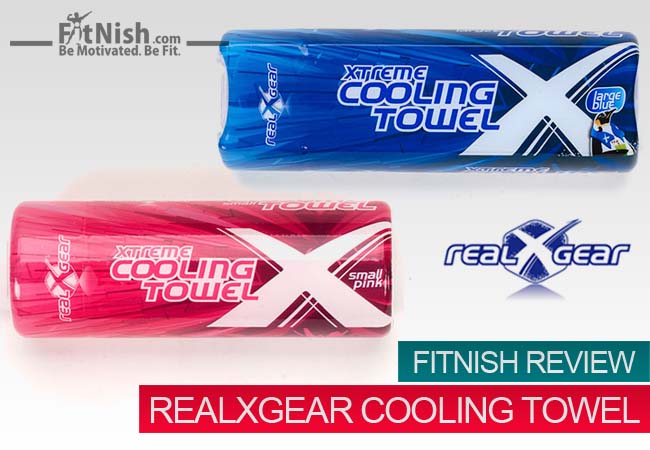 Have you ever heard of a cooling towel? A towel that you make wet, to keep you dry and cool? Sounds like a paradox doesn't it?
Well I recently had an opportunity to test out and try one such product. The RealXGear Cooling Towel. Now, initially when I see all these new and 'innovative' products, I do have my doubts about them as there are so many products on the market which claim to do so much but simply do not work, but this towel, is actually quite a 'snazzy' piece of material.
RealXGear Cooling Towel Overview:
RealXGear Sports Towels are an innovative way to cool down while enduring outdoor heat and/or high levels of physical activity.
When wet, the towel drops to 20 degrees below ambient air temperature and provides cool, soft comfort to the user for hours. When it stops cooling, simply re-wet the Real X Sports Towel in hot or cold water and wring it out. Within minutes, it's cool again.
It is made from a revolutionary highly evaporative material that retains water while remaining dry to the touch.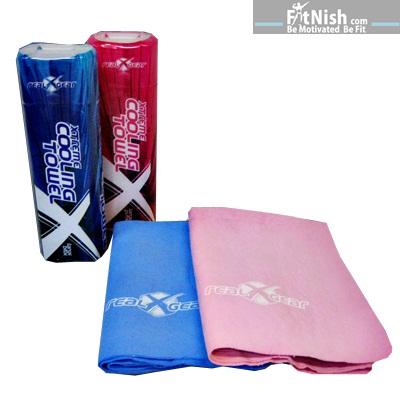 The cooling towel comes in 2 sizes and 2 colours (Blue and Pink):
Large Towels: 16 in x 24 inches
Small Towels: 12.5 in x 16.5 inches
What is it?
The cooling towel is basically a piece of material which you can use like a normal towel for the gym, while playing sports, or even just to use on a really hot summers day to wipe away your sweat and to keep you cool. The difference is that this towel is said to actually cool your body temperature down, when applied to your skin.
How to Use it and does it really work?
To use, just simply wet the towel and ring out any excess water and you are good to go. Honestly, I was skeptical about the whole aspect of wetting the towel first.  I mean how can I wet this towel and then use this 'wet' towel to wipe off my sweat and keep me cool. Well that's the beauty of it, it doesn't actually feel wet! It absorbs the water as if there was never any, so that when you touch the towel it only has a very slight moist and cool feeling to it. Then when placed on my neck it really did feel a lot cooler and it did cool me down. The towel was in fact much cooler than I anticipated.
You can actually feel the towel become cooler after it has been placed under a bit of water. I think it would be ideal to use when playing sports outside in direct sunlight where your skin can 'over heat.' You can even place the towel on the back of your neck and leave it there to keep you cool.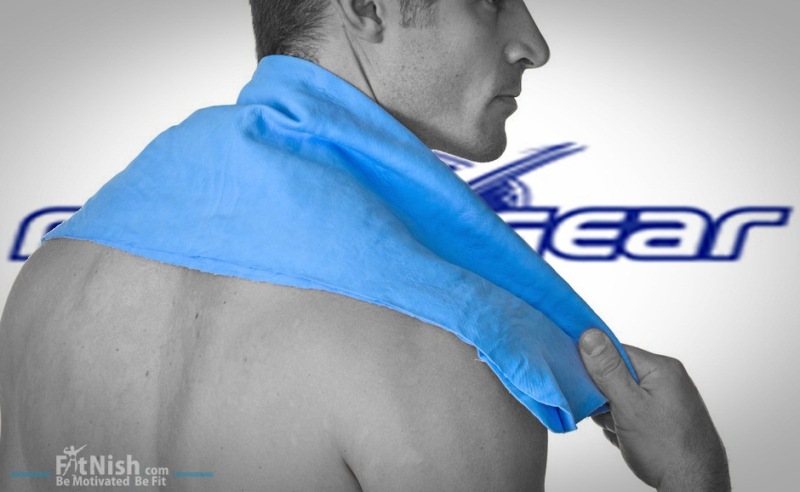 It's ideal for:
People who sweat a lot. Its great since you can wipe the sweat away without your towel feeling all wet and drenched in sweat.
People who get hot and flustered very easily and quickly. Perfect to cool you down. A great idea to use when you are stuck in long queues and the heat is unbearable.
Athletes who train and/or play sport outside in the hot sun.
To clean it is very simple as well. It is machine washable and dry able and can be used hundreds of times, and comes in its own storage container for years of reliable use.
Cons:
The only small downside to the towel in some sense is the feel of the material. It has a slightly weird feel to it like a shammy (don't worry it does not become all hard when dry), but this is nothing to get worked up about as you get used to it quite easily.
Female Athlete Review
We also opted to get a second opinion on the towel from a female athlete, Maryke Visser. She is a frequent gym goer and performs a variety of other forms of training such as trail running. Her review of the product follows.
Her impression:
"I took it out of the storage container and was surprised at the almost chamois like feel to it.  I wet it with warm water and wrung it out and in a very short while it was pleasantly cool to the touch.  I put it in the container and off to the gym I went.  After a long hard workout and feeling sweaty and hot I got the towel out of the container.  It felt so awesome putting it on my face and neck!"
"Wow, I must say I was surprised! It really did cool me down a lot faster than usual and I felt refreshed as I walked out of the gym."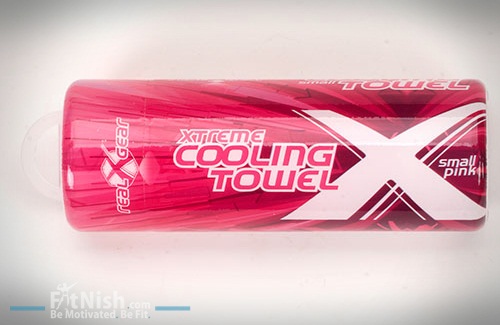 "The next day I went for a nice long trail run and the sun was quite hot.  I just took out my Cooling Towel, re-wet it and used it.  Again, it was really nice to wipe the sweat off my face and great to hold on my neck for a while."
"I would really recommend this for anyone doing any kind of sport and especially when you're out on a hot sunny day.  It really did help me a lot and I will definitely take it with me wherever I go from now on!"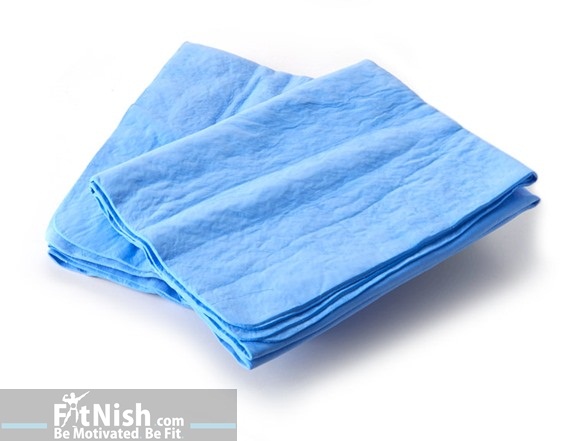 Special Offer:
We have a great offer for FitNish.com readers, where you can receive a 20% discount if you shop online and enter the code: rxg20 at the checkout from their website. Click here to get shopping!
Find out more about RealXGear and all their products, including their cool, cooling caps and wristbands by checking out the following links:
About The RealXGear Cooling Towel
In many sports, a sports towel can simply be used as an accessory. Towels are often found draped over the legs of NBA players on the bench to keep their upper legs warm and loose. These sports towel can be used to wipe the sweat from wet hands and give players a dry grip on a slippery ball in football or basketball. In the gym, the sports towel, also known as a fitness towel or workout towel, is used to keep the weightlifter and the equipment clean and dry. The sweat that accumulates on the athlete often transfers to weight handles, head rests, benches and seats. The towels are then used to keep the gym clear of sweat for the next user. Thrown in the gym bag, the towel is simply washed and brought back to the gym for next time.
RealXGear Cooling Towel keeps you 20 degrees cooler than the outdoor ambient temperature. It's like having your own air conditioner on you at all times. Keeps you cool all day long! and is reusable simply by soaking the towel in water. The cooling towel is machine washable and be used hundreds of times and comes in its own storage container for years of reliable use. RealX Sports Towel is made with durable, environmentally friendly super absorbent cloth. Made from a revolutionary highly evaporative material that retains water while remaining dry to the touch.
When it stops cooling, simply re-wet the Real X Sports Towel in hot or cold water and wring it out. Within minutes, it's cool again. It is ideal for swimming and all other outdoor activities! To really put our claims to the test, our product launched on QVC and the demonstration showed the towel being wet with 194 degree water and within three minutes the towel cooled down to 71.9 degrees. Even usingalmost boiling water, the cooling beads were able to actively cool the towel down to a temperature where it can keep you cool, too!