I bought a conditioner bar, soap bar and an under arm deodorant bar from two package free shops and I thought I would share a bit about my experience with them below.
Conditioner bar
I bought this conditioner bar from Shop zero. I have used shampoo bars and soap bars as shampoo bars and they all worked well, but I thought I would give this conditioner bar a try as it contains a whole range of 'conditioning' oils as you can see from the ingredients.
Its ingredients consist of:
Conditioning Wax – Rape Seed, Shea Butter, Avocado Oil, Cocoa Butter, Mango Butter, Castor Oil, Grapeseed Oil, Essential Oils: Cinnamon Leaf & Benzoin.
In terms of conditioning, it does work well, and you can feel the difference in the texture, meaning that it does not feel like soap per se or is as foamy as soap, but you can feel the conditioning effects of the oils. If that makes any sense :p
Following on from that, I find it easiest when I use the bar under running water from the shower, straight onto my hair. That way it lathers and spreads a lot easier, with the constant water running over it. It will no doubt be less foamy than soap due to the various butters and oils in it.
The bar weighs 70 grams and costs 65 rand, and will last you quite a while so it is well worth it especially if you are not using it all the time. Also, these shampoo/conditioner bars can also be used as soap bars, something to remember.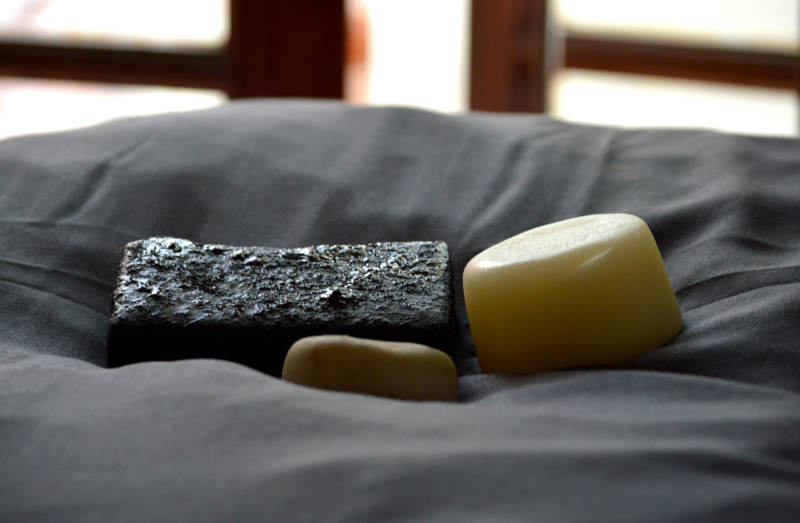 Charcoal soap bar
I bought this charcoal soap bar from nudefoods. They have a whole range of different, natural and package free soap bars, shampoo/conditioner bars and a whole lot more.
The bar costs 50 Rand and it is quite large, I think between 80 – 120 grams. I quite like this soap bar, as it has a neutral fragrance and is slightly grainy, which gives the soap a slight scrub like feel.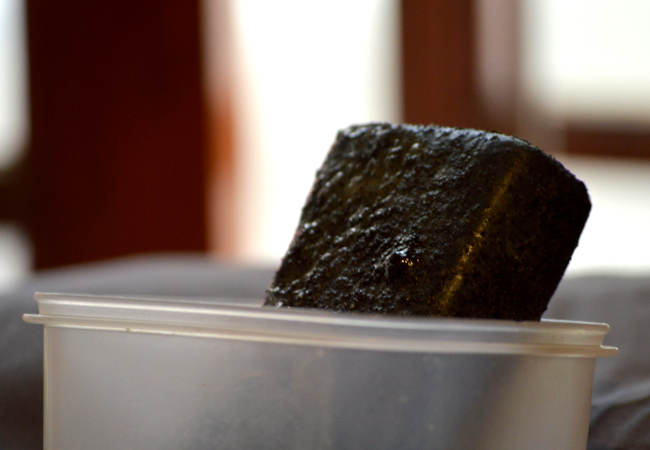 Under arm deodorant bar
I also bought this underarm bar from Shop Zero. Most diy deodorant recipes use bicarb soda but some people may have a small reaction to bicarb and thus tend to prefer products without it. This under arm bar is such a bar, it contains no bicarb soda or corn starch.
Its ingredients consist of:
Cocoa Butter, Carnuaba Wax, Shea Butter, Coconut Oil, Grapeseed Oil, Arrow Root Powder, Diatomatious Earth, Bentonite Clay, Essential oil – Ylang Ylang and Patchouli (smell/flavour).
The bar is good and it does work well, but personally I prefer an under arm with bicarb soda in it (I make my own), as I feel it lasts much longer during the day for me. Also there is only one scent being Ylang Ylang and Patchouli, so I guess that depends on what you like :p
It weighs 30 grams and costs 35 rand, which is not too much if you just want to try it. It will also last quite long.
I hope this basic review helps a little if you are thinking of trying any one of these. If you decide to go for it, please do let me know how they worked out for you 🙂 You can also see a few waste free alternatives here, if you are not sure exactly what toiletries to change or substitute.
Hi res Photos used can be found here:
You May Also Like: