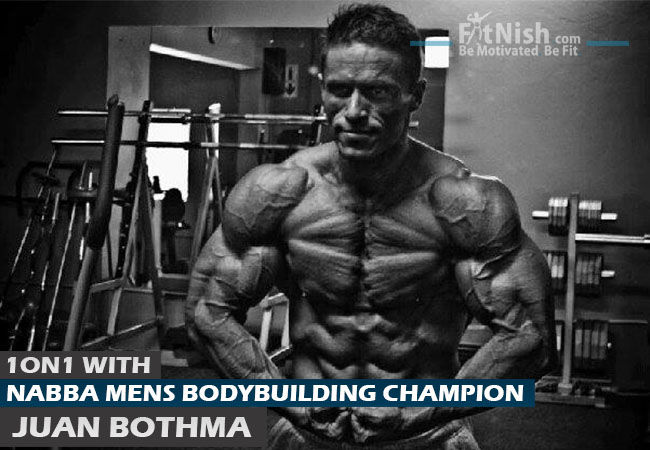 Quick Stats 
Name: Juan Bothma
Age: 35
Height: 1.79 m
Competition weight: 88 Kg
Current weight: 98 Kg
Current city: Pretoria, South Africa
Occupation: Self Business Owner
What got you started?
I was always very active as a child and loved competition, coming from a extremely sporting family. I see myself as an overall sportsman who excelled in athletics, cricket, kick boxing and rugby but found my ultimate love when I started training in the gym.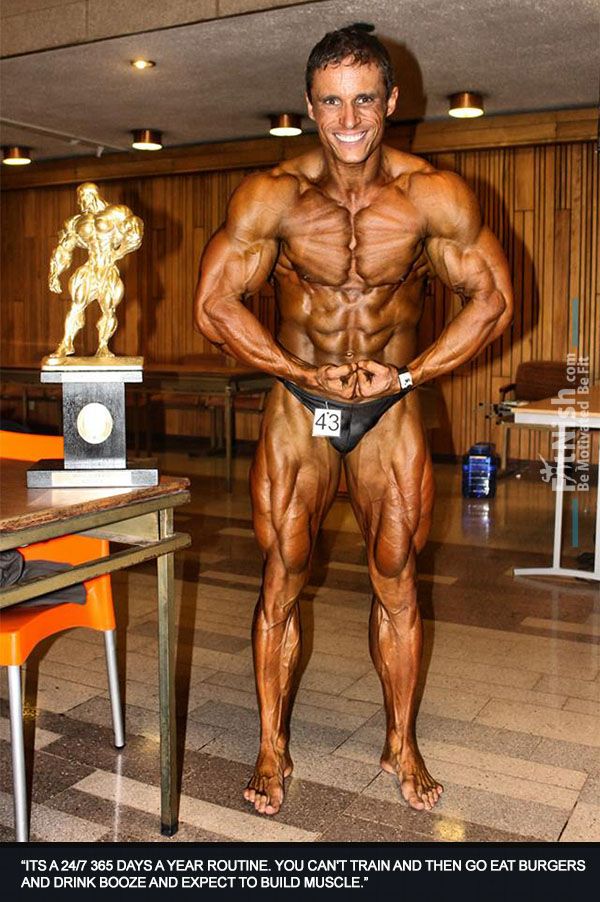 What do you love about it and what keeps you motivated?
Well firstly I appreciate the fact that God blessed me with the determination, self discipline, hunger and the drive to push myself to the limit. Gym is my base and everything I do branches off from it being my business, a father, a husband and athlete (basically in every facet of my life).
My Motivation would definitely have to be my wife, family and friends because without their belief and support I wouldn't be able to do this.
How do you manage to keep a balance between family, work, friends and training/dieting?
Its really not that difficult because the people I surround myself with know how important this is to me and they respect my choices but I always make sure that when I'm away from gym or work that all my meals are prepped (which I do myself) so that I can spend enough time with my loved ones.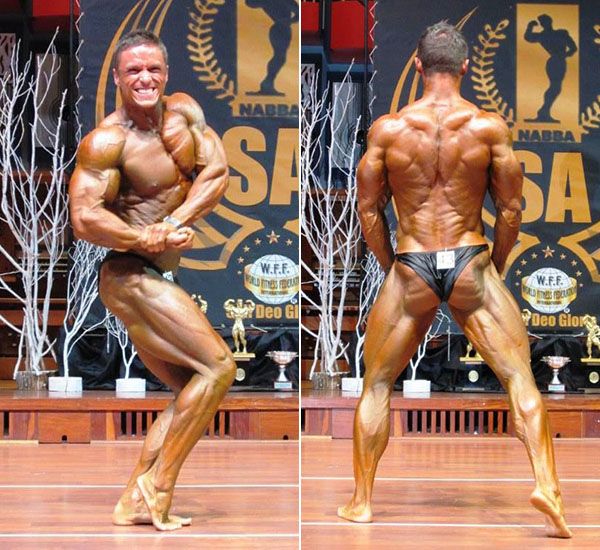 What are your future plans and what's your next competition?
I have another 5 shows left this year and I have been working with Ifbb Pro Marius Dohne (my Coach) closely to bring the best package to stage. My plan is to become a pro, make this my living and help/motivate others to achieve their own goals.
Take us through an average day of yours:
4h15 am | Wake up, off to gym (opens 5am) (pre, intra and post shake).
After gym I would go home and have my post workout meal/breakfast, then spend some time with my 2 and a half year old daughter before I take her to day care (on the way I will sing all the songs dads have to with their daughter like One Direction and Miley Cyrus whahahahaaha).
Then I go back home and get ready for work and prep all my meals (5meals).
Work from 9 – 5:30 pm.
Then I'll go back home and spend time with my wife and daughter. I'm very strict on family time and spending quality time together.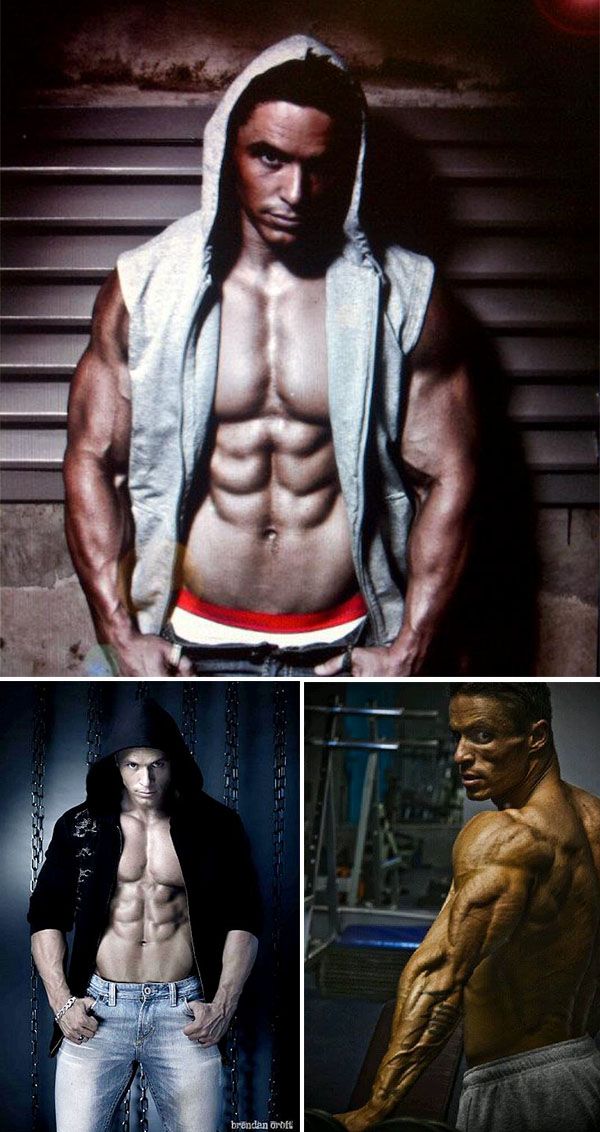 Give us a brief description of your philosophy on your diet, pre contest and during the off season.
When it comes to diet I have 2 philosophies:
You can't out train a bad diet
If looking good was easy then everyone would look good
So I do what needs to be done to look my best at all times and always try and be a source of motivation for other people that have the same passion as I do for the sport.
Sample diet:
| Time | Meal |
| --- | --- |
|  7 am: |  100g Oats and Cinnamon and 10 egg whites and Fat free Cottage cheese |
|  10 am: |  250g chicken fillet and 300g Sweet Potato |
|  12 pm: |  2 cans tuna and 350g basmati rice |
|  2 pm: |  250g chicken Fillets and 350g basmati rice |
|  4 pm: |  250g chicken fillets and 300g sweet potato |
|  7 pm: |  350g beef/ostrich and mixed veggies |
|  9 pm: |  5 egg whites and 1 table spoon fat free cottage cheese plain |
What are your top nutrition tips?
Eat enough carbs, fats (omega's).
Make sure that you eat at least 6-8 meals a day.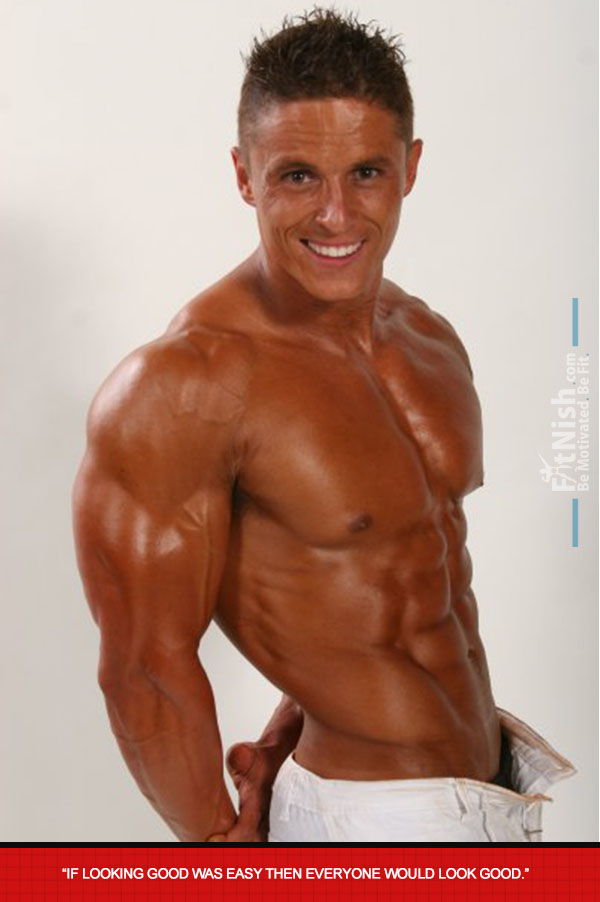 What do you normally eat after training?
As my training is in the early morning, I would have oats as my carbs and egg whites, but directly after training I would drink a post shake Amino10 (Muscle Dynamix).
Would you recommend supplements to someone starting out in the gym?
Foods are the most valuable source of nutrition so I try not to drink a lot of shakes, but I do believe that a good pre shake, Intra and definitely a Post shake is very important. I'm sponsored by Muscle Dynamix and love their range of products.
Supplementing when you are a beginner or Pro is very important especially when trying to burn fat while building muscle.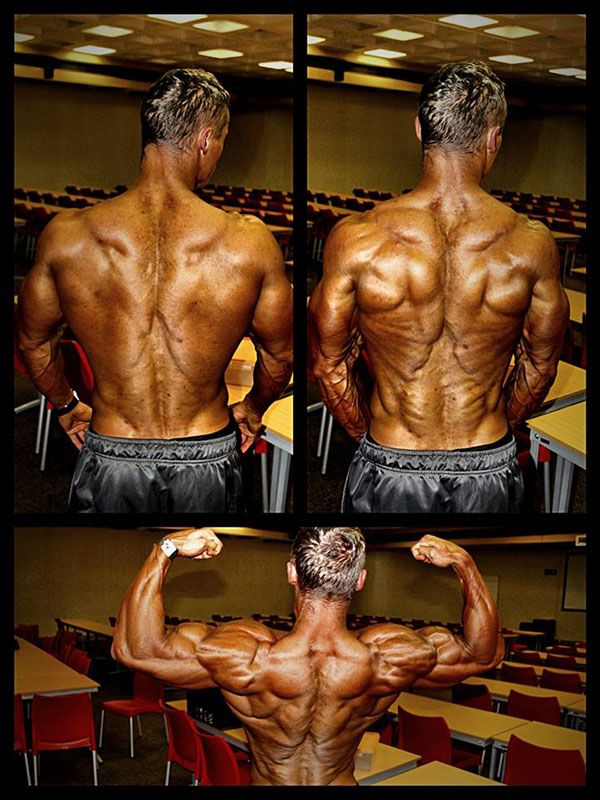 Give us a brief description of your philosophy on your training and on average how long do you workout for?
My Philosophy is based on something Phil Heath (3 x Mr Olympia) said:
"If u want something u never had before, you got to be willing to do something you've never done before."
I never just go into gym and just do what I feel like doing. I have a plan and vision and I execute every rep/set and minute inside, to the best of my ability as if it were my last ever workout. #FSU (F**k S**t Up).
Im normally inside the gym between 60 – 90 minutes.
How important is practicing your posing leading up to a show?
Posing is a very very important key to your conditioning as it help with total body contraction and helps a lot when on stage so that you can pose longer and not cramp up.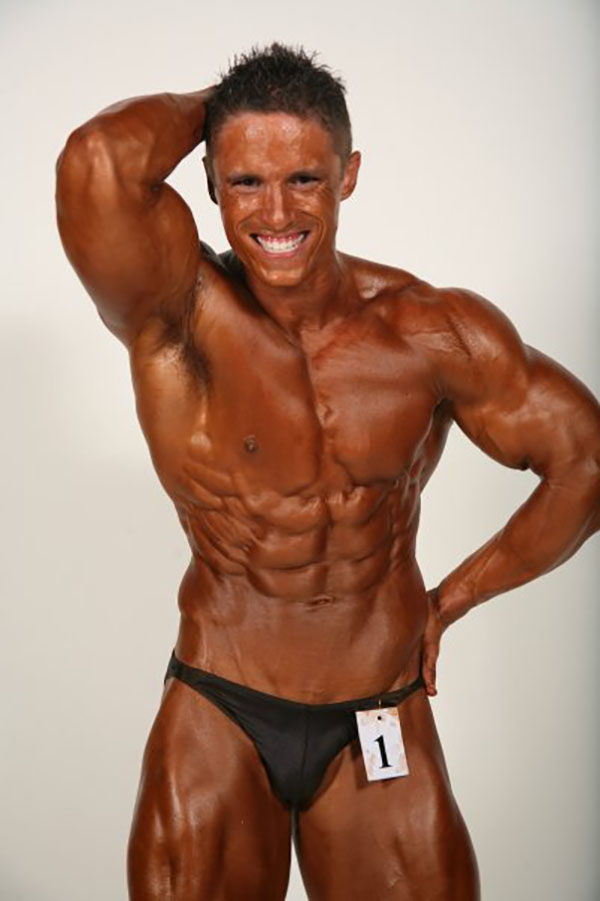 Can it be beneficial to guys not competing?
It can definitely benefit those individuals who don't compete. Posing acts as a mind/muscle connection so you teach yourself where to contract. So then when you are training, you can make that specific muscle work even better and focus the contraction even more when doing isolation workouts.
What do you think are the biggest mistakes guys make when starting out with the gym and their diet?
Guys tend to try to go to heavy and end up using different muscle groups altogether and even worse they get injured.
Regarding diet, its a 24/7, 365 days a year routine. You can't train and then go eat burgers and drink booze and expect to build muscle.
Dieting is about making the right nutritional choice for your goals.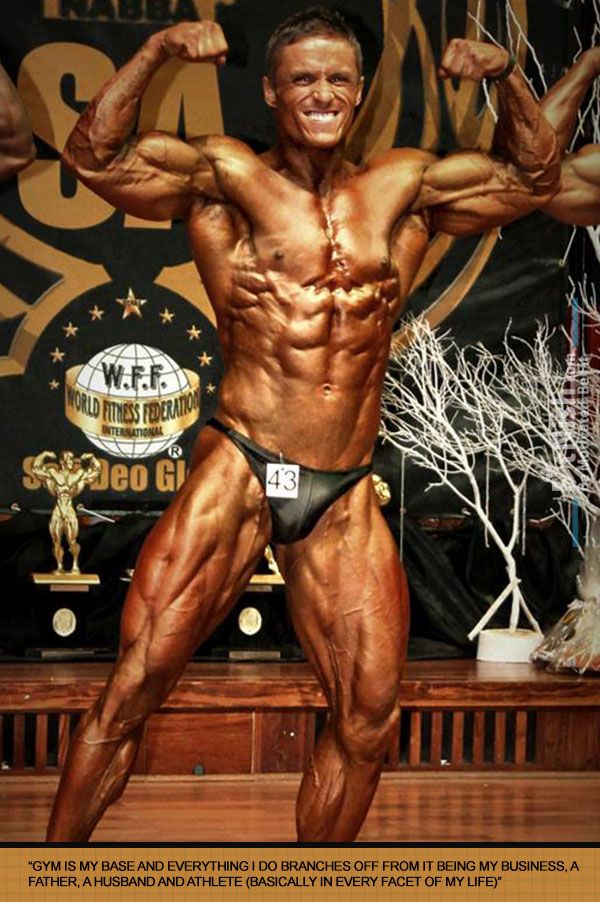 What are some of the weirdest things you have seen people do in the gym?
lol Basically just seeing guys trying to move ridiculous amounts of weight and barely even doing a movement but roaring like lions. We call that the Ronnie Coleman syndrome.
What are your three favourite exercises and why?
squats

legpress

front squats
You basically get to see what type of mental strength you have when you have 180 – 200 kg on your shoulders and your ass is touching the floor.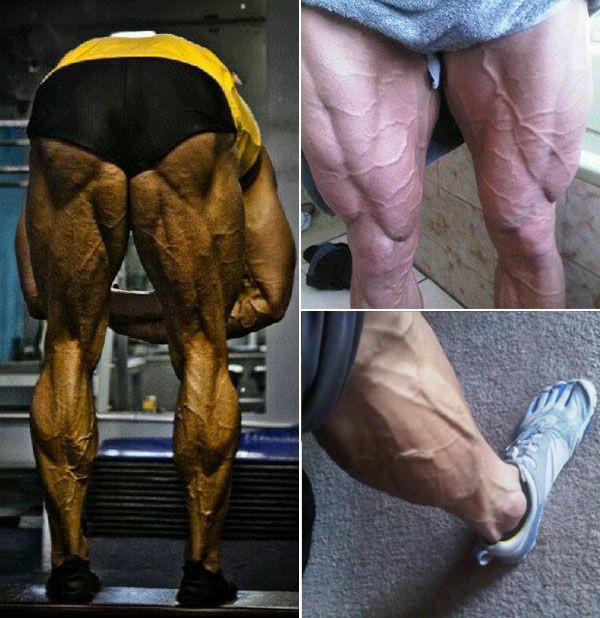 Favorite Influential bodybuilders/fitness models:
Milos Sarcev, Charles Glass (old school guys), Shawn Rhoden and Kai Greene.
Favorite Quote:
Fight back. Fight a little harder. Defeat disappointment.

Annihilate weakness and punish the competition, its all about perfecting the YOU and not being just better but being your BEST!!!!!!
Advice for someone wanting to change their life and achieve their ideal physique?
Its never to late to start. Its not easy but it will be worth it.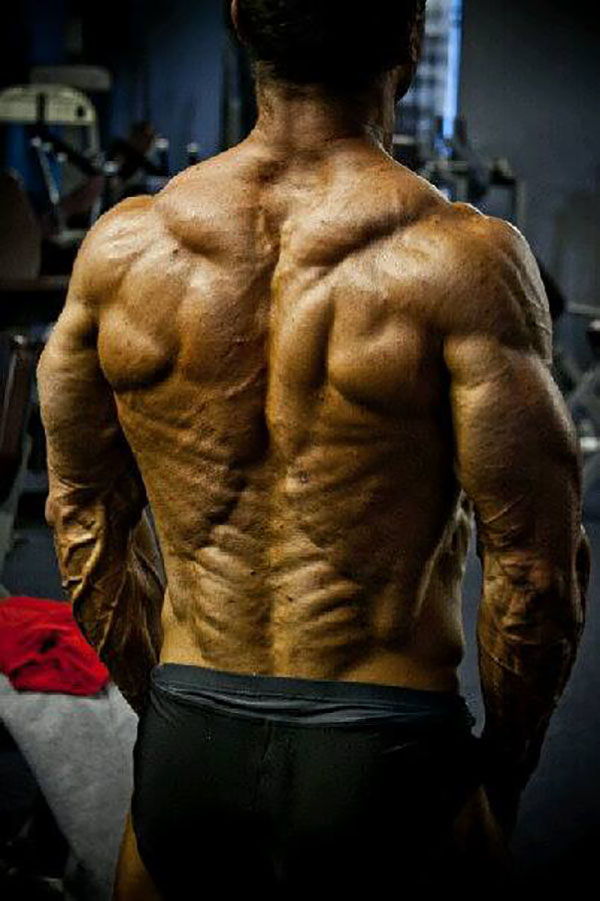 What competitions have you competed in and your placings?
2014
IFBB Nationals | Light heavy weight | 1st | Overall Senior Mens
Nabba | Mens class 2 | 1st place | (I had the privilege of competing against Werlou van Tonder) | I also won the Senior Mens Overall Title.
2013
Nabba Pretoria Classic | Mens class 2 | 2nd
2011
Ifbb Northern Gauteng Provincials | Middle weight division | 3rd | (Not a Good prep at all, I was flat, cramping and sweating on stage but u learn from your mistakes).
 2009
IFBB Novice Northern Gauteng Provincials | Light heavy-weight | 1st
IFBB SA's Novice | Light-Heavyweight | 1st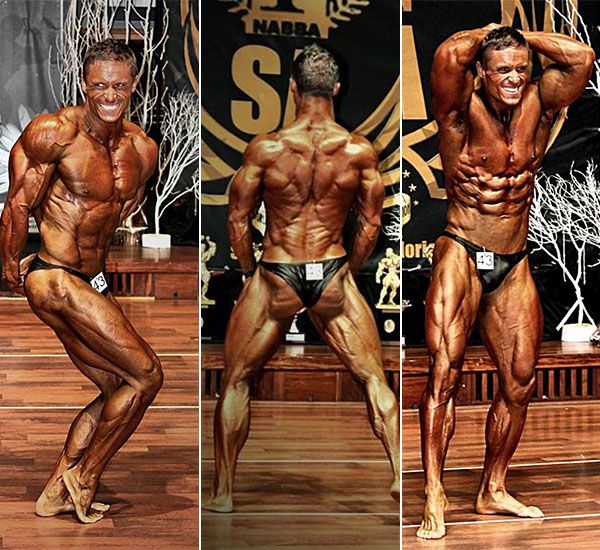 2008
Mr Physique SA's | 2nd | I decided that I wanted to give BodyBuilding a go in 2009
2007
Exergise USN | Male model division | 2nd (out of 48 athletes)
Mr Physique SA's | 5th | My first show.
Where can people get in touch with you?