This review looks at a vegan pea protein powder, more specifically the Youthful Living Vegan Keto Protein shake.
Protein shakes are a great way to add to your daily intake of calories, and add just what you need. There is no need to overdo it on the protein, but sometimes we may find ourselves needing a little extra, especially on days where we may have trained a lot harder than usual for instance.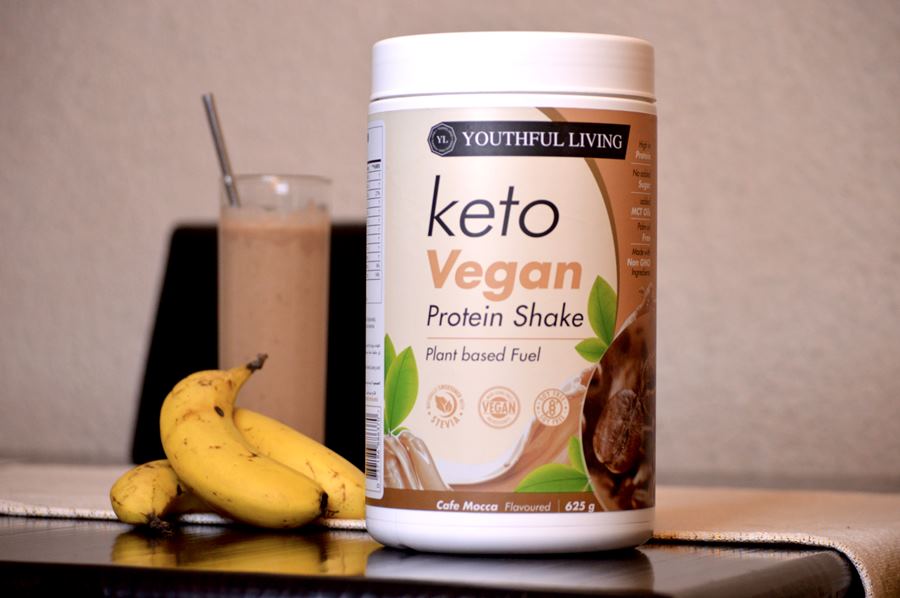 "Youthful Living Vegan Keto shake is a plant-based, meal replacement shake designed to cater for anyone following a ketogenic diet, or looking for a healthy plant-based nutritional supplement.

The plant protein sources used in Youthful Living Vegan Keto shake are hypo-allergenic, making this suitable for Vegans, and anyone with food intolerances. The benefit of using plant-based protein is that this is naturally a cleaner protein source made without artificial chemicals. With added MCT oil powder, this shake is packed with healthy fats making this ideal for Ketosis.

Those on a ketogenic diet or anyone looking for a high protein meal replacement will appreciate the low glycemic load, and the balanced ratios of protein, fats (with added MCT oils), and carbohydrates in order to maintain ketosis and provide wholesome nutrition."
Keto-Friendly – with MCT oil powder.
Vegan friendly
No added sugar
High protein
High in fiber
Naturally sweetened with stevia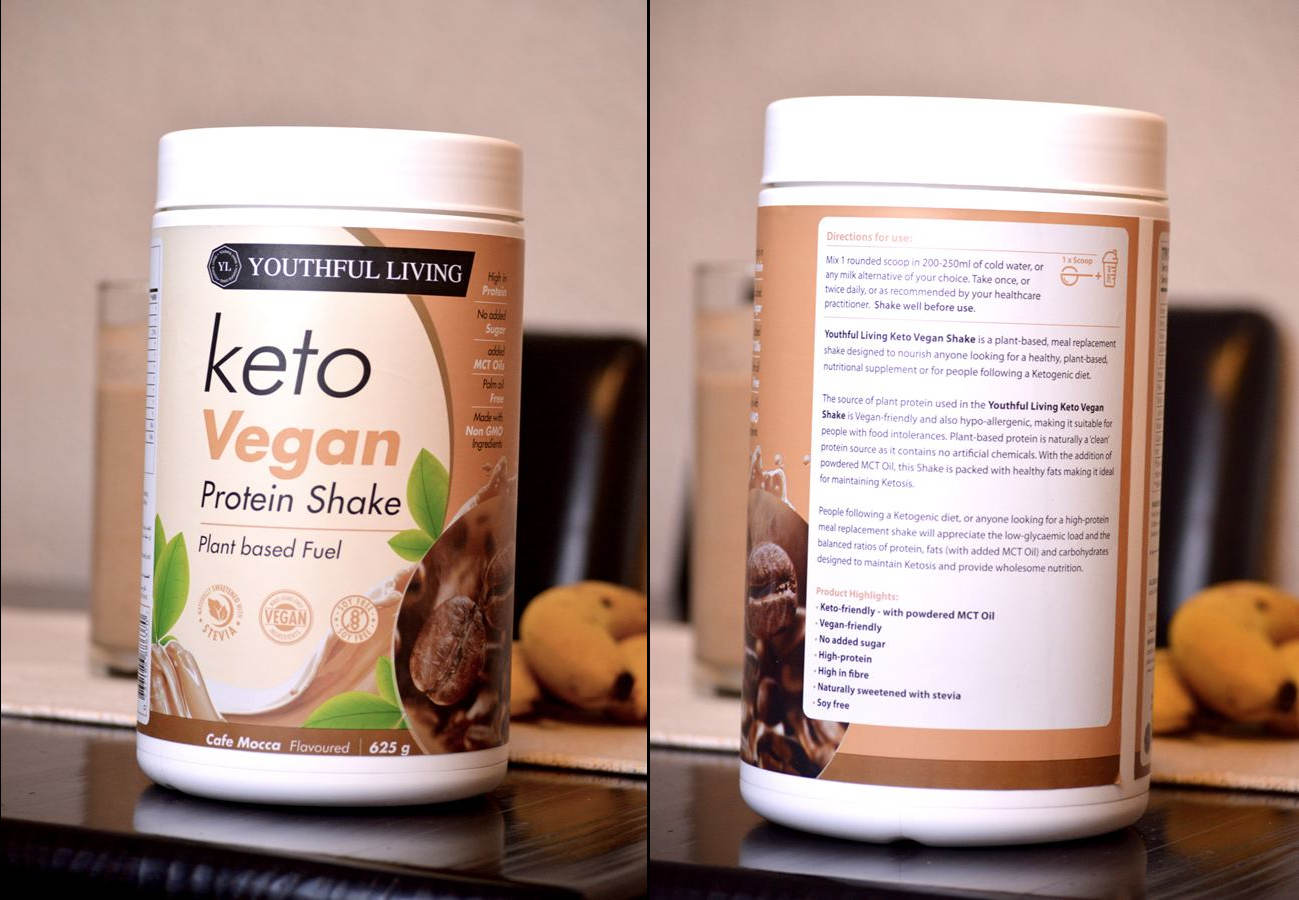 I have tried many flavored plant based protein powders, and have found it difficult finding ones that actually taste good and have no awful aftertaste or pea taste. After many years of using unflavored raw pea protein, which I add to smoothies, I decided to venture out and try a new one.
I bought the Youthful Living Vegan Protein Powder, and I am happy to say that it tastes great and has no after taste or no taste whatsoever of peas. Lets take a deeper look at it.
Flavors and Sizes
The protein powder is available in 625 grams and comes in 3 flavours, Cafe Mocha, Coconut Dream, Dark Chocolate. I tried the Cafe Mocha.
Mixes
The protein powder is quite fine, and mixes well with no lumps or bubbles at all. It mixed well with both water and Almond/Oat milk, and mixes very well in a blender when added to a smoothie.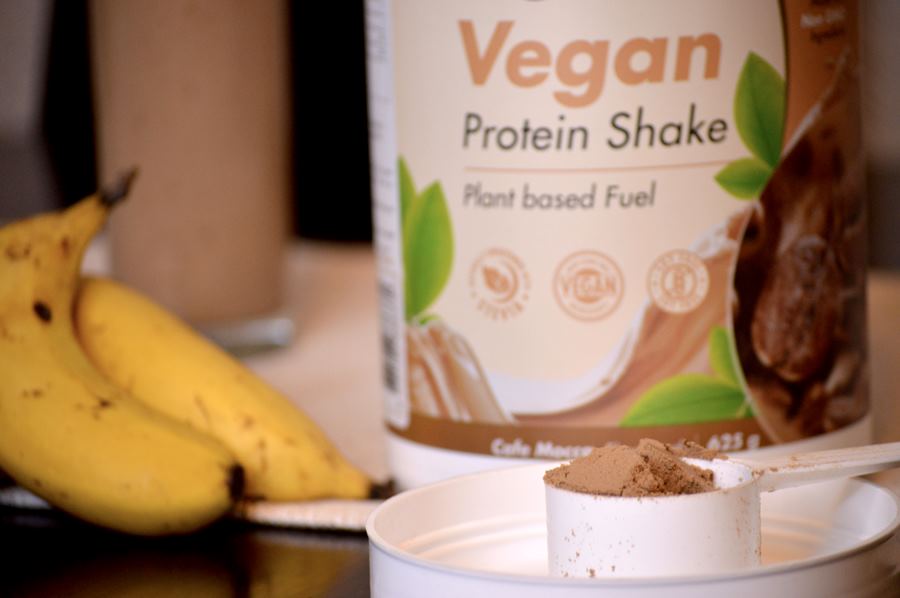 Taste
In terms of the taste, I really like it. There is no after taste, or for example, with some pea protein powders, I could still sense a 'pea' taste within the added flavour. I also like the fact that it is sweetened with stevia, and for me I like that it is not really that sweet at all.
I personally like to add some cacao powder to mine and add just a bit of water to mix it into a kind of protein pudding!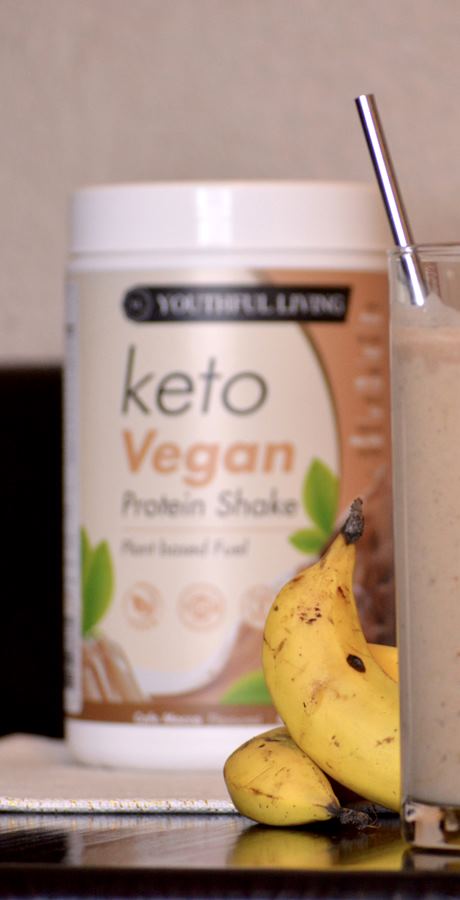 Protein content
This is the part that I was most concerned with, the PROTEIN and nutritional values.
It has a relatively decent nutritional profile, carrying about 60 grams of protein per 100 grams of powder.
Per serving (1 heaped tablespoon = 25 grams) it comes down to 15 grams of protein, which is not a lot but is sufficient for one serving.
Extra Nutritional values
The extra nutritional values are just as important as the protein content.
The carbohydrate content is just about 3 grams per 100 grams while the fat content is at 10.8 grams per 100 grams (most coming from MCTs by the looks of it).
It has no added ingredients or preservatives or artificial sweeteners.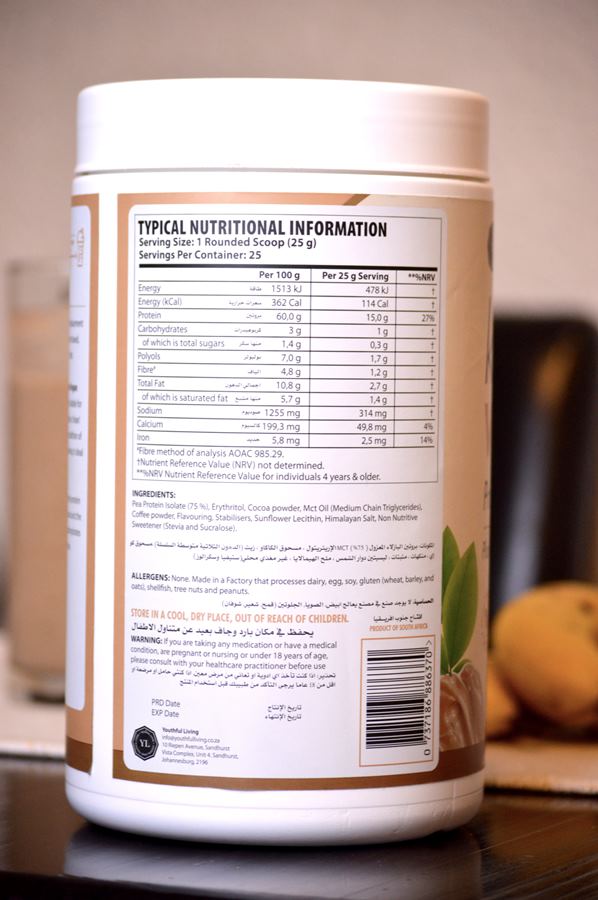 Affordability
The 625 gram tub costs ZAR 350 (in Dischem) giving you 25 servings per tub, that's just over ZAR 14 per shake!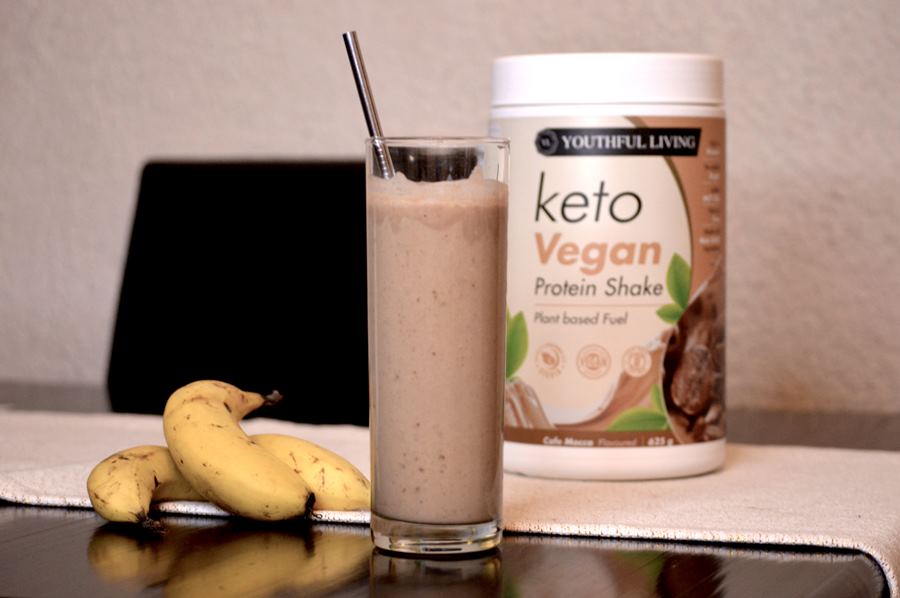 Final Thoughts
I really do like this vegan powder powder. It ticks a lot of boxes for me, in terms of the following:
Taste (no after taste and great tasting flavour, finally!).
Easy to mix.
More environmentally friendly, being plant based.
If you are looking for a great tasting vegan protein shake, be sure to give this protein powder a try! And if you know if other great tasting vegan protein shakes please do let me know!
You May Also Like: