Have you ever left the gym with a painful rash developing around your inner thighs or underarms? Chafing is a common problem for male athletes, especially long-distance runners and weightlifters. It not only causes significant irritation, but it can also distract you from performing your best. Before you call it quits at the gym, there are practical and straightforward steps you can take towards reducing chafing, such as choosing decent workout clothes that reduce friction. Here's a short guide on how to reduce that irritation in just a few steps so you can continue achieving your fitness goals.
WHAT IS CHAFING?
If you've never experienced chafing before, it's a type of skin irritation that develops from constant friction due to skin-on-skin contact or skin-on-fabric contact. Common areas vulnerable to chafing include (but are not limited to) thighs, groin, and underarms. Although it is not a life-threatening situation, it can still lead to infections if severe cases are left untreated. It is always an effective action to visit your physician or dermatologist if your conditions are worsening.
TIPS TO AVOID CHAFING
Choose workout clothes for men made from sweat-wicking synthetic performance fabrics (polyester, nylon, lycra) that provide breath-ability and dryness. Avoid men's active wear styles made from cotton, especially among men's gym pants. Although cotton is excellent for absorbing moisture, it creates more friction when wet, which is what you want to avoid in the first place.
Reduce friction by either applying a lubricant or powder around vulnerable zones before getting dressed. Among today's men's grooming products, you can usually find quality anti-chafing products, such as body lotions and balms. If you're worried about ruining your new men's gym clothes with these treatments, look for washable formulas that don't leave a residue.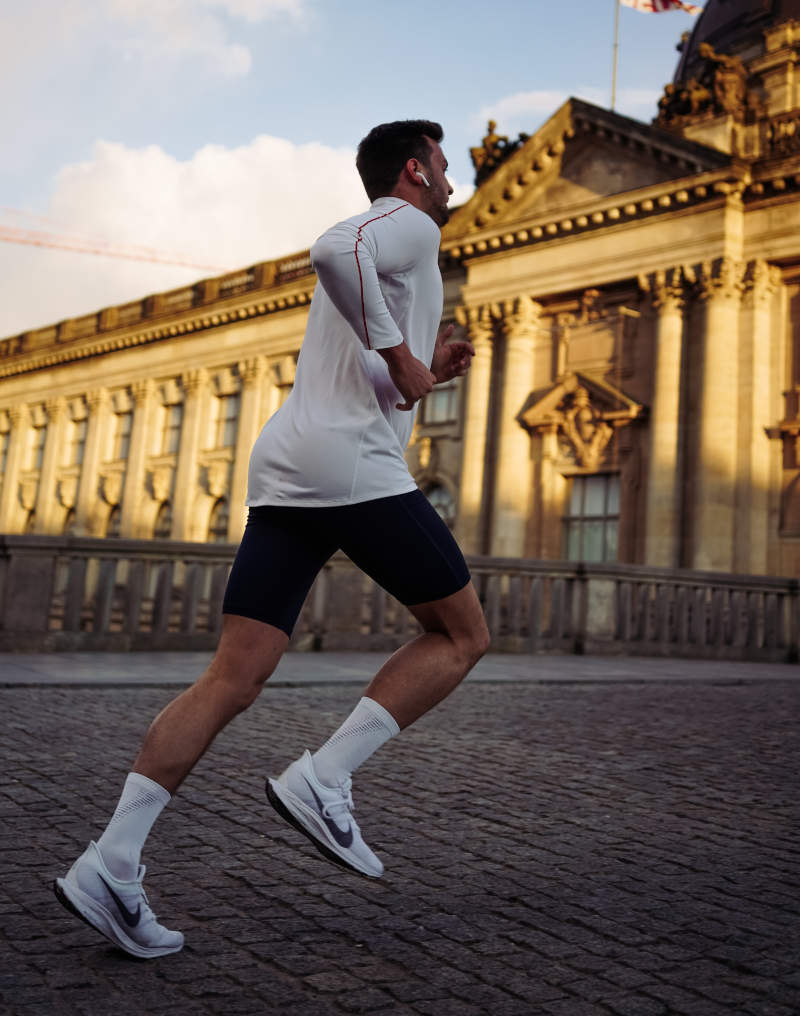 RECOMMENDED MENS WORKOUT CLOTHES
Men's Activewear Tops, for Underarms:
If you're experiencing chafing around your underarms, choose gym t-shirts and tank tops that fit tight against the body. You might be used to shopping for gym tank tops with a loose fit and wide armholes to stay cool, but that will only leave you vulnerable to skin-on-skin contact. Instead, you'll want to look for compression tank tops designed to fit like a second skin preventing skin-on-fabric contact as well as skin-on-skin contact.
Additionally, you can also try slimming tank tops that offer anti-chafing benefits and upper-body support to help your workout. You can find styles of men's slimming tank tops at not only large gym and sports department stores like Mr Price Sport, but also a variety of online trendy menswear stores like Differio.
Men's Activewear Bottoms, for Thighs:
Among workout clothes for men, there are two styles of men's gym bottoms that are recommended for anti-chafing purposes: meggings and compression shorts. Meggings can easily match with most men's workout outfits, such as compression shirts, graphic tank tops, longline tees. Gym leggings for men can prevent friction due to the combination of the fabric's slick composition and skin-tight fit, which is especially great for the inner thigh and groin areas.
Compression shorts are another highly recommended item amongst mens gym clothes, to prevent chafing around the groin because, like meggingsl they fit tight and snug against the body. They instantly reduce repetitive skin-on-fabric friction that can be caused by baggy loose-fit shorts, such as basketball shorts and sweat shorts. Additionally, if you have a particular pair of new workout shorts that you're just not ready to give up, you can always try wearing anti-chafing spandex thigh bands underneath any looser training shorts for a similar effect.
Photo credits:
You May Also Like: