Spinning is a great exercise to try, whether you want to add it to an existing regimen or just want to go for something new. You ride a stationary bike for about 45 minutes at a variety of speeds while your instructor talks you through a workout designed to mimic cycling through the outdoors. You'll be in good company – celebrities from Vanessa Hudgens to Lady Gaga all admit to spinning as well! Here's how to avoid some rookie mistakes, so you get the most out of your first class.
1. Not Staying Hydrated
Dehydration is a serious concern in any sport, and the same holds true for your neighborhood spin class. The American College of Sports Medicine (ACSM) recommends drinking water regularly throughout an exercise routine. This is to prevent loss of electrolyte balance that occurs from sweat. If you're cycling for an even longer class, you should keep a sports drink handy. These drinks are full of nutrients that give you more energy and endurance. (Make sure to check the label for added sugars and serving sizes, so you're not just drinking empty calories.)
2. Not Fueling Up Properly
It's important to grab a bottle of water before you head off to spin class and reach for it regularly during the routine. However, you should also be mindful of what you're eating.
Spinning is an intense cardio workout, so plan your meals and snacks accordingly. Good pre-workout food should be low in fat and sugar, moderate in protein and high in carbs.
Don't scarf it down right before spinning: give your body 60-90 minutes to digest! After spinning, you should snack on something that also has a lot of carbs and protein.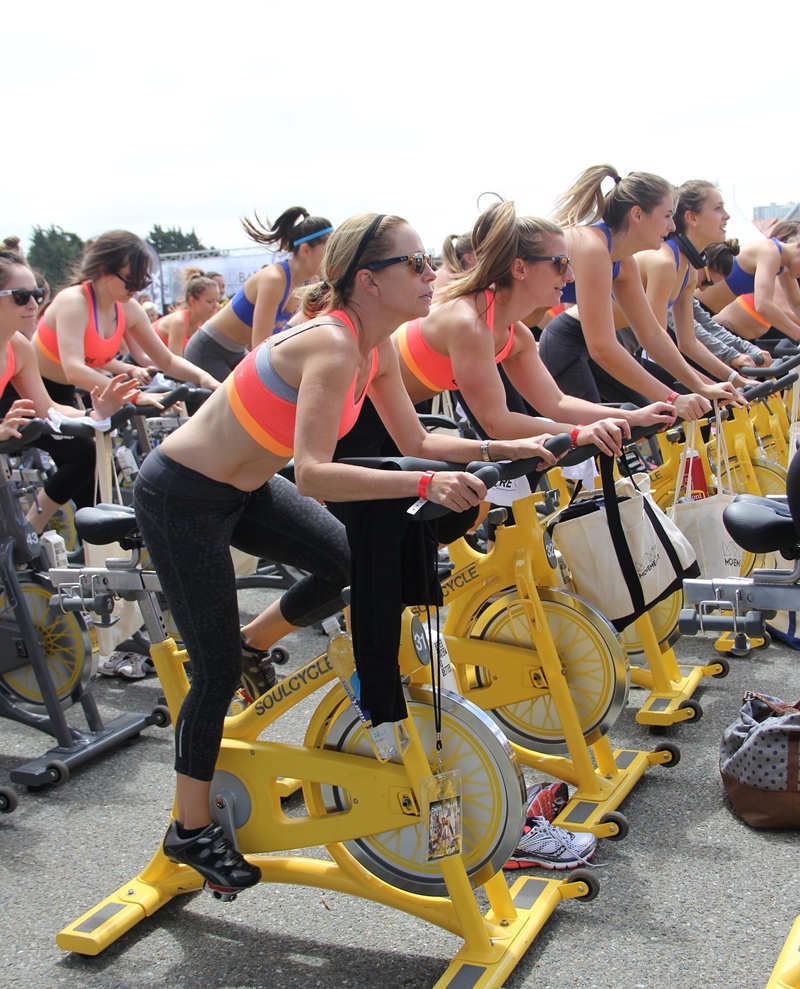 3. Forgetting to Stretch
Stretching is as critical as rehydrating and eating properly. It gives muscles a chance to relax and recover from strenuous activity. Your spin class will most likely end with a stretch routine, but you should get flexible before you even arrive to prevent injuries. Start by focusing on loosening your neck, shoulders, and lower back since you'll be bent over on the bike. From there, you should relax your wrists: they will get locked in place as you grip the handlebars. Finally, wake up your legs to prepare for an intense bike session. Shake out your glutes, then hold a chair pose while sitting on one leg. Hold for a count of ten on each side.
Stretch it out after class by following your instructor's guidelines. Then add your own moves so you can relax your sore muscles even more.
Post-class stretches should concentrate on the groin area since you've been sitting for 45 minutes (or even 60 if you go for the more hardcore classes). A particularly good stretch is the "frog" pose: squat deeply with your knees about shoulder-width apart. Hold your knees open with your elbows.
Hip stretches relieve tightness in that area, which also improves your range of motion and makes your glutes stronger.
4. Amping Up Too Fast
It's easy to get swept up in the lights and music that come with every spin class. That Top 40 remix isn't on the playlist for nothing! Your instructor will encourage you to switch it up: sometimes you'll be pedaling like your heart depends on it, and other times you'll be moving at a much slower pace. Follow the instructions as much as you can, but also trust your body.
If you're going too hard for too long, you might incur Rhabdomyolysis, or "rhabdo." This occurs when over-worked muscles release their fibers into the bloodstream. It's more likely to afflict first-time spinners, so if you start to feel pain during class, don't shrug it off as inexperience – slow down.
5. Staying in the Back
Motivation is key when it comes to fitness – you need to have a reason to keep hitting the gym. This could be an internal reward system, such as a "cheat meal" once a week, or going with friends to keep you honest. At the spin class, sitting in the front row is one of the best ways to keep inspired. It's free of distractions: you're connecting directly with the instructor and can focus on your form in the mirror. This makes for a more effective workout and one that you'll definitely want to repeat.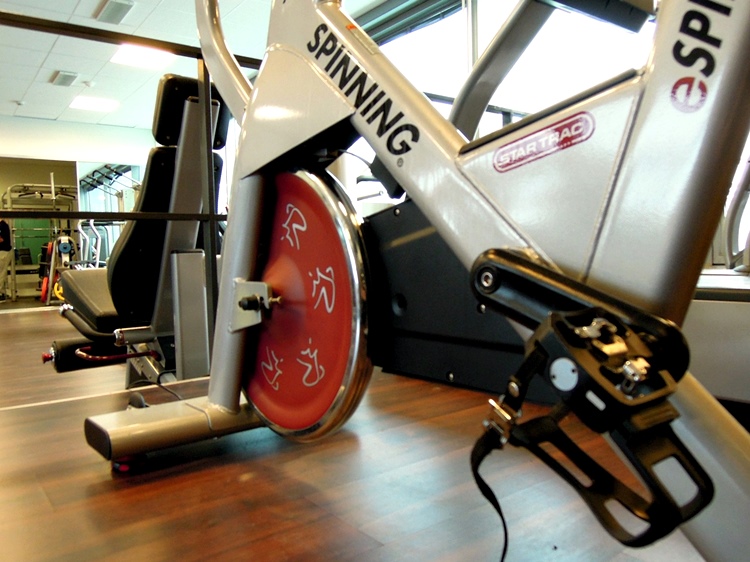 Spinning has a multitude of fitness benefits. You can burn up to 800 calories per class, and also improve your heart health through cardio. Improve your spin class experience by remembering to prepare adequately before and after by eating right, drinking water, and stretching.
Once you're in class, book a bike at the front to amp up your motivation. Not only is spinning class good for you, but it's also a whole lot of fun.
About the Author:
Mike Jones started working out in order to lose weight. Given that he enjoyed cycling, he found spinning to be the right indoor physical activity for him. He launched exercisebikesexpert.com in order to help anyone who wants a stationary bike but doesn't know what to choose.
You May Also Like: