Outdoor play and physical activities are essential for your child's upbringing. It is also a great way to spend time together as a family. Explore, build, create, inspire, have fun, and enjoy your heart's content while playing and participating in various fun and interactive activities with your children.
With health and quarantine protocols still underway, your kids will definitely get bored of their cellphones and other gadgets and opt for more exciting activities, we hope. An activity-friendly backyard does just the trick to encourage your kids to leave their smartphones, tablets, and gaming consoles behind to enjoy a few hours under the sun.
Here are three simple and creative ways that you can try to get an activity-friendly backyard that is perfect for your kids. Let them enjoy a day out in the sun to either play and discover on their own, or take some time off your busy schedule for a family playdate. Let your imagination run wild with these different backyard concepts.
1. Assign Areas
Create collapsible play areas or private rooms in your backyard using teepee huts, tents, DIY playhouses, shade canopy, treehouse, and many more. You can give your kids the feeling of privacy and independence when you let them handle their own playtime. Look for some cute fabric and hang it from a tree or pole to make an improvised tent.
You can also make "rooms" by rearranging your backyard plants such as placing shrubs, trees, or a trellis to make a separate space for your child's playtime. Use a large beach umbrella and place some chairs, stools, and other backyard toys that they can play with. Kids will also appreciate a built-in DIY playhouse.
Giving them an area outside built for a particular type of activity encourages them to leave the comfort of their rooms to enjoy the outdoors. You can even hone your carpentry skills by engaging in some DIY projects such as installing a basketball hoop, a goal post, or building a sandbox, a treehouse, a small camping site, and many more.
Build or buy your own materials to place in the designated "rooms" in your backyard. Redesign your space so that it is perfect for outdoor sports activities. It is crucial that you provide a space that can accommodate different leisure activities for your children.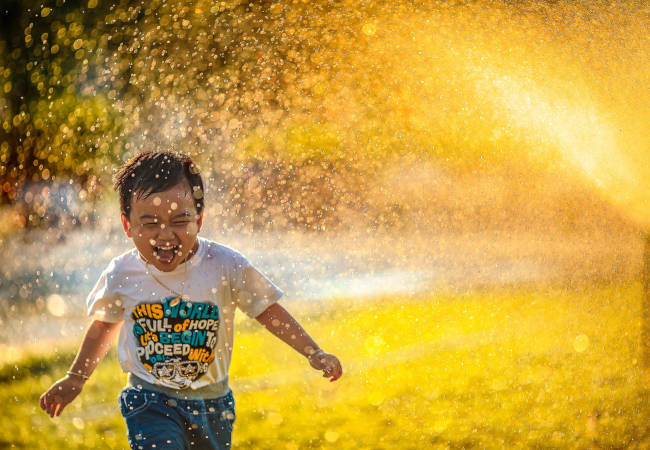 2. Water Elements
Give them something to beat the heat with during the hot summer afternoons by adding a bit of water into your garden. Kids of all ages typically love to splash around. This fun and sensory experience encourage motor skills and coordination development. A pool is also a great way to reduce their energy levels.
If you are feeling generous, you can add a water table, a built-in swimming pool, or a mini pond, which also makes a great aesthetic appeal for your garden's landscape. Check out different water activities and pool accessories over here to see what toys can go into your pool or garden. Enjoy with your kids by playing water polo, water volleyball, and more!
You can add a little pond where your kids can play with paper boats and interact with each other with activities like a slip n slide. Have a sprinkler installed, and let them run around under the hot sun while cold water "rains" down on them. Water elements certainly add a different kind of experience and enjoyment to the table.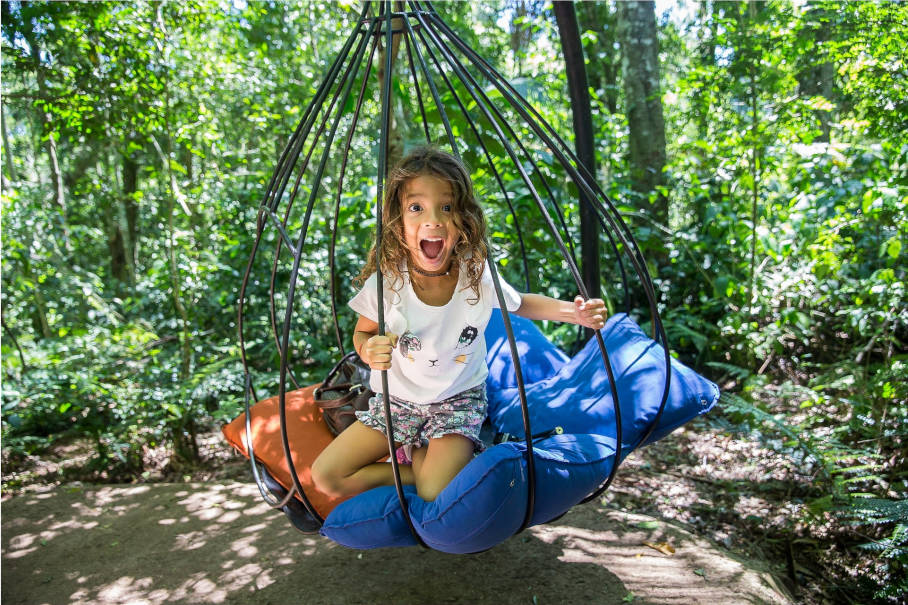 3. Backyard Playground
Aside from little rooms where they can play with smaller toys or simply hang out and chill with nature, a playground can also help little kids make their playtime more enjoyable. Swings, for instance, are a fun and soothing activity that can practice their balance and equilibrium while encouraging them to be active and energetic.
Build your own swing set, or get one of those that can easily be attached to a tree branch. Other playground items can include slides, seesaw, small trampolines, monkey bars, still rings, and many more. You can even prop a blackboard and supply it with a few colored chalk for the artistic ones in the family. You could also add a mini trampoline to the backyard, which children (and adults) really love!
Make your kids a DIY drawing board large enough to fit all their cute little doodles and drawings. Hone their creativity and imagination by equipping them with the right tools to develop the skills on their own. On the bright side, letting them draw, paint, or write outdoors means no more random scribbles on your living and bedroom walls and floors.
Pay attention to the interests and talents that your kids are showing and work it out from there. If you have physically active toddlers, maybe install a corner for sports activities. At the end of the day, it is crucial to let your kids have input on what should go into your garden. After all, you are making the space to appease their desires.
You May Also Like: