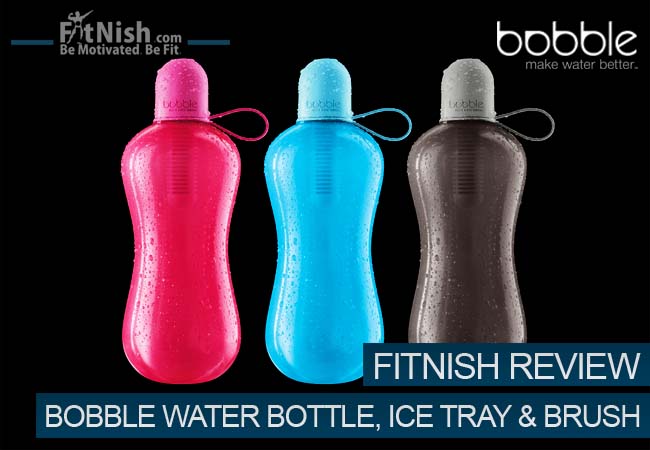 I recently had the opportunity to try out three of Bobble's products. The Bobble Sport, a stylish self-filtered water bottle for the athlete in all of us, the Bobble Brush and the Bobble Ice Tray.
They catch the eye in an instant with their bright colours and their stylish designs, but do they work? Do they deliver what they promise to? What separates their on the go bottle products from the rest is that their bottles incorporate a filter which filters the water as you drink it. Another aspect is their genius designs and the fact that their products are all BPA free.

"BPA, short for bisphenol A, is a hormone-disrupting, reproductive and developmental toxin that has also permeated the environment so much so that a government study found detectable levels of it in 93 percent of several thousand people tested over the age of six. BPA can cause adverse effects at very low levels, and is a particular concern for infants and children." [1]
One thing which I do like about Bobble is their concern with the environment, recycling and people's health, as well as the fact that they do give back and support people who need it. You can read more about them on their website. (Links follow below.)
OK so let's have a look at each product.
The Bobble Sport Self-Filtered Water Bottle
It is available in two vibrant colours, blue and magenta.
Bobble sport incorporates the same patented built-in, replaceable carbon filter found in the original bobble (500 ml and 1 L). The filter removes chlorine and organic contaminants found in everyday tap water, yielding a cleaner, crisper taste. Each filter equates to 300 single-serve water bottles, making bobble an environmentally- and budget-friendly choice.
Bobble sport is recyclable, free of BPA, Phthalates and PVC. It is made in the USA. The bottle and carry cap are top-rack dishwasher-safe, which was a particular requirement for gym-goers and other regular bobble users.
Pros:
The design of the bottle is pretty good, and easy to hold. It has a sleek design and won't slip out of your grip which is good if you are training.
It is 750 ml, which is awesome. Most sports bottles which are 750 ml seem to be quite chunky where as this one is really light and compact. I find 500 ml bottles not enough, especially for someone who drinks a lot of water, 750 ml is ideal I think.
They claim that the filter removes chlorine and organic contaminants found in everyday tap water, yielding a cleaner, crisper taste. I can taste a slight difference in the water, slight enough to notice so I'm sure the filter is doing its job. To what degree though I cannot really say.
A plus with all their products is that they are BPA free and recyclable.
Cons:
I find that to get the water out you have to squeeze the bottle slightly hard. But it is expected with a filter. But after a few sips you do get used to it, so it's not such a big deal.
The filter has to be replaced after some time unfortunately.  After 300 bottles of water to be precise. So if we do the calculation, if I'm drinking 2 of those bottles of water a day, in 5 months I will need a new filter, which is not too bad. The downside is the filter costs almost as much as a new bottle.
Bobble sport is available at Total Sports, Due South, Wellness Warehouse and Cape Union Mart stores nationwide.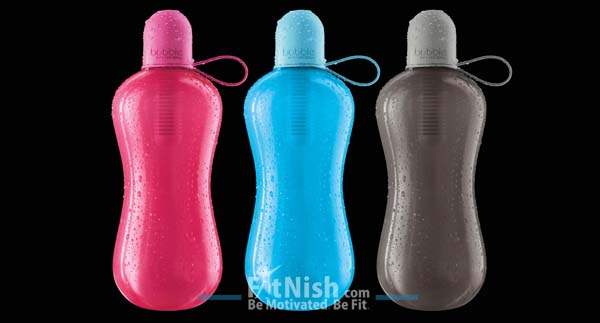 The Bobble Brush
It is available in two colours, blue and magenta.
Brush bristles are cleverly crafted from a static material that grabs and pulls dirt from surfaces. Bobble's brush has been designed to fit into and around bobbles curves.  Its long stem allows it to clean the interior of every sized bobble.
Pros:
Genius design and idea. The bristles are very durable and make cleaning the insides of the Bobble water bottle, or any other water bottle for that matter, a breeze.
Cons:
The only thing which it needs I would say is a cover for the bristles (much like the bottle has a cover), since you will be using this brush to clean your bottle, you do want the brush itself to to be kept clean and isolated while it is stored in a drawer or cupboard.
Bobble brush is available at @home, Due South and Wellness Warehouse stores nationwide.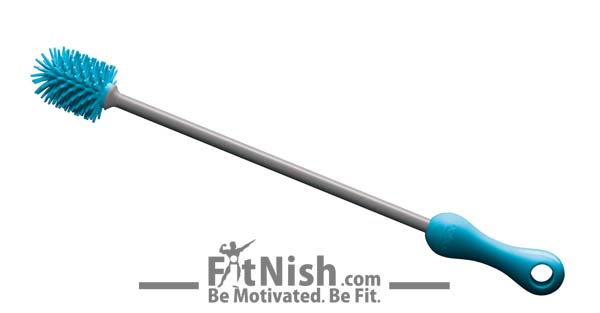 The Bobble Ice Tray
It is available in two colour combinations: red and blue/ magenta and blue.
Remove ice with ease – just push up under the flexible, soft forms and the ice pops out.
The colourful, food grade, BPA-free plastic tray is dishwasher safe and features a built-in reservoir to help prevent spills. Ice trays are stackable for freezing too.
Pros:
It's perfect design makes it easy for storing and stacking in the freezer.
Because each ice mold is made out of some sort of rubber and is flexible, taking out the ice cubes is so easy and no ice cubes crack, for example like when you have to twist the old fashioned ice trays.
The ice cubes fit perfectly into the Bobble water bottle as well as many other water bottles.
It is very easy to clean.
Cons:
Bobble ice cube tray is available at @home and Wellness Warehouse stores nationwide.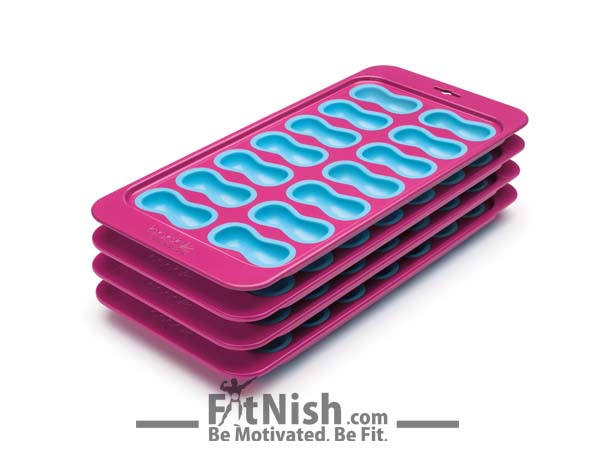 Check out their site to read their story, as well as for their full range of products which include filtered jugs, different sizes of water bottles, filters and more:
About Bobble
Founded in 2009 in New York City, Move Collective, LLC develops intelligent, functional patents with emotive design. Move Collective partnered with design icon Karim Rashid to create bobble, a sleek ecological alternative to single-serve plastic water bottles that features a replaceable, recyclable carbon filter designed to transform municipal tap water. After pioneering an entirely new category with bobble, Move Collective then reinvented home filtration systems with their bobble jug. The bobble jug was also designed by Karim Rashid.
With bobble hot and bobble iced, Move Collective, in tandem with Karim Rashid, reinvented yet another category. Bobble products have been ecstatically received by consumers and press alike and are now available in more than 30 countries. Having been awarded multiple prestigious industry awards, recently the Edison Awards in 2011/2012 and the Best in Biz Awards in 2012, Move Collective has been cited as one of the 100 most innovative companies in America, and its founders are recent finalists for the Ernst & Young Entrepreneur of the Year Award and Crain's Fast Fifty. Bobble products are available in more than 40,000 retailers globally. In June 2013, Move Collective, LLC, and its signature product, bobble, were acquired by Seventh Generation, a 25-year pioneer in the sustainability arena and one of the nation's leading green brands.
 References:
[1] http://foodidentitytheft.com/bpa-free-safety-claims-not-yet-a-sure-bet/