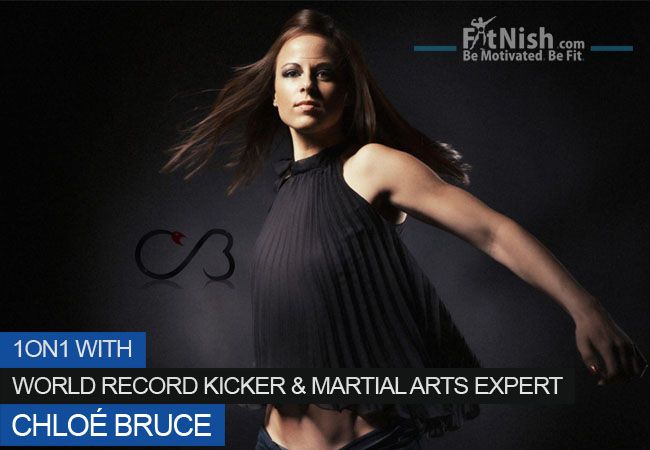 Quick Stats
Name: Chloé Bruce
Age: The BIG 30!
Height: 5 ft 6.5
Current weight: 56 kg
Current city: Surrey, United Kingdom
Occupation: Martial arts Professional
How did your martial arts journey begin? What got you started?
Well, my father, Roy Bruce has always been heavily into his martial arts training as he was growing up, and I guess after seeing him and my brother, Danny, training it was something I wanted to give a go.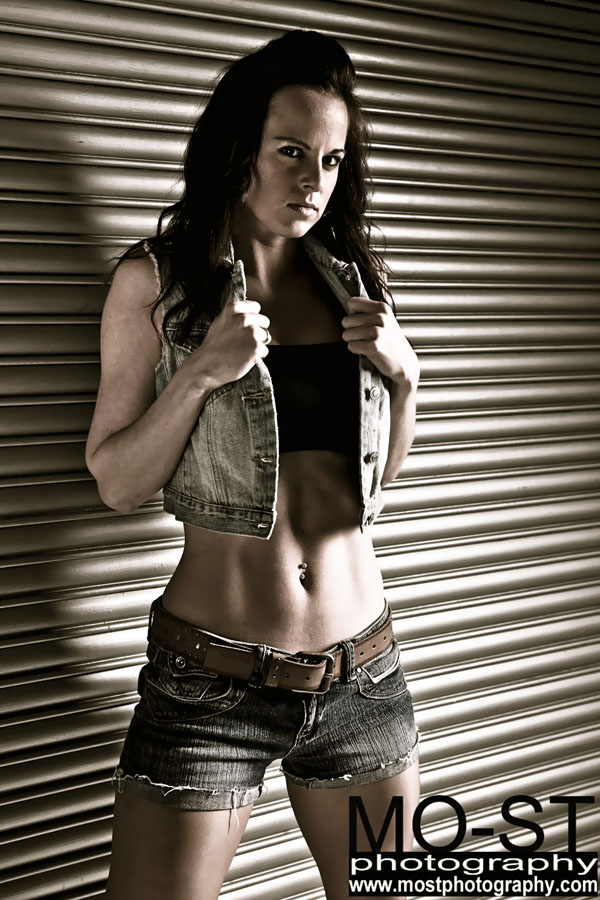 How do you manage to stay motivated and consistent throughout your training?
I have always been a very competitive and driven person. I strive through my success, and inspiring people. So when I see rewards, I want more! Whether that be in training, competition or personal goals. If I see someone training, I have to train harder, and if I am sitting at home doing nothing, then someone out there could be going harder.
"So I guess its my self motivation and passion that keeps me pushing forward."
What do you love about it?
I love how training makes me feel. It can be a total adrenalin rush when you have a good session. Then when you have a bad session it can bring you down also. But as long as you get back on it the next day harder and stronger, then its all worth while.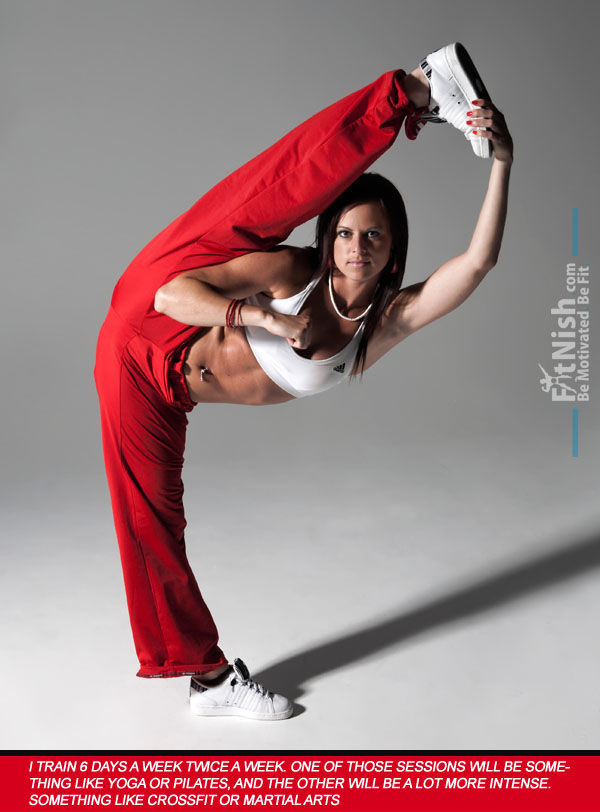 How has the training and the martial arts affected your inner self?
The main thing I was taught growing up in martial arts, is respect and discipline. No matter who you are, whether you are a child, an adult, the highest rank or the lowest rank, you have to treat everyone with respect.
I was teaching a seminar in Portugal last weekend to 85 students of all ages, and the level of respect everyone had was very heart warming. I was proud to be a part of this sport!
What is your favorite fighting style or discipline of martial arts?
There are lots of styles of martial arts I like for different reasons:
Tang Soo Do, which is a Korean style, similar to Tae Kwon Do. This is my root, and my traditional back ground.
Wu Shu as it is such a beautiful art, with such power but also grace.
Then one of my best fight styles has to be Thai Boxing. I have performed many times at the K-1 Fight Nights all over the World and I have so much respect for those guys and girls taking part. I have done some thai boxing training and the training is immense for fitness and conditioning.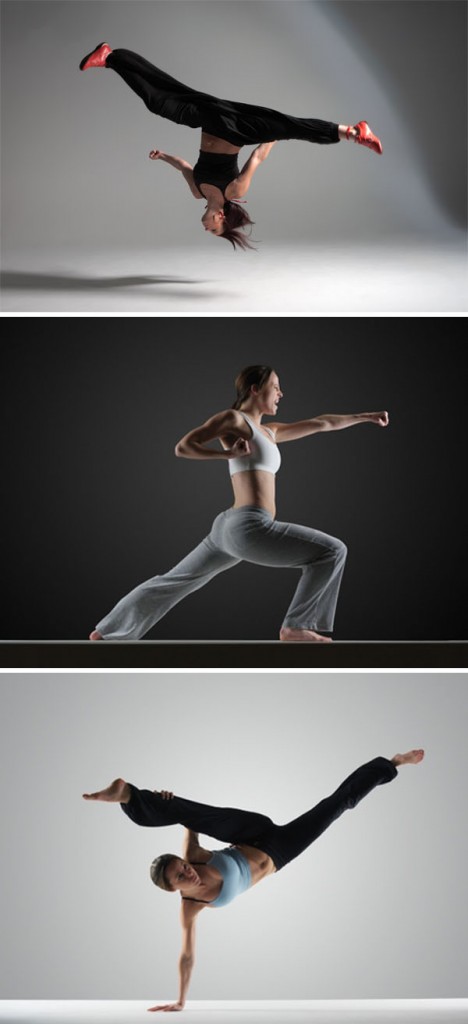 Tell us a bit about setting the Guinness world record for the most number of leg kicks in a minute. Did you have to train specifically for it?
The Guinness World record was an amazing achievement for me. One in which I will always treasure. I actually broke my own record 3 times over now, with the first being 192 kicks in Spain, the second being 210 in Italy and the third time I set the record was 212 kicks in 1 minute in China.
I did train for these yes, because the lactic acid build up was very tough at first and my legs became quite tired. So I had to build up the strength and control in my leg so that I didn't put it down on the floor at all for the entire minute, as if I did, it would cost me seconds in the game.
What are your future plans?
Competitions
As far as competing goes, I am actually in the process of coming back stronger than ever at the end of this year to compete at the World Cup in the USA.
Career
With my career, I have a lot going on, that I am just going to continue to push forward with.
I just launched my own merchandise store, standout-style.com which I am very happy with. I want to push this so that whenever my fans or friends see STANDOUT, they automatically know its my brand. I have also recently launched my own martial arts Programme called MAX, in which martial arts school owners can teach to their students WorldWide.
Media
Then on top of this, I have a few big feature films coming out this year which I am very proud to have been a part of and another feature film that I will be shooting this year also. So things are definitely on the up! 🙂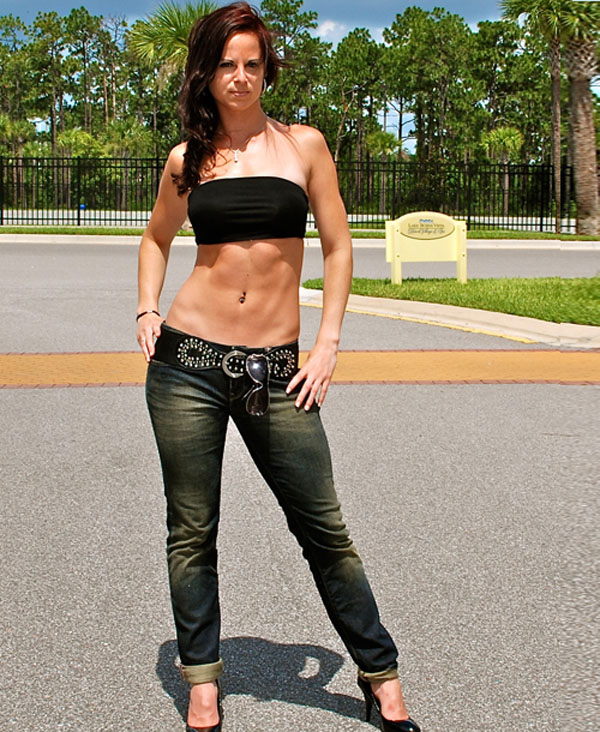 Take us through an average day of yours:
My average day when I am not working is the following:
I usually wake up and have breakfast, a fruit smoothie with vegan protein and a little coconut oil.
I then will do a form of training, this will last around 1.5 hours, it alternates, but it will either be cross fit, martial arts, or bikram yoga. Depending on the day of the week.
Then I will have lunch.
Do my emails and business work.
Then have a pre workout meal including protein, carbs, and fats, then do another training session. Either cross fit or martial arts.
Then a post work out shake or meal
Then bed.
Give us a brief description of your philosophy on your diet:
"As I have gotten older diet has become so important to me. I am very strict with what I eat, when I eat and also the right amount of water consumption and sleep."
I actually have a personal nutritionist, and he helps me out so much with altering my diet to match my work or training schedules.
I try to eat little meals but very often. I will eat around 8am, 11am, 2pm, 5pm, and 8pm. One of two of the slots may just consist of a shake or smoothie, however I always try to stick to having a small amount of carbohydrates, fats, and protein at each meal.
What's your view on supplements? Do you use any?
I go through phases with supplements, however I do think they are good to take if you take clean supplements. I am currently taking a good multivitamin, and also a mixed B vitamin supplement. But if you eat clean and right, then I do believe that you should get enough goodness from your food and drink intake.
Give us a brief description of your philosophy on your training:
Training is an addiction of mine. If I am not working, I train 6 days a week twice a week. One of those sessions will be something like Yoga or Pilates, and the other will be a lot more intense. Something like Crossfit or martial arts, kickboxing etc. The combination of the 2 sessions I feel works really well. Both sessions will last around an hour and half to 2 hours each. So I will be training around 4 hours in total per day.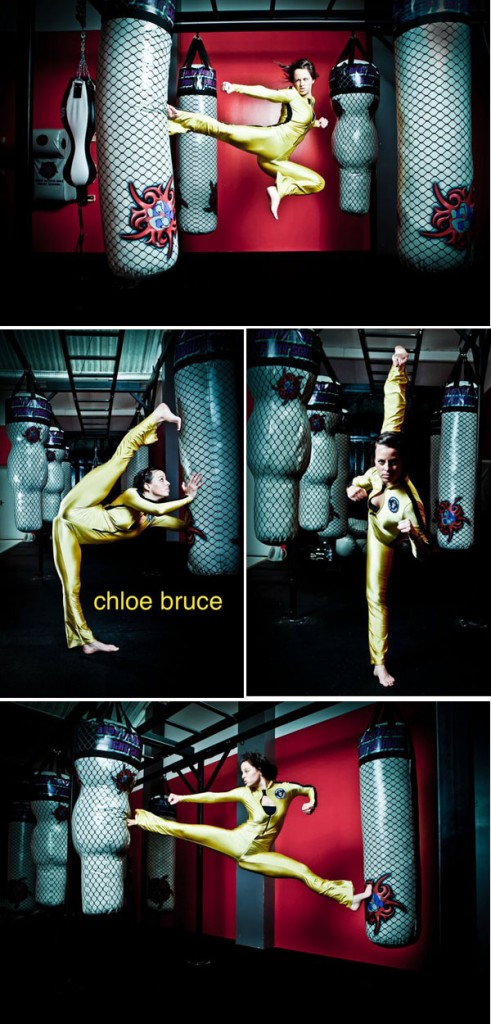 If a beginner started in your classes, what would their first class consist of?
In my classes as a beginner we would take you through the morals of the class first. Teaching you when to bow, and how to address the other students and instructors. Then we will take you through the basics of martial arts. The three basic kicks, stances, and hand techniques.
What are your top training tips?
My top training tip is to enjoy it!
When you are enjoying your training you will improve at such a fast pace, and everything will feel so much better. No matter what pace everyone around you is going, just focus on YOU.
"Work at your pace and listen to your body. If you can go harder then go harder, if you need to slow down, then slow down, you know your own body the best."
Lastly, I would say, don't be afraid to try new things. Everyone was a beginner at one stage in his or her lives at everything. So don't be scared to be that beginner in a class, gym, or sports environment.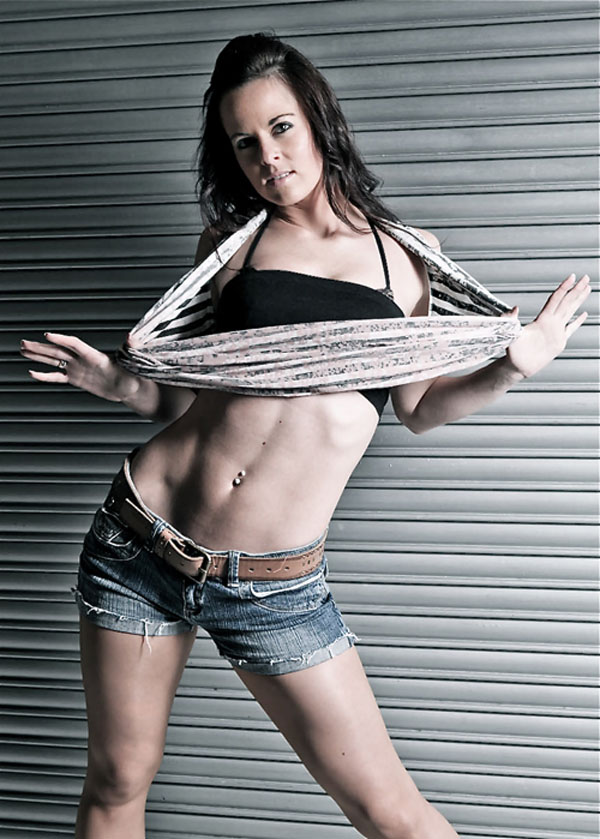 What's your proudest and most notable achievement to date?
I have to say I have 2:
Winning my first World Championships
My Guinness World record
As I have already discussed my World record, I will talk about my World title this time around.
I was 14 years old, and I was at the World Kickboxing championships in Prague. I was there with both my parents, and I was the under dog, having never taken part in the Worlds before. However, I entered in 2 divisions, musical forms and traditional forms, and I managed to win GOLD in both.
I will never forget standing on the podium with the national anthem playing, and seeing my parents tearful in the audience. It was a feeling I will never ever forget and an extremely proud day.
What are your 3 favourite exercises?
1. Squats
Awesome for leg strength and power. For kicks and control too.
2. Leg Raises
Great to gain that flexibility, but also to build strength in your legs to be able to hold your leg at your maximum flexibility.
3. Sit Ups
I love a good core workout. If you have a good core, then you have such a great advantage in any sport you take part in.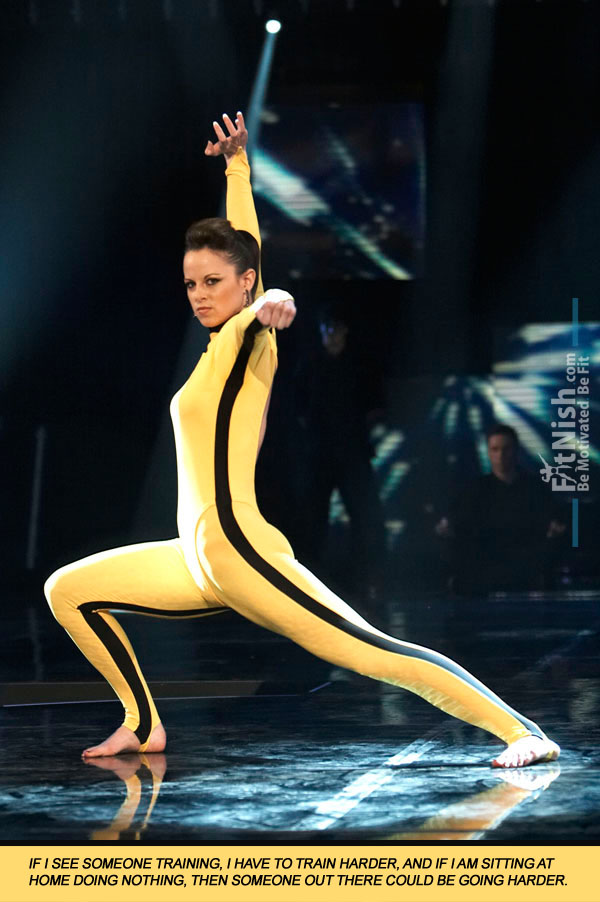 Advice for someone wanting to become more flexible and gradually be able to do the splits?
My advice is to firstly tune into mine and my sisters Youtube channel, FLEXY FRIDAY!
Every Friday we release tips, tutorials, or workout programmes to improve general flexibility and strength in your legs.
Secondly, I would just say to never give up. A lot of people hate stretching because it can be a long process, and not very rewarding at times. But to get a lot out of stretching you have to put the time in. You will get there, just take it gradually and listen to your body again. Push yourself, but not too hard and you will get great rewards.
What are your 3 favourite Stretches for flexibility?
My 3 favourite stretches are very hard to state as it depends on what area of your body you want to improve on. However mine personally have to be:
1. Knee Split
This is a stretch whereby you sit on your knees and open up as much as you can into a split with your legs bent from the knee down.
2. Over Split
I like to train my over split. By putting my feet on a higher object than the floor, so that I can put a foot on each object and go through into a hyper split.
3. Feet sole to sole
With my knee's out to the side. This is a great hip opener.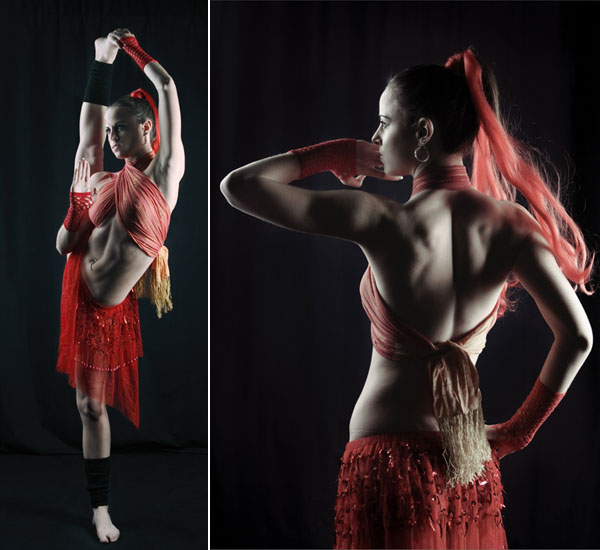 Favorite female fitness icon(s):
Jessica Ennis
Ronda Rousey
Kelly Holmes
Favorite martial artists:
Jackie Chan
Jet Li
Tony Jaa
The Best Of Chloe Bruce – The Perfect Human [Video]
Favorite Quote:
"Do not go where the path may lead, go instead where there is no path & leave a trail"
Advice for someone looking to start martial arts training and become fitter and healthier?
Go for it!! Always follow your heart, and never stop chasing your dreams. Set yourself goals, start off small and then make them harder and bigger, and every time you reach one, set that bar higher.
"Do it, you will feel great!"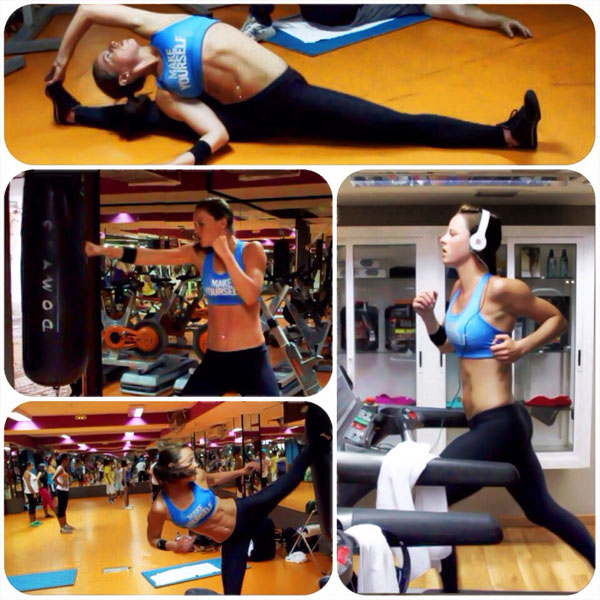 Where can people get hold of you?