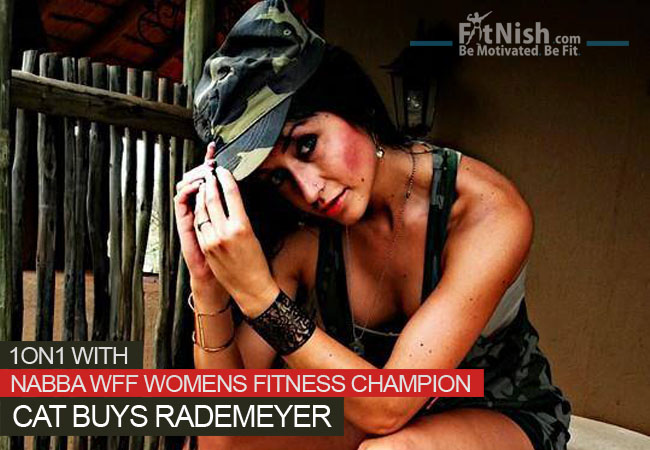 Quick Stats
Name: Cat Buys Rademeyer
Age: 26
Height: 1.59 m
Competition weight: 45 Kg
Current weight: 48.5 Kg
Current city: Johannesburg, South Africa
Occupation: Owner and Coach at CATabolic Studio
Have you always lived a fit and healthy lifestyle? What got you started?
I was born with fitness in my veins. Since high school, I wanted to be a trainer and be involved in Health and Fitness. 4 Years ago, I did my very first Body Building Show, Ms Body Beautiful SA, where in I placed 2nd in a large line up.  That was me, I was hooked.  Now it is my Profession and my Sport. So blessed to do what I love!!!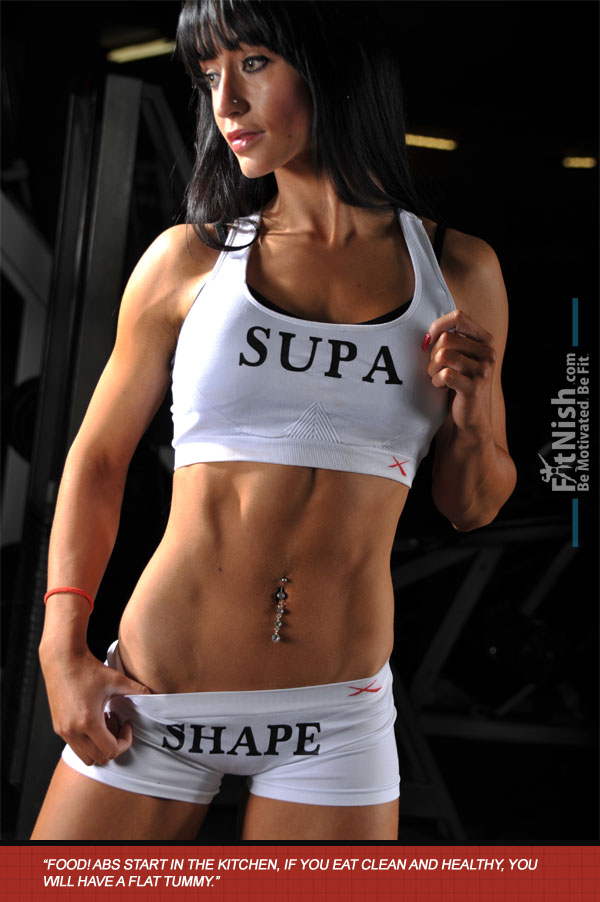 How do you manage to stay motivated and consistent throughout your training and eating?
My original inspiration was my hubby, he pushed me to my limits and was and still is right beside me every step of the way. Even a coach needs a coach 😉 wink wink.
"I also set up regular projects/goals to keep me motivated and in shape. Such as Public Appearances, Photo Shoots, and so on."
What made you decide to enter your first competition?
My first Sponsors at that time suggested I do Body Beautiful SA. And well as you read earlier the rest is history…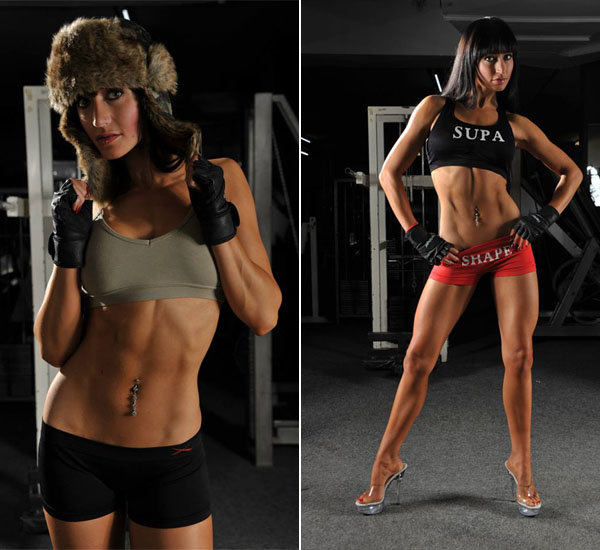 Tell us a bit about your experience competing at the NABBA WFF World Championships in Greece. How was the experience and the experience of winning?
Wow, flashbacks and memories. Here we go.
The experience was truly something else, definitely not for the faint hearted. Me personally, I don't do well with flying in general. Now try doing that while decarbing, and doing a water drop, plus only eating selected foods, and 4 Connecting flights! But we made it. It was truly something special, to see Greece, their cultures and way of living. But I was immediately in competition mode when we arrived, registration was the next day, along with stage composure, then the usual: Tan, Train, Tweak… And a good nights sleep before the big day.
The show, all in all was well organised, nothing we not accustomed to here in SA. Quality of the athletes were spectacular. I really love my federation of choice, we are all like a family. The whole SA Team, really stood together, and helped each other, it was beautiful.
"Im not going to lie, back in SA I don't get nervous to go on stage, but internationally, I was extremely anxious. Whether it was the pressure of being on an International stage, the pressure of wanting to impress all my supporters and sponsors; or maybe even some jet lag. But once I was on that stage, my confidence  poised through, and I just gave it everything I had."
Through the cramps, the nausea, the dehydration, I just pushed and pushed and pushed. When they had the awards ceremony, and started calling the placings, I kept waiting to hear my name, 6th, 5th, 4th, 3rd, oh my word, can it possibly be, i'm in the top 2… and there it was, in 1st Place, Cat Buys Rademeyer (I can actually hear the announcement as i'm typing this). I was ecstatic and so was hubby, screaming in the audience. A life long moment, filled with joy and gratitude, thank you Jesus, for ALL my blessings.. Amen!!!
What are your future plans?
To achieve my ULTIMATE ULTIMATE Physique to date, as I will be competing internationally for NABBA AND WFF, in Korea and Possibly Australia.  As well as keep on inspiring and assisting others to love their bodies and follow me into a healthy lifestyle.
Also to continue to grow with my sponsors and represent myself to the best of my abilities as a Professional Fitness Athlete/Model.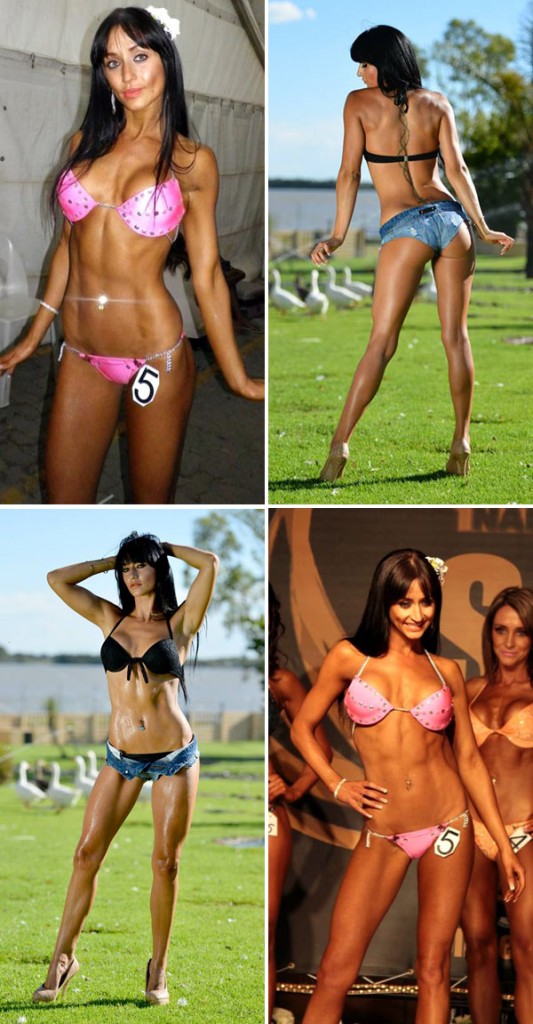 Take us through an average day of yours:
I wake up 5 am, go to gym 6 – 7 am.
Get hubby ready and off to work by 8:30 am.
Then I start work, responding to emails, promoting myself and sponsors via social media, invoicing and general admin. Take my lil baby Boston Spike for a walk.
Then 9:30 am I start training clients till about 1 pm.
From 2 – 3 pm Online coaching.
3 – 4 pm my 2nd training session for the day.
4 – 5 pm promoting myself and sponsors via social media, invoicing and general admin or if I have any errands to run such as shopping etc. (through out this I have already eaten approximately 5-6 meals.
We have dinner at about 7 pm. Family Quality time, Bath, Bed and Repeat…Including meal 7 and 8 in between. Lol, yes I eat A LOT!!!
"At times a whole or portion of the day would be dedicated to photo shoots, seminars, motivational talks, events and guest appearances."
Give us a brief description of your philosophy on your diet, pre contest and during the off season.
Over the last 6 years, I have come to the conclusion, that all body types are different, and need individual attention when starting an eating or training program.
"Although in general, I believe the best results come from a well balanced meal plan, with meals consisting of low gi carbohydrates, high protein, fruit and vegetables as well as sufficient fibre.  To ensure you get enough nutrients, minerals and energy to burn calories, see you through your day and of course your workouts."
I generally eat very balanced high nutrition meals everyday off season, with a cheat weekend 😉 (I have a very fast metabolism). Closer to competitions, it becomes a cheat day 12 weeks before, and 4 weeks before, a cheat meal, stopping 10 days before.
Depending on how my body form is at the time, 4-6 weeks before, my diet becomes excessively clean, and if necessary I will do a carb drop 4 days before, and carb up the night before and on the day. Along with a complete water drop over a 3-5 day period.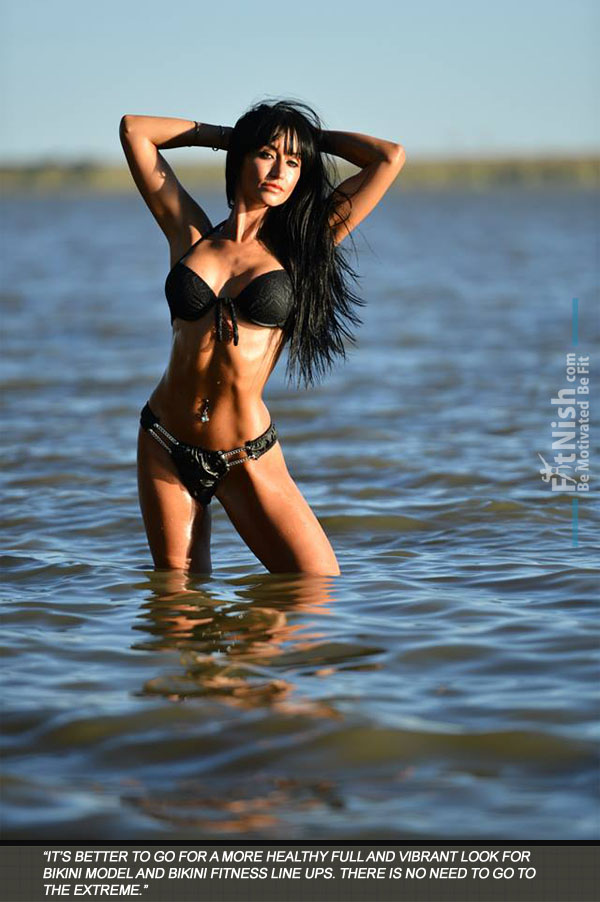 What do you think are some of the biggest mistakes or myths that many girls fall prey to when starting out with training and dieting?
In the beginning, 2010, when I myself was new to the industry, I followed a prep plan, dropping excessive amounts of water and carbohydrates over a long period of time, +- 10-14 days.  I found this ineffective as I was lethargic, had no energy, and therefore had extreme mood swings. And on the day of the competition my body went flat and everything just looked too dry.  It's better to go for a more healthy full and vibrant look for Bikini Model and Bikini Fitness Line ups. There is no need to go to the extreme, as long as you maintain throughout the year.
"Also, There seems to be a stigma around females and lifting heavy weights.  Majority of my clients or just ladies I speak to, are convinced that lifting heavy weights will in fact turn them into the next Arnold Shcwarzenegger."
Power sessions in the gym, lifting those heavy weights, while paying attention to form,  movement control, posture, core strength and breathing, will only give you improved strength, muscle formation, minor muscle gains and leaner mass density.  Females have been created, with testosterone, yes, but not nearly enough of it to turn into the hulk.  On the flip side, if you are taking a form of steroidal substances to elevate your testosterone levels , yes then you will pack on pounds of muscle.
"I am living walking proof of this. I lift extremely heavy weights."
For example:
Side Shoulder Raises: 8kg Dumbells
Shoulder Press: 10kg Dumbells
Standing Hamstring Curls: 40kg
Leg Extension: 55kg
Squats: Olympic Bar with 15kg each side
Leg Press: 120kg and so on..
But because I keep it natural and clean, my body in turn is only getting harder and leaner. With all the curves in all the right places.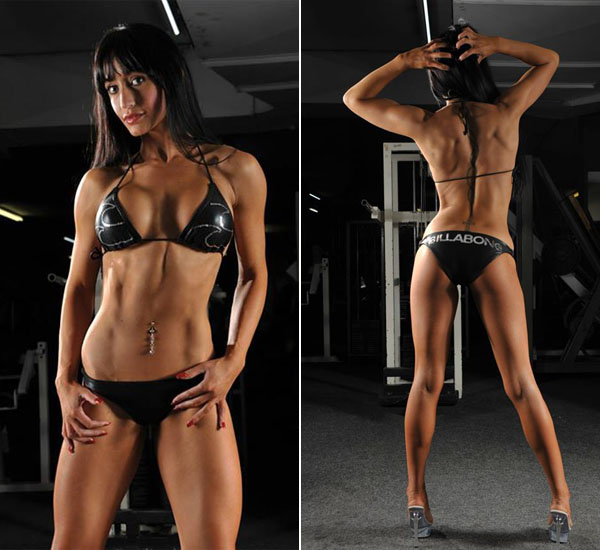 Give us a brief description of your philosophy on your training and on average how long do you workout for?
My training is predominantly focused on medium to heavy weights. At the same time paying attention to posture, core strength, and controlling the weights.
"Slow controlled movements ensure the correct way of following the exercise through, giving you optimum results from your workout."
2 hours a day, of which 20 minutes is cardio. 1 hour and 40 minutes weights and endurance. Split into 2 Sessions. Am and Pm.
How do you measure your progress? And how often?
By doing a regular body assessment on myself, about once a month, sometimes twice, depending how close I am to a competition.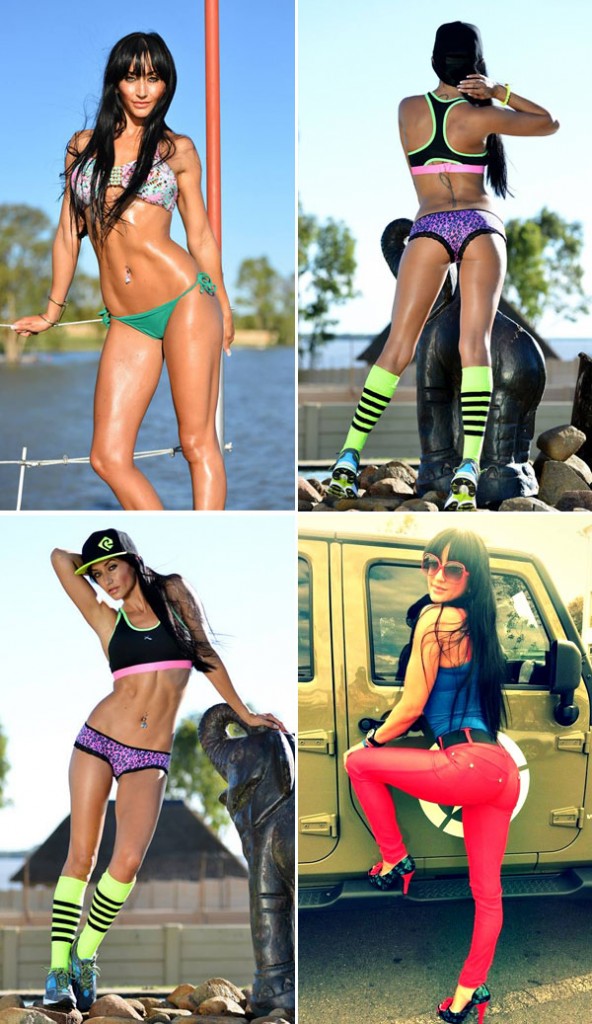 What are your 3 favourite exercises?
Targets the glutes and ensure a nice lifter firmer behind.
Calves on the Leg Press Machine
In and out straight, for full muscle pumps, and optimum results.
These work your front, side and rear delts. Nothing looks better than a woman with great symmetry with shoulder caps, a firm behind and good shapely calves.
What advice would you give the ladies to developing a flat tummy?
Food! abs start in the kitchen, if you eat clean and healthy, you will have a flat tummy. To develop some further definition and abs, focus on regular, core and abdominal exercises.  Also drink at least 2litres of water a day, this aids in good digestion.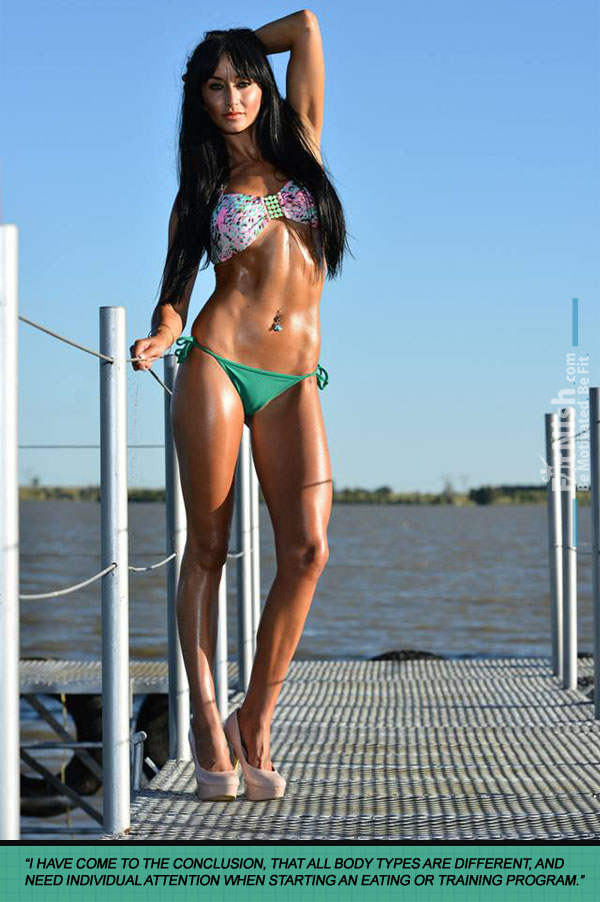 What are some of your strategies for the final week before a photoshoot or a competition? Do you believe in the hype of using sodium and water loading/de loading to look more shredded?
Personally, I believe in staying in shape all year, not letting yourself go. Thus avoiding the extremes for a photo shoot, one should aim for a more vibrant healthy full look for photo shoots. I would normally do a very basic 2 day carb drop accompanied by a 3 day water drop. Ie. Day 1 2l Distilled Water, day 2 1.5l Distilled Water, day 3 500ml distilled.
Fitness models or bodybuilders?
Body Builders, like my gorgeous man 😉
Favorite female fitness icon(s):
Ashleigh Kaltwasser.  I love her glutes and overall physique, and she it still very feminine, which is extremely important to me.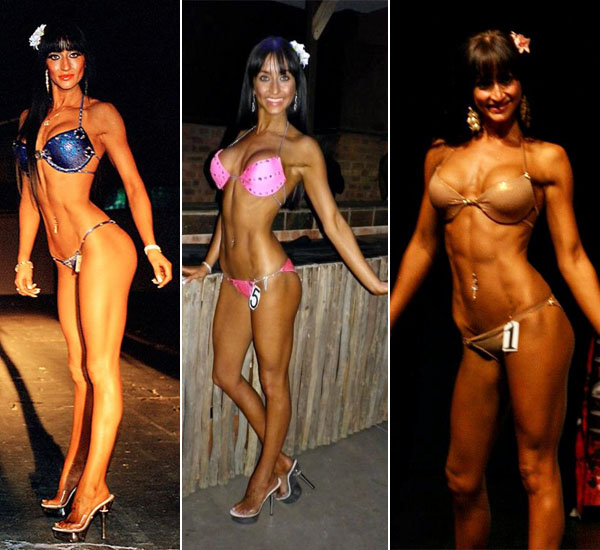 Favorite Quote:
"Our Imperfect Qualities are what make us Uniquely Perfect, Embrace them."
What are your must haves for gym?
I am a fully sponsored Supashape Brand Ambassador as well as an Online Supashape 12 Week Challenge Coach, and I only use and believe in their products. I am also a proud brand ambassador for IFA –Iron Fist Athletic clothing  as well as Actos – Skin Shoes and my most recent Brand FakeBake for all my tanning needs.
Must haves for a power session in the gym:
1. Pre and Intra Workout: Supashape Amino Charge
(Can add in a Beta Alanine for more of a muscle pump and energy surge if you like –SSN/SPS/MUSCLE JUNKIE)
2. Post Workout: Supashape 100% Whey Protien
(Can add in BCAA Caps. Glutamine and or Vitargo for extra recovery and gains – SSN/SPS/MUSCLE JUNKIE)
3. Padded Training Gloves and Knee Wraps for Support on the Joints, especially for those heavy squats  (Fitness Junkie/MUSCLE JUNKIE)
4. The correct training shoes, to ensure optimal movement, especially for training legs. ACTOS SKIN SHOES allow your feet to be in and move in a natural form,  and are also great for preventing injuries.
5. Of course we need to look good so we feel great while we training, releasing happy endorphins and getting even better results 🙂  – IRON FIST ATHLETIC GEAR.
6. For Best Tanning results, safe and has many great benefits for the skin, I use FakeBake.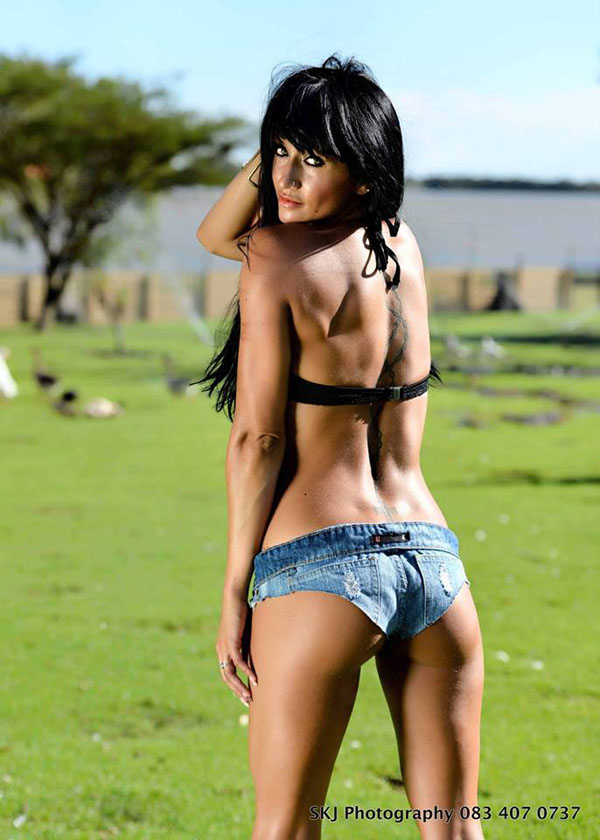 Advice for someone wanting to change their lifestyle and achieve their ideal physique?
Do it for yourself, first, find a good coach to get you started, with your health as their first concern. Commit and Enjoy the Journey of sculpting your physique.
Tell us a bit about your CATabolic Studio? What exactly do you offer and who can join you there?
CATabolic is Aimed directly at Health and Fitness. Assisting men and women in weight loss, toning, as well as muscle building. Competition prep, all round. And Online coaching. One on One sessions are for ladies only. However I do online coaching for male and female clients.
What competitions have you competed in and your placings?
2013
Nabba SA Pretoria Classic | 2nd
WBFF SA | 6th
Nabba SA Provincials | 1st
WPF The Rossi Classic | 1st
Nabba SA NATIONALS | 3rd
Selected to represent SA at NABBA WFF WORLD CHAMPS GREECE
Selected to represent SA at WPF UNIVERSE ITALY
NABBA WFF WORLD CHAMPIONSHIPS GREECE | Womens Fitness | 1st
Selected to represent SA at NABBA WFF UNIVERSE – KOREA JUNE 2014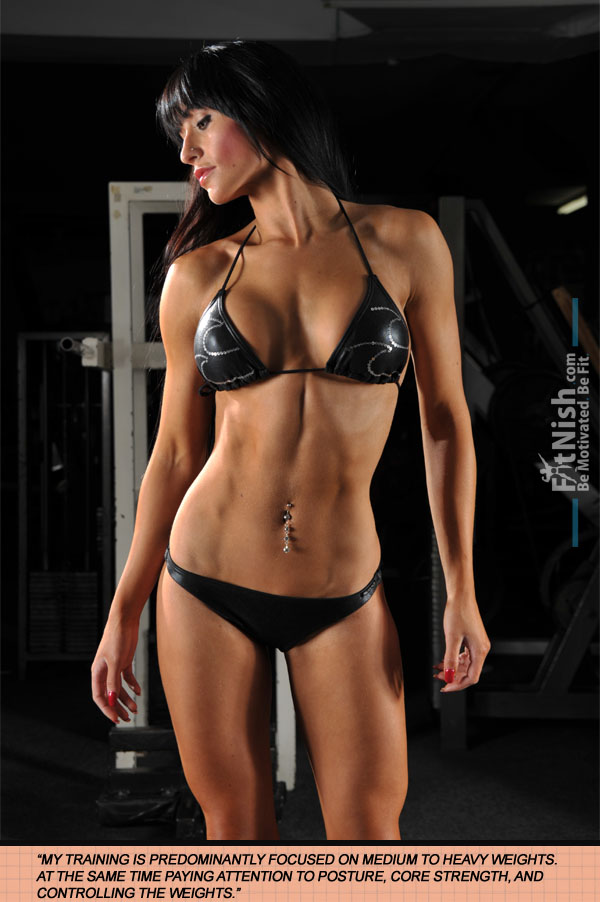 2012
Nabba SA Provincials | 1st
Nabba SA Nationals | 6th
2011
WFF SA NOVICE | Bikini | 5th
WFF SA PROVINCIALS | Bikini | 6th
GYM PHYSIQUE GROUP | Bikini | 1st
GYM PHYSIQUE GROUP | 1st Overalls
Body Beautiful SA | Bikini | 1st
2010
Body Beautiful SA | Bikini | 2nd
Where can people get hold of you?
Photography Credits: