Today I will be focusing on and reviewing the brand Biogen, ISO whey protein.  You can check out more of their supplement range here, www.biogen.co.za
Let's just have a look at exactly what we want a whey protein shake for and when should we be using it?  A whey protein shake, primarily, is there for our convenience.
It is a high protein, low carb and fat meal, which we do not have to cook or prepare, we just mix with water or milk and chug it down.  Since whey protein digests quite quickly, the optimum time to take it would be right after a workout or first thing in the morning so that you can supply your muscles with some fast acting protein to start stimulating their recovery.  Also food in liquid form should digest quicker since it is already pretty much broken down into a very fine form.
Now let's not limit ourselves to only being allowed to take it at those two times.  I believe you can have a whey protein shake at anytime of the day when you need a high protein snack.  So if you find yourself without any decent food grab a shake, at least you can still get your protein in.  You can even mix the whey powder with other types of protein such as yoghurt, cottage cheese and milk, which will also help keep you fuller for a bit longer.
Just a note, remember that you should always try to utilize whole foods as much as possible, so do not just keep replacing shakes for a lot of your meals.
The supplements are there to just fill in when you cannot manage a meal.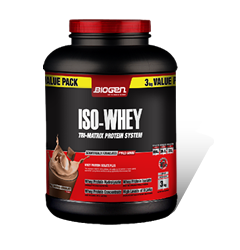 Flavors and Sizes
It comes in a variety of flavors, these being:
Chocolate
Strawberry
Vanilla
It comes in two sizes, 908g (2.0lbs) and 3Kg (6.6lbs)
Taste
I will be judging this on the vanilla and strawberry flavored powders.  Both flavors tasted good, leaving only a slight aftertaste, more pronounced in the strawberry flavor.  The only problem I had was that both flavors had too much of an artificial taste to them.
Mixes
This protein powder mixes well, but is not as fine as the evox whey, so it did take a bit more effort to mix.
Protein content
Now this is really what we want to know, which powder offers the most protein (in grams).
We see that per 100 grams of the protein powder there is 67.1 grams of protein, which is relatively low.
It carries 26.2 grams protein per 1 rounded scoop (weighing 39 grams) of the powder.
If you want some sort of comparison, 100 grams of chicken breast has about +- 25 grams of protein.
Extra Nutritional values
Now let's look at the rest of the contents in this whey protein.
There are 155 calories per serving of 1 rounded scoop.  The carbohydrate and fat content is quite low per serving, but higher than many other brands.
Per 1 rounded scoop (39 grams) there is 8.3 grams of carbohydrates and just 2 grams of fat.
Per 100 grams of the powder there is 21.2 grams of carbohydrates and 5.1 grams of fat.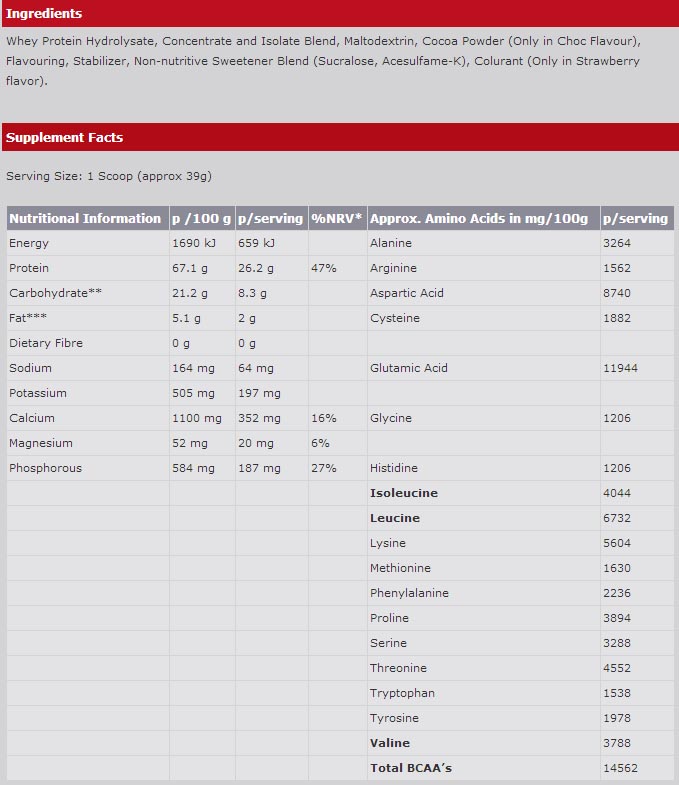 The amino acid profile of it is decent, containing all essential and branch chain amino acids in good amounts.  It contains just under 12grams of Glutamine per 100grams which is still good but there are others with much more.
Affordability
The 908g tub sells for about R260 and the 3kg tub sells for +-R480.  So we can see it's always cheaper to buy the bigger tub.  The price is quite competitive with the other brands, since it's more or less the same price as some of the others, but it offers an additional 1kg since it comes in a 3kg tub.  Most other brands use 2kg tubs.  So if you are on a tight budget, then I would say go for this specific whey protein.
Conclusion
I was really not convinced with this whey protein.  Nothing stood out for me on it, and on paper it ranks quite low compared to the other brands.  The two main points which put me off it were the protein and carbohydrate contents.  The protein content is much lower per 100grams than other brands that I have seen, and the carbohydrate content is too high for a protein shake. If you are dieting strictly for a competition, this shake would not be ideal because the higher carbohydrate content could interfere with your diet.