Today I will be focusing on and reviewing the brand SSN, 100% Whey protein.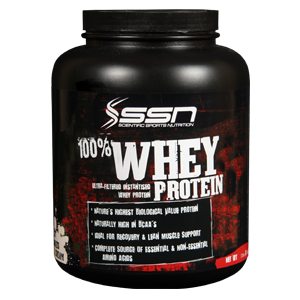 Flavors and Sizes:
It comes in a variety of flavors, these being:
Cookies and Cream
Chocolate
Strawberry
Banana Toffee
Choc Nut Toffee
It comes in two sizes, 909g (2lbs) and 2Kg (4.4lbs).
Taste:
I will be judging this on the strawberry, cookies and cream, and chocolate flavored powders. All three tasted quite good. They were not too sweet, but they did leave a slight after taste, especially the strawberry flavor. I would recommend the chocolate flavor above the rest. You can always add some cocoa to give it a bit more flavor.
Mixes:
It mixed just fine in a shaker after a few shakes, but in a glass using a spoon it was a bit difficult taking a bit more effort. One of the things I like to do, instead of making a shake, is making a 'dessert' with the protein powder by adding a touch of milk to it and continuously mixing keeping it thick. I found with this whey, the powder was not fine enough to be able to do it quite well and I always ended up adding more milk resulting in it not being nice and thick.
Protein content:
This is really what we want to know, which powder offers the most protein (in grams).
We see that per 100grams of the protein powder there is 80grams of protein, which is quite high.
It carries 24grams protein per 2 scoops (weighing 30grams) of the powder.
If you want some sort of comparison, 100grams of chicken breast has about +- 25 grams of protein.
Extra Nutritional values
Now let's look at the rest of the contents in this whey protein.
There are just 117 calories per serving of 2 scoops. The carbohydrate and fat content is quite low per serving.
Per 2 scoops (30 grams) there is 2 grams of carbohydrates and just 1.5 grams of fat.
Per 100 grams of the powder there is 6.5 grams of carbohydrates and 5 grams of fat.
The amino acid profile of it does look quite good containing all essential and branch chain amino acids in good amounts.
It contains just over 13 grams of Glutamine per 100 grams.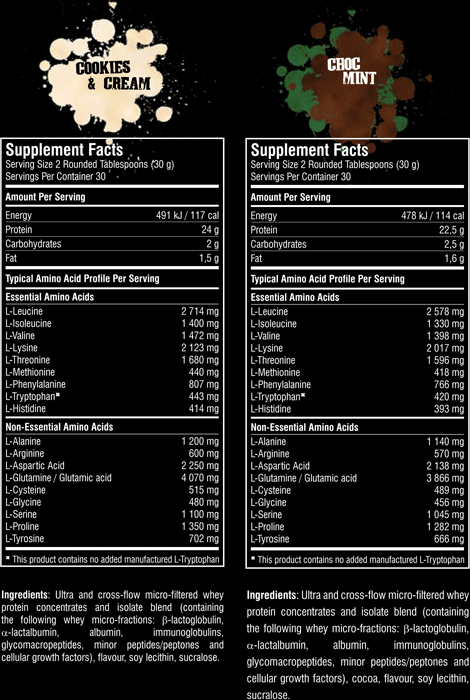 Affordability:
The 2kg tub sells for anywhere from R450 up to R529.  The 909g packet sells for about R270, so it is much more economical to go for the 2Kg.  It is slightly expensive, costing a little bit more than other brands but there are occasionally specials on it where the price comes down just below R450, so if you can, try pick it up during the specials.
Conclusion:
All in all it is a good whey protein powder, which I would definitely recommend; I don't have anything negative to say about it, since it has pretty much everything you need in a protein shake, I especially like the fact that its protein content is one of the highest on the market, and there are a number of different flavors to choose from.  It is a bit expensive, but if you are willing to spend a bit more, it is well worth it in this case.