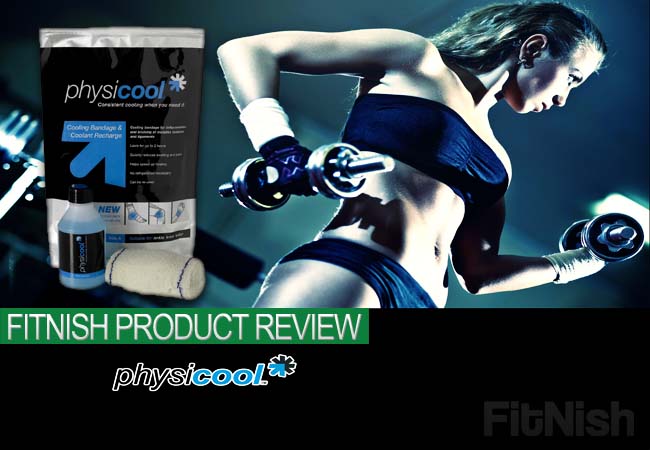 After a grueling leg training session, or doing any intense physical activity which involves a lot of sprinting (and involves primarily the legs), I sometimes get a slight pain and in worse cases a bit of swelling on my right knee.  Nothing serious, as it returns to normal after one or two days, and yes I have had it checked out and X-ray'd and it is all fine. But I decided to use this 'opportunity' to try out these new therapeutic bandages called Physicool. Physicool is basically a bandage which is soaked in a coolant liquid, which you then wrap around your joint/muscle or area that needs attention.  It is supposed to have the same effect as applying an ice pack to your muscle/joint to reduce pain and inflammation. Now at first glance I was a bit skeptical and really did not think it would have much of an effect, after all, how could it possibly have the same effect as an ice pack which is kept at a very low temperature and is frozen?
Let's take a look in more detail, what exactly it is, how to use it, and the effects it had.
What is Physicool?

Physicool, an internationally-acclaimed therapeutic bandage that combines cooling with compression and is now available in Dis-Chem stores around South Africa.
This re-usable cooling bandage is more effective than ice and easier to use, with no refrigeration required. Ideal to treat inflammation and bruising whilst helping to speed up recovery.
Physicool is a natural cotton bandage containing a harmless coolant. It draws heat out, rather than driving cold in, instantly treating inflammation and bruising of muscles, tendons and ligaments.
What you get? And how much is it?
Physicool coolant spray and re-usable bandages are available from Dis-Chem in two sizes:
Ankle and knee
Wrist, thigh and shoulder,
as well as the 500ml Coolant Spray or Combo pack (spray and bandage). The prices range from R113 to R200. The packaging of Physicool is also pretty impressive.  All the products have their own zip lock durable bags.

How do you use Physicool?
Physicool is very easy to use. The bandage you receive is already pre-soaked in the coolant spray. You just squeeze out any excess coolant from the bandage and unwrap the bandage around your muscle/joint and leave on for anywhere between 20 minutes and 2 hours. Once done you wrap the bandage back up and place back into its own zip lock bag. Then pour a few capfuls of the coolant into the bandages zip lock bag, zip it up and shake the bag so that the bandage absorbs all the coolant and you are ready to go again.
Effects
On the initial contact of the bandage with your skin, you do feel a slight tingling sensation. You can feel the temperature difference and you can feel the bandage is quite cold. I kept the bandage on for just over an hour and it remained at a very cool temperature the whole time. It actually felt somewhat like an ice pack was placed there, but without that 'cold' sting which an ice pack gives after a few minutes of application. It did feel comfortable and soothing and somewhat hydrating. It felt as though my skin was cold, but my knee and muscle underneath was actually warm. The initial tingling sensation also returned every now and then. Once I removed the bandage, my knee did actually feel somewhat better, immediately, and the swelling had gone down slightly. I was also surprised that even after a hot shower it  felt as though the bandage was still wrapped around my knee, and I still had that feeling that i said above, ( where my skin was cold, but my knee and muscle underneath was actually warm). The next day, my knee had no pain and was not swollen at all!
So, I would say this is quite an impressive product which does work and it would be worthwhile looking into if you AT TIMES struggle with joint or muscle pain. If you have a constant pain please go see a Doctor and get it checked out!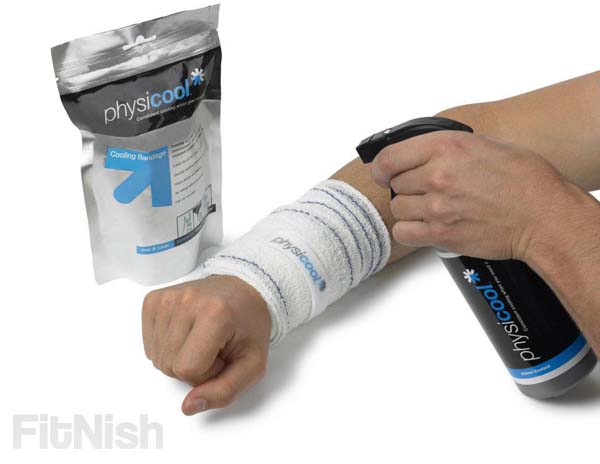 For more info visit:
*Please note: Prices are correct as of date of post, FitNish.com cannot be held liable for any change in price or description of products reviewed.