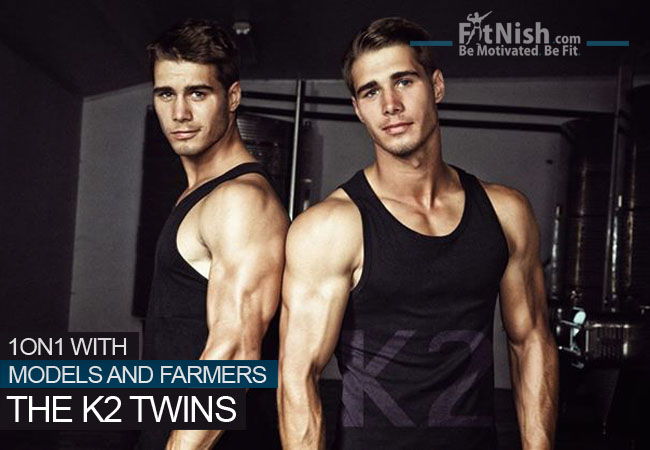 Quick Stats
Name: Charlie
Height: 1,80m
Weight: 84 Kg

Name: Alex
Height: 1,80m
Weight: 80 Kg

Age: 22
Current City:  Vredendal, Western Cape (outside Cape Town), South Africa
Occupation: We are farmers, working with our dad, and focusing on grapes for the first quarter of the year.  Thereafter we grow various vegetables for the food market.
How did you guys get started and what got you started in 'fitness' and modeling?
Alex:
I started training from a young age.  I've always admired other fitness models and that motivated me to start training with weights and being more active.  I enjoy seeing results, and living the healthy lifestyle consistently inspires me to keep pushing harder!
Charlie:
It started in school.  I was always interested in fitness and a healthy lifestyle as well as pushing myself to new limits. Then it became a bit of an 'obsession' to be fit and strong.   It's also really nice to have energy and training helps you to keep the energy levels up!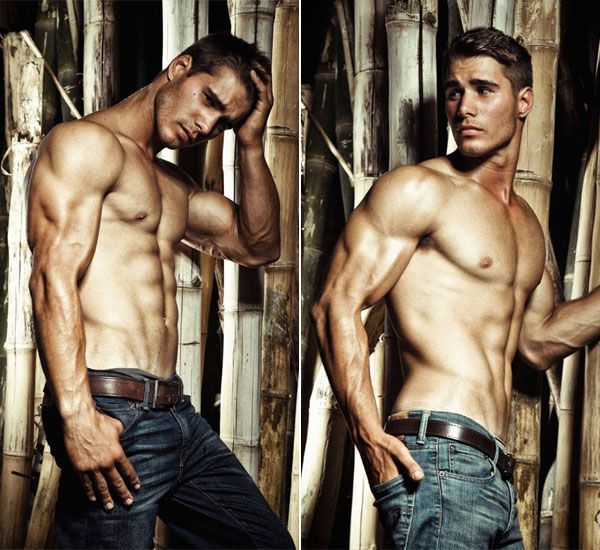 What do you love about it and what keeps you motivated?
Alex:
Results, definitely!  And feeling good and confident in a crowd or when I take my shirt off on the beach!
Charlie:
Always wanting to look and feel better and knowing that one-day I'll reach the top of my career and ultimate health.
What are your current and future plans?
Alex:
I want to enjoy the life on our farm, but also work hard in the gym. I want to achieve great levels of success in my fitness career!
Charlie:
To get my body in top shape, by having great health at the same time.  I also want to continue developing a healthy lifestyle and inspiring others to do the same.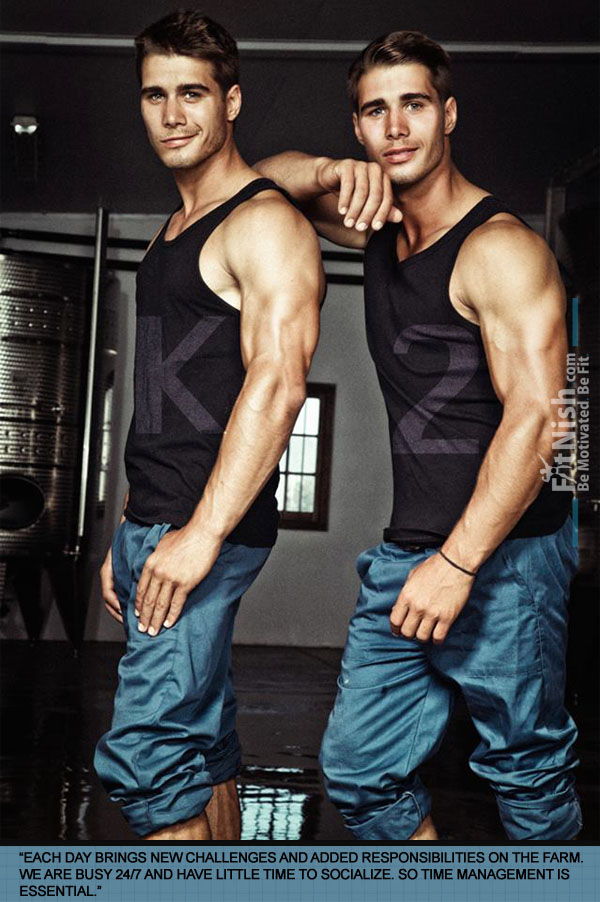 Are you two competitive towards each other?
Alex:
Yes we are for example, if his back muscles look better than mine it motivates me to push myself extra hard.
Charlie:
Yes very much so, we like the challenge; comparing our strengths motivates us to better heights.
Who do you think is stronger and/or fitter out of the two of you?
Alex:
I don't really want to say anything, ha ha, but we all have our off days! and our on days!!!
Charlie:
Some days its Alex and some days its me. We are both better at certain things/in certain fields/ challenges than the other. We both have our good and bad days.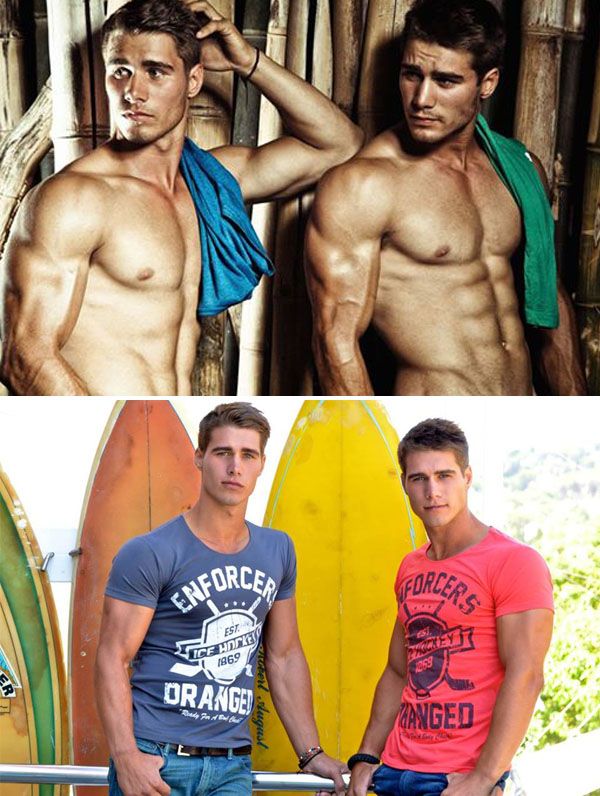 Take us through an average day of yours:
| Time | Activity |
| --- | --- |
| 5h30 |  Wake up, Make Meal 1 |
| 6h15 |  Fetch the farm workers and start working. We work together and harvest tomatoes as the grape harvest just finished. |
| 8h30 – 9h00 |  Eat Meal 2 which is breakfast. |
| 9h00 – 12h30 |  Work work work |
| 12h30 -13h30 |  Meal 3, Lunchtime |
| 13h30 – 16h00 |  Continue working. The farm responsibilities differ each day. Sometimes it's monotonous like packing crates or driving to the Tomato Depot with a few tons hitched onto a tractor. Other times changing beaters and cleaning harvest machines. |
| 16h00 – 16h10 |  Short break for snack time, Meal 4 |
| 16h10  -18h00 |  Work work work |
| 18h00 – 18h30 |  Farm workers need to be transported home |
| 18h30 |  Pre- workout Meal 5 |
| 19h00 – 20h15 |  Gym and training time |
| 20h30 |  Post work out meal, Meal 6 |
| 21h00 |  Eat Meal 7 |
| 21h30 |  Do all checks on the farm for the next day; Pumps, water checks, implements, tools, stores locked, vehicles full of diesel etc. Also preparation for next days meals- all precooked and planned. |
| 22h00 |  Shower, relaxing time |
| 23h00 |  Sleep time |
"Please note that farming has many facets and seasons. So responsibilities change each day. The basic routine, re food and meal planning and gym will stay the same but each day brings new challenges and added responsibilities on the farm. We are busy 24/7 and have little time to socialize. So time management is essential."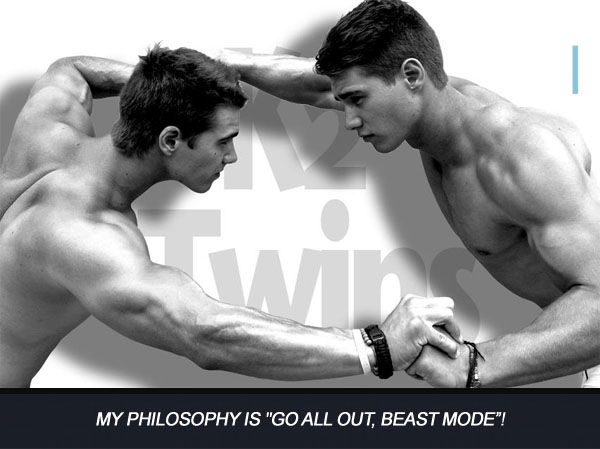 Give us a brief description of your philosophy on your diets? Are you guys quite strict with your diet?
Alex:
I'm not as strict as Charlie but the last 2 weeks before a shoot I try to eat properly and stick to my diet/meal times.
Charlie:
"You are literally "what you eat." I believe in 70 % diet and 30 % workout = 100 % Healthy mind and body."
We have a good routine that is lenient to an extent. But when we prepare for a shoot we go all out and our diet and exercise is very controlled and religious.
What are your top nutrition tips?
Alex:
Keep your diet clean
Plenty of water
A lot of small meals throughout the day
Charlie:
I believe in "green is lean"
"Keep it natural"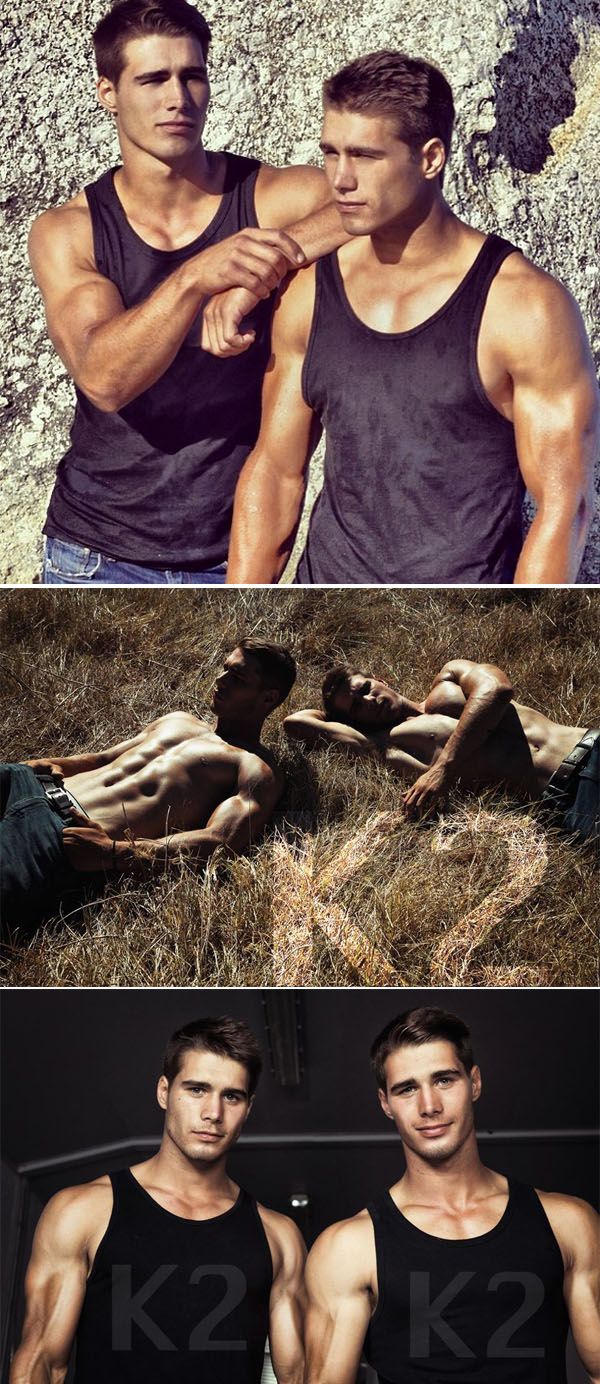 What supplements do you guys use if any?
Only salmon Oil, tissue salts and an iron supplement.
Give us a brief description of your philosophy on your training?
Alex:
I like to experiment now and again with a new exercise. I like to target different muscle groups. Any exercise is better than an exercise you didn't do! Go all the way!
Charlie:
My philosophy is "go all out, beast mode." Also "train insane or remain the same." We do different workouts and routines all the time. We change routines to target different muscle groups and try to learn more intense new and better exercises.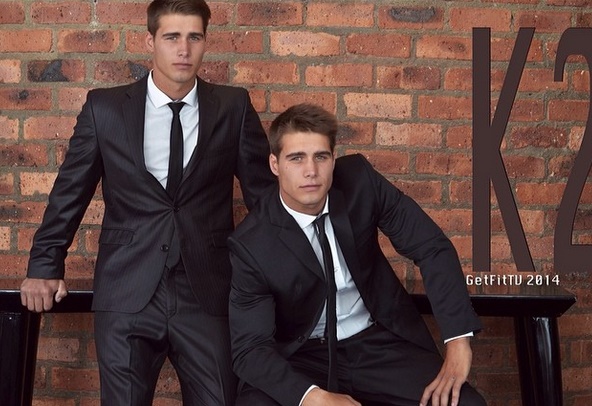 Do you guys workout together?
Yes we do work out together. We are part of a group of friends who all follow a healthy diet and lifestyle. We try and motivate each other to push our bodies to the extreme.
What are your three favourite body parts to train?
Shoulders

Arms

Chest
We get the most "pump" out of these 3. It's where our strength lies.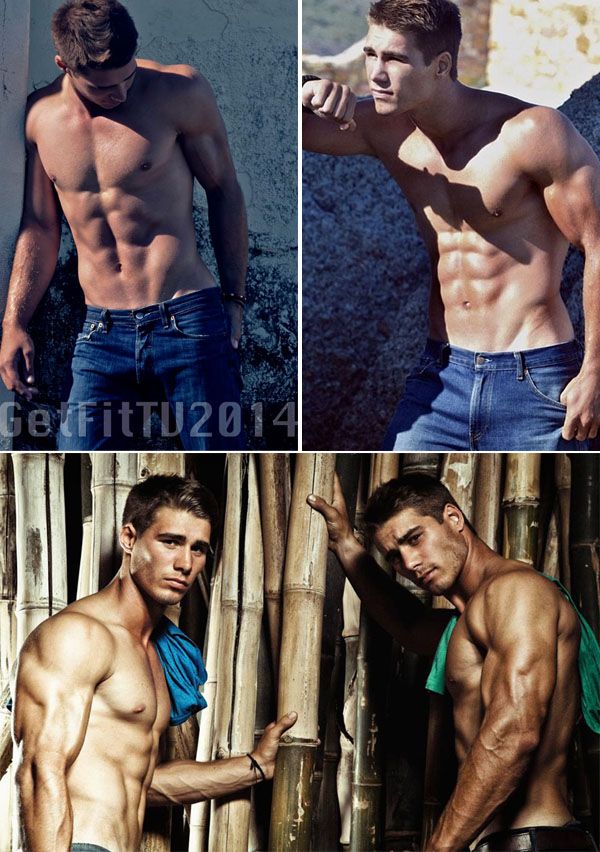 What sports are you guys into?
Rugby. We support the Stormers team. We like all action sports but at this stage we don't get a chance to do much, other than gym and work. We have a farm background and are avid sportsmen. We have done everything from tricycles, bicycles, hunting, athletics, 4×4's ,canoeing, fishing, spear fishing, skiing and so forth. We love all extreme outdoor sports basically. We like extreme sports as well, and enjoy watching the Xgames.
Do you have any plans to enter any fitness competitions in the future?
Yes we are open to all challenges and opportunities and will see where the future takes us!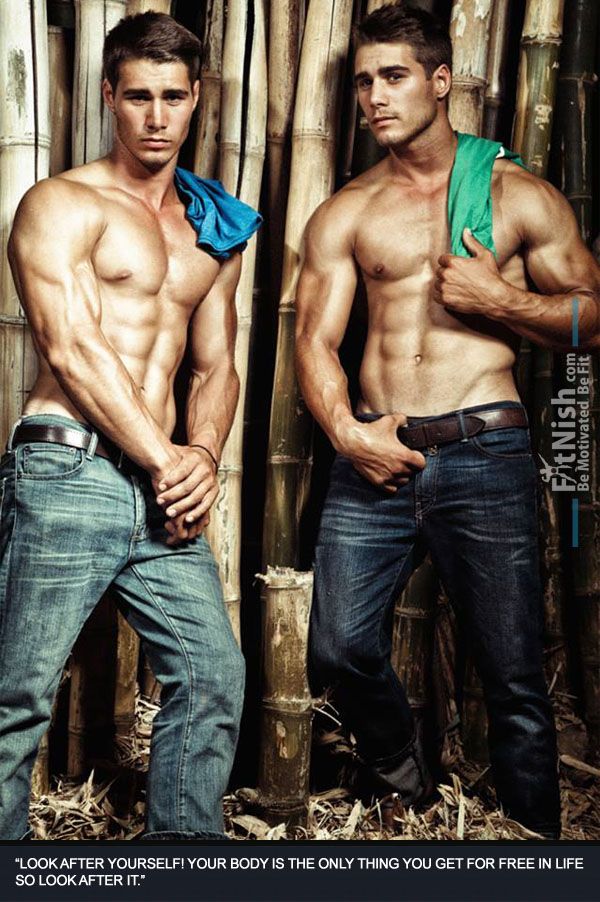 What is something most people don't know about each of you?
A lot of people don't realize that we were not as close as we are now. We now have the same friends and interests and are much closer and push each other to be successful in everything we do.
Do you each have your own separate hobbies that you enjoy, or do you do most things together and mostly like the same sort of things?
Alex:
I like spending time with my friends and socializing. Doing things on the farm and especially outdoors. I like to stay busy and active and love being with people.
Charlie:
We have our own hobbies. I love water sports, diving, fishing etc. I also like motorcycles, speed and new challenges.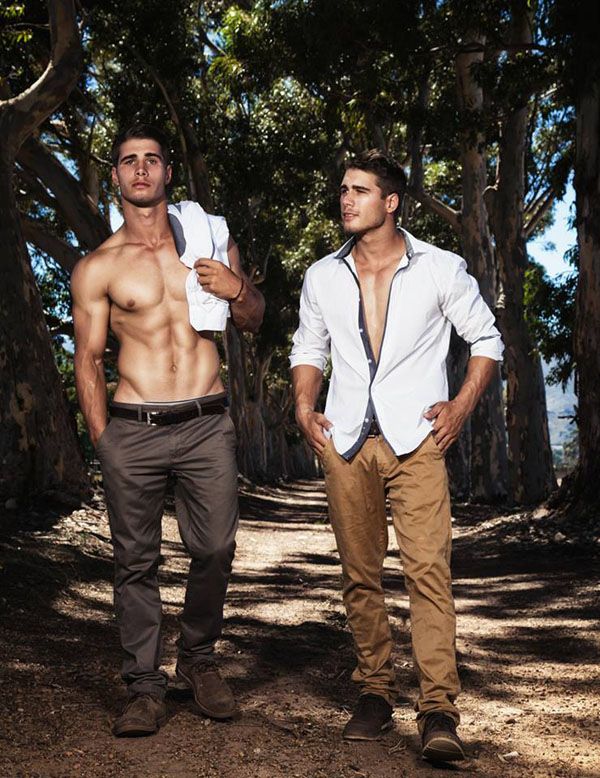 Favorite Fitness Icons:
Lazar Angelov
Roman Dawidoff
Jandro Paxton
Barry Cohen
Favorite Quote(s):
Alex:
"Life is fruity and Happy go lucky."

"Pain is only temporary."
Charlie:
"Your future is created by what you do today, not tomorrow."

"Fitness is not a destination, but a way of life."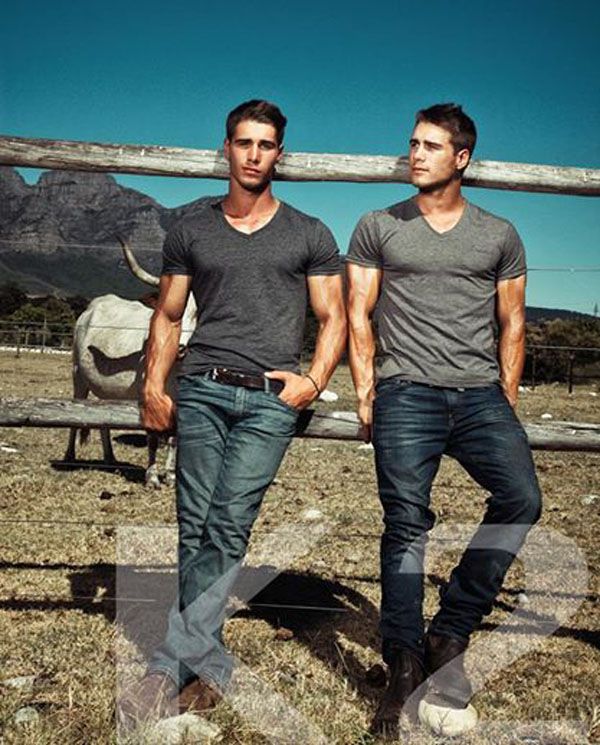 Advice for someone wanting to get into modelling?
Alex:
Look in the mirror, what you put in you get out. Look after yourself! Your body is the only thing you get for free in life so look after it.
Charlie:
Find a good agent, sound contract and be patient. Don't rush into things and always handle business professionally. Also give it your all. You have one good shot in life and use it! You snooze- you lose!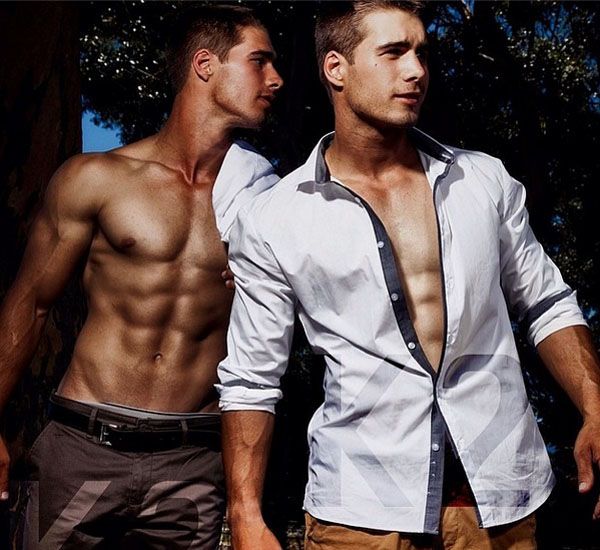 Where can people get hold of you?
Photography Credits