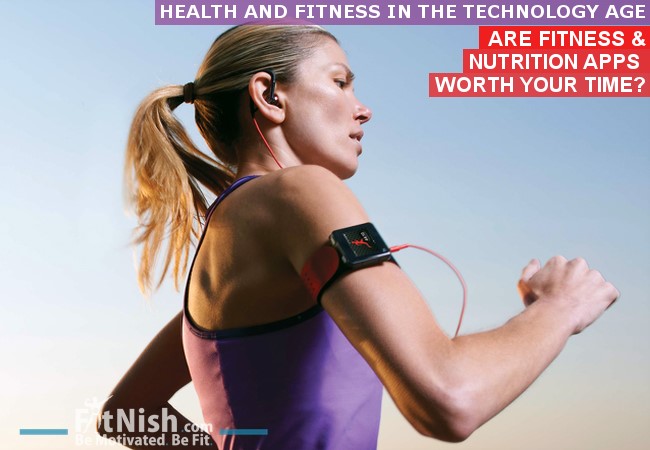 In this technologically oriented age, practically everything is online, making almost every facet of life that much easier and convenient. If you haven't embraced this 'tech age' you are probably missing out a great deal. It may seem complex at first but once you get a foot into it and start exploring, you will wonder how you ever managed without it. For a more comprehensive overview of some of the top of the range health and fitness apps which contribute to healthier living, read Hippo's article on the world's most popular life enhancing apps.
But let's talk fitness and training first. With health and fitness attracting a much bigger spotlight throughout the world recently, it is only natural that there would be hundreds of different gadgets and 'apps' on the market. Some of them are free and some need to be paid for. But can these fitness apps really help get you into shape or at least motivate you to work out? When thinking simply about working out, a few things come to mind.
What's in a Workout?
Number of reps
Number of sets
Exercises
Time periods
Distances
All of the above amounts to some form of data. So the question which comes to mind is, are these apps only useful for tracking your data and gaining more insights into your training? Granted this can be useful as you can monitor your improvements and alternatively your weaknesses, but shouldn't they do something more? Something more technologically advanced? Maybe these devices could workout for you? If only.
Some apps do provide you with exercise routines and programmes to follow each day or week for example, but that can be misleading as workouts need to be customised to suit the individual person. There is not one best general exercise regime which the whole world can follow.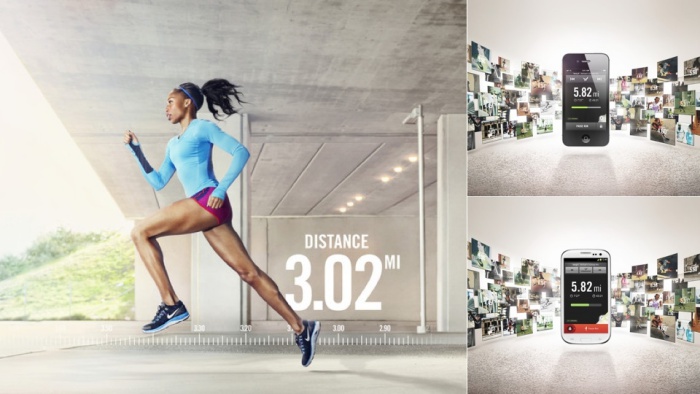 If we consider some of the types of people out there, let's think about it:
The beginners to fitness:
These individuals have usually decided to make a change and started exercising and living more healthily.  They are generally unsure where to start and thus want something convenient and easy to use. Something or someone to guide them so they have to do as little work as possible. They turn to these apps and gadgets looking for that exact 'convenient help.' But sometimes venturing into such unfamiliar territory can be overwhelming and cause them to give up before they've even begun, this is especially true with some of the more complicated applications out there.
 Then there's the more experienced fitness person:
Usually the more experienced fitness individuals have often been training for a few years and just want to see how they can improve. Some of the more advanced people prefer to go by the way they feel and know their body pretty well to know what it can and can't handle on certain days. So they don't want to be bogged down with having to track a lot of data which they are probably not even going to go through. As well as the added hassle of making sure the device/app is running all the time while exercising.
But then on the other hand there are those who are pedantic about their training and want to use every possible advantage they can to improve themselves.
We will take a look at a few of the top Gadgets and Apps available to see if they really can help with achieving those fitness goals.
Gadgets and Applications
The UP24
About
The UP® App is a system that takes a holistic approach to a healthy lifestyle. The band tracks your movement and sleep in the background while the app displays your data. It allows you to add things like meals and your mood, and delivers insights that help you know yourself so that you can live better.
Operating System: IOS and Android
Website: jawbone.com/up
Free or paid: App is Free (Bracelet needs to be bought)
Pros and nifty features:
The UP® App is multifaceted and can track just about anything (within reason). From your workouts, steps taken and subsequently calories burned, to your meals and calories consumed. It allows you to scan barcodes of different foods to find out more about the food and see its nutritional content and values.
It tracks all information pertaining to your sleep. From your duration of sleep, to sleeping patterns and the time it takes to fall asleep. All of this information can be useful to know and could provide you with more insights about your state of health.
It  feature's  the Smart Alarm™ which tracks your sleeping patterns and wakes you up at the optimal time, based on when you generally wake up naturally, which is calculated (based on your previous sleep data) to leave you feeling the most refreshed.
We all have those days where we wake up at the wrong time and it affects our whole mood for the day. So hopefully this will allow for a lot more happy people.
There is also a cool Power Nap feature which will wake you up at the optimal time after you fall asleep for shorter periods.
The UP® also has additional 'spin off' apps, which can be used together with it. For example, on specific mobile devices (IOS only), the UpCoffee app, tracks the amount of coffee that you consume in a day and reports back to you when you would be able to sleep.
The idle alerts feature is perfect for all the office bodies, this simple yet effective feature reminds you to move when you've been sitting for too long.
The app also provides a bit of motivation for you, praising you for milestones reached with the added 'Today I Will' feature.  It suggests personalized goals and if you accept them, it encourages you. This is really good for positively reinforcing 'good behaviour'.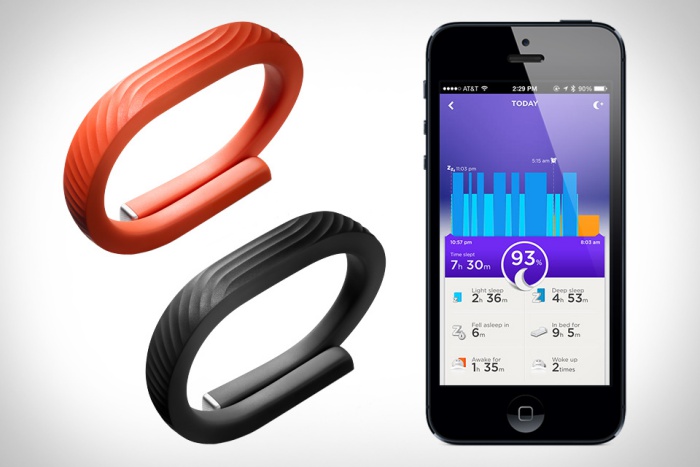 Cons
You cannot really make use of the app without the bracelet.
The bracelet has a very limited visual interface with the app serving as the main interface.
The bracelet can be seen as relatively expensive, at an estimated cost of R1990.
It is all good and well to gain insight into and track all your data and your sleep patterns, but will you really be able to use that to sleep better or more for example? How can you apply the use of that data? Granted it has features like the smart alarm, but practically it is not the best thing since every day we have to be up at a certain time for work for example.
Conclusion
All around it is a wonderful system and is great for beginners. It can help with the learning process to learn what foods are good for you and what's not. You are able to track everything you need and it keeps you motivated. Although, it's pricey, it's a once off cost, so if you look at it that way it is not so bad as long as you make full use of all the features. At the end of the day it's a very fancy tracking system with a few extra nifty features which brings it up.
The Nike + Running App:
About
The Nike+ Running App tracks your runs and helps you reach your goals — whether it's running your first race, or setting a new personal record. From first-time runners to marathon veterans, you'll get the measurement and motivation you need to run farther and faster than ever before. Welcome to the world's greatest running community.
Free or paid: Free
Website: nikeplus.nike.com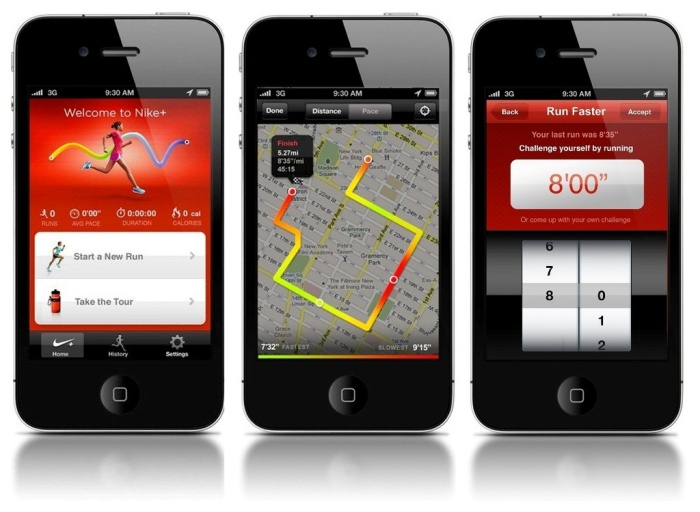 Pros and nifty features
Track all your running data such as times, pace, distances, and routes.
Compete with your friends or compare your progress with them. This is a great idea for motivation and you don't even have to be at the same place to run 'together.' You can also set challenges with your friends and see who comes out best.
The Nike+ Coach provides you with customisable programs designed for all people levels at the 5k, 10k, half marathon and full marathon distances.  It offers you daily workouts to get you started.
The auto pause feature is a simple but effective little feature. It pauses all tracking if you stop running then resumes tracking when you start running again.
Cons
 It states the Nike+ Coach provides customizable workouts. Although they are slightly customised for you, due to the data you enter into the app about yourself, it is still not specifically tailored to your specific needs and fitness level.
Conclusion
This is a nice, simple and cool app for runners. The simplicity is actually quite attractive but then once again, it remains only a tracking application.
Body building workout
About
The Bodybuilding Workout App is an organised application with pre-set plans for bodybuilding, fitness and powerlifting workouts. The user friendly interface, lets everyone take full advantage of application's exercise database.
Free or paid: Free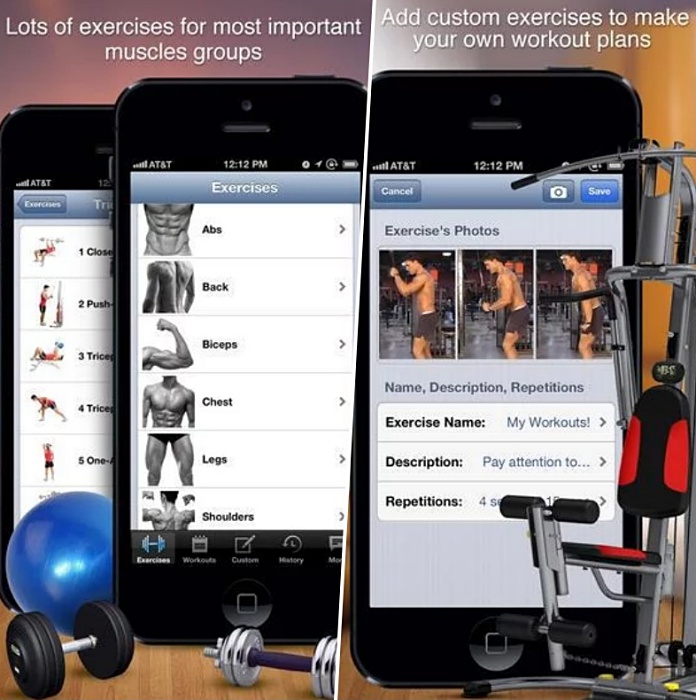 Pros and nifty features
Tracks your weights and reps of your workouts.
It provides you with workouts to follow, or you can enter your own programme to follow every day. You can then track your weights and reps within the workout.
It has quite a large database of many exercises, so if you find yourself stuck or just wanting a new exercise for a specific body part, you can search for one quite easily.
It has a built in timer if you need to enforce your rest periods for example.
It displays step by step instructions, videos and pictures for each exercise and gives you the option to download all the videos at one go.
Cons
To track your weights and reps means while you are exercising in the gym you will need to constantly go back to the app to input the numbers. This can be quite cumbersome and may waste time.
Conclusion
This app is great for beginners as well as maybe a few advanced people as it gives you a wide range of exercise to choose from, and what's great is it has instructions for the exercises. It's totally free so you really have nothing to lose by trying it out.
Calorie Counter – MyFitnessPal
About
MyFitnessPal is one of easiest to use calorie counters for Android. It boasts an extremely large food database, one of the biggest of any Android calorie counters (over 3,000,000 foods). It displays nutritional facts and values of hundreds of foods to help you choose the right healthy foods. It also enables you to track your meals and calories.
Free or paid: Free
Website: myfitnesspal.com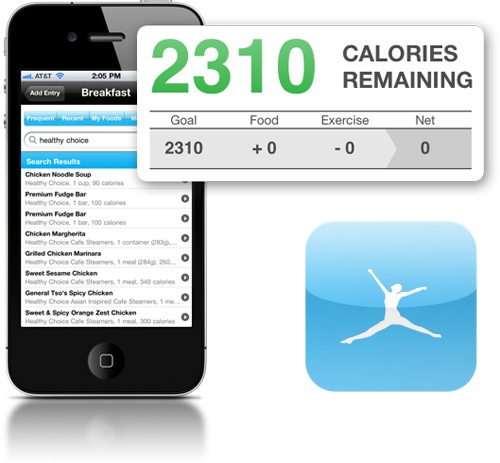 Pros and nifty features
Track your calories (protein, carbohydrates and fat etc) that you eat as well as your weight and measurements and view charts and graphs on your progress.
The app has an exceptionally large food database, and what is great is that it continues to grow daily.
A pretty nifty feature is the Recipe calculator. Enter in your recipe and it can determine the number of calories of the recipe.
Another great aspect of MyFitnessPal is that it fully syncs with the web. Many apps are restricted to usage of the app on the phone but with this you can log on from your computer or your phone, whichever is more convenient and all data is stored online.
Diet with your friends. You can add friends and easily track and support each other's progress. This could prove to be quite motivating for each person.
It also has a barcode scanner which gives you access to scan the barcode of a food and easily find its match in their database. This is really convenient for quick access to information of the food.
Its tracking abilities are not only limited to food, you can keep track of both cardio and strength training, including sets, reps, and weights.
Cons
The app has a lot going on, especially if someone new to it just looked at a few pictures of the app online. With so much data it can be quite overwhelming at first.
Conclusion
MyFitnessPal is quite an extensive and well-rounded app when it comes to food and being healthy. It has covered pretty much everything, stemming from tracking your data to providing you with a whole new learning experience about making healthier food choices. If you want to know more about what you eat this is definitely an app to try out.